Optimal Wedding Invite & Thank You Card Timeline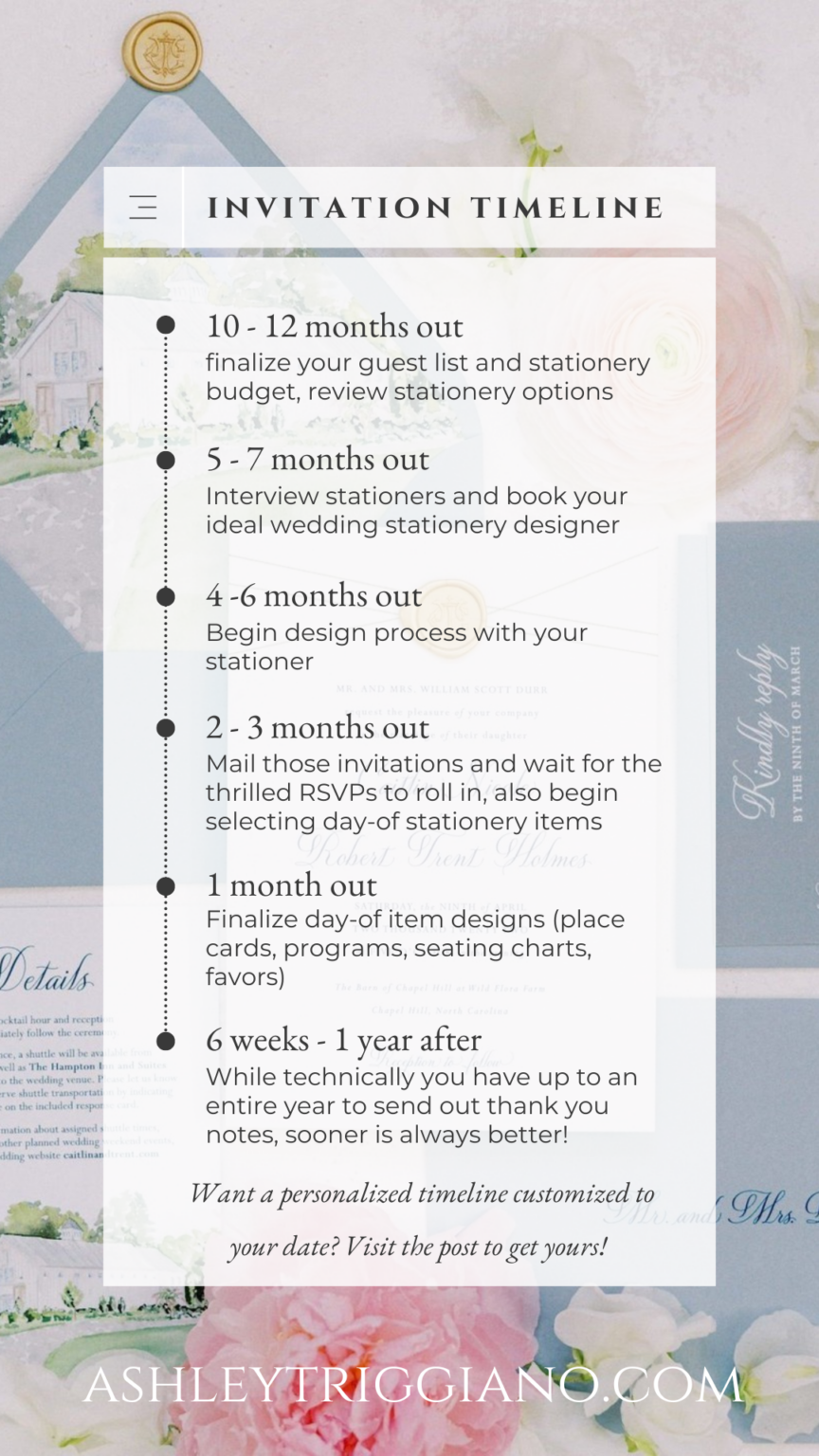 From save the dates to invitations to day-of details like menus and place cards that depend on RSVPs, and even seating charts and welcome bags for out-of-town guests, there are a lot of pretty paper pieces that need to be created, printed, and put in place for your wedding day. Juggling a wedding invitation timeline can be overwhelming! Plus, the pandemic has only exacerbated this, since the USPS is frequently encountering delays and paper mills are experiencing supply shortages. So, how can you avoid invitations not making it to your guests in time? And how can you ensure you have everything you need for the day itself? The answer: by saving, printing, pinning, Trello-ing, or bookmarking (or whatever method you choose!) this post and following it closely. As a bonus, I have a free wedding invitation timeline calculator you can use at the bottom of the post!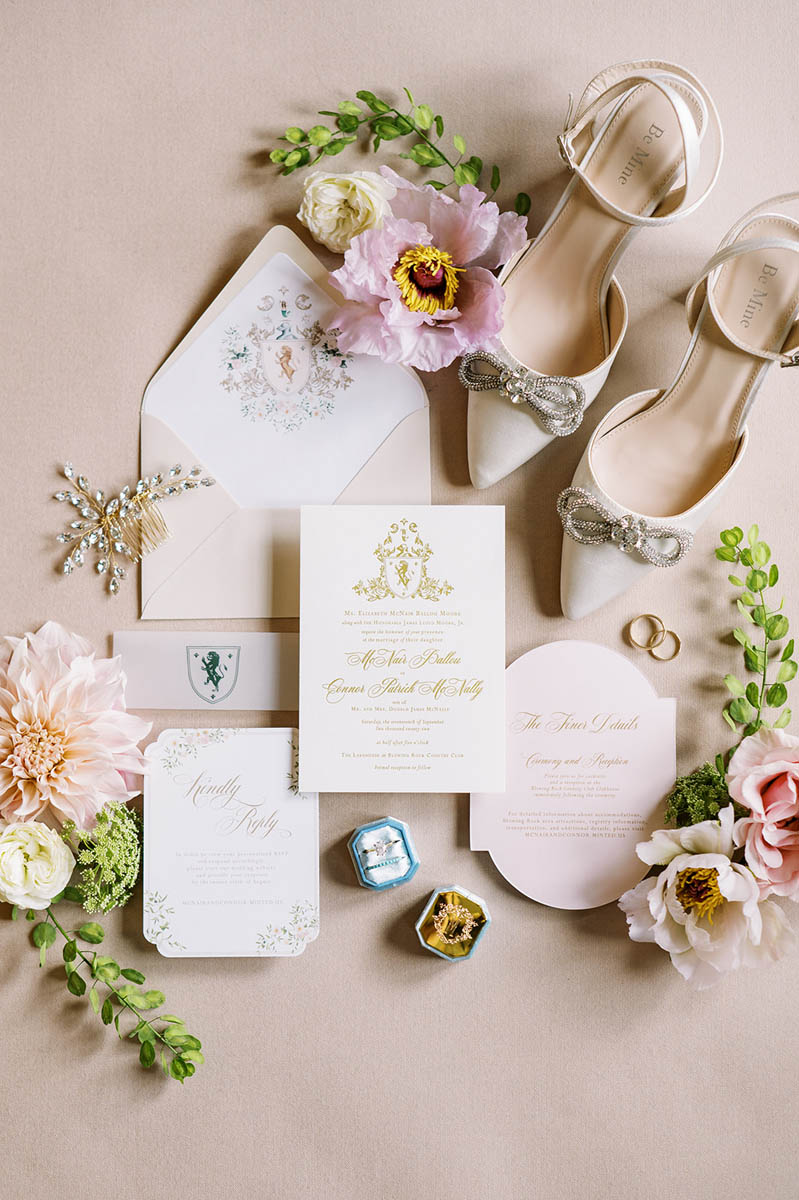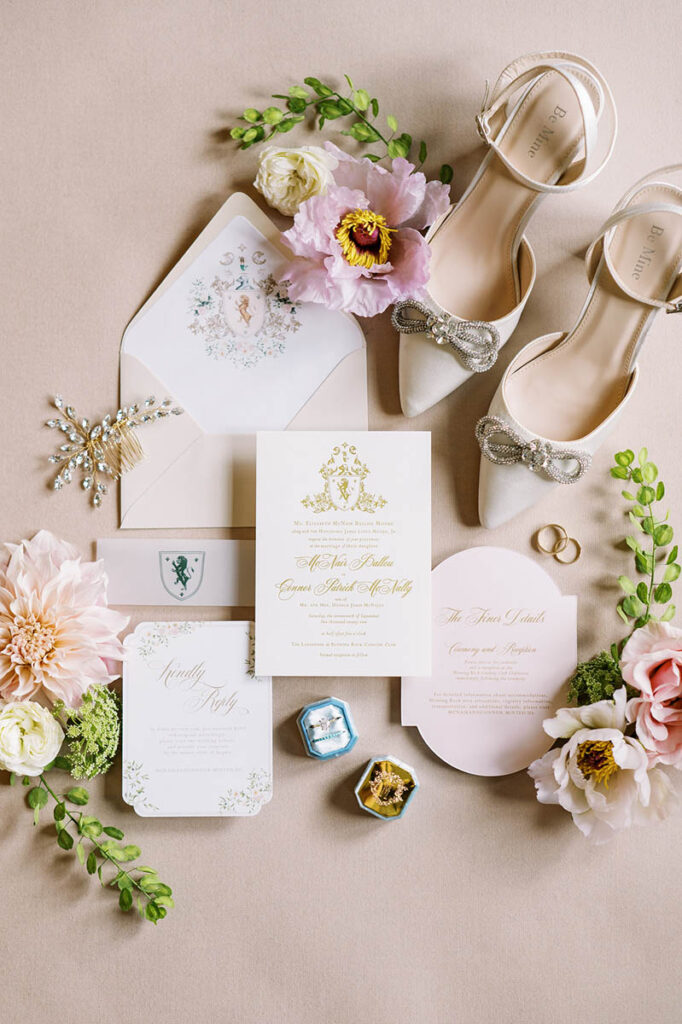 Before the Wedding: What to Do (and When) for Your Save the Dates and Invitations
First off, obviously—get engaged and celebrate accordingly! When the initial high wears off and you realize you've got a lot to do, take a deep breath. I'm here for you!
When to Send Save the Dates
You should send your save the dates ASAP or six to 12 months out. Depending on how soon your wedding date is, you'll want to send your save the dates out as soon as possible. It's traditional to send them anywhere from six to 12 months out, but if your wedding is sooner, then time is of the essence.
What to Consider When Choosing Save the Dates
Budget
You should take into account your budget for all of your wedding stationery, how much to expect to spend when working with a custom stationery designer, as well as what to expect in general when working with a custom stationery designer. Spoiler alert: if you do go the custom route with a stationer like myself, we'll handle all of these wedding invitation timeline details for you! So technically, you could skip this whole post!
Book Your Stationer!
Deciding ASAP if you can go the custom stationery route is pretty important. While you can hire a stationery designer later down the road, we often book up pretty far in advance. And if you start working with us for your save the dates, we can ensure that every piece of paper and every item created fits into a cohesive look that will look beautiful for the detail photos your photographer will take.
You've likely seen a "flat lay" shot before, looking down on all of the invitation pieces, save the dates, programs, and menus, and styled with flowers and rings. These shots encapsulate all of the little details that make your wedding day you, so by hiring a stationer from the very beginning, you ensure everything will fit together perfectly!
I always recommend that as soon as you have your date and venue locked in, you look at stationery designers. We will create a proposal for you based on your estimated guest list and initial ideas, and you can put down a deposit to save space on our calendar.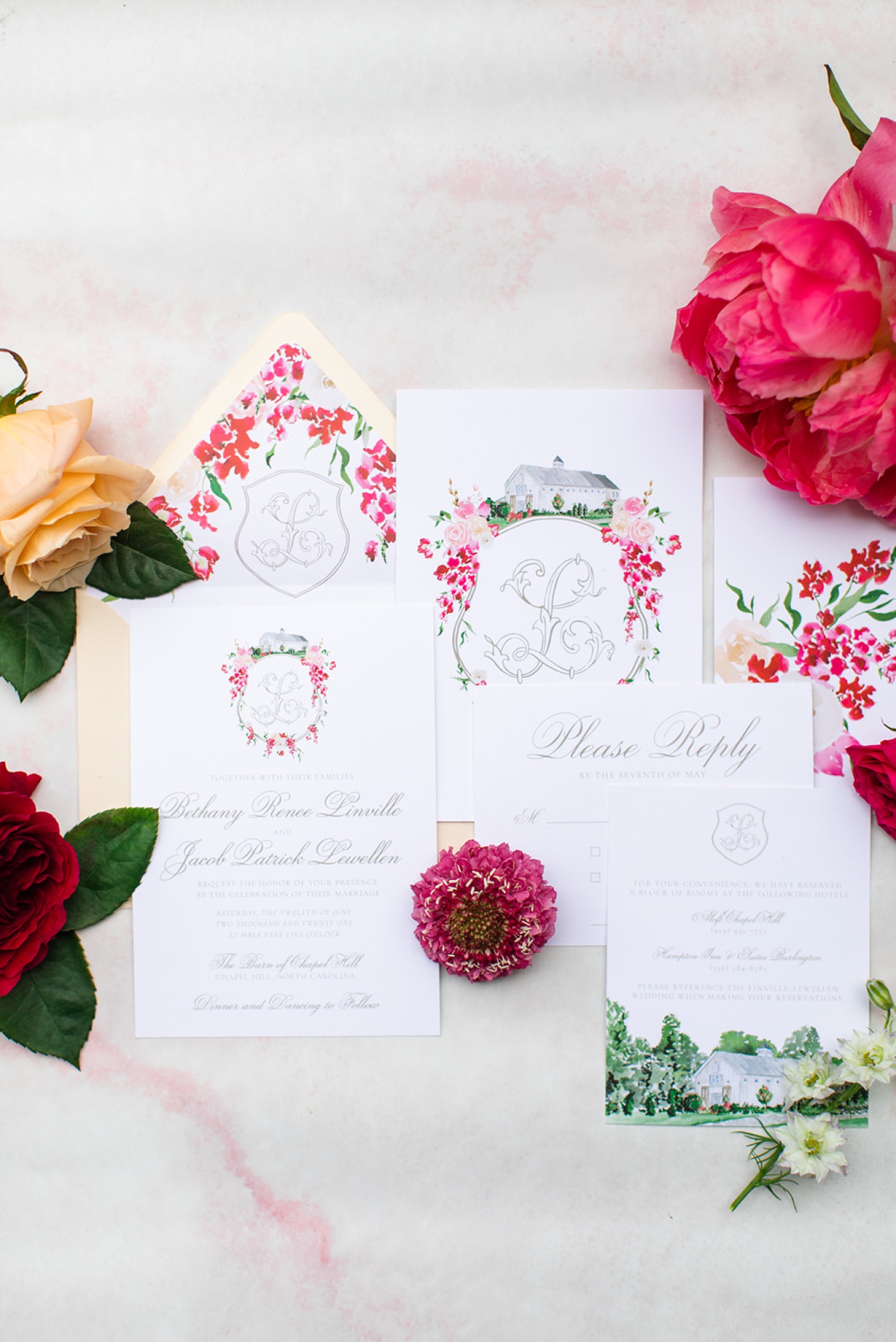 Photo or Not?
If you want to include a photo on your save the date, your stationery designer can certainly incorporate that into their design. You'll want to decide if you have a photo on hand that you want to use, or if you want to set up an engagement photo session. See how the wheels already have to start turning?! Wedding planning truly does fly by with all of these little steps!
If you want to get your save the dates out ASAP, or aren't going to take engagement photos until much later, then your stationery designer can still create an incredibly beautiful save the date for you. You can feature your engagement photos later on your wedding website and share them through social media. Holiday cards are also a fun way to share these images!
Get That Guest List
Solidifying your guest list and tracking down all of the relevant information for your invitations is arguably one of the most difficult things to accomplish in the planning process. I have a spreadsheet I share with my clients for this purpose alone. No matter how you choose to do it, be sure to have a designated place for storing everyone's addresses!
When to Send Wedding Invitations
This is perhaps the most crucial point in your wedding invitation timeline! Invitations should be sent eight to 10 weeks before the wedding, or two to three months. In the past, it was recommended to send invitations six to eight weeks prior to the big day. However, with USPS delays becoming more common, it's best to err on the side of caution and send them out sooner.
This means that you and your stationery designer will have finalized your design about two to three weeks prior and sent it to print. Then, you can choose to have them send out the suites on your behalf or to send them yourself.
Prior to finalizing and sending out your invitation suite, you should know the answer to these questions.
Will you be hosting other events over the weekend?
Now is the time to include an RSVP insert for a rehearsal dinner, welcome party, or goodbye brunch.
What do you need and want from your suite?
The entire point of the suite is to give your guests a first look into the mood and style of your day. It should also provide all of the information they'll need to get to the venue and enjoy the celebration. Do you want to include a venue map? This may be helpful if you're celebrating at a large, sprawling estate or having a destination wedding. Are you having your guests RSVP online? Then, an RSVP card with instructions on how to send their RSVP is crucial. Alternatively, do you want them to send a formal response via the mail? You'll want to be sure to put postage on the response envelope along with your address so that they can return it to you as quickly and easily as possible (plus, it's just polite!). Your stationery designer can walk you through all of these pieces as well.
What's your 'RSVP by' date?
When does your caterer need a final headcount? When does your rental company need to know how many chairs and tables need to be there? These and other vendors will likely have a date they'll share with you. Your stationery designer will also need this information in order to create guest-related print items such as place cards and escort card displays. More often than not, this date will land about three weeks out.
For the Big Day: All You Need to Know About Day-Of Details
When to Finalize Your Day-Of Details
This gets done over time, from around three months out until two weeks out. Depending on what you've chosen for your day-of details, you'll need to finalize what they look like. Items like signature drink signs and fabric bar menus can be finalized a bit sooner, while guest-related items like place cards and seating charts won't be finalized until about two weeks out. If you set your RSVP date for three weeks out, this will give you a few extra days to track down the inevitable stragglers and finalize your guest list. At two weeks out, your stationery designer will create place cards and other guest-related items, and have them printed and assembled according to the design in place.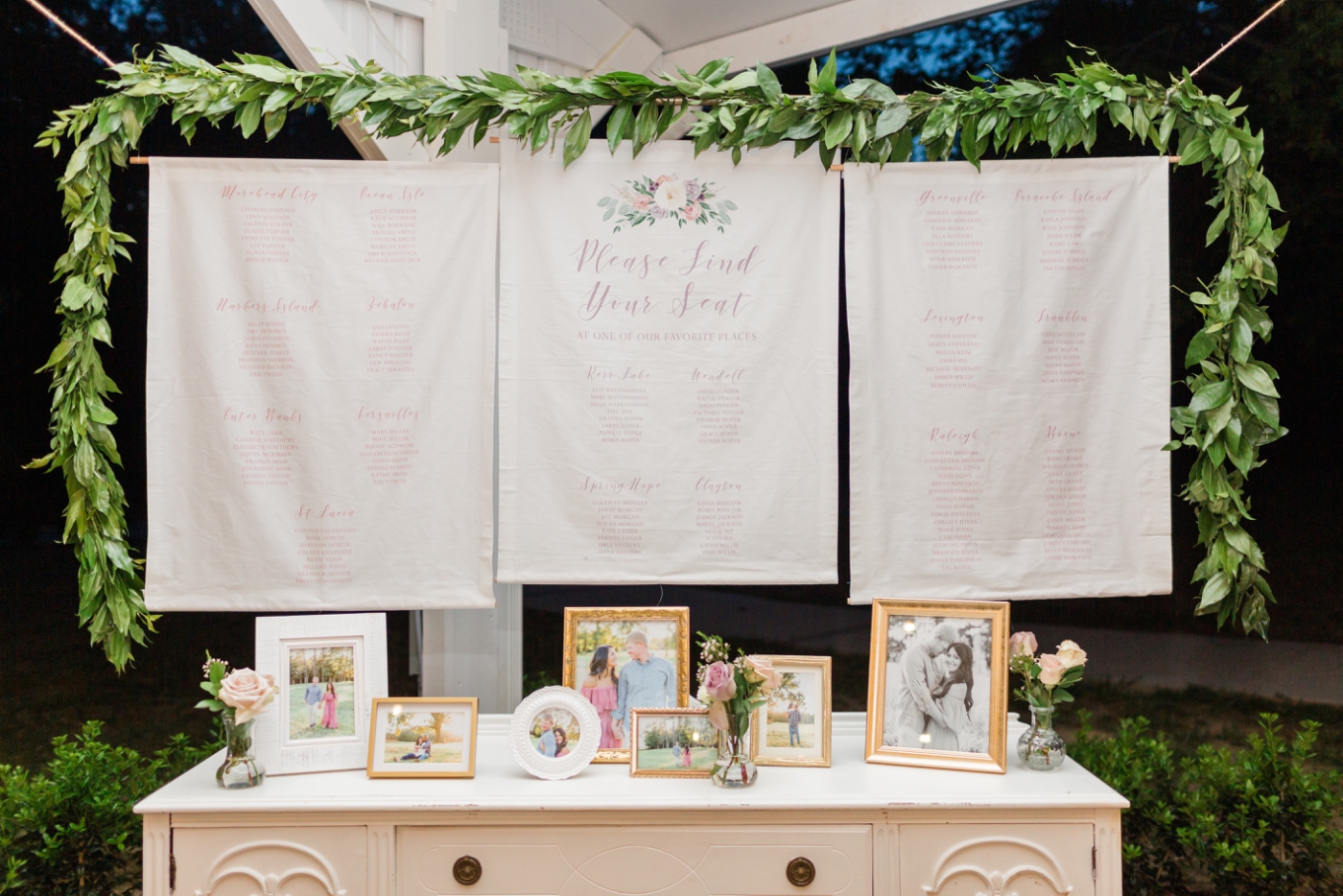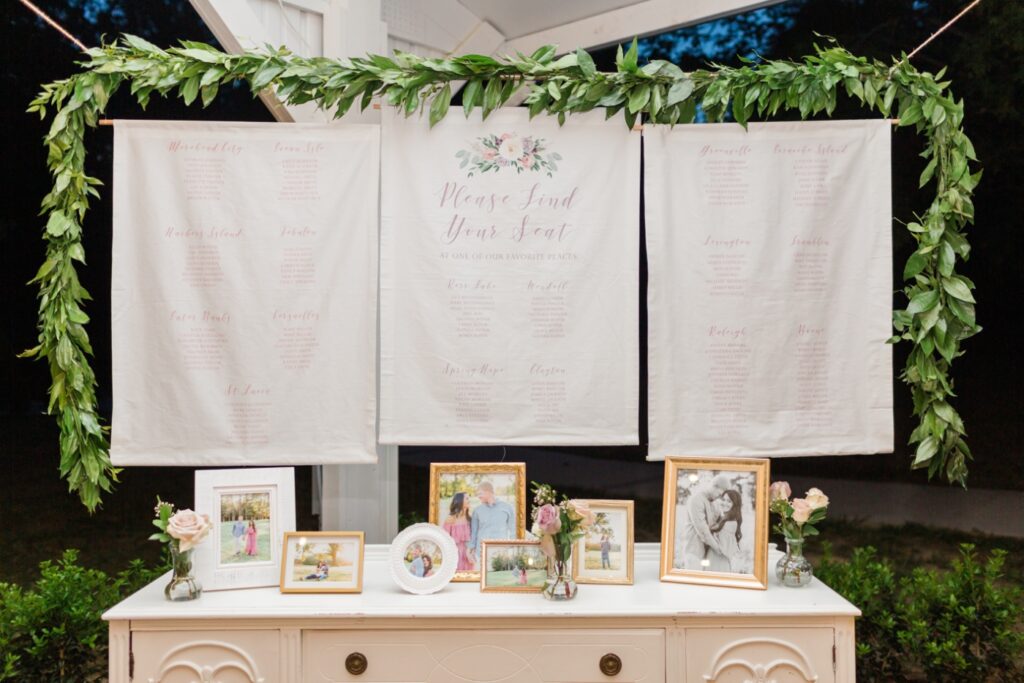 Additional Things to Consider in Wedding Planning
Menus: What's Your Dinner Style?
Are you doing a plated dinner with a set menu or a buffet-style meal? The answer to this will determine if you'll want a menu at every place setting, or if you'll want a larger sign next to the buffet area as a display for guests.
Place Cards and Dinner Style
The dinner style you choose will also determine if you need place cards to signify meal choice (steak vs. chicken, etc.). If you wanted to do open seating but your guests made specific meal choices on their RSVP cards, then you'll need to assign seats instead. In this case, you'll need place cards that signify their meal choices so that your servers know who gets what and if there are any allergies.
Another important consideration for your place cards is your venue setup. If you want to be sure that your grandfather and other important family members aren't craning their necks to see around a pillar or some other visual obstruction, then assigning seating and choosing the ideal spots for your VIP guests is the way to go.
Escort Display vs. Seating Chart
Escort cards are individual cards that display guests' names and table numbers. The escort card's job is to escort the guest from the entrance of the venue to the table you have assigned them. If you aren't having place cards, then escort cards can indicate meal choice and serve double duty as place cards when guests arrive at their table and choose a seat. Escort displays can range from simple cards displayed on a surface to elaborate designs such as champagne walls and flower vases with cards attached.
Seating charts are typically perceived as more casual and can be used when your guest count is too large for an escort card display or when guests didn't need to select a meal. A seating chart has your guests' names either in alphabetical order with table numbers indicated next to each name or grouped by table number. This can also be a very beautiful custom display if you want it to be!
Get Creative
Your escort card display can be something very creative and beautiful! For the cards themselves, or for your place cards, consider something that doubles as a favor for your guests to take home. A seashell, jar of honey, wildflower seed packet, or some other object that coincides with your wedding theme can be personalized and given as a gift to your guest!
After the Wedding: When to Send Thank You Cards
From six weeks to six months after your wedding, you should be sending out your thank you cards. While guests know that it takes time to settle into your new lives as newlyweds and return from your honeymoon, you don't want to wait too long. Thank you notes will let your guests know that you are thankful for both the gifts you have received and their presence at your wedding!
Wedding Photos
Do you want to include one of your wedding photos on your thank you cards? In that case, you may need to wait for your photographer to get the gallery back to you. Alternatively, you could send custom thank you notes with a coordinating design from your stationery. Then you can save the wedding photos for your first holiday card as a married couple!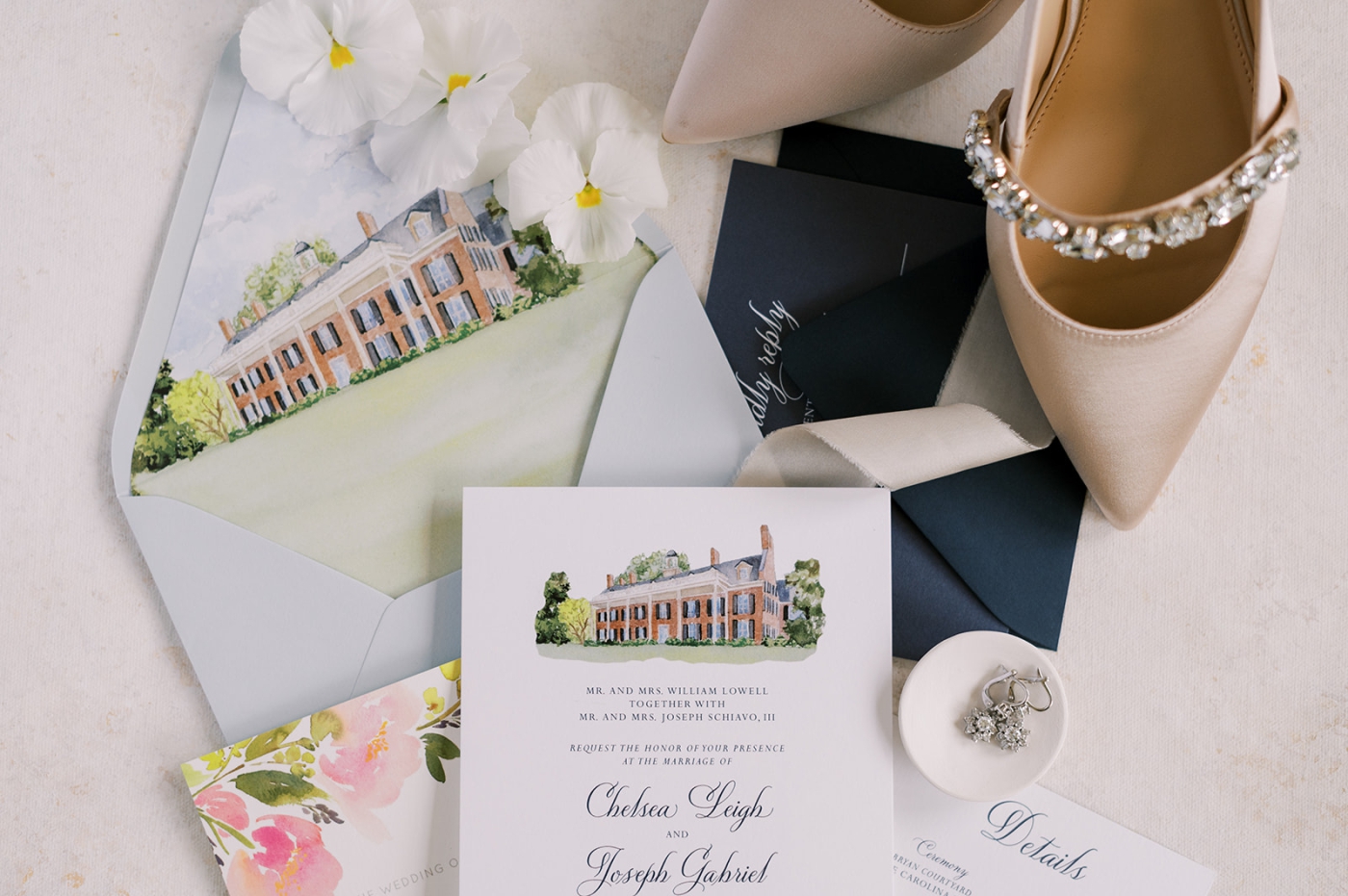 Contact Ashley Triggiano For Elegant Wedding Art
If you'd like someone to take your entire wedding invitation timeline off your hands, then hiring a stationery designer is your best bet! I'm Ashley Triggiano, a wedding stationery and portrait artist of North Carolina, and I'm always happy to help make your wedding magical. I love finding unique ways to share your love story through custom paper and gifts. Feel free to reach out so we can get started on your custom project!
You can also download the free wedding invitation timeline "calculator" I created (it's basically a fancy Google Sheet). It will allow you to simply enter your wedding date and receive a personalized timeline based on it!