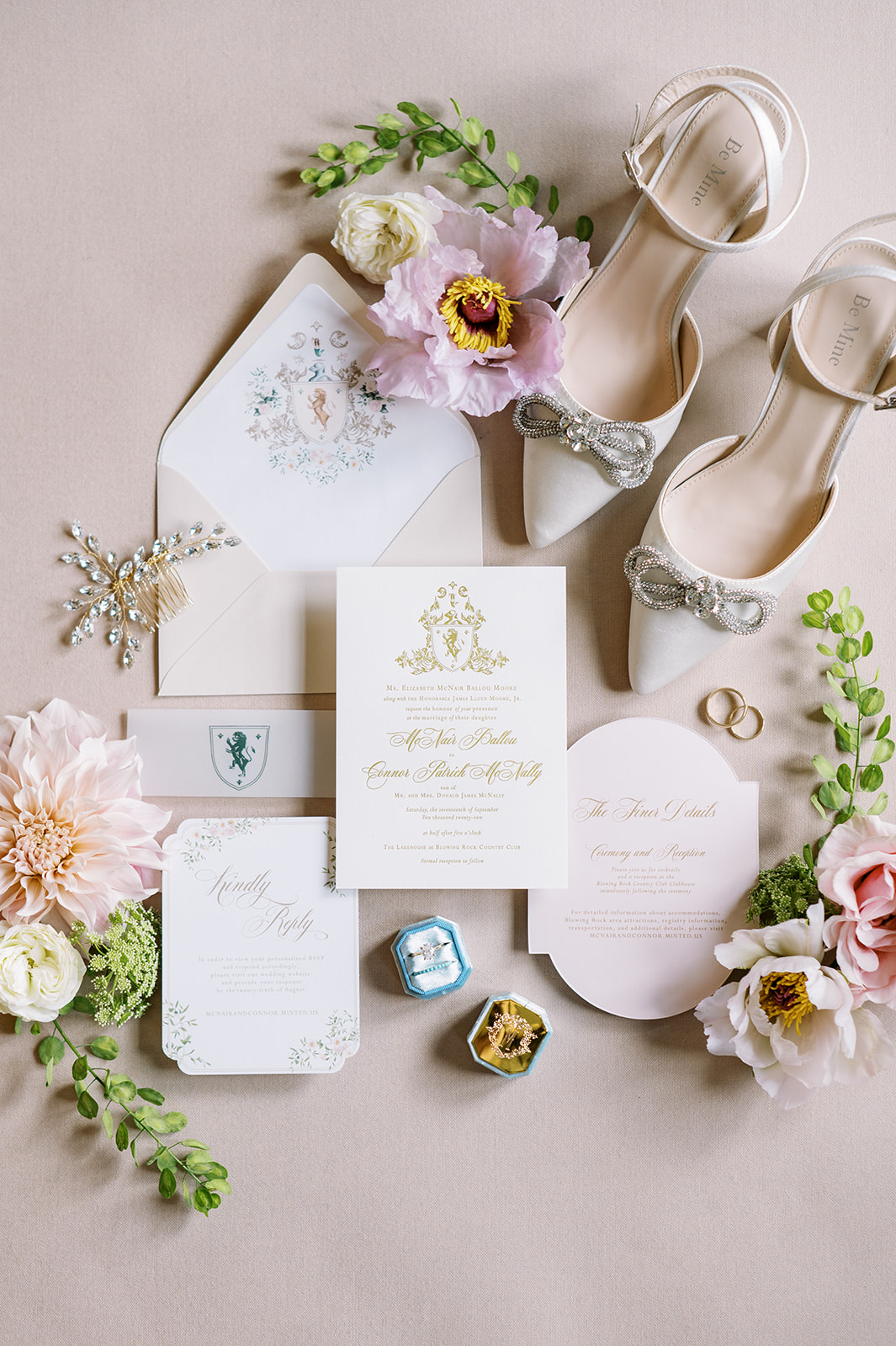 Talk about a #goals wedding! Getting to work with McNair and Connor on their Blowing Rock Country Club wedding crest was a dream come true. From the incredibly meaningful family crest, derived from a treasured engraved wooden plaque that graced her family's walls for generations, to the sweet and romantic floral touches in a picturesque mountain setting, every aspect of this fairytale love story was impeccable. McNair and Connor worked with my studio to craft an unbelievable letterpress wedding invitation suite complete with two versions. One was for an intimate family ceremony, and the other for a grand reception. We also designed some picture-perfect day-of goods that set their celebration apart at Blowing Rock Country Club! Their custom watercolor wedding crest was one for the books! It was an honor to recreate with paintbrushes and pigment – let's take a look at the highlights.
First off, her beautiful color palette focused on deep greenery with blush and cream accents peppered throughout. Additionally, warm accents from golden hues and the rich wood tones that surrounded them at Blowing Rock brought a sweet sense of welcome. Her family shield and crest from the McNair clan was the inspiration for her reimagined watercolor crest. We used watercolor paintings of the mermaid, knight, and lion. Then we added in all the floral handpainted beauty, plus regal baroque flourishes for a formal and refined look. 
I always try to incorporate multiple versions of a crest, using them in different formats throughout to keep things fresh. Who wants a flat, repeated "copy and paste" look? Instead, we can play around with the colors, level of detail, and embellishments on each version of the crest so it works well on whatever specific piece it's being printed on. Not to mention, you have multiple options when it comes to spicing up your day-of goods when the time rolls around (more on that later!). 
Pulling Together the Details for the Perfect Finished Suite
I created a unique die cut for her details and digital RSVP card, which kept visual interest. Then I added a beautiful vellum bellyband imprinted with the deep green crest for an extra pop. This ensured that each layer of the suite was designed intentionally so that when the pieces were layered in their envelope and the bellyband overlay rested on top, everything lined up perfectly! The formality of the suite really felt right for their Blowing Rock Country Club wedding. In conjunction, the suite still kept the warmth and welcome of the garden-filled mountain setting. Take a peek at some of the beautifully styled images by Hillary Muelleck below!
Using Inspiration from Your Crest for Day-of Details
Let's flash forward to the day-of celebration at Blowing Rock Country Club. McNair had no shortage of fantastic ideas for her day-of items, and it was a delight working with her. We featured her sweet golden retriever, Yadi, in the inside of her crest as a fun way to dress up her Koozies (which guests adored!). Not only did Yadi make an appearance on the koozies, but on the bar itself! Thanks to my handy laser cutting machine, I was able to cut and engrave acrylic to craft a one-of-a-kind self standing bar sign that featured Yadi carrying the bar menu like a very-good-boy!
We pulled her deep green shades into the background of other signage, too. This allowed for everything to be consistent with their beautiful crest and the font choices from their suite.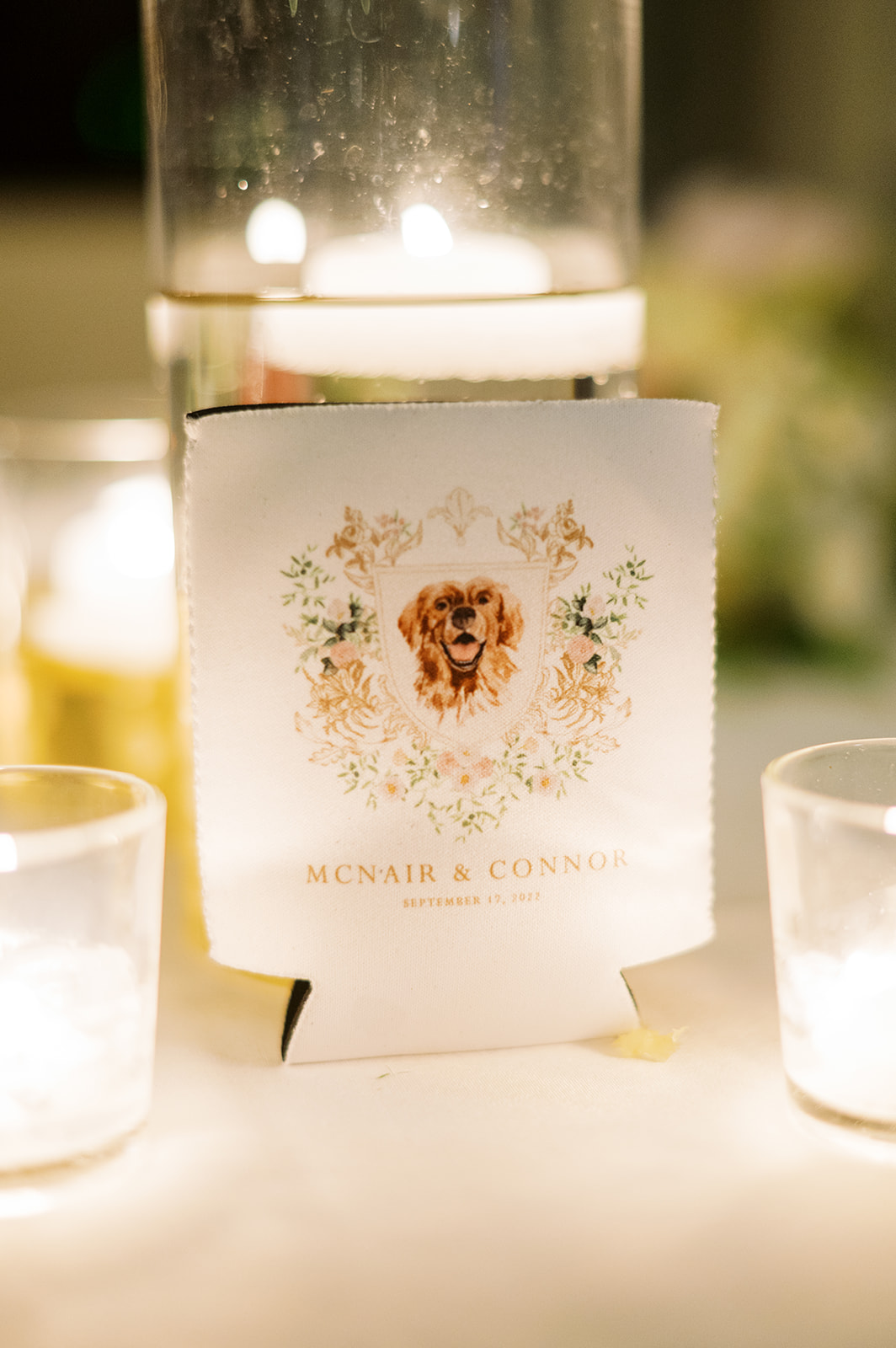 It was such a treat to work with clients who loved and appreciated the little details as much as we do! If you have family history that you want to bring into your stationery in a fresh new way, there's no shortage of ideas coming from the studio and we'd love the chance to work with you. Feel free to reach out for a consultation, and to learn more about custom stationery services here on the website.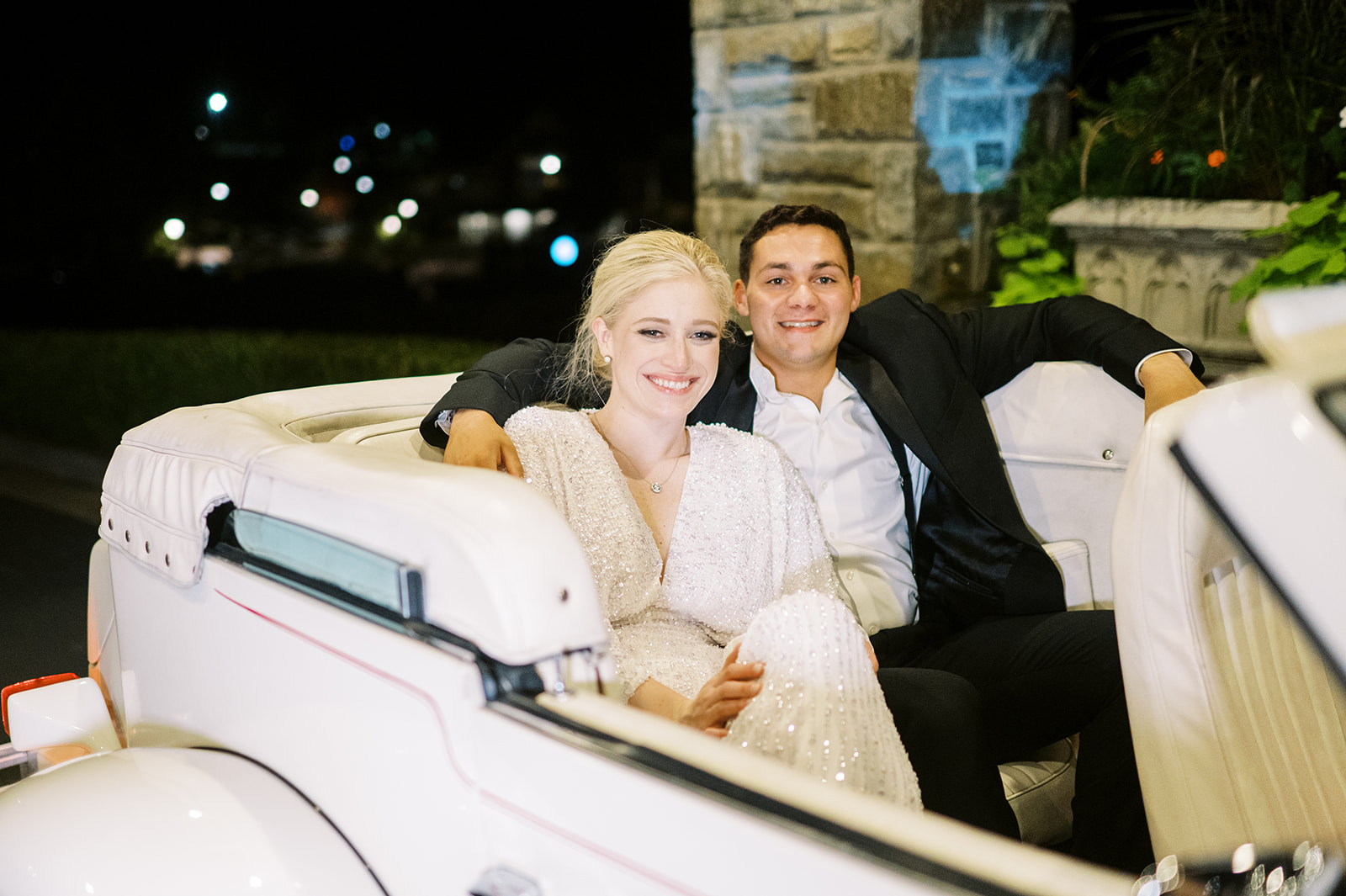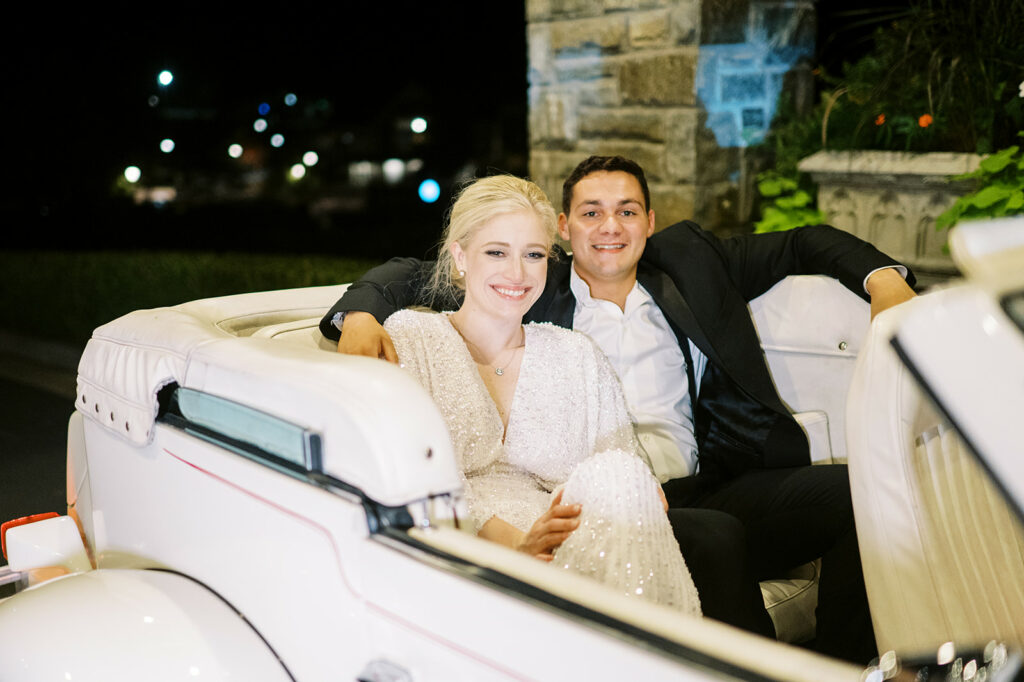 The vendor dream team….
Planner: The Elegant Event
Venue: @blowingrockcountryclub
Photographer: @hillarymuelleck
Florist: @ncmountainflowers
Minister: Reverend Richard
Lighting: Cross Sumit Woodworks
Entertainment: @eastcoastentertainment
Transportation: High Country Transportation
Rentals: Boone Rent All and @parties_too
Hair Stylist: @raedianthair.rae
Makeup Artist: @nicolepadgettmua
Invitations: @artbyashleytriggiano
Wedding Dress: @thornburybrides
Bridesmaid Dresses: @showmeyourmumu