This is part two of a two-part series on how much wedding invitations really cost! In part one, we took a bird's eye view of wedding invitation budgets and costs from DIY to "big box printers" to working with a stationery designer on semi-custom or fully custom invitations! Now let's look at the cost of custom wedding invitations and see how pricing can vary. Then, you can have realistic expectations for your budget and style.
Maybe you have a certain look in mind, but not the budget to accomplish it in its entirety. A stationery designer can help you figure out where to put those dollars. They'll help you make sure your wedding stationery will have the most impact. You'll still have the same "look" but by using the more cost effective methods or materials!
Semi-Custom Wedding Stationery Cost
First, let's start at the lower end of the budget range when working with a stationery designer. You can choose something from their semi-custom collections. In part one of this wedding invitation budgeting series, I mentioned that a hundred of the Classic Suite from the Venue Collection is $1,040. This includes seven Euroflap envelope colors to choose from, along with printed addressing (plus white ink for dark color envelopes!), front and back printing of your invitation, RSVP card and envelope, as well as a details card. And if you'd like to remove an element from the package, then the price would go down!
So, for about a $1,000 budget, you can expect a set of a hundred suites, similar to the below suite.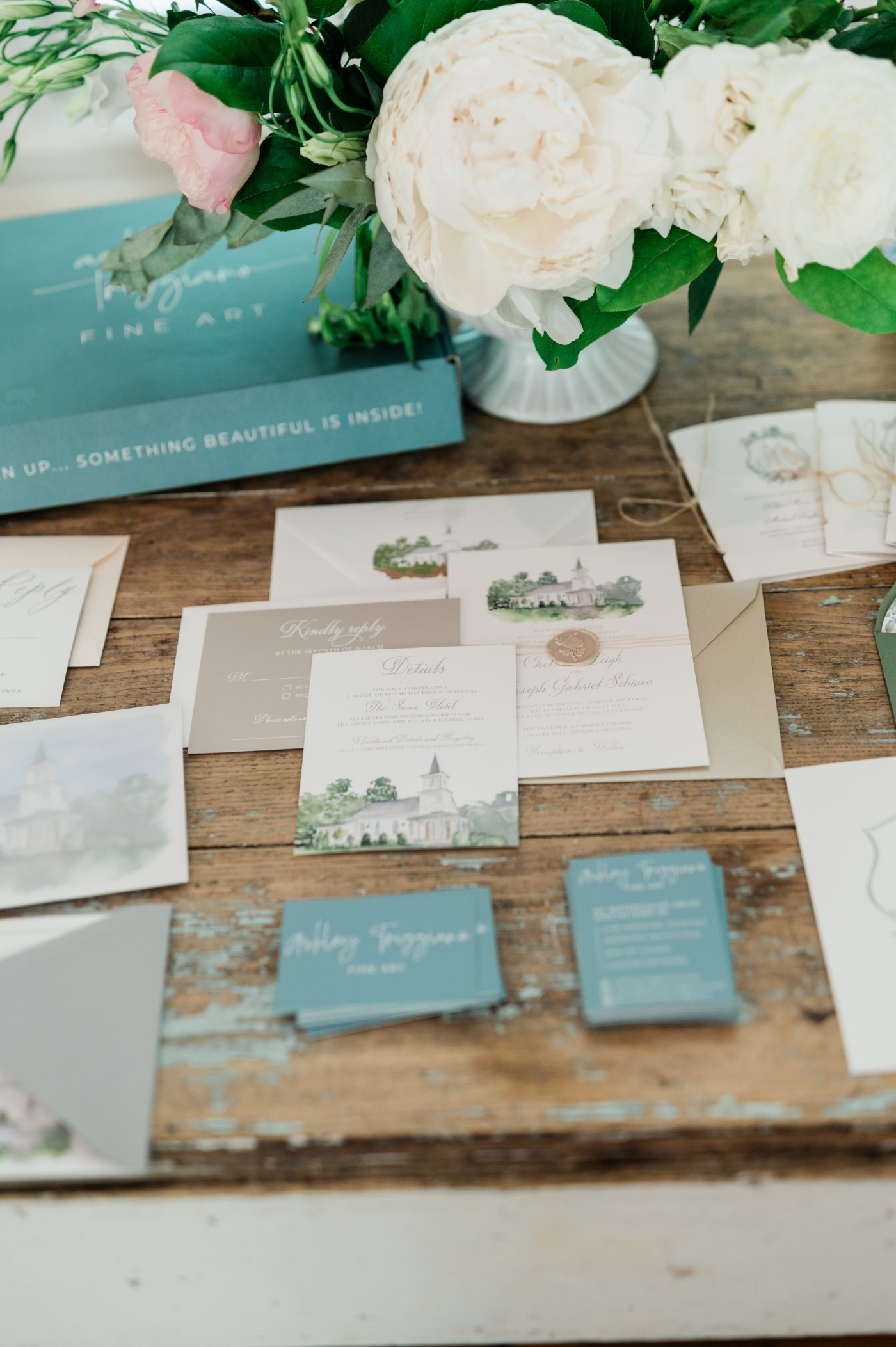 Semi-Custom Wedding Day-of Stationery
Let's say you want to add something like menus and programs for two hundred people, as well as a few signs to help them navigate through your venue and day. Maybe you need a seating chart and place cards, too. You can expect to add about another $600 to $850+ here for those day-of goods from a semi-custom collection.
Custom Wedding Invitations
Next, let's look at what a lot of clients what to know more about: fully custom wedding invitations and their cost! There are so many factors that go into pricing out a suite that its truly hard to give an average. So, I'd like to show you some examples of how different materials (like papers or wax seals, and different printing methods (like digital printing, letterpress or gold foil) affect cost.
Let's start with a basic suite that I consider my "standard" suite. This includes:
Your invitation with front and back printing
Details card with front and back printing
RSVP card with front and back printing
RSVP envelope and addressing
Your main envelope with guest and return addressing
A lovely envelope liner
The cost of custom wedding invitations changes based on a few factors discussed below.
Design fee
The first thing that affects the budget is the level of custom artwork that you want to include. My design fee fluctuates based on whether you want a few floral illustrations or if you're looking for six different venue illustrations for a map or other item!
Let's assume for this first project, a client wants custom floral illustrations and a crest that we can use throughout their suite and day-of goods. The first thing to note is that this design fee is a one-time fee to create the artwork. Once the artwork is ready, we can use it on everything from your invitation suite to your day-of goods. This creates a really cohesive and put-together event!
Let's say this client is also interested in what is included as standard in my packages, flat, digital printing. This just means that printing includes no embossing, letterpress, or foil features – just lots of pretty color! They could expect to spend around $1,800 – $2,100 for one hundred invitation suites.
Wax seals and embellishments
What if they wanted to add some embellishments to their invitation suite? Perhaps they'd like me to assemble them with a wax seal and a vellum wrap. All these items combined would add around $350 to their wedding invitation cost.
Paper costs
Now for another take on their invitation suite. What if they wanted to upgrade to handmade paper? This is that lovely paper with a torn edge and soft, romantic look. There's a ton of work that goes into creating handmade paper, and the cost for this translates into the price. A suite with handmade paper for all three cards would mean adding about $800 to their price. If the budget was getting tight but their hearts were set on that romantic, handmade look, I could make suggestions. Perhaps we only do the invitation in the handmade paper and source a traditional color coordinating paper for their additional insert cards. Another alternative would be for me to create deckled edges on traditional cotton paper by hand tearing the paper. This is a cost-effective alternative if they simply like the look of deckled edges, but perhaps not the full handmade paper experience.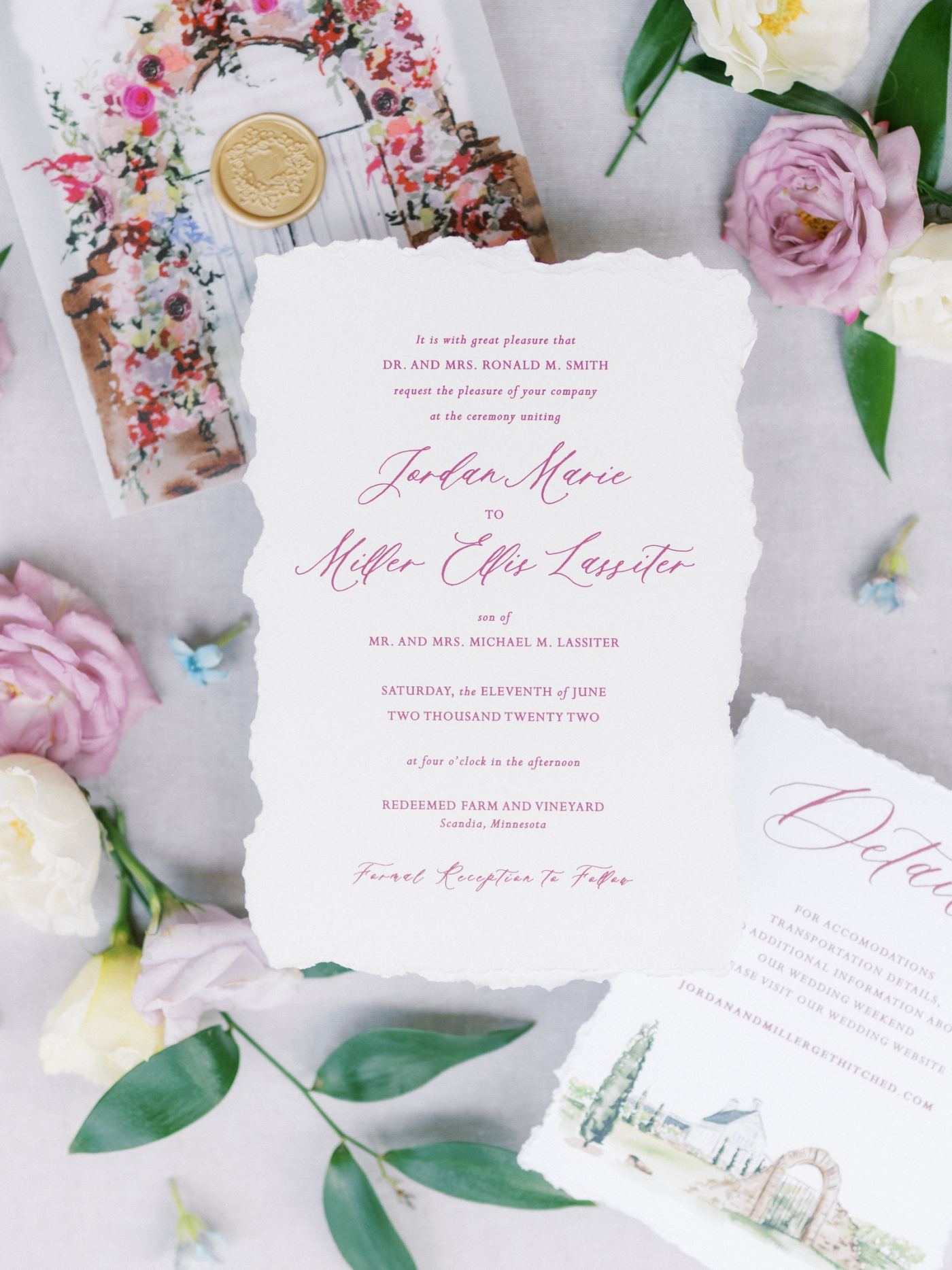 Printing Methods
Like I mentioned earlier, flat printing is the standard included printing in all my packages. But if a couple wants to upgrade to letterpress or foil, there will be extra steps in the print process. This means extra cost. The printing process is also more labor-intensive. Essentially, a couple who has requested letterpress or foil printing will need to have magnesium or copper plates created to imprint those designs and elements onto the paper. The number of foil or letterpress cards they want in their suite affects the overall cost. This is because a separate plate will need to be made for each card.
As an example, if they were to upgrade their printing method to letterpress for the full suite, this would be approximately $850-1,000 more. Or if they preferred adding on foil, they could do that for $500-800. 
If they like the look of engraving, then thermography can be a great budget friendly option because this method doesn't require any special plates or dies. An entire suite can be upgraded to thermographic printing for around $250. Working with a custom invitation designer is a good idea because we can help you find budget friendly ways to get the look you're in search of for less.
Day-of Items
Let's say they also want to add some traditional day-of items, like folded place cards, menus, and a seating chart – all printed on standard papers with flat, digital printing as well! If they have about two hundred guests, they could expect to add roughly $650 to their overall stationery budget. If they do decide they want additional custom artwork for custom drink signs or any other items, there would be a separate illustration fee charged for those since new artwork is being created. However, we can also reuse anything from the initial design process. If there was any room in their budget, we could upgrade the materials to acrylic or fabric, leather or vellum!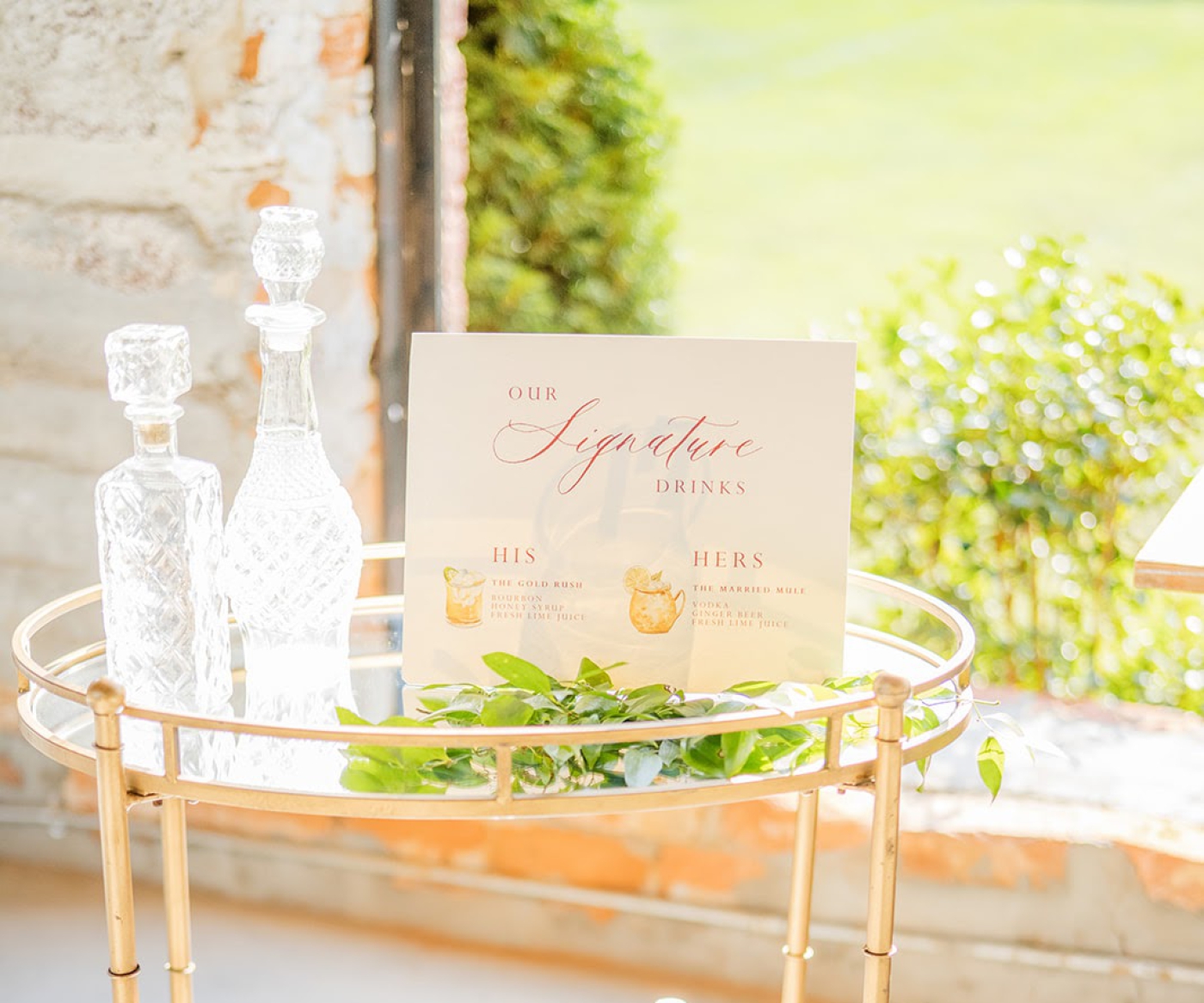 Benefits of working with a wedding stationery designer
simplicity and ease
A big benefit to working with a stationer is that you simply provide the wording (your stationery designer with help with this, of course!) and design direction. Your stationery designer will choose the best layout, make recommendations, and ensure you're following the latest etiquette rules.
You also have someone on your team to deal with printers if there are any printing problems. Plus, a stationery designer can provide advice about assembly, stamps, and mailing.
one stop shop!
You can think of working with me like a "one-stop-shop." You don't need to spend hours browsing Etsy and piecing together different items like Koozies or table numbers from different Etsy sellers. You'll end up with a non-cohesive look. Instead, you can work with someone like me. I can source all of those items for you and keep your design consistent with what you're envisioning!
Keep it cohesive
It's so easy for a wedding design to go off the rails in the age of Pinterest. There are so many visual inputs and so many "pretty" things out there. It's easy to get distracted or to lose sight of what could create a cohesive wedding day design. It's also great to have someone in your corner who can walk through planning your day-of details. I can make sure everything will work for your wedding.
For instance, you know you want to do a plated dinner, and you don't want Uncle John next to Aunt Sally at the same table. But you may not have thought about how you'll get your guests from the entrance of the reception to their specific seat! A stationer can recommend a seating chart and escort card that works for your layout, as well as place cards. Or maybe you're doing buffet style and open seating. Rather than put the budget toward a seating chart, a fun single menu sign would be great here. You can even just skip the dinnertime signage all altogether and put that part of your budget toward something else!
Whatever you have your heart set on, know that I am on your team and in your corner. I will work with you to bring your wedding day vision to life. If you're interested in learning more about the custom stationery process or what your paper vision dreams might run, please reach out for a quote! I'd love to help you create the wedding day details you envision and tell your love story through paper, pen, and ink.