When it comes to your wedding invitations, every detail matters. Your invitations will be the first peek at your special day. I personally believe they set the tone for all the fun to come. The method you choose for your invitation printing can definitely impact the overall look and feel of your invites. In this guide, I'll share four of the most popular wedding invitation printing methods my clients choose. Moreover, I'll unpack their particular benefits and their cost differences. The four options I'll be discussing are Digital Full Color Printing, Thermography Printing, Letterpress Printing, and Foil Printing. Each method brings unique charm and advantages to your special day and each can be mixed and matched in various ways for some truly incredible texture and visual impact!
Digital Full Color Printing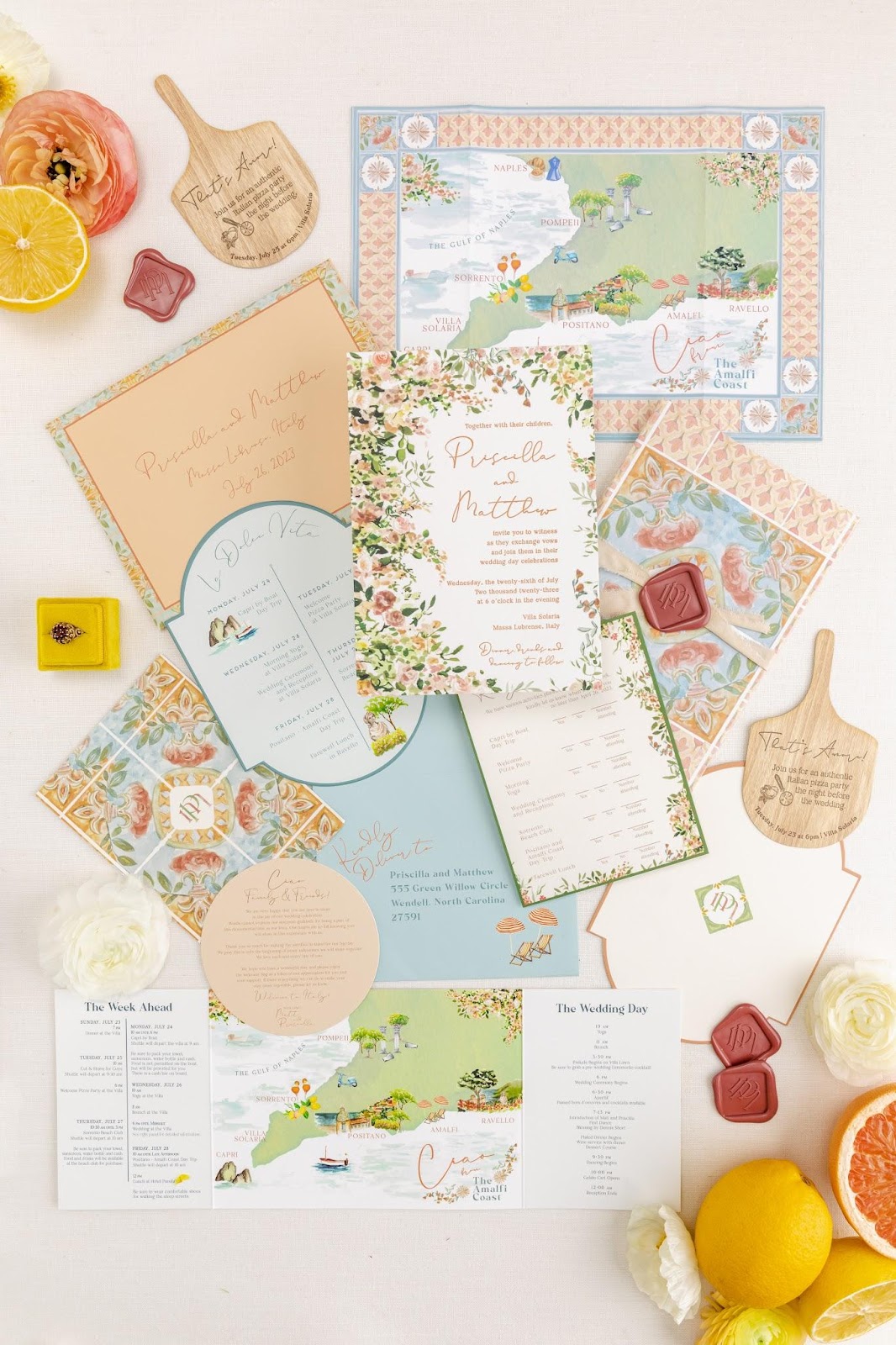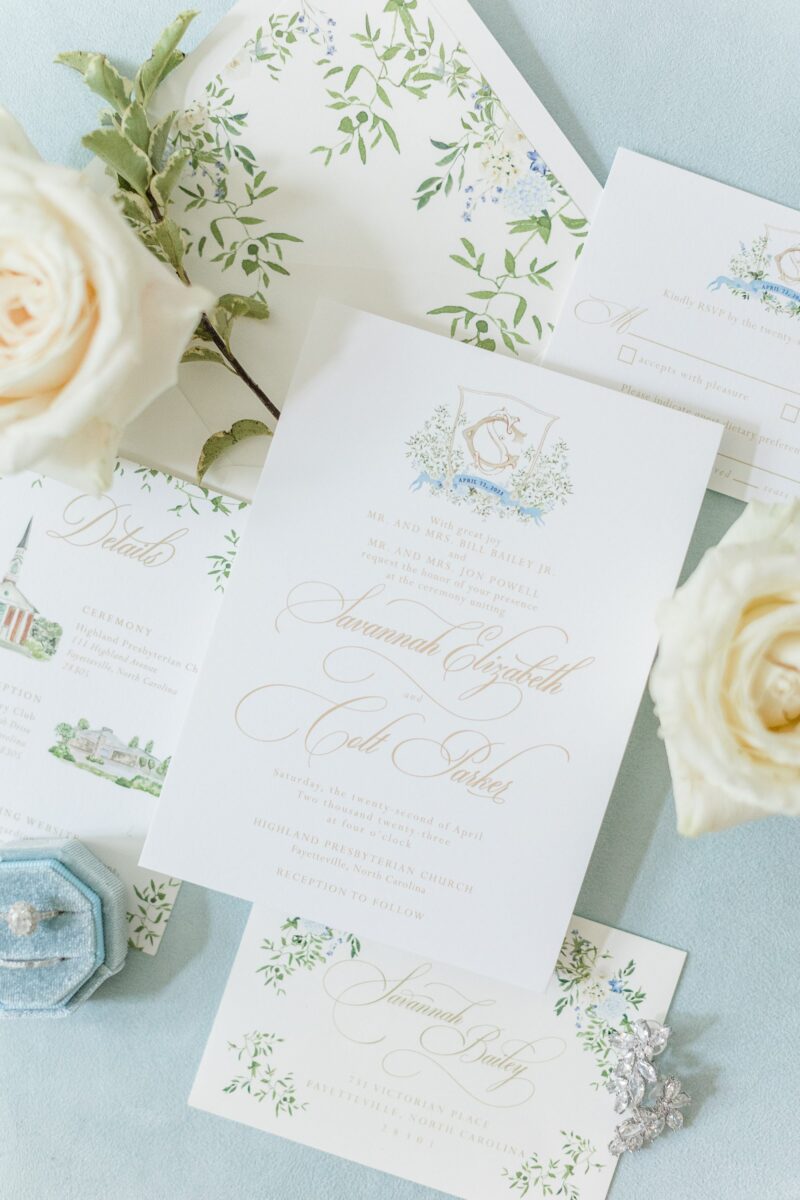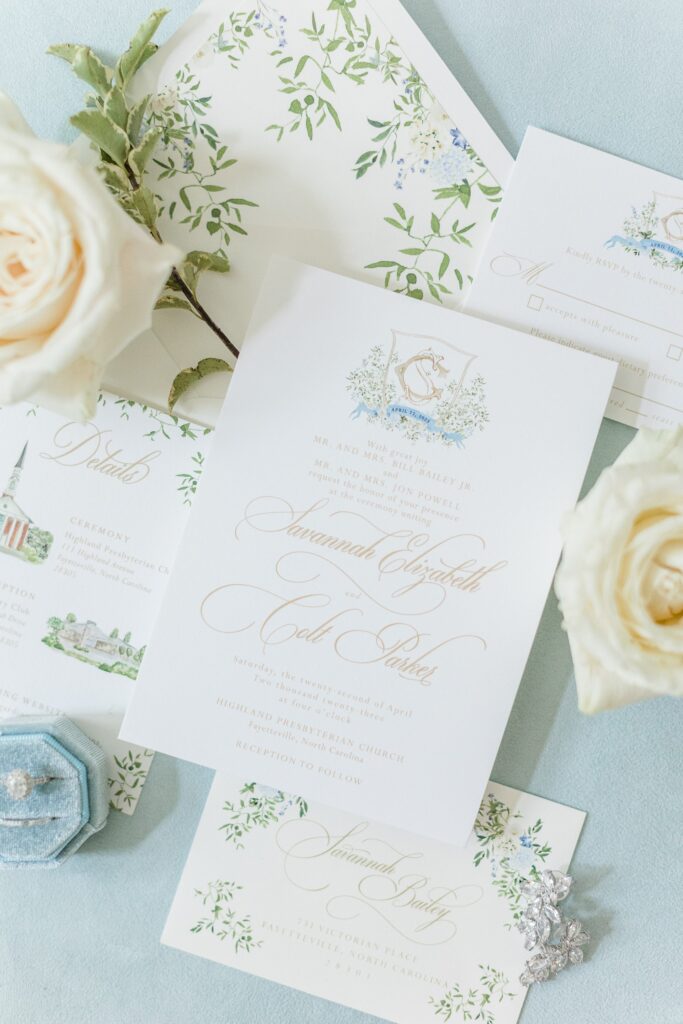 Vivid Color Palette
Digital full-color printing offers every shade of the rainbow. This is what you'd consider standard "flat digital printing" but on enormous HP Indigo Digital presses that bring perfect, consistent shades to life that you won't be able to achieve with home printing.
Cost-Effective
This method of wedding invitation printing is the most budget-friendly choice for couples looking to make a stunning visual impact without breaking the bank. No need for multiple plates or intricate setups, which can be costly. It is also ideal for the watercolor artwork that I specialize in because it's the only print method that can produce all of those lovely variations and shades in one pass.
Quick Turnaround
Digital printing allows for speedy production, making it ideal for couples with tight timelines.
Customization
Easily personalize each invitation with guest names or unique details. For example, if you wanted guest names on each dinner menu, with letterpress or foil you'd have to pay for every single guest name's printing plate to be created, prepped, and run through, leading to exorbitant and unnecessary costs. However, with digital printing, while you'll pay a tiny bit more for your designer to individually set up the files digitally (than compared to a single menu file that is the same for every guest), all of them can be printed with ease on the HP Indigo digital printing presses in one go.
So for a real cost analysis (as of 2023, pricing is subject to change of course!) a designer may charge $1-2 per name set up for menus that will be digitally printed with custom guest names on each, but it would cost anywhere from $75-125 per foil plate for each guest name if you wanted to put custom guest names on each foil menu! So, for 200 guests you'd be looking at $200 versus $2,000+!
Pro tip: ask your designer how you can combine foil printing for the menu's main text or design that stays the same for all menus, and digital printing for guest names 🙂 All the glimmer, without the cost!
Thermography Printing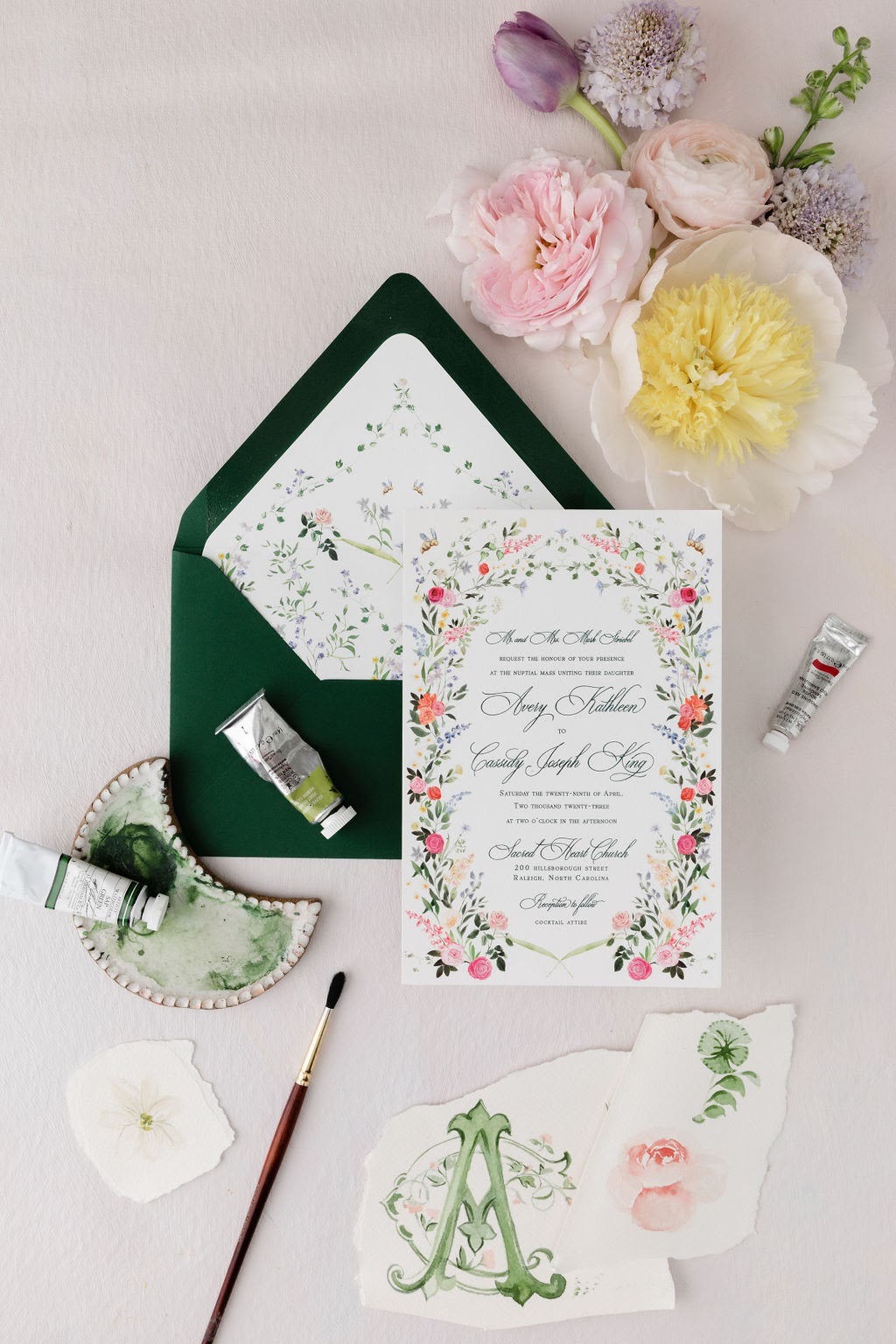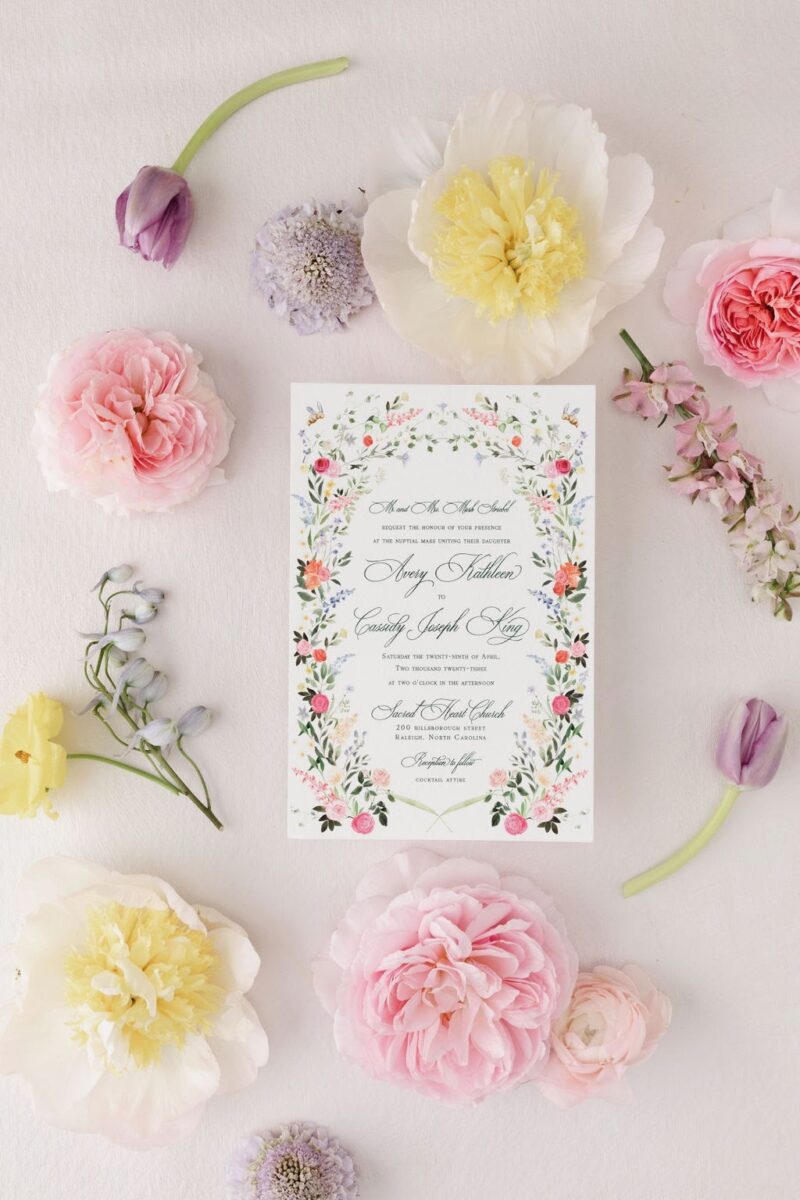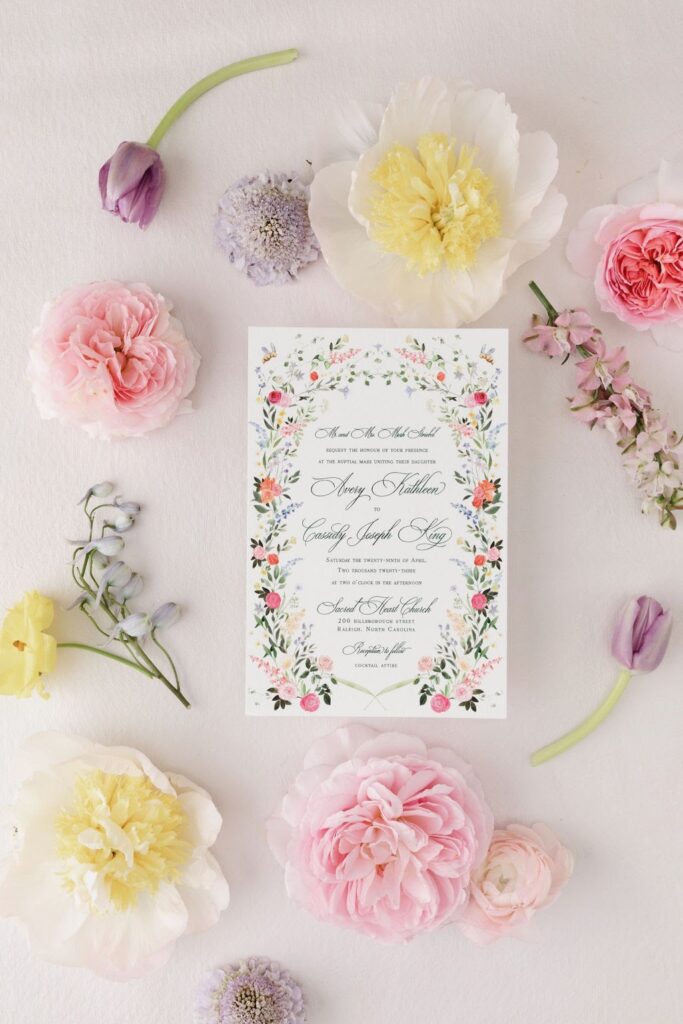 Raised Textured Finish
Thermography is incredible because it creates raised text and graphics, providing a bit of texture and an elegant feel. It mimics the look of more expensive methods like engraving but at a much lower cost. Typically, thermography is just a tiny bit more than what digital printing costs. Keep in mind, that it can only be done in 1-3 colors on a single design so you can't achieve full-color variations like digital print can.
Crisp and Clear Detail
This method produces sharp, precise lines and text, ensuring your invitations are both visually appealing and easy to read.
Variety of Paper Options
Thermography works well on various paper types, allowing you to choose the perfect texture and color for your invitations.
Affordability
While it offers a luxurious appearance, thermography printing is much more affordable than letterpress or foil printing, making it an attractive option for many couples.
Pro tip: Consider combining watercolor or full-color artwork with digital printing on your invitations, and then thermography for the text!
Letterpress Printing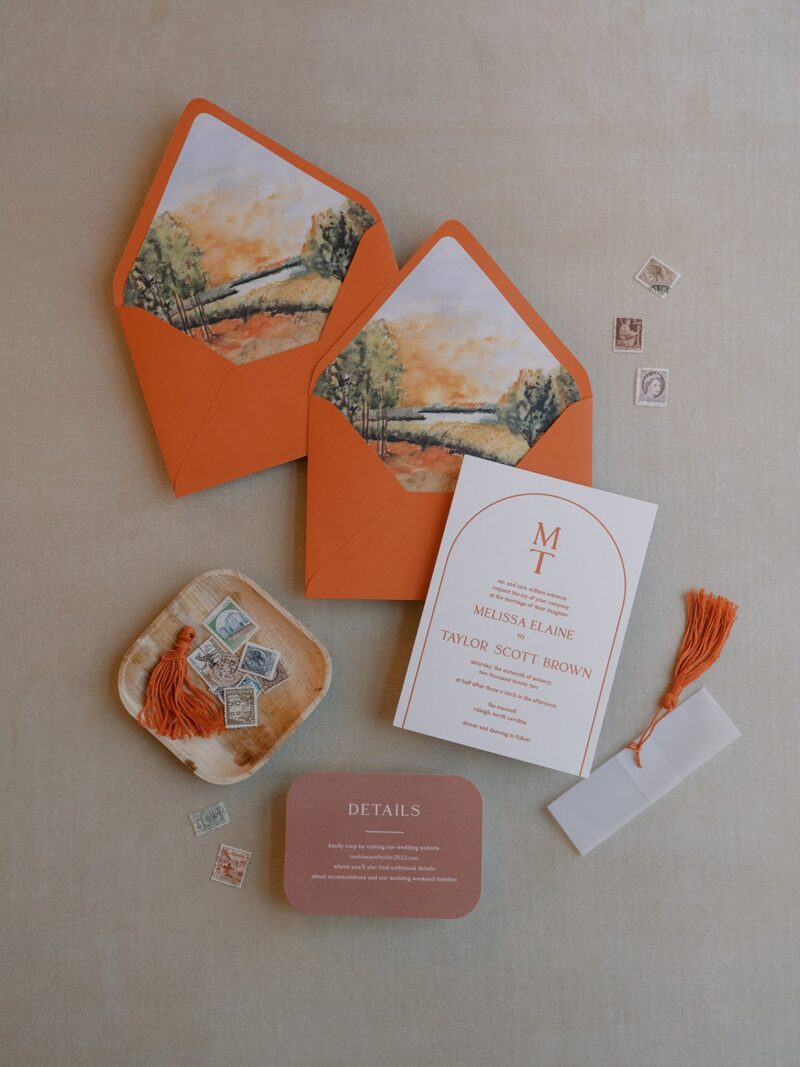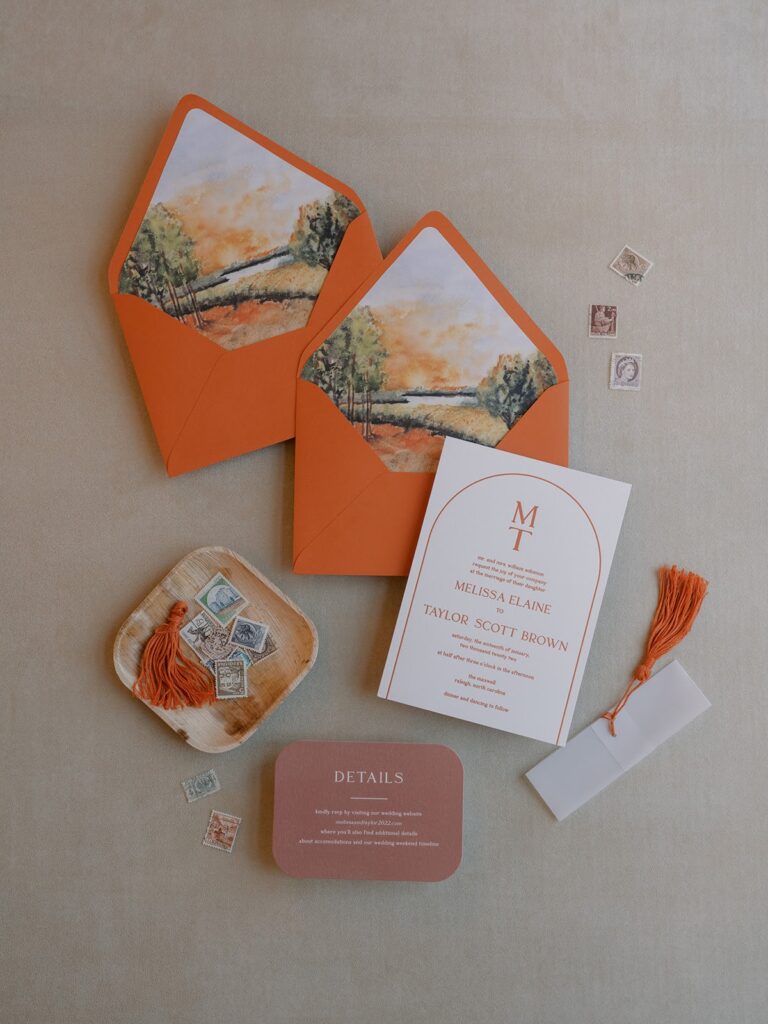 Timeless Impression
Letterpress printing is adored for its timeless beauty and classic elegance. It leaves a deep impression on thick, high-quality paper, resulting in a visually striking and tactile invitation.
Customizable Ink Colors
Choose from a huge library of ink colors to complement your wedding theme perfectly. The ink is mixed by hand by our print shop partners, matching the Pantone shade that we specify for them.
Unique Texture
The indentation created by the letterpress process adds a distinctive texture to your invitations, making them stand out in a world of flat, digital designs.
Luxurious Feel
The weight and quality of paper used in letterpress printing contribute to a luxurious, heirloom-worthy keepsake for your guests.
Pro tip: You'll want to remember that letterpress inks consist of a transparent base, meaning that you can't put a white or light letterpress ink (in most cases) on a darker color cardstock. There are *some* workarounds to this, but for the most part, you'll want to have a darker shade of letterpress ink imprinted on a card stock that is lighter than the ink color.
Foil Printing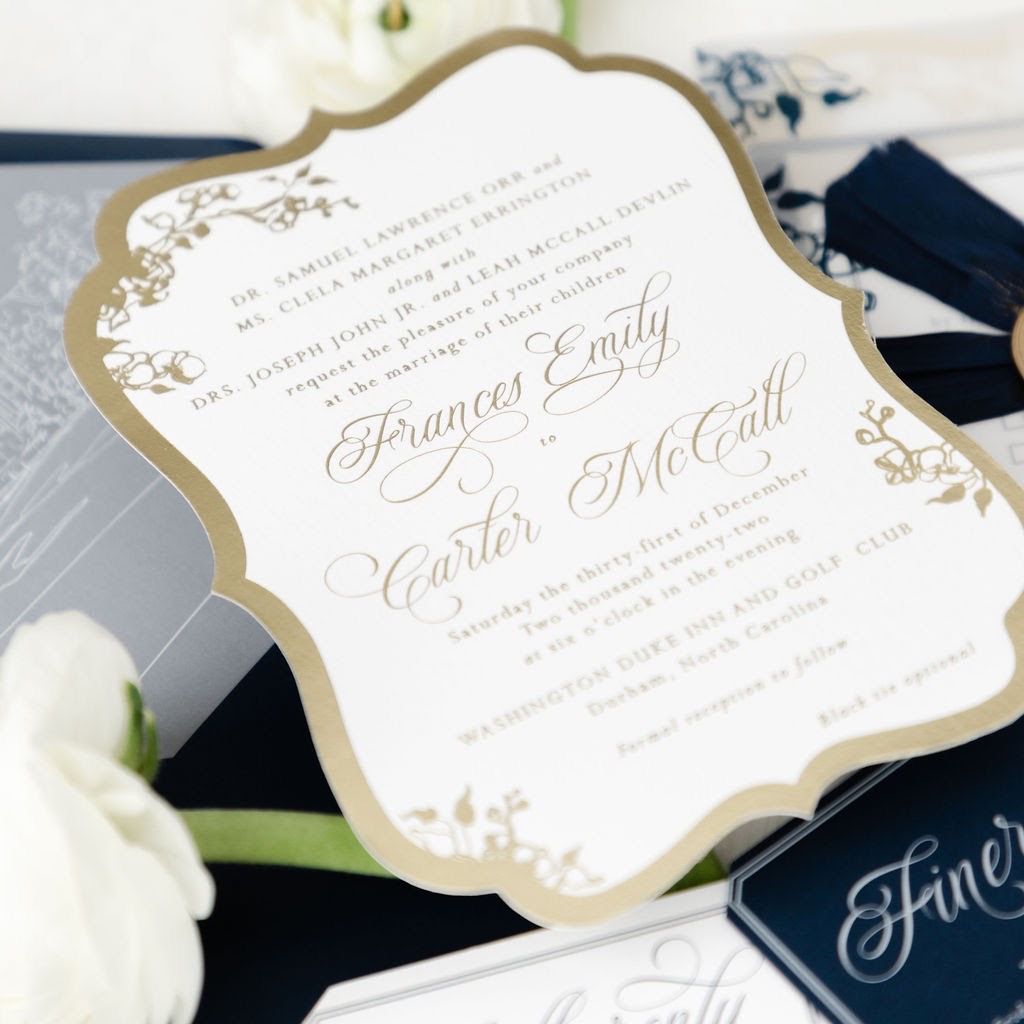 Elegance and Glamour
Foil printing, available in metallic shades like gold, silver, and rose gold, totally gives opulence and luxury. It's perfect for couples aiming for an elegant and sophisticated look. Plus, today's print shops offer so many more ranges of color – from French blue to literal glittering pinks or golds, lime green shades or holographic, iridescent multi-color shades!
Versatile Design
Foil can be applied to text, graphics, or even entire backgrounds, allowing for versatile and creative designs that give an incredibly unique style.
Contrast and Impact
Foil printing creates a striking contrast with the paper, making your stationery a visual standout. It's particularly effective when used for accent details or monograms.
Memorability
Foil-printed invitations often become cherished keepsakes for guests due to their high-quality appearance and tactile allure.
As you can see, each wedding invitation printing method offers distinct advantages. Digital full-color printing is budget-friendly and quick, while thermography provides an affordable way to achieve a raised, textured look. Letterpress printing embodies timeless elegance, and foil printing adds a touch of glamour. Consider your wedding theme, budget, and personal style when choosing the method that best reflects your love story. Whichever you choose, your invitations will set the stage for a day filled with love and celebration!
Our studio would love to help you make your wedding stationery dreams come true, and we offer all of these wedding invitation printing options with our Custom Stationery services. Take a look at our portfolio and share your wedding information here, and we'll get back to you as soon as possible!