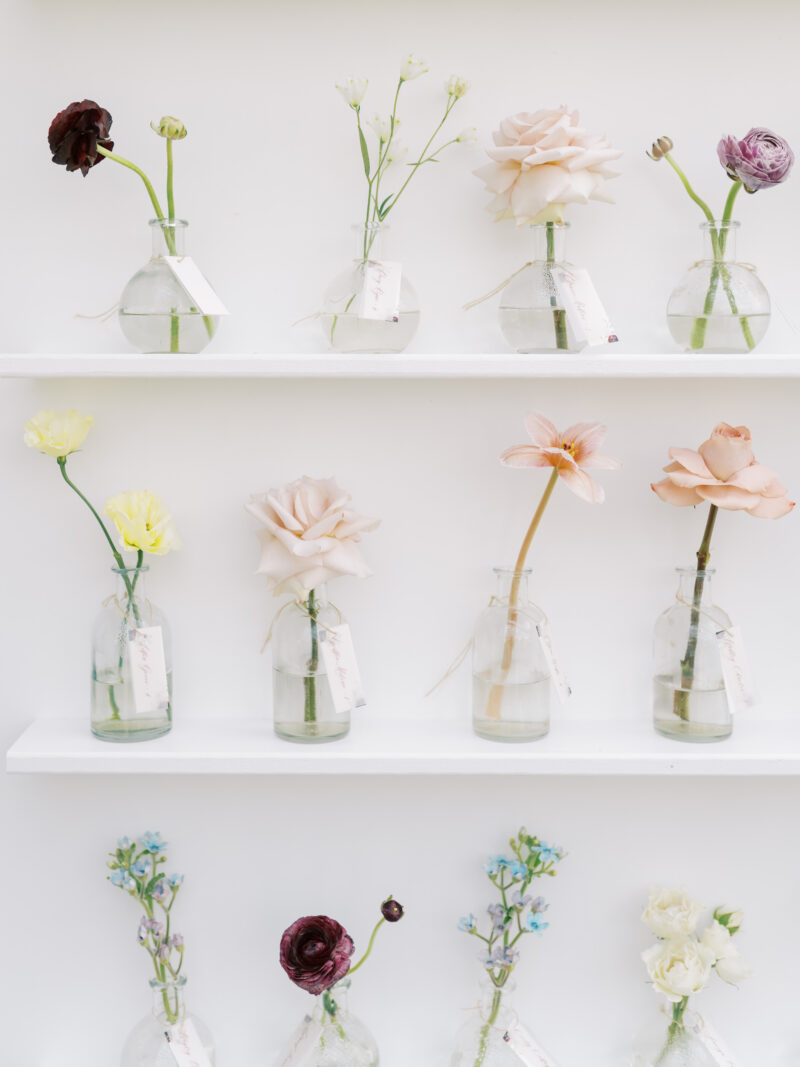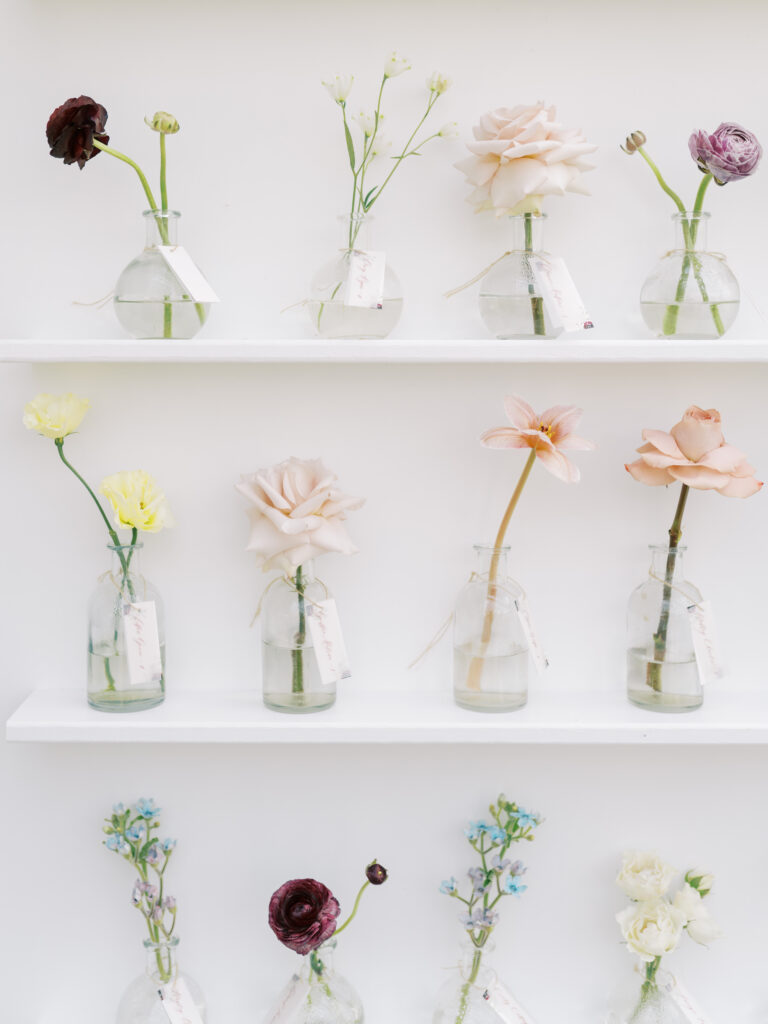 You've seen them and read about them, but perhaps you aren't sure what the difference is. What am I referring to? Seating charts and escort displays, of course! So, what does your wedding need? Every wedding reception is different and calls for different kinds of seating charts and signage. A lot depends on whether you're having a plated dinner with assigned seats, or an open seating arrangement and buffet style meal. There are several ways of communicating food choices and seating information to your guests. Take a look at the helpful guide below to locate your specific wedding reception situation and dinner style and pinpoint what you need for your wedding day seating signage!
When to Use an Escort Display and Placecards
A plated dinner with assigned seating and guest-selected entrees
This scenario calls for a classic escort display and tabletop placecards. What is an escort display, you ask? It's simply a collection (or display) of cards with each guests name and table number on it. The idea is that they can pick it up and carry it with them to their table. When they reach the table, they'll see the placecard with their name identifying the seat you've chosen for them. One important element of this seating style is the guest's dinner selection. Prior to the wedding, they will have indicated what they would like to have for dinner via their RSVP. You will then take that information and indicate that on their placecard. You could even choose to incorporate the guests name on their menu instead with their dinner entree shown. This also doubles as a little personal memento they can keep.
Traditionally, an escort display was a table with folded cards lined up alphabetically for guests to grab. Presently, some couples stick with that age old format, while others decide to let the escort display be a fun and interactive station. My vote is always to make a statement with your escort display, but only if your seating situation calls for it. It's one place where you can allocate a bigger section of your stationery budget for a fun and memorable impact.
One memorable example was a wedding I helped with at The Bradford. The bride's aunts had made her handcrafted ceramic dogwood flowers with magnets on the back. So, I got to work creating a large framed magnetic board that we could cover and use to display the magnets. I thought it would be really cool to hand paint a dogwood tree background, scan the painting in, then set it up in Photoshop with all the guests names surrounding it. Each guest's name had a spot for the dogwood flower, and they could take the flower home with them as a favor. Don't you love how it turned out?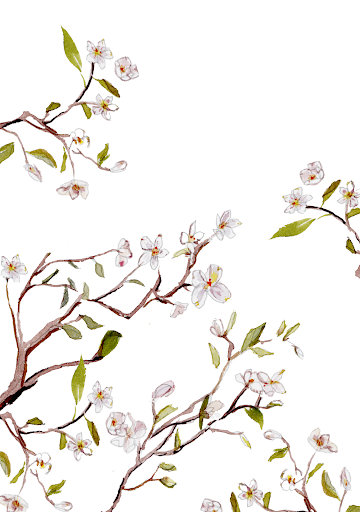 The plated dinner with assigned seats and a single set menu served to everyone
In this scenario, you still have assigned seatings with an Escort Display getting guests to their table, similar to the situation above, but the big difference is that everyone is being served the same set menu. In this case, your placecards don't need to signal meal selections or dietary restrictions to the service staff. However, they'll still help guests identify which seat is theirs. You can also choose to have a standard menu at the place setting.
When to Use a Seating Chart
Perhaps you'd like to seat your guests by table, but want to let them decide where to sit at the table itself. This works when guests did not pre-select a dinner and everyone is being served the same dish. Alternatively, if you're doing a buffet or family style, this also works! A seating chart is a stationery display of guests names. Their names can be listed in alphabetical order, with their table number next to it, or categorized by table number with their names underneath. This can be as simple as a few framed prints or as extravagant as fabric drapery or installation setups with vinyl names on oversized boards.
When You Don't Need a Seating Chart, Escort Display, or Placecards at All
If your wedding has a more casual vibe, this may be right up your alley. If you have stations set up for guests to go and get the food of their own choice, or a central buffet for everyone, you could simply have a few signs at the beginning of the buffet (or at each station) indicating what's being served. Alternatively, you could do small tabletop folding cards identifying what's at each section of the buffet.
Below are some photo examples of seating charts, escort cards, and placecards. I may be biased, but I think they are all so beautiful in their own way!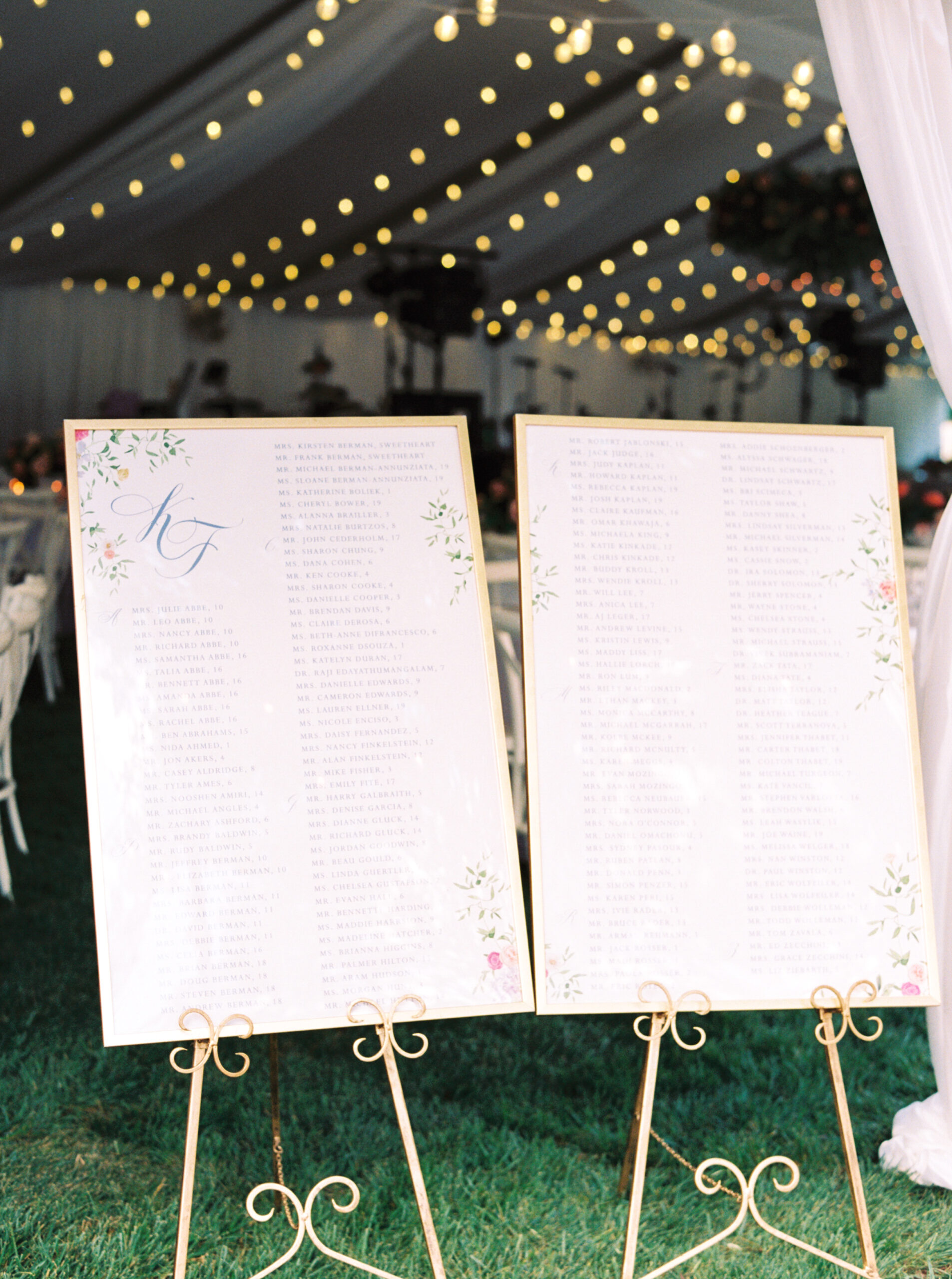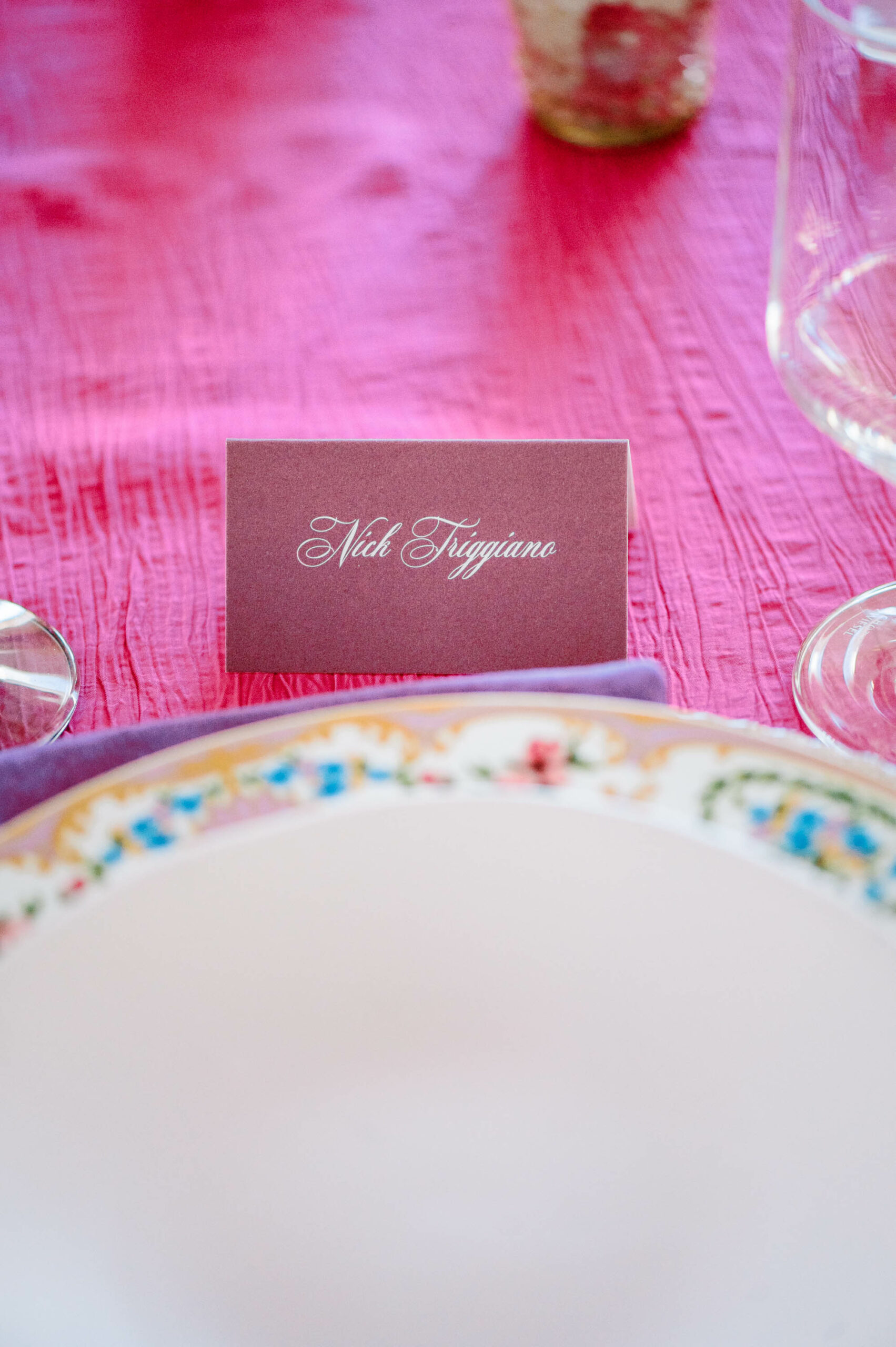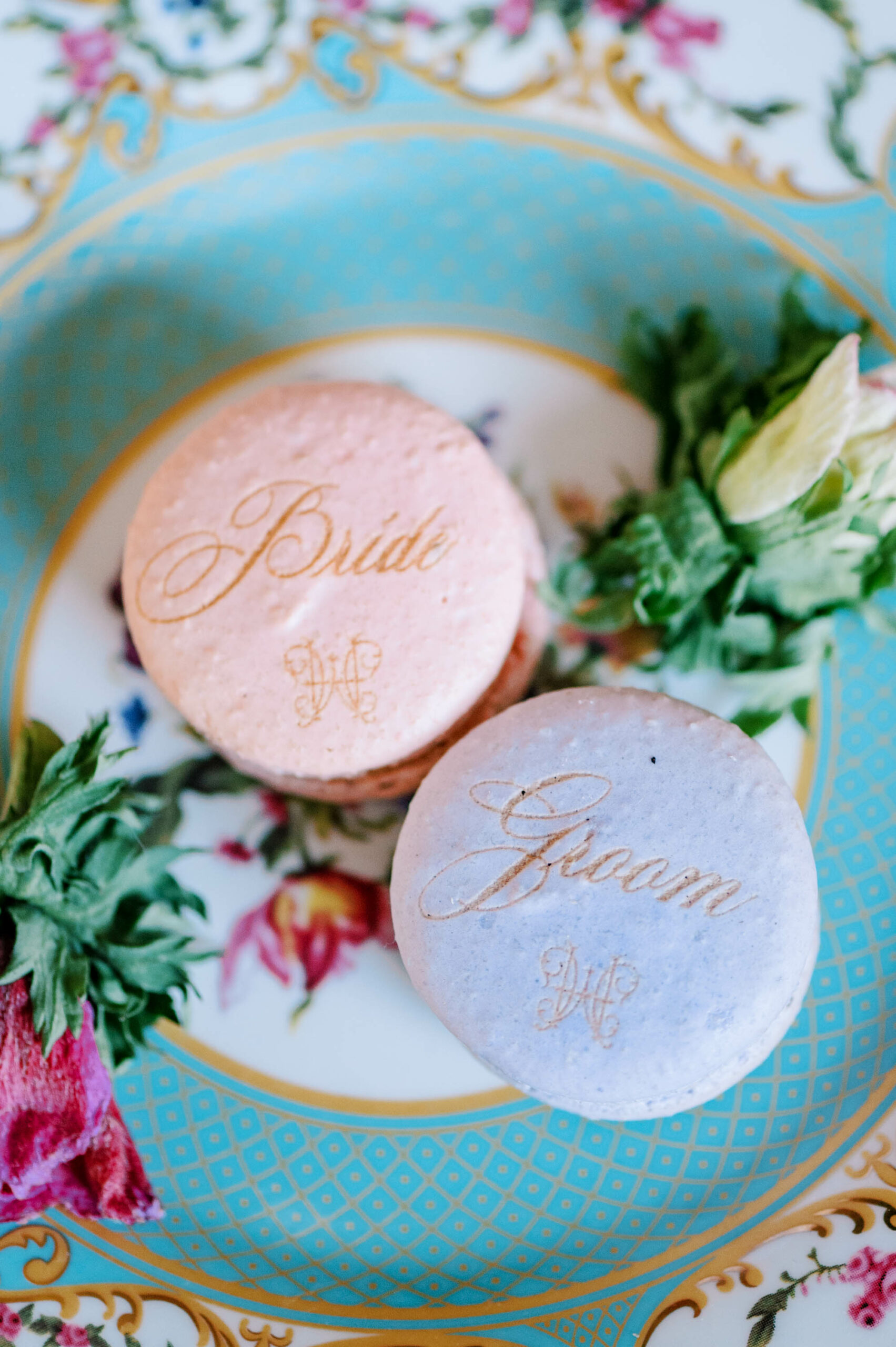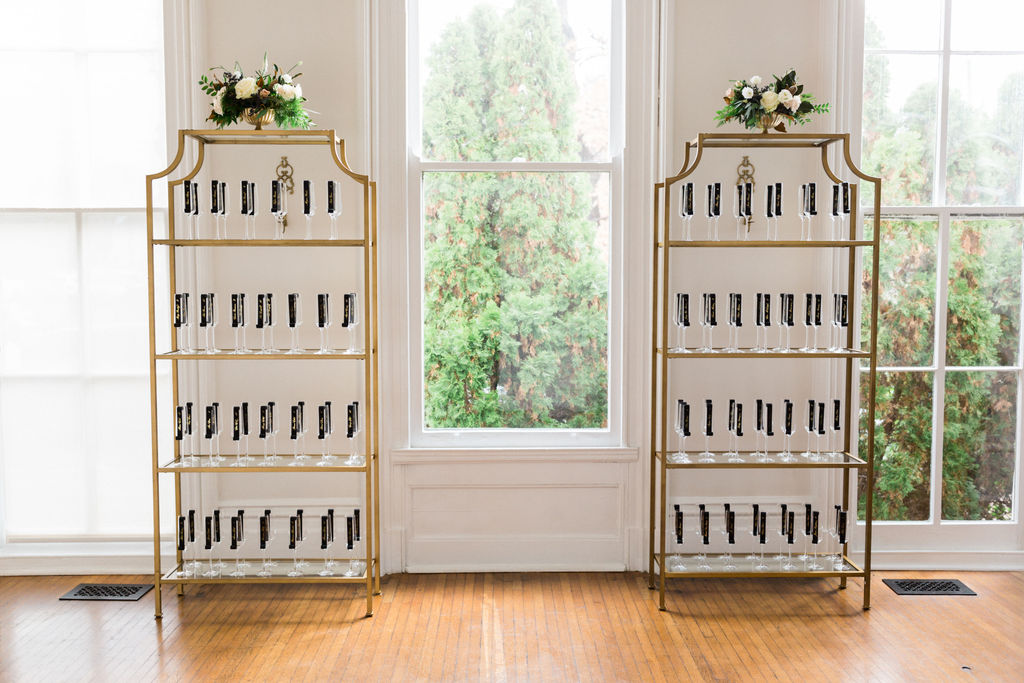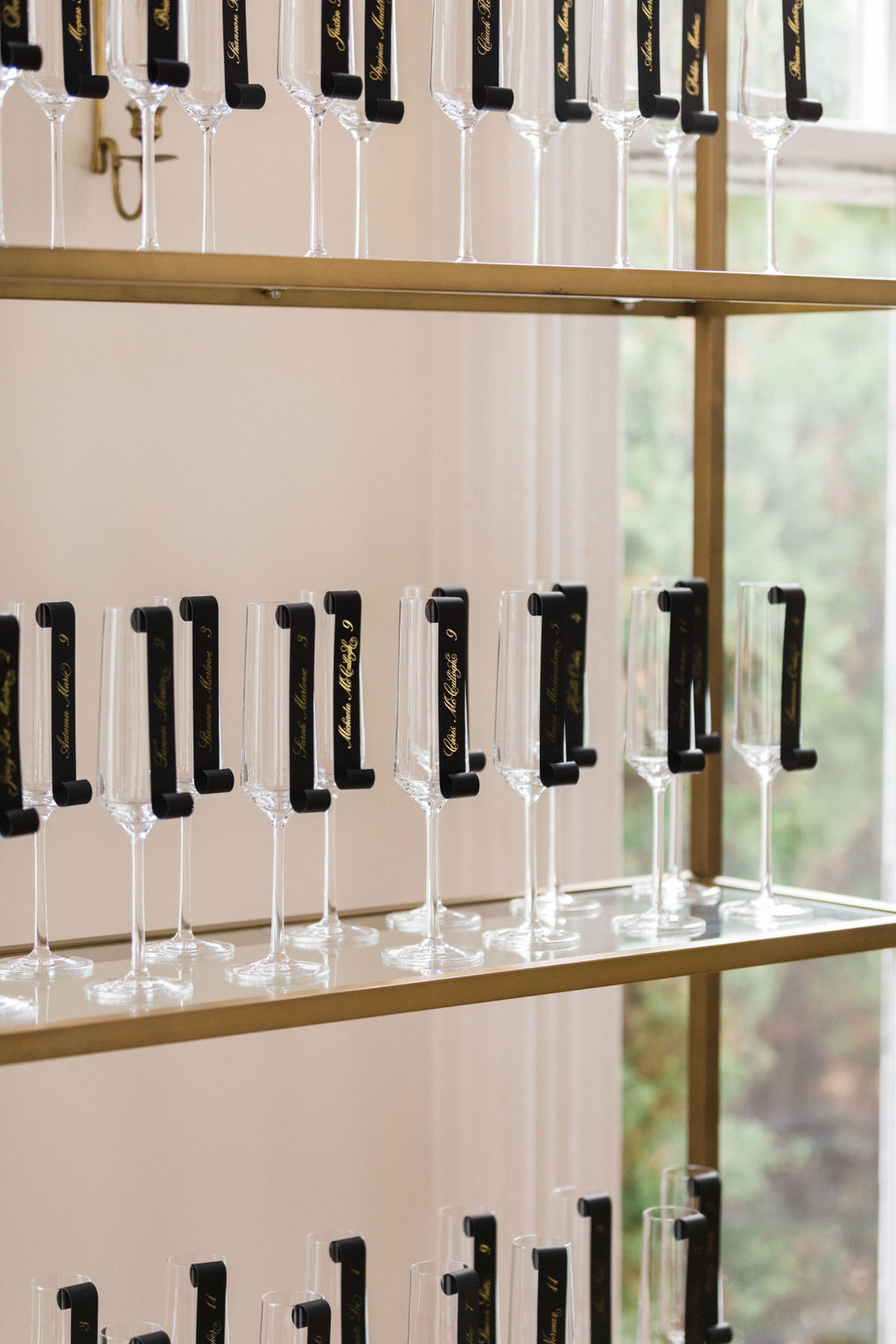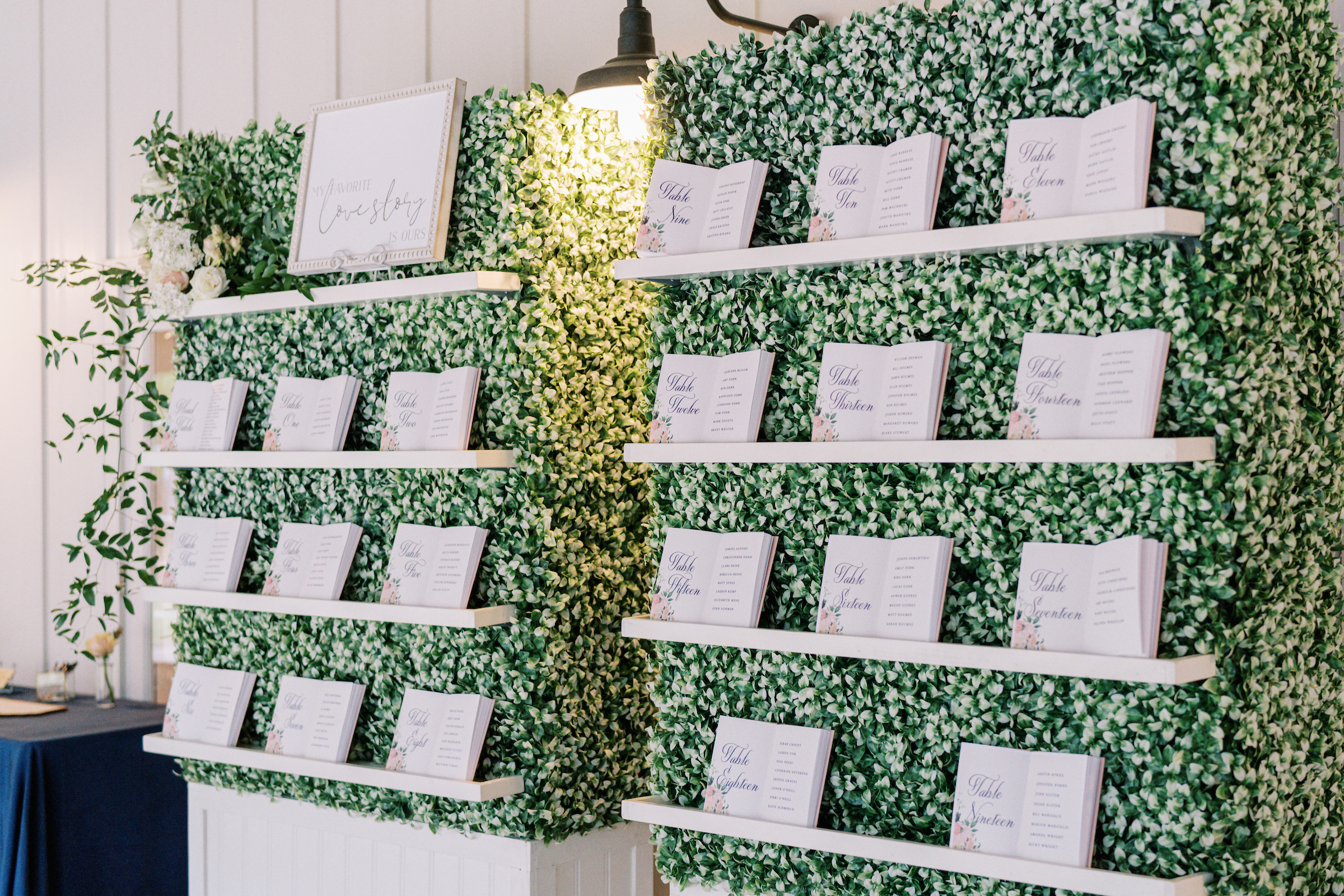 So what's right for you? An escort display and a seating chart both get the job done. Ultimately, as you can see, placecards really come down to whether or not your guests have made menu selections or identified dietary restrictions. In conclusion, it comes down to your preferences with some important logistics and practicalities mixed in.
Ask yourself: is your wedding a somewhat relaxed, casual affair or are you creating a traditional and formal feeling? What's your wedding style? Are there any unique elements in your wedding that you'd like to highlight in a creative way? Do you have space in your budget to allocate to a bigger display or seating chart? Where do you want maximum impact? What would your venue accommodate in terms of space and transitions for guests – placement of these items is important, too! A stationer who is familiar with the space or who can look at a layout with you or your planner will be a great asset in determining whats best for you!
Interested in seeing other unique ways to make an impact at your wedding? Check out this post!