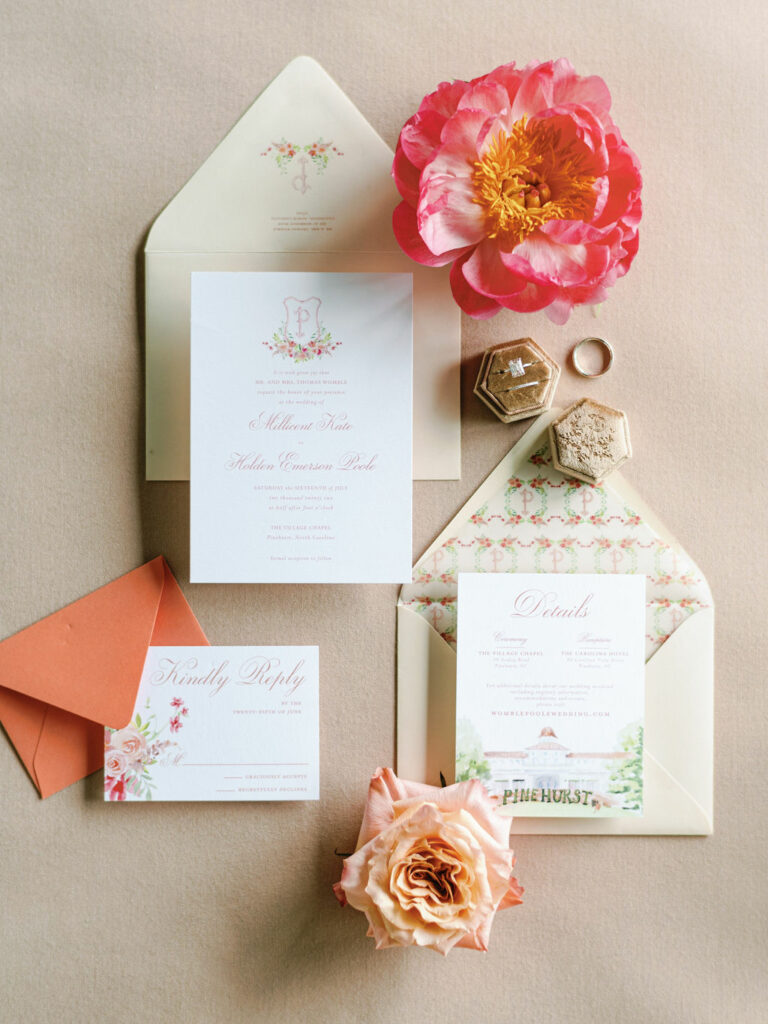 When Millicent reached out to inquire about her summertime Pinehurst Resort wedding, she shared inspiration photos that had me convinced this "match made in heaven" was for real – and I mean she and I, obviously. (Kidding! She and Holden are the real deal – but she definitely had an aesthetic vision for her wedding invitations that I adore and am so grateful she asked to work with me!) Working with clients who appreciate my artistic style and enjoy plenty of custom watercolor paintings is such a joy. While I love working on projects of all sorts, this style is for sure my favorite. Want to see how we brought her vision to life through full service custom stationery? Take a look below!
The Pinehurst Resort Wedding Invitations
We decided that her Pinehurst Resort wedding needed an illustration of that iconic entrance with styled hedges. Additionally, what would custom wedding invitations be without including a little nod to the real MVP of the big day – their sweet pup Houston! If you take a close look at the Details card, you'll see him there in the corner saying, "hello!" Their color palette consisted of muted blush, neutrals, orange and peach shades, plus a few pops of bright pink. With that in mind, I handpainted florals that we could use throughout the suite. 
The couple's envelope liner featured a variation of their handpainted Shuler Studio monogram and crest. When I create custom handpainted wedding crests, I try to create a few different versions. You'll see that the version on the envelope return address, main invitation, and vellum liner are all just a tiny bit different. I think this adds a good dose of visual interest while keeping things consistent!
A Little Something Extra
Whenever I work with custom stationery clients, I try to always add in a little surprise or two. I always account for one set of invitations to be kept on hand for day-of styling and photography. Moreover, I like to include something else that can take their flat-lay photos up a notch. I know how much photographers love these little extras and it's so fun to include them. Here, I added a small linen with their crest that could be used as a backdrop or accent piece. I also included an engraved velvet ring box in that sandy shade the bridesmaids wore!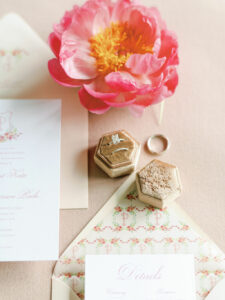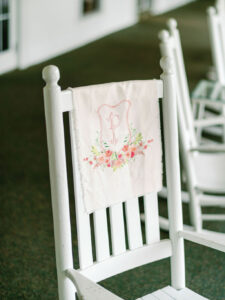 Seating Chart and Place Settings
When it came to the big day itself, Millicent's planner Nicole of Vision Events, requested that we come up with something fun and statement-making for her seating chart. What would a Pinehurst Resort wedding be without a grand entrance to the grand ballroom? They envisioned guests names on a wall but needed some help with executing the design. We decided that layered velvet drapings hung by ribbon would be a really pretty way to get guests to their seats! I love the way it turned out – how about you?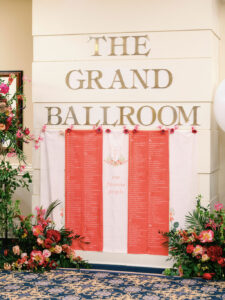 In addition to their stunning seating chart, they had lovely menus and place cards to dress up their table settings. Playing up the brighter pinks worked really well with the floral arrangements on the tables and throughout the area.
Wedding Bar Decorations
I had a unique idea for the bar but it was going to require some help from another vendor. I reached out to their fabulous photographer, Kelsey Nelson, for some assistance. We worked together to make sure we had the best versions of their engagement photos to use for bar panels. We created two versions of bar panels featuring their crest in the middle, and photos on the sides. Which set is your favorite?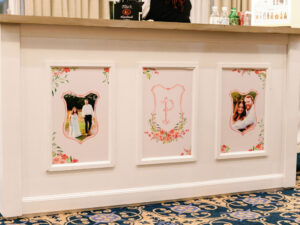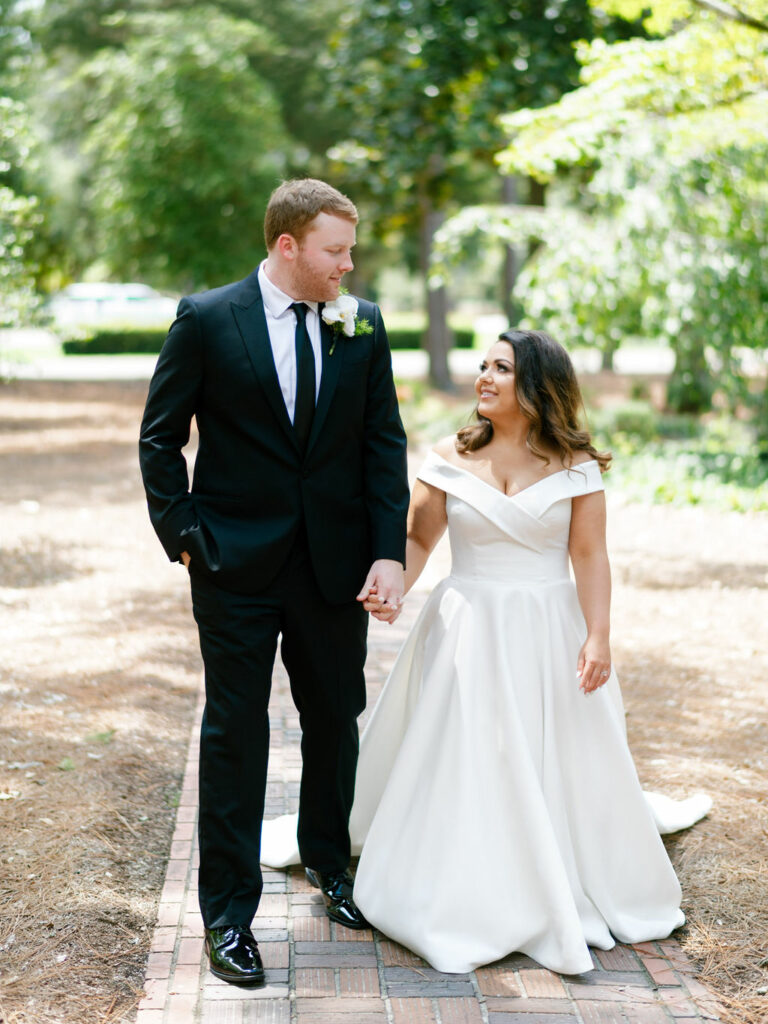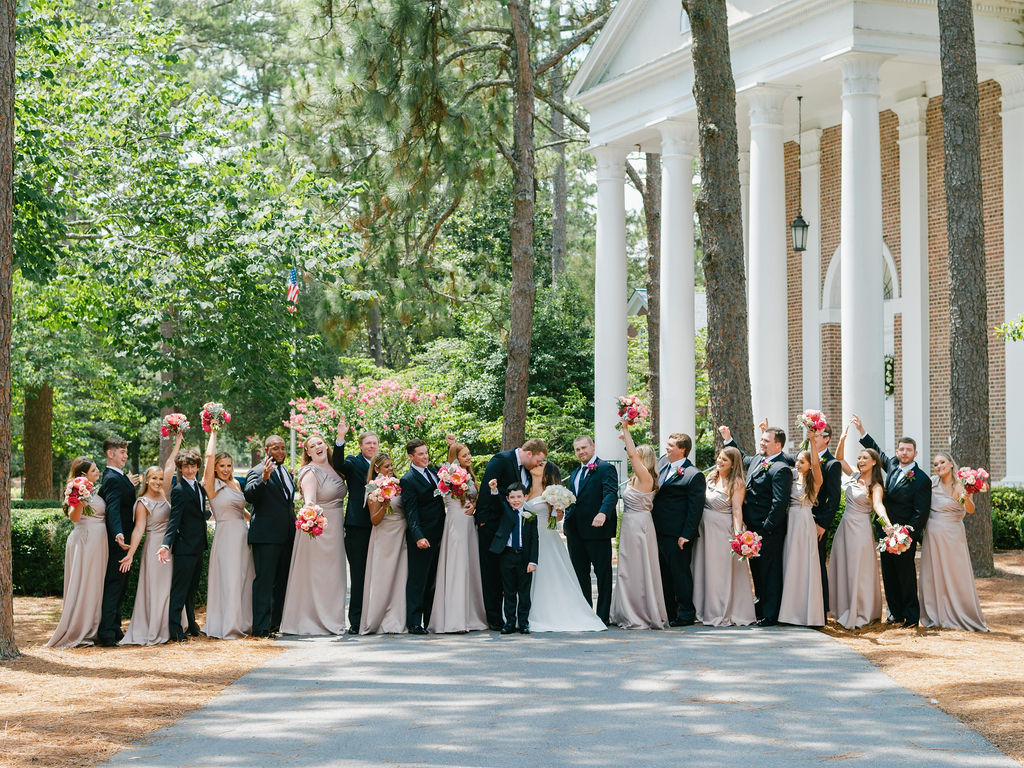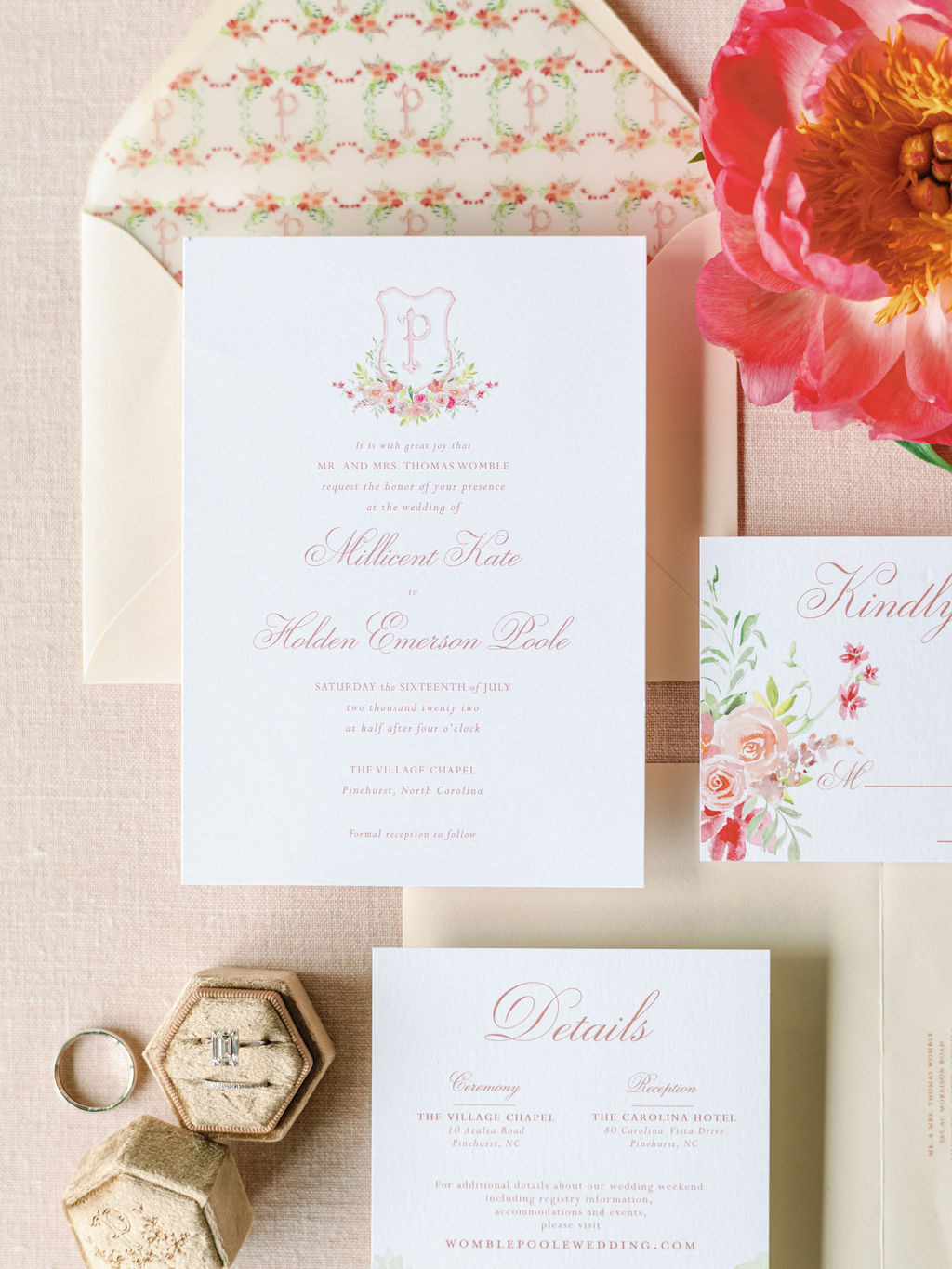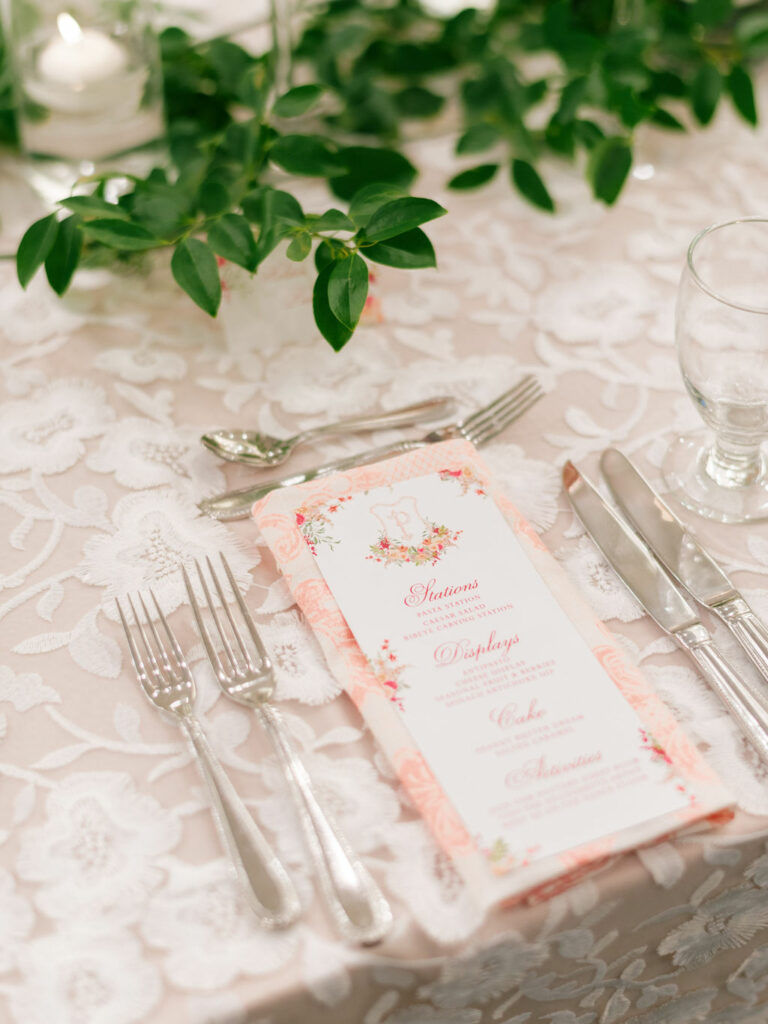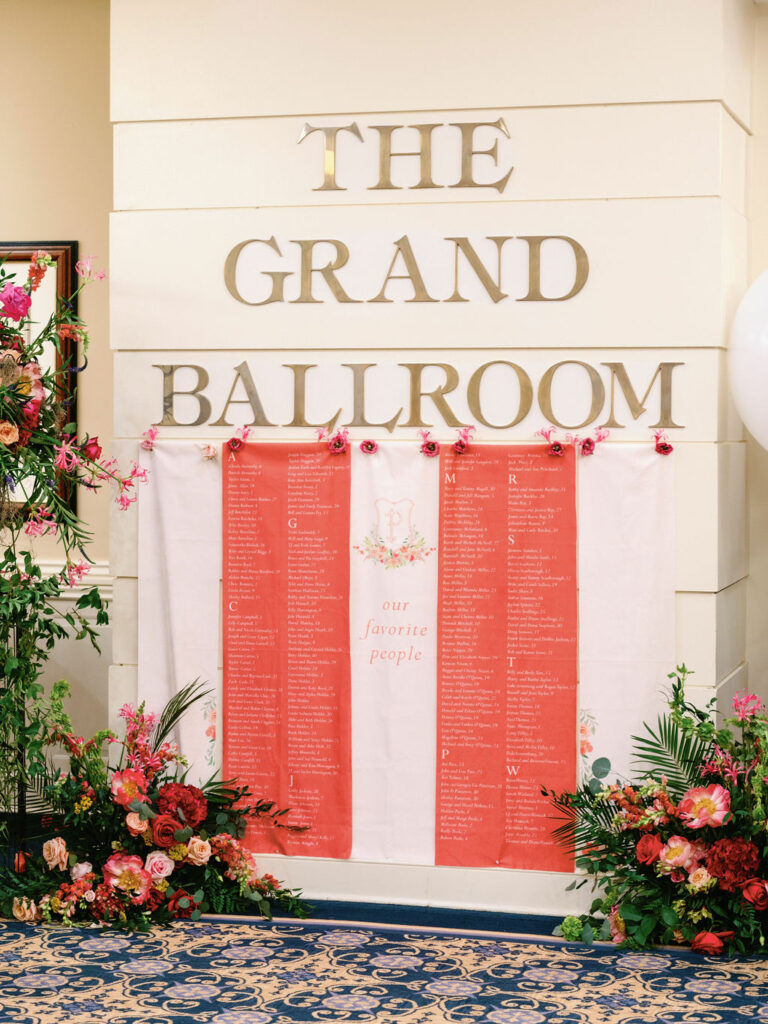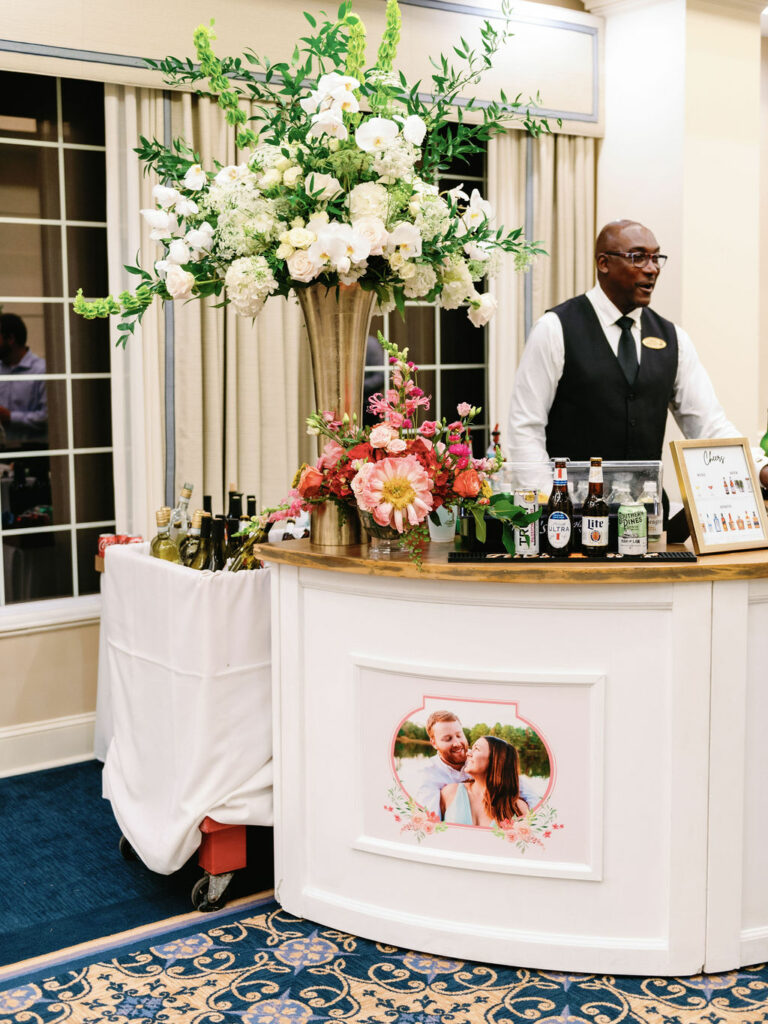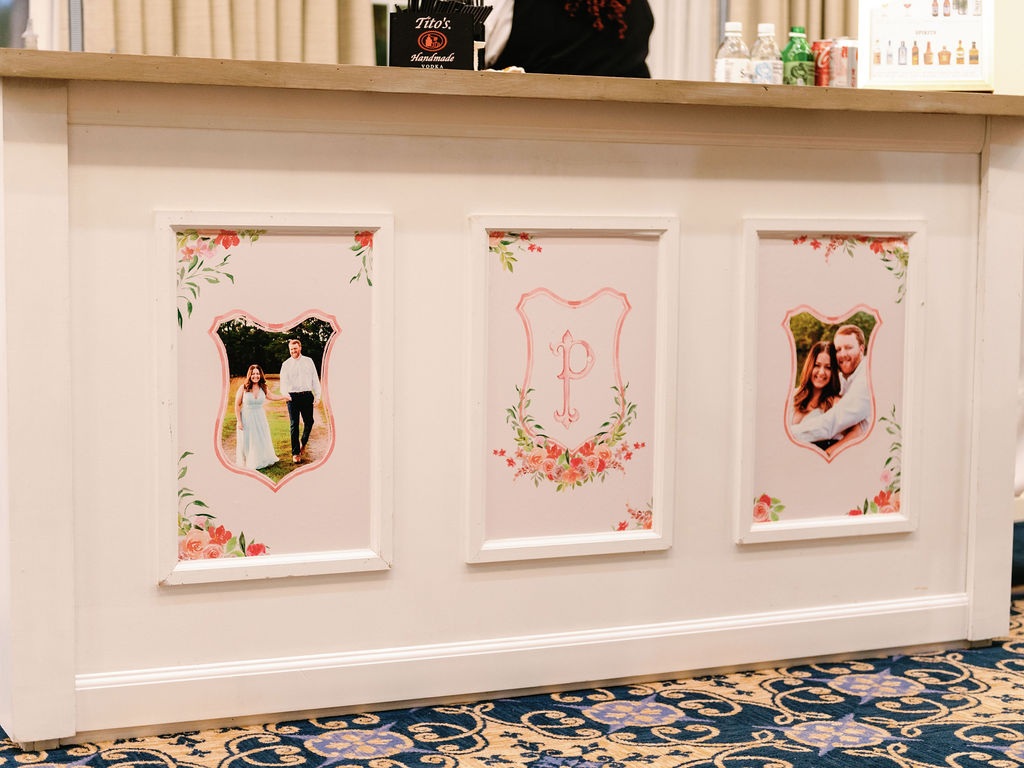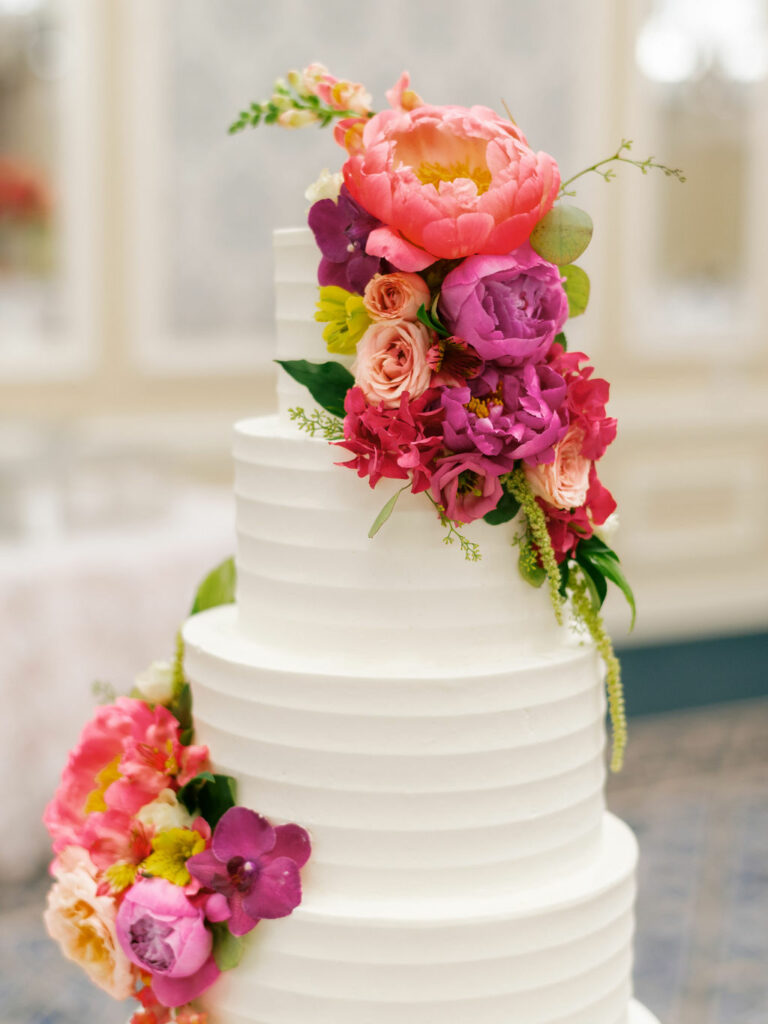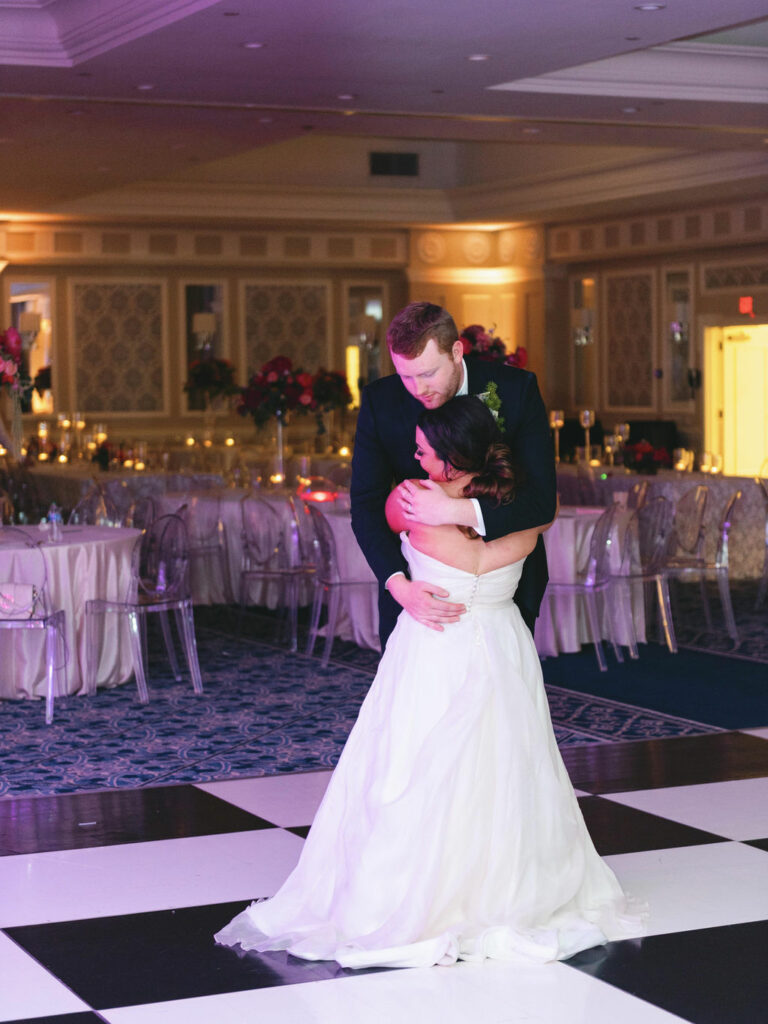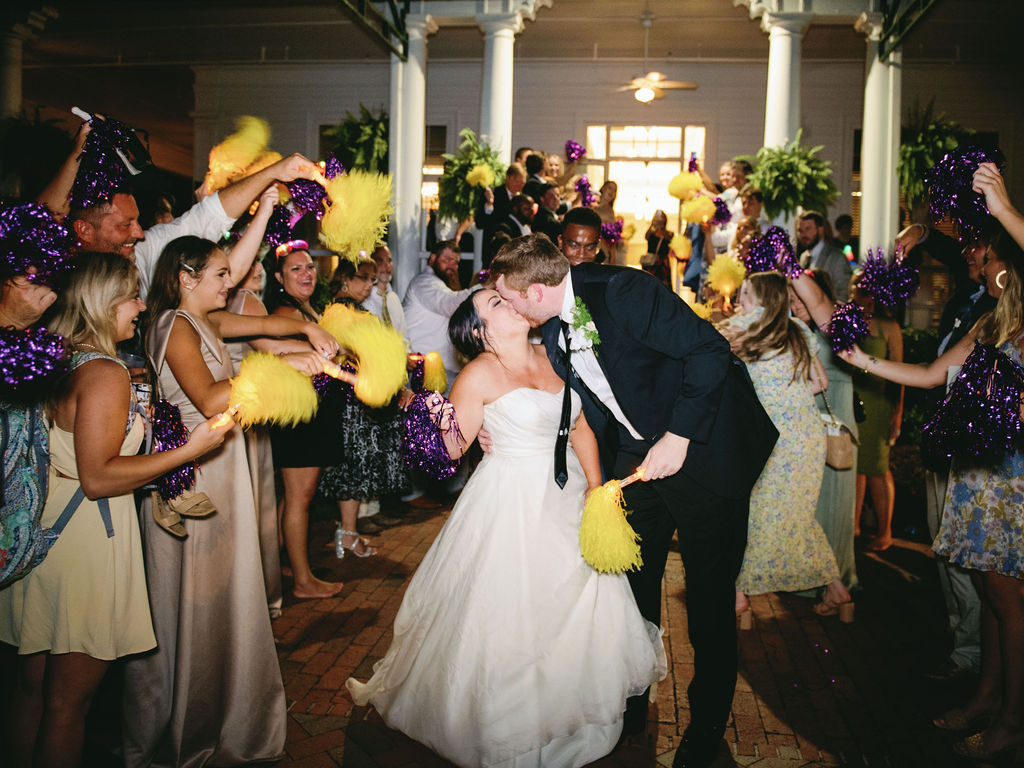 Bringing a color palette and vision to life is my favorite thing to do as an artist and stationery designer. So if you're looking for help making your ideas a reality, please reach out! Typically, clients reach out for invitations and day-of goods about 6-12 months in advance, and even further if they're looking for save the dates. As long as you've selected your date, we can begin to discuss a deposit and booking in order to secure your place in my design calendar! I'd love to hear from you and see how I can help bring your wedding stationery dreams to life. If you have a tighter timeline or feel like a fully custom suite might not be in your budget, be sure to take a look at the current line of semi-custom invitations I offer, too! Let's chat about how I can create some magic for your wedding day!
Let's hear it for these incredible vendors…
Planner: @visioneventsnc
Venue: @pinehurstweddings @thevillagechapelpinehurstnc
Florist: @jeffreysurlesdesigns
Photographer: @kelseynelsonphoto
Videographer: @thefamilyfilms
Hair: @hairbyauttyp
Makeup: @blushedbridalnc
DJ: @bunndjco @joebunn
Linens: @bbjlatavola @ce_rental_raleigh
Stationery & Signage: @artbyashleytriggiano
Silhouettes: @varinsilhouettes
Entertainment: @elevateperforms
Specialty Rentals: @greenhousepickersisters
Cake: @pinehurstweddings
Transportation: @kirktoursandlimousine