Airlie Gardens: Live Wedding Painting
This Airlie Gardens live wedding painting was SO much fun to be a part of! I grew up in Wilmington, NC so getting to paint in my hometown is always a joy for me. The bride and groom wanted two paintings done – one of their ceremony site and one of the bride's bouquet. Typically, I'm not able to do two paintings in one night, but because of what they picked for their "subjects", this time I was able to make it happen – but more about that later!
Things to Consider for Your Live Wedding Painting
First, it might be surprising to learn that I actually really enjoy paintings that don't necessarily focus on people or figures. There's so much beauty in the scene and setting where you say I do and so many beautiful emotions connected along with that place. Sometimes, just having a painting of that moment and having the feeling captured in paint and pigment can transport you back "into" it when it's simply the scene you looked at while saying your vows. While I'm sitting there soaking up the music, the laughter, the environment (looking at you Wilmington humidity!) and the magic of the day, I try really hard to use colors that convey that feeling. 
I think something that often goes "unknown" in the common couple's mind as they look at live painters' work is just how much of the artist themselves go into it. That probably sounds a little silly, but if you sat 15 painters down and gave them the same view to paint, they all would interpret and create it on paper very differently. That's why it's so important to look at on overall body of work. Know that artists are constantly changing and growing, and the most recent 5-10 paintings are probably the best barometer for knowing what your portrait might look like.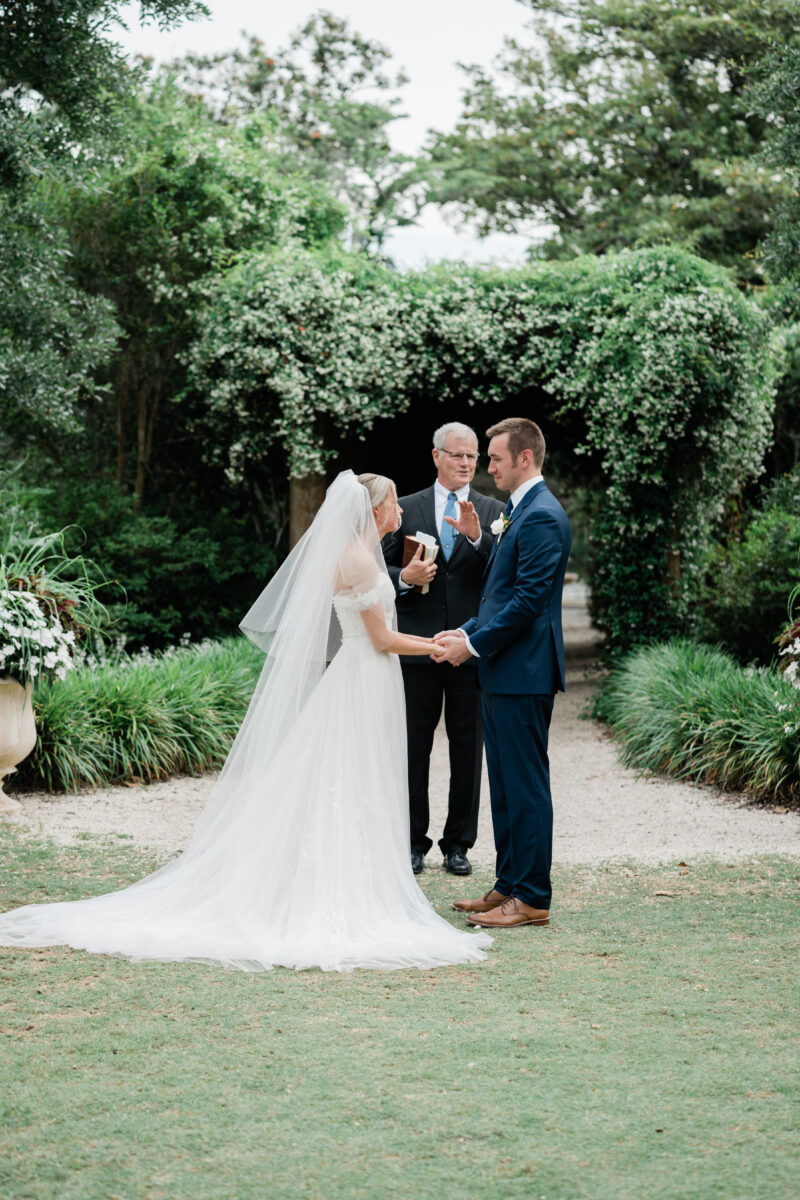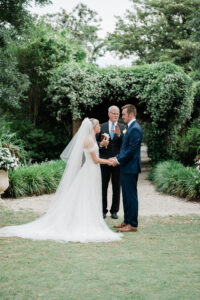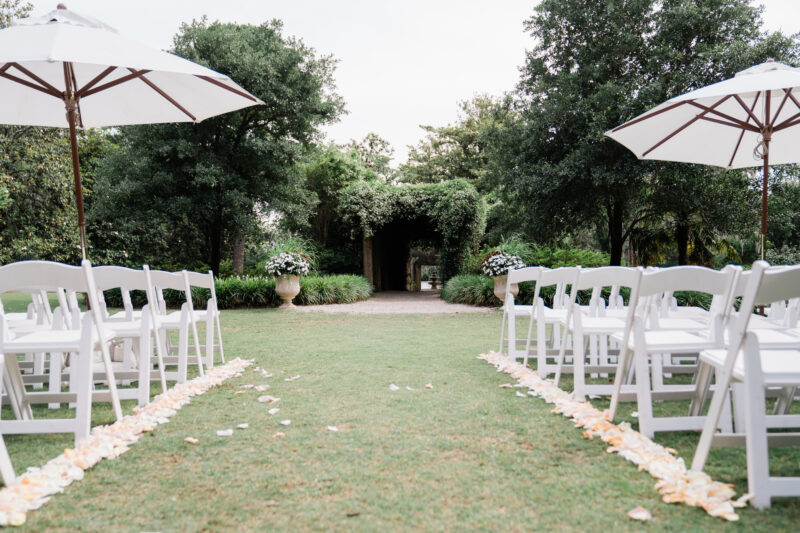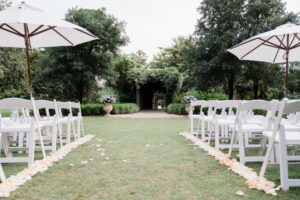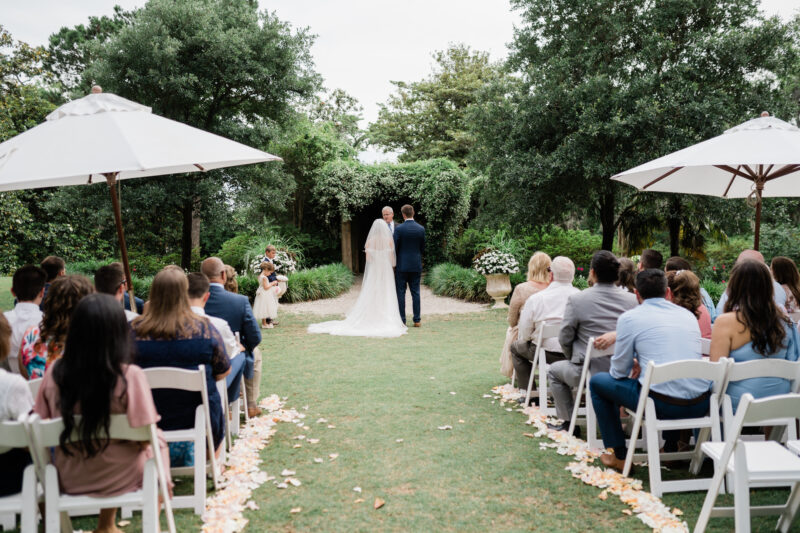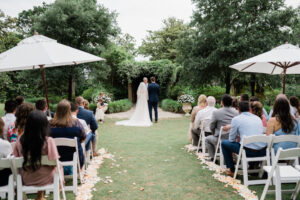 The Subject Matters
In addition to landscapes and scenery, I also really love getting to paint wedding flowers and bridal bouquets on site, because they can stand alone so well for years to come in your home and are a different take on your day than the standard photos or paintings of the two of you!
Plus, when the subjects are somewhat simpler than people, like this ceremony scene and floral painting, I am able to actually complete two paintings on site. Typically, I don't offer this service as completing two paintings with people in them is simply more than I can do in one night! So it bears repeating – the subject matters when it comes to your live painting. Consider what you want out of it, the subject you'd like to have created, and then meet with a few live painters to see whose style and own personal preferences match up with yours!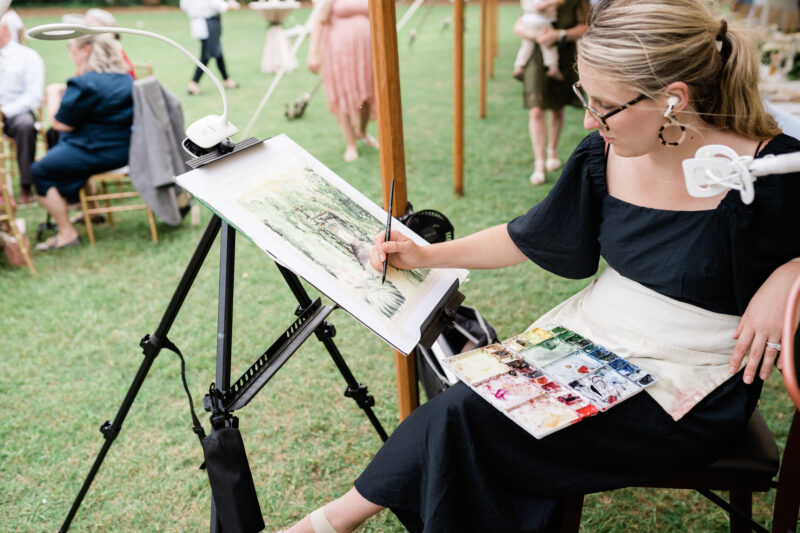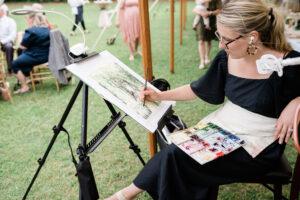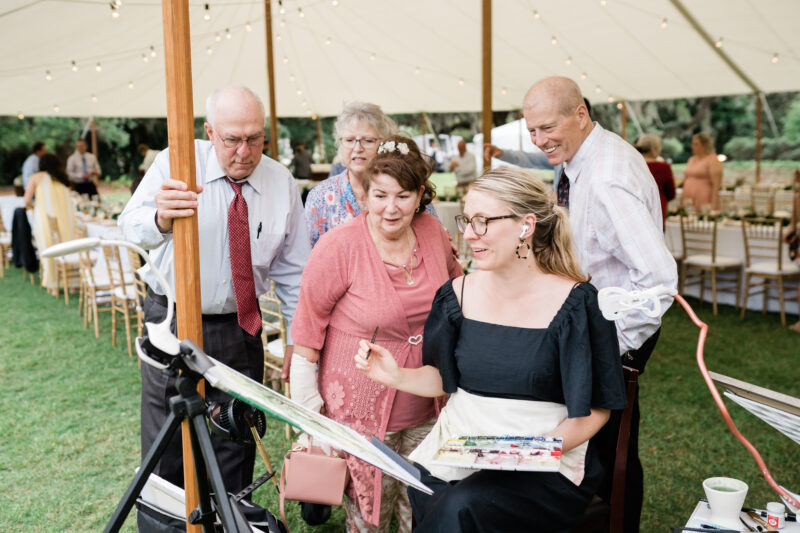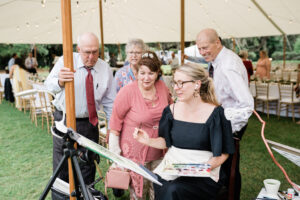 Sarah and Cameron's Airlie Gardens Live Painting: The Finished Pieces
So in all, when I left Airlie Gardens that night (after a gorgeous mid-summer eve bash) I left behind two finished paintings. One was a painting of the pergola itself in the pergola garden of Airlie Gardens, with the long tunnel peeking out to the fountain at the end. The other painting was a whimsical and loose floral interpretation of the bride's incredible bouquet designed by EcoChic Blossoms. It featured so many gorgeous roses and ranunculus that varied from light peach and pinks to deeper tones and lots of sage green and eucalyptus blue green undertones. It was a joy to create such beautiful scenes for Sarah and Cameron and I'm grateful I got to be a part of their day. If you're interested in live wedding painting, whether its a portrait of the two of you, your ceremony or first dance, or even a painting of your venue, the scenery, landscape or anything you can imagine – be sure to reach out and take a look at the Live Wedding Painting page on my site for more information and to find out if your date is available!