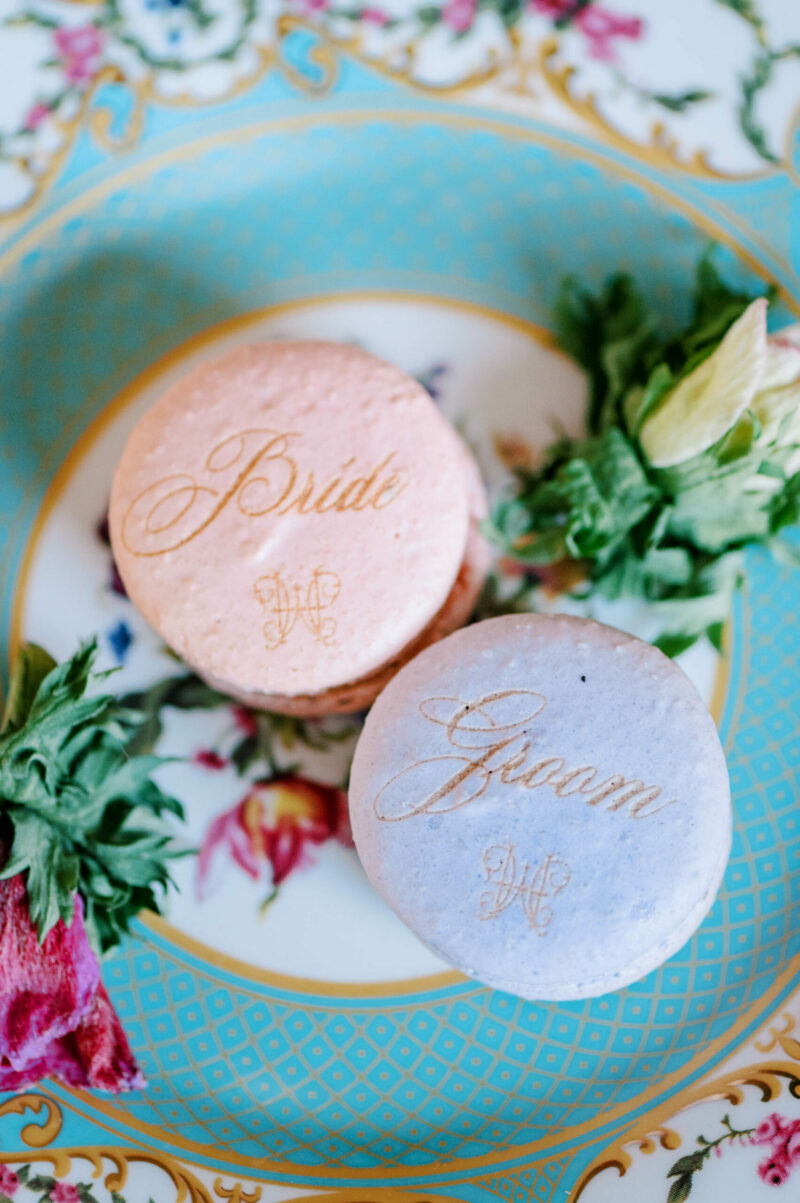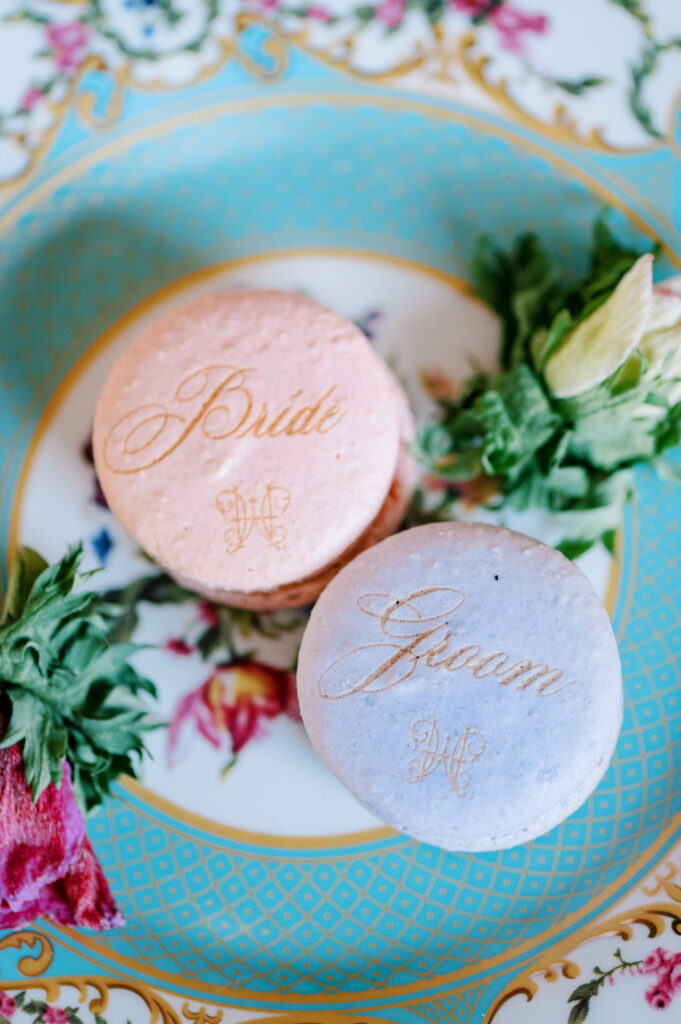 When it comes to wedding stationery, you've likely seen youre share of pretty paper invitations, signs, and day-of goods. But what about other unique stationery materials besides paper? Selecting a unique material in a "high touch point" area can be a great way to maximize your wedding day design impact while keeping budget in mind. While some materials are inherently pricier or more difficult to work with than others, when it's done right, it makes a worthwhile impact on the feeling and aesthetic of your celebration!
For instance, let's start with your invitations. Of course you can send paper invitations, with rich colors or hand deckled edges, letterpress printing or foil accents. But what about choosing acrylic for a modern and substantial impact? Or maybe think outside the envelope. I've seen some incredible unique fabric and organic designs that are over the top and unforgettable. When guests receive an unforgettable kind of invite, it really sets the tone for a fabulous affair they anticipate.
When it comes to unique materials, I love incorporating them into day-of items. This is where your material choices and design selections can seriously shine! Starting all the way from your welcome sign, the moment your guests step into your venue. You can certainly create a gorgeous sign from a simple framed print or a sturdy foam board. However, you can create soft, romantic moods by choosing to use fabric for your welcome sign and have it hung either on a display frame like below. Or perhaps somewhere that makes sense for your venue – but always check with the venue for any display restrictions! Breezy fabrics like silk or linen can lend a draping movement, but keep in mind the weather. If you're outside and it's windy, you don't want your signage moving so much that no one can read it!
Unique Stationery at Real Weddings
This love story fabric sign was displayed inside at a unique little art display area of this couples venue. With greenery draped all around and candles on the shelves, who could ask for more?!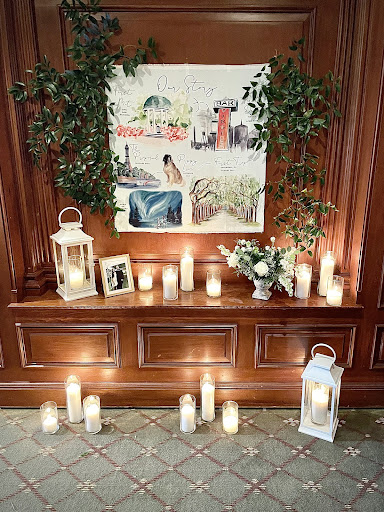 You can also look to a specialty rental company, such as Greenhouse Picker Sisters, for unique display pieces. Below you'll see boxwood greenery walls with shelves that house welcome drinks and fun tags. We did this for Amanda and Chris's February celebration at Merrimon-Wynne House, planned by the lovely team at Chad Biggs Event Design. What a way to treat your guests as they enter cocktail hour!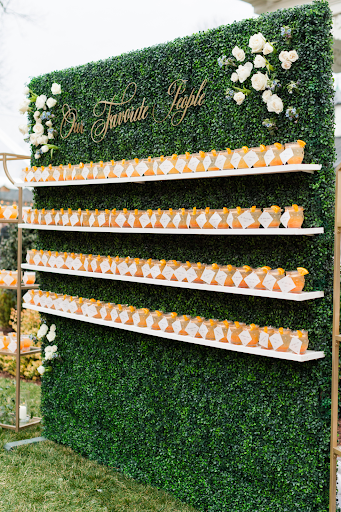 When it's time to get guests to their seats, consider a champagne glass topper. I loved creating this lovely acrylic custom swan with engraved names for a very pink and very fun baby shower!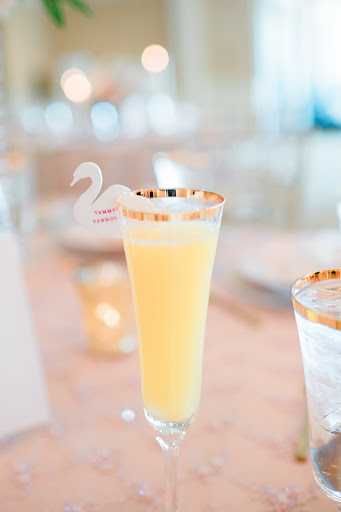 Once guests arrived to their seats, a feather topped gold acrylic thank you note with their name engraved and a sweet fluffy swan holding it all together was there to greet them. Talk about a guest experience they'll always remember!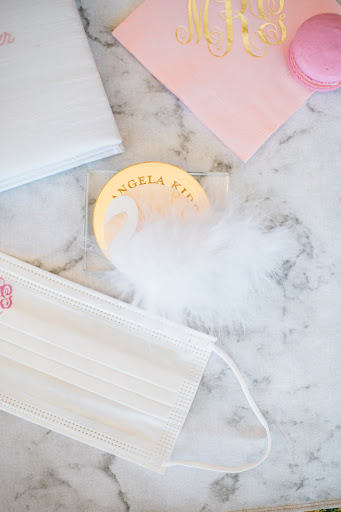 Event and wedding signage doesn't just end with the welcome signs and seating displays. It can also be enhanced with informational touch points. For example, "Where is the restroom?!", "Cards and Gifts" or "Photobooth this way!" Using mirrors to display vinyl lettering or clear art clings are a fun way to signify spaces.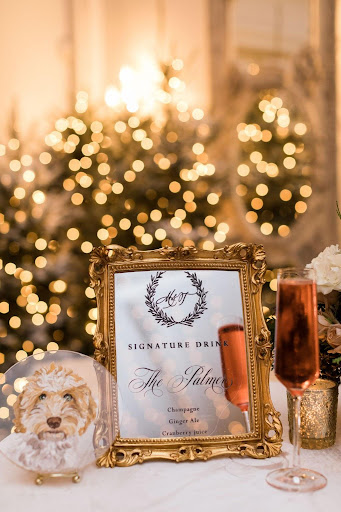 I always tell my clients that day-of signage and stationery goods is really about being a good host. You are providing hospitality that makes every guest comfortable and happy to be there. In addition, it allows them to know how to get around and find out what to expect next. A timeline sign can be a great way to do this. Again, fabric signage can be a beautiful focal point for displaying this information for all.
While on the topic of guest comfort, getting guests to their seats is always a big touch point and one of the best places to allocate your budget. You'll want to consider the style of dinner service. Are you doing a plated dinner, or buffet style meal or stations? If the caterer needs to know a guests meal selection, you'll need to put out placecards. On the other hand, if you only want to get your guests to a particular table and let them select their seat there, while dining from a buffet or family style meal, then a seating chart display is a good choice and no placecards would be needed. Signage is important and very different for each of these setups and your stationer can help you decide what makes sense for your particular situation. 
In the seating example below, bud vases with guest name and table number act as an escort card to get guests from the entrance to their table. Meanwhile, at their table an engraved macaron lets guests know they've arrived to the right spot. For this styled shoot/open house, we used a lot of unique stationery. If you'd like to see more, check out this blog post.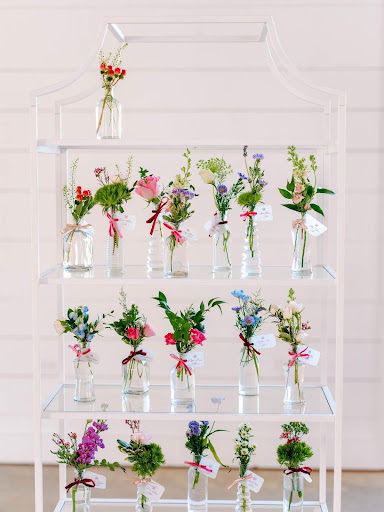 When it comes to menu displays, you can provide each guest a menu at their seat if you'd like. These fun circular paper menus have an engraved acrylic charm with the couple's monogram tied on with a ribbon! This is such a great example of unique stationery, with such a fun unexpected detail.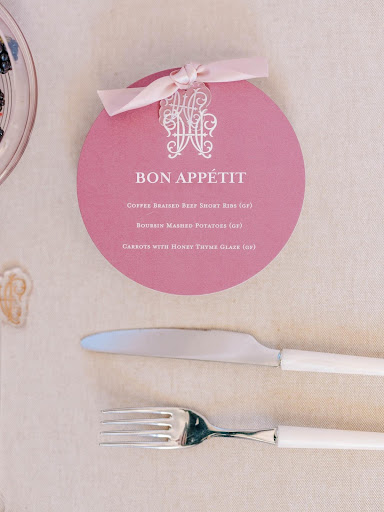 If you're doing dinner with stations and passed appetizers, this is a fun place to showcase your wedding day brand. Using show stopping linens with a monogram and menu selection can tie in the days theme. It's another place you may not have considered the impact of a unique material, but it makes for a memorable and beautiful display during cocktail hour.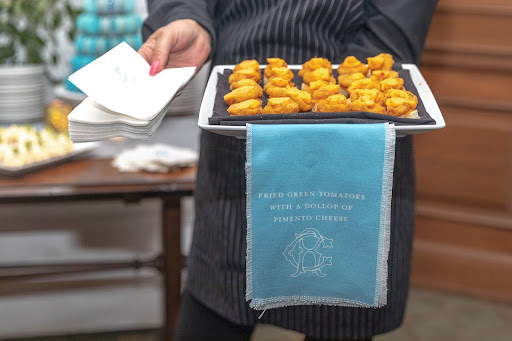 Speaking of "wow", let's not forget the always important bar area. The bar is another "high touch" point where it makes sense to invest in a little extra "wow". If your venue or specialty rental company has bars with wainscoting or paneling, decorative bar panels are a showstopper! You can feature your monogram, a special pattern or design from your stationery suite, or mirror the florals throughout the day with custom artwork.
Amanda and Chris dressed up this gorgeous semi-circle bar from CE Rentals with a pattern I designed based off their linens and their monogram. The sky is really the limit – just be sure to consider how the material is being applied to the bar. I always select non-destructive, temporary adhesives for my clients and offer installation options for my custom clients – though wedding planners and on-site coordinators are pros at installing these pretty pieces, too! Just be sure to have a conversation about the logistics of installation with your planner or day-of contact as well as your stationer to make sure everyone's on the same page and all the necessary materials have been secured so installation is seamless! And of course, removal at the end of the night, too.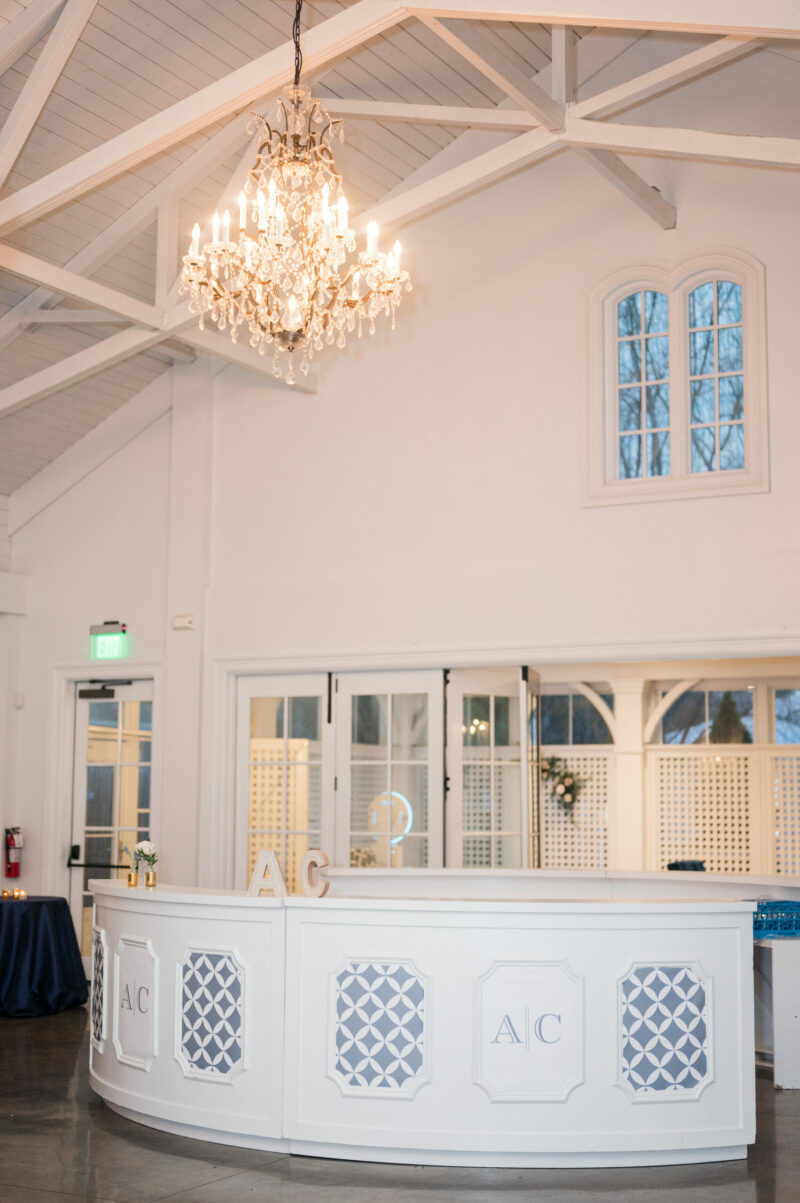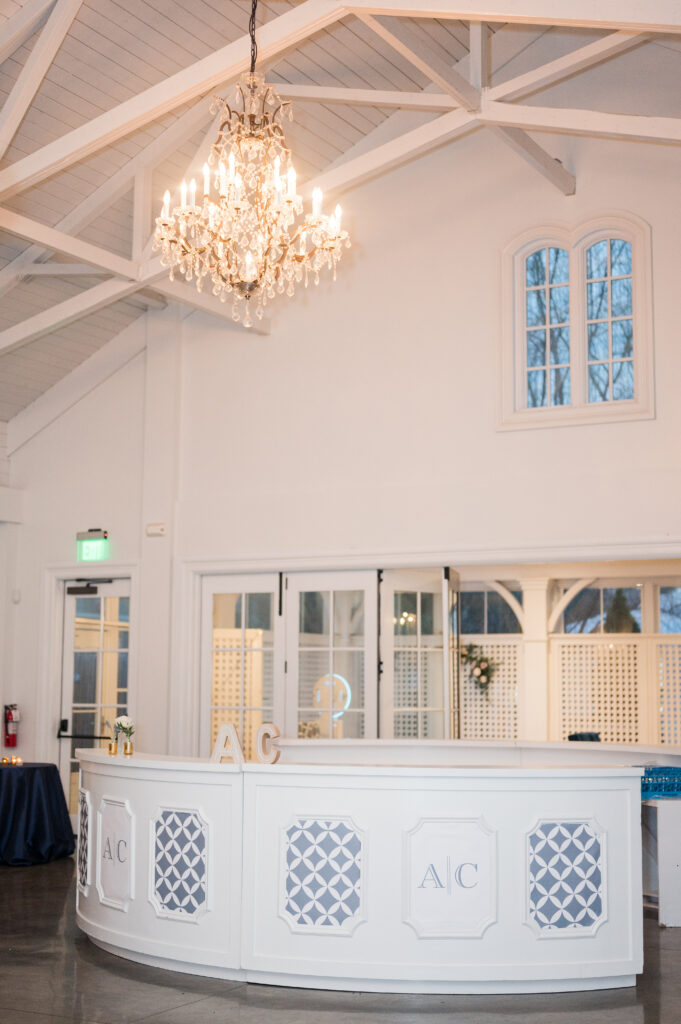 While we're talking about dressing up the bar, the menu is another helpful item for guests. They can quickly take a look and see what's available, make a choice, and keep the line moving. Quick queues make for happy guests! Again, here you can do an acrylic sign, fabric draping depending on your mood (how fun is this velvet for a cozy winter fete?!) or a linen for a breezy summer day.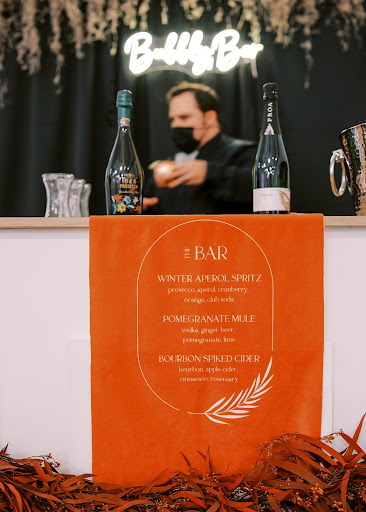 Really, the possibilities are endless and there are infinite ideas in my head at any give time with unique stationery ideas. So if you're unsure about how to maximize your wedding day design when it comes to stationery and signage, trust the pros and just ask! We literally are constantly soaking in inspiration, scrolling imagery, and making a mental list of all the things we'd love to create. We're just waiting on someone to ask and give us the go-ahead to make it happen.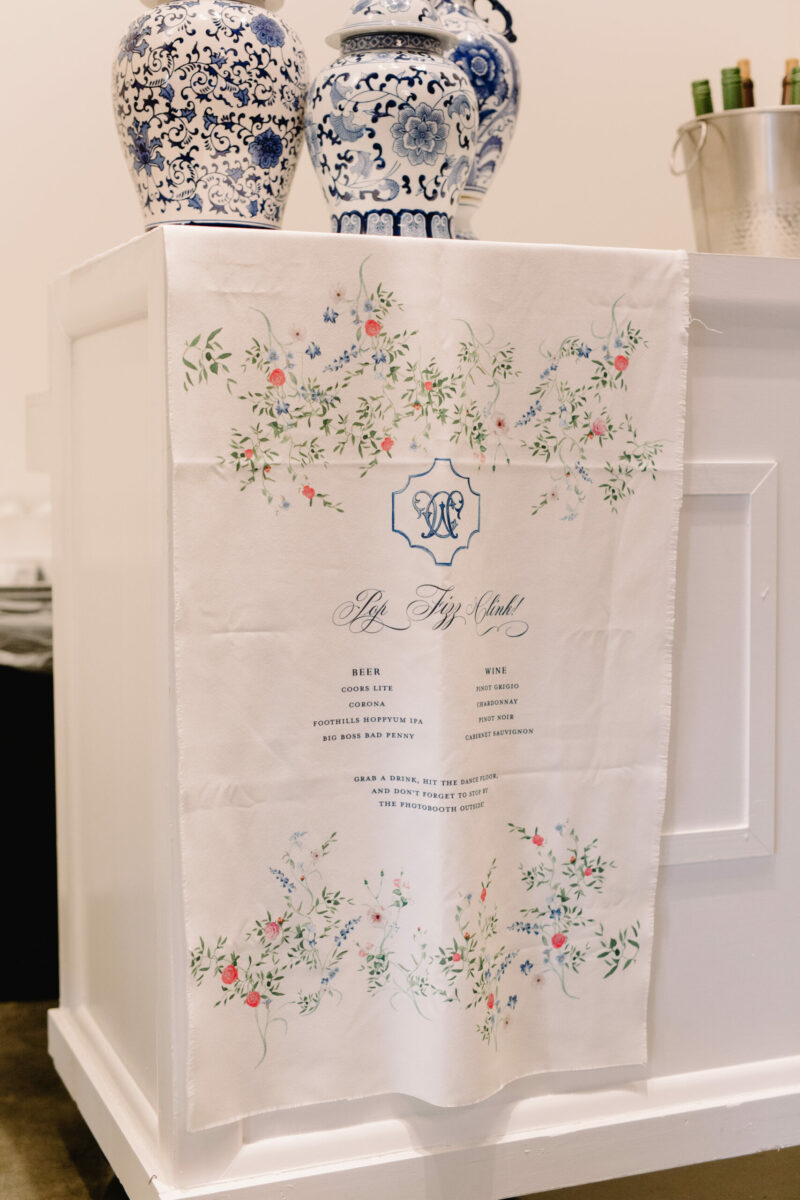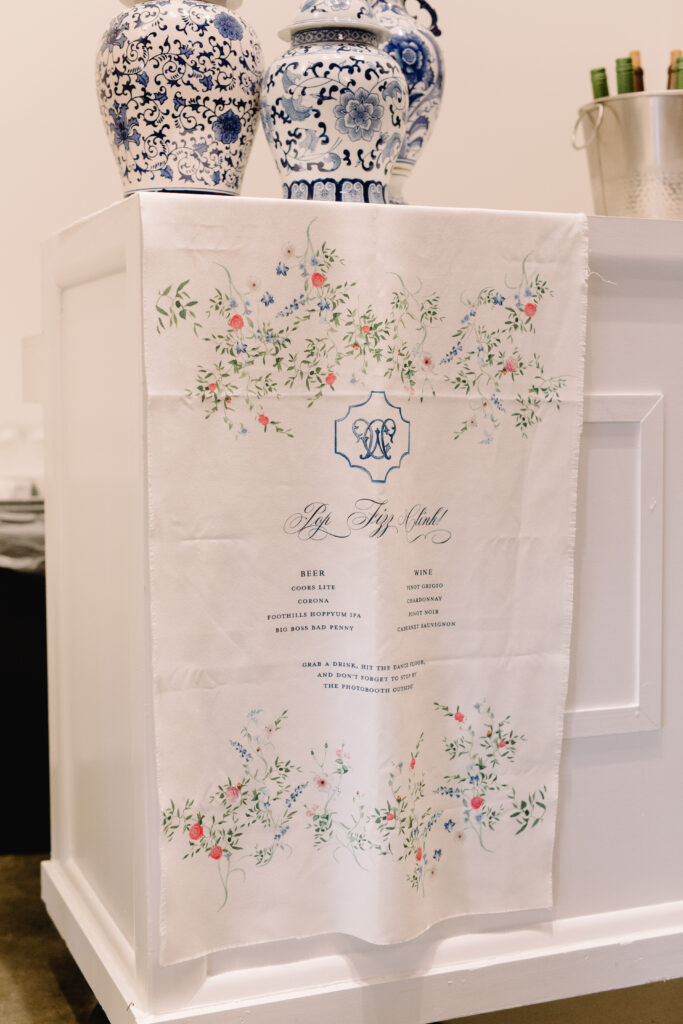 Are you ready to chat with me about how we can make your unique stationery dreams come true for your wedding? You can head over to my handy submission form and we'll get the process started!