You aren't the first person to ask, and you won't be the last! When it comes to questions like, "what even is wedding stationery?", "What is a wedding suite?" or "what does wedding stationery mean?" – these are good questions and a great place to start! It's my job, and my joy, to walk alongside my clients and help them navigate the wedding invitation and stationery "lingo". Meaning navigating the wide world of print methods, paper options, colors, styles, aesthetics, fonts and themes. There are plenty of questions we can ask ourselves to decide what is necessary, what isn't, and what is possible.
The best way to start is with the basics of wedding stationery.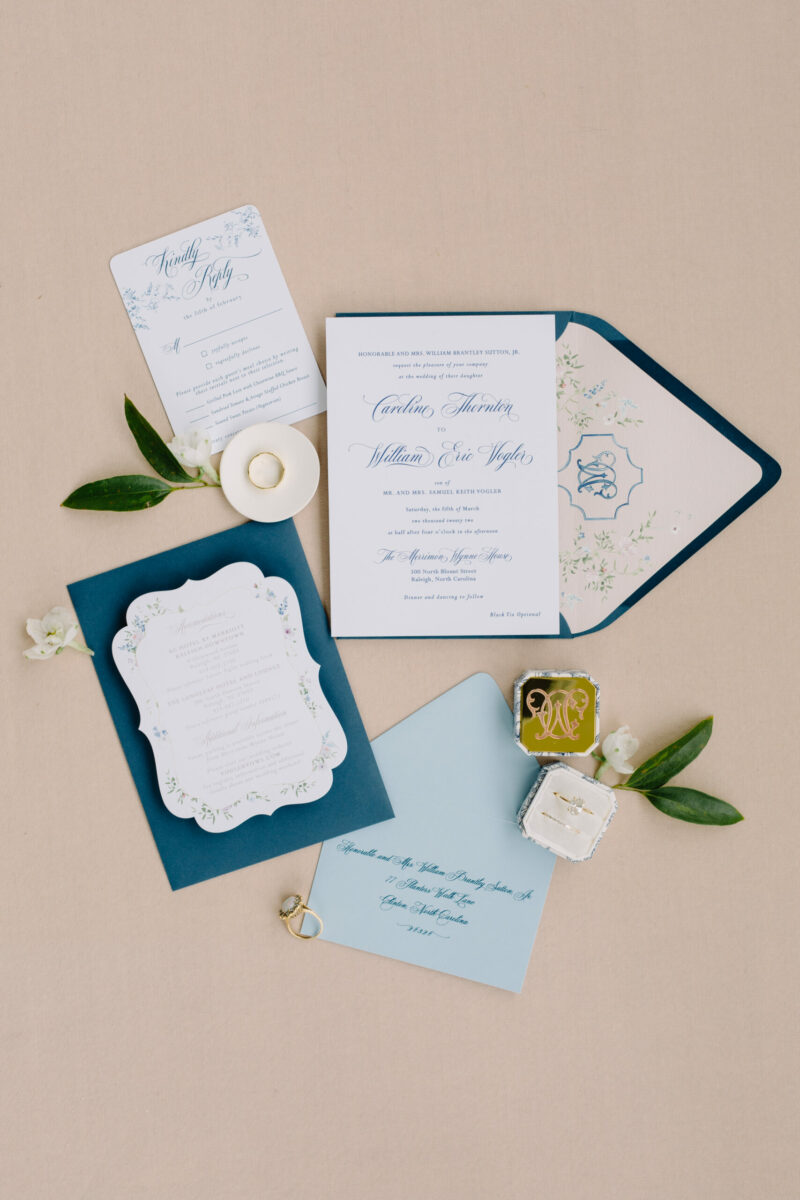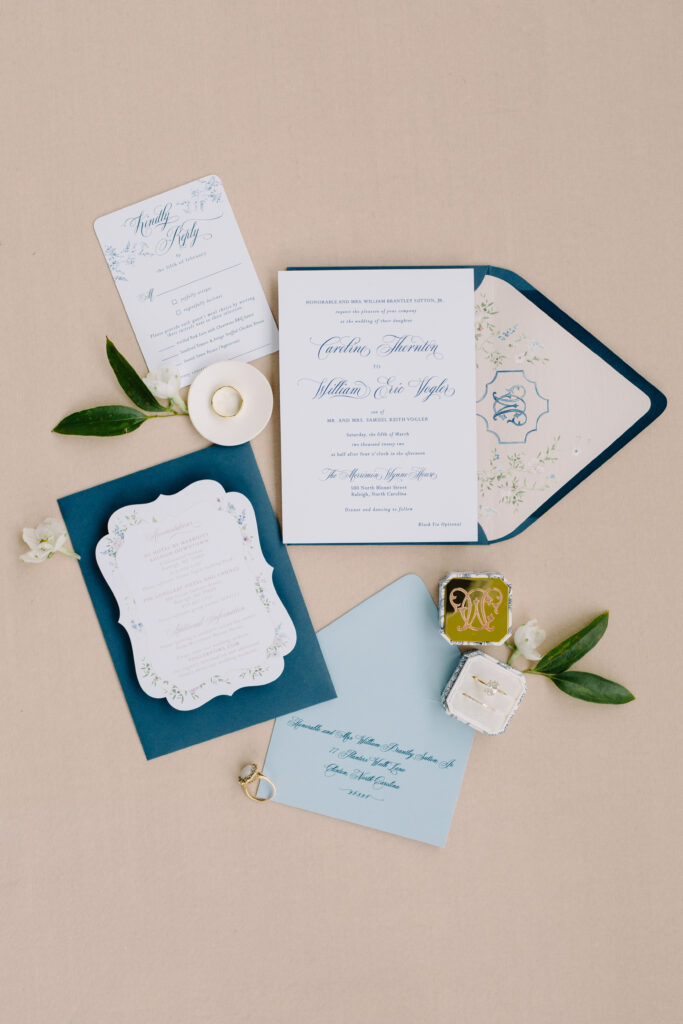 What is wedding stationery?
Wedding stationery is essentially your wedding "brand" on paper, print and various materials – from the save the date, to invitations, to day-of goods. Whether you're going for a traditional and elegant wedding, or something more modern and minimalist, your stationery pieces should coordinate all together and create a cohesive look.
What is a wedding stationer?
A wedding stationer is simply someone who creates wedding stationery! Most often it refers to people like myself, who work one on one with individuals to craft unique, custom stationery. I work hard to create items that reflects my clients personalities, their wedding aesthetic and vibe. Some wedding stationers are artists, like myself. I create individual custom artwork and designs for each client, others are graphic designers. They will either commission artists to create work or purchase digital artwork from online marketplaces to use in their designs. Alternatively, calligraphers can be wedding stationers as well, with a specialty in hand calligraphing the wedding stationery.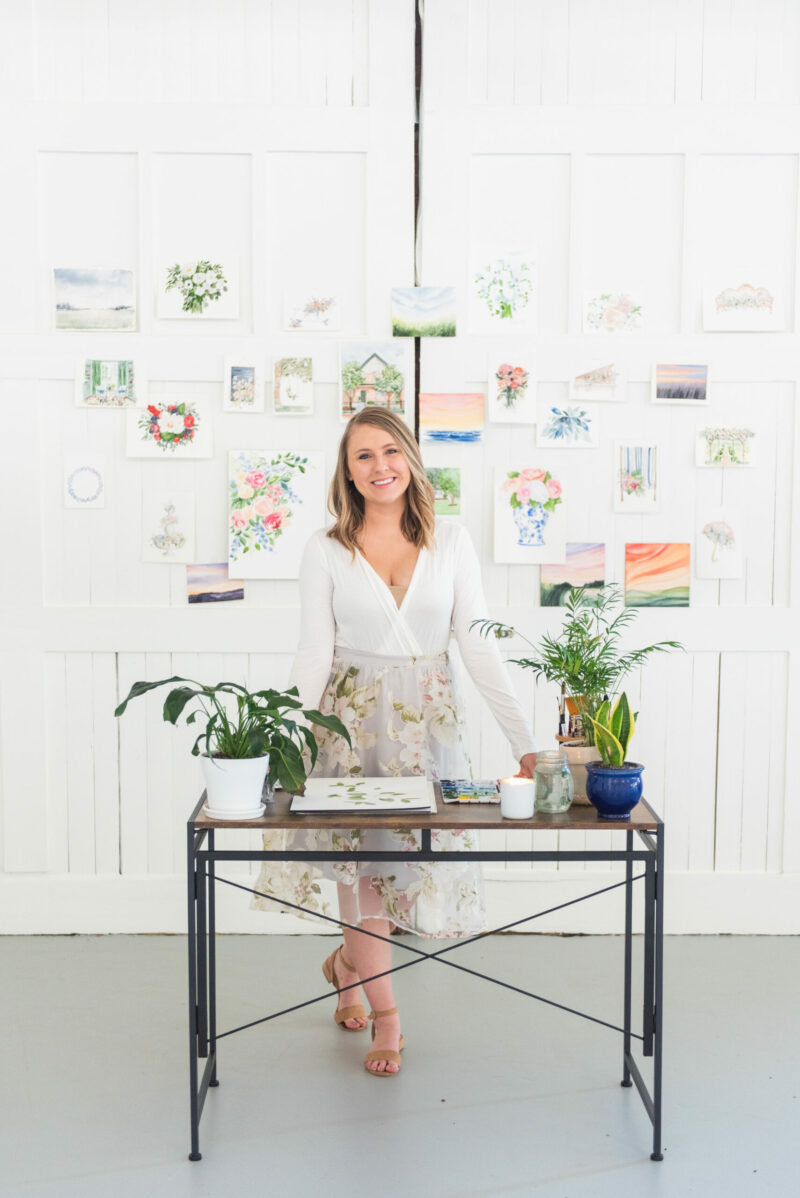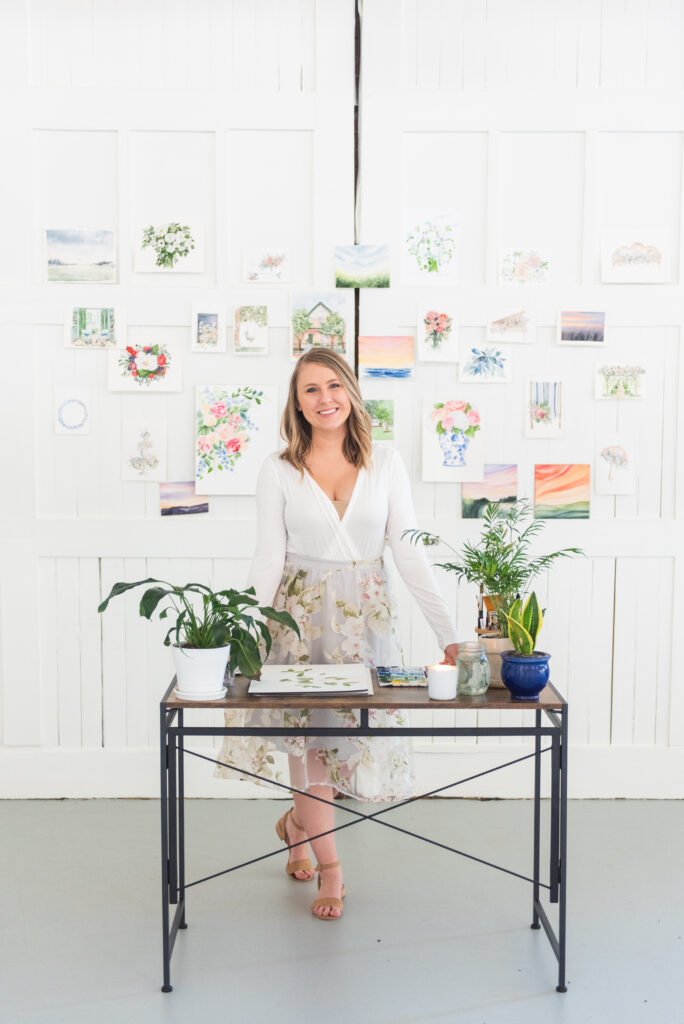 What is wedding calligraphy?
A calligrapher is a trained artist in the beautiful artform of writing – more specifically for you, addressing your envelopes. Some calligraphers also offer invitation design where they hand calligraph the invitation, scan and digitize it for print purposes (much like I do with watercolor and fonts for invitation design).
I personally do not offer calligraphy, but can recommend many talented artists in this arena who can calligraph your envelopes or create a handwritten invitation design. Instead, I use pre-existing fonts and envelope address printing to create a consistent look throughout your wedding stationery. This includes your wedding paper, day-of goods and envelopes, making sure everything coordinates just as well as it would if someone were doing it by hand!
Does a wedding stationer print the items themselves?
Some do! I print some white ink items in-house with a special white ink printer I invested in. However, most items I outsource to trusted, professional print partners, leaving me with more time to design and paint! Some stationers have letterpress machines or HP Indigo presses in-house and have teams to print for them. Every stationer is set up differently depending on their specialty. This affects their turnaround times and capabilities differently, as well. If this is important to you, be sure to ask!
What is "custom wedding stationery"? What about semi-custom?
Custom stationery is created entirely for you – its a new design, a new concept, something never seen or made before. It's tailored to your personality, your wedding design, and fits your celebration perfectly from start to finish. Meanwhile, semi-custom stationery generally refers to existing designs that can still be customized with their text or design colors, paper options and print methods.
The components of a wedding invitation suite
What's in a wedding suite?
A wedding suite is simply the name for the items that you're sending to your guests to invite them to your wedding! A suite can include an outer envelope, an inner envelope, an envelope liner, main invitation, details or insert card, as well as an RSVP card and envelope. Or, it can be as simple as a single invitation in a single envelope. The complexity varies based on each clients needs and what "job" the stationery needs to perform in order to communicate information about the wedding and gather information from the guests.
What is a wedding invitation?
A wedding invitation is the main insert card (usually 5×7 inches or larger). This will let guests know who is hosting the wedding, who's getting married, as well as when and where. Basically, the most important information!
What is a wedding response card?
A response card, or RSVP card, is the traditional way for your guests to let you know if they can come to your wedding. It can also indicate their meal selections (if you're providing options) as well as any other information you need to collect in order to give them a great guest experience. This can include things like transportation needs, dietary preferences or more fun pieces of information like "I'll dance if you play…".
Additionally, we've been seeing weddings turn more and more into multi-event weekend celebrations, so if you have multiple events to invite your guests to you'll want to include those here. Do you have a tricky situation where specific guests are invited to one event but not another? Be sure to let your stationer know; we can help you find the best way to collect responses in an easy and streamlined way. If you're doing a digital RSVP method, you can turn this card into a details/digital RSVP combo card. By providing your wedding website and a little blurb about the information you want guests to have, they can go online and RSVP and view details.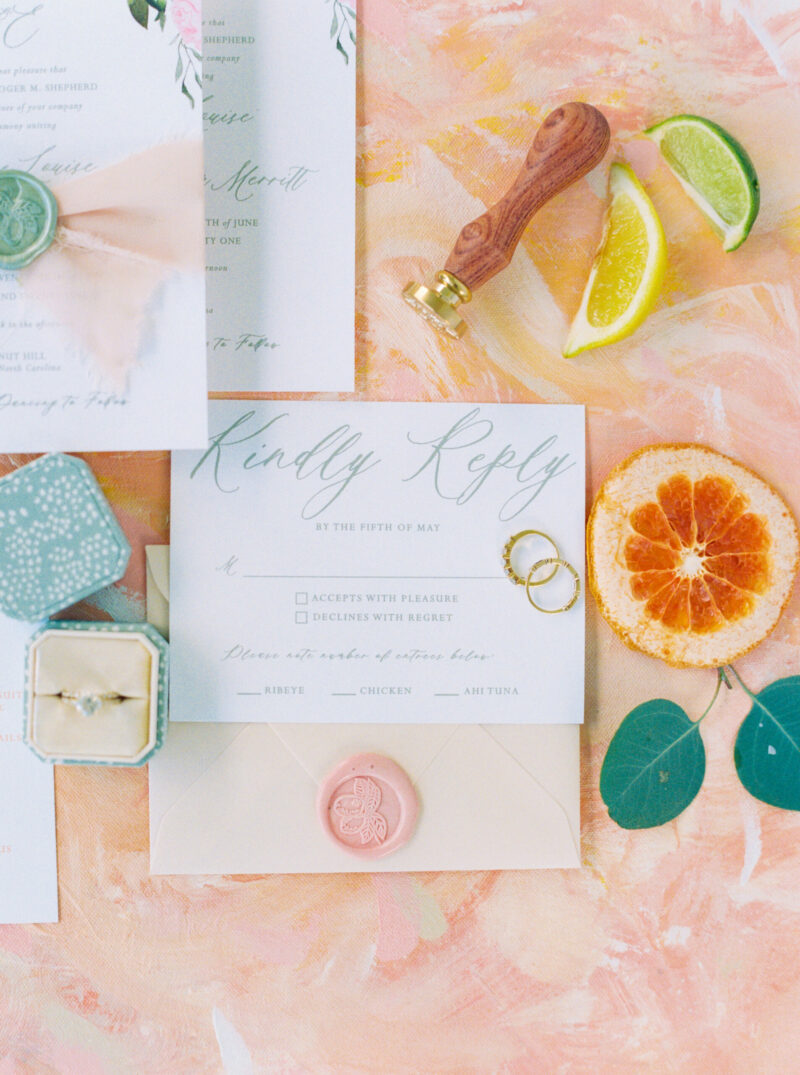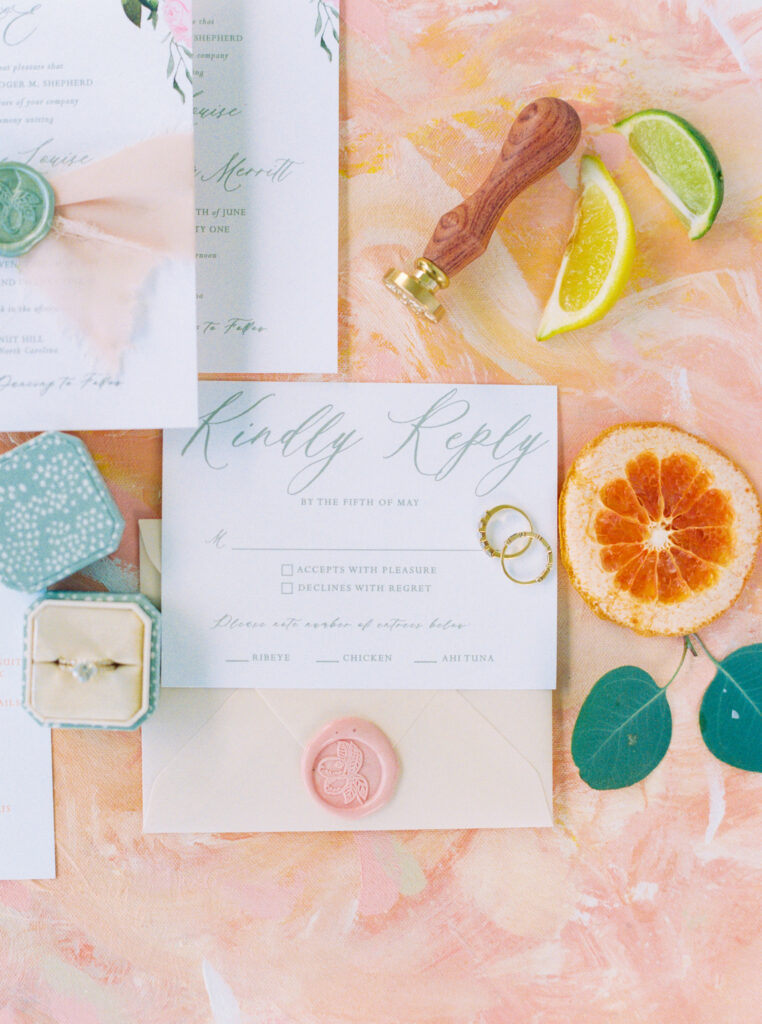 What goes on a details card?
A details card shares accommodation information, reception location information (if different than ceremony location), transportation options, wedding website and registry information.
What is a belly band?
A belly band traditionally has been about a 1" high piece of paper wrapped around the suite to keep all the pieces together. These days, it can be a ribbon, a vellum jacket (those beautiful frosted translucent papers), printed vellum bellybands, twine, just about any "wrapping" item you choose! It's a simple and elegant way to dress up your wedding stationery.
What's an envelope liner?
An envelope liner is totally optional but a lovely complement to your suite. It's a great place to pull out details for your suite like a pattern or motif, wedding crest, or venue illustration. When guests open their envelope, they get their first peek into the "feel" you want to create with your suite!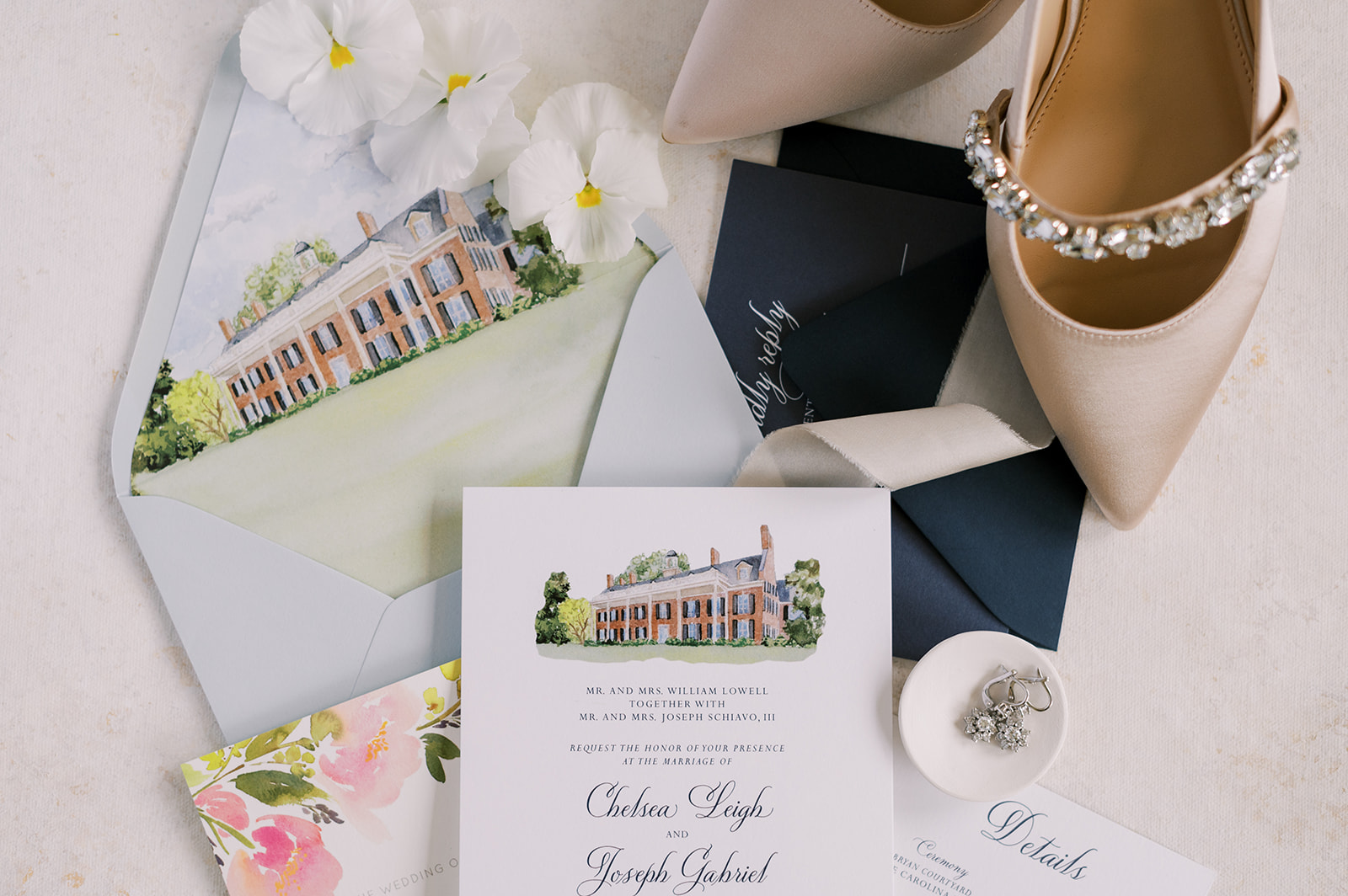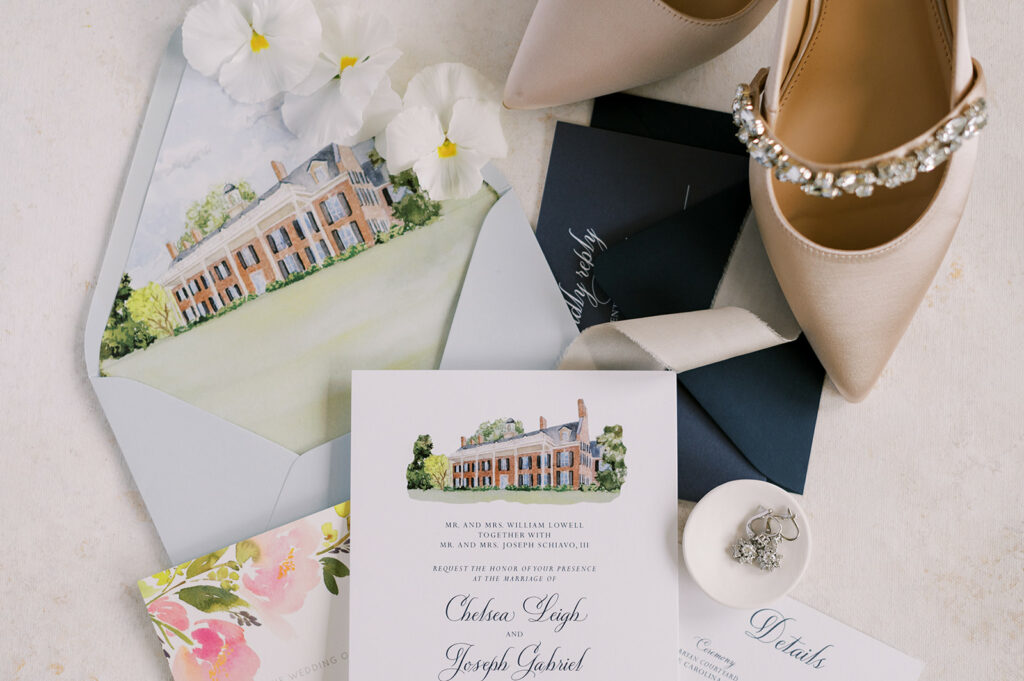 What is an inner and outer envelope? Do I need an inner and outer envelope?
The inner and outer envelope system is a very traditional way of sending invitation suites. It stems from old days when an envelope could become extremely dirty, bent up or creased from its long journeys by train, horse or even buggy when postmasters and postmen had long journeys to take mail from one place to the next. This really isn't a problem today – while an envelope may get a few little scuffs on occasion, it is nothing compared to what it used to be!
However, the inner and outer envelope can still serve a purpose in formal settings. The outer envelope might say "Mr. and Mrs. George Smith" and the inner envelope, which is a more casual wording would say "Mr. and Mrs. Smith" or "Mr and Mrs. Smith, Aaron Smith and Sarah Smith". This might seem nuanced, but by omitting children's names, it politely indicates that only the adults are addressed and invited to the event. Or, if you have a single person attending your wedding and aren't sure who their guest is, your inner envelope could say "Mr. Reynolds and guest" while the outer envelope says "Mr. Gerald Reynolds".
Ok, great – so we've got the basics down! You know what a wedding suite is, what components you need, and what you don't. But what about all the endless paper options and print methods to choose from? Some explanations can be really lengthy so I'm going to try to keep it simple here and talk about the main options!
Wedding Invitation Print Options and What Each Means
Digital flat printing
This is your traditional flat, ink printing – but definitely more professional than what you can print from your home printer. Enormous digital print machines are used for wedding stationery that require trained professionals to operate them! They produce beautiful full color designs with great coverage.
Who it's best for:
Constrained budgets who want maximum impact for minimal cost
Watercolor artwork (it's actually the only way to print watercolor art!)
Things to know:
It can be combined with other print methods for beautiful combinations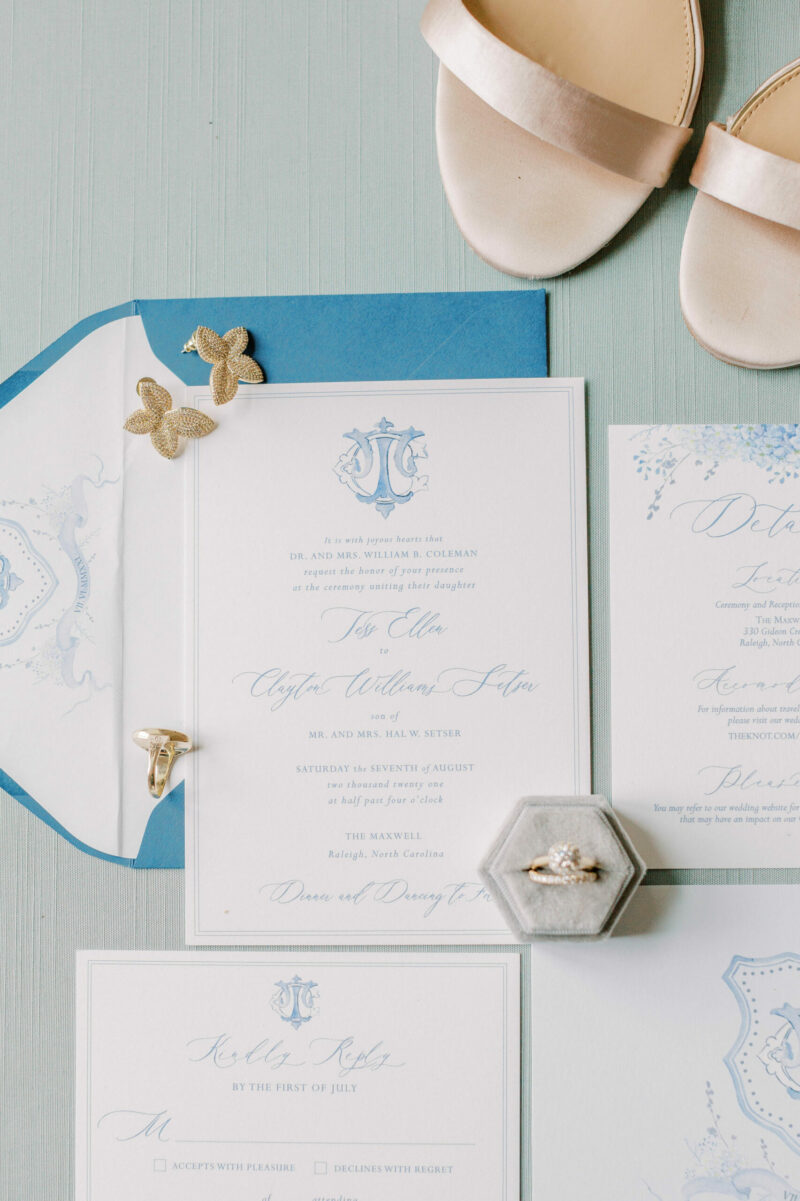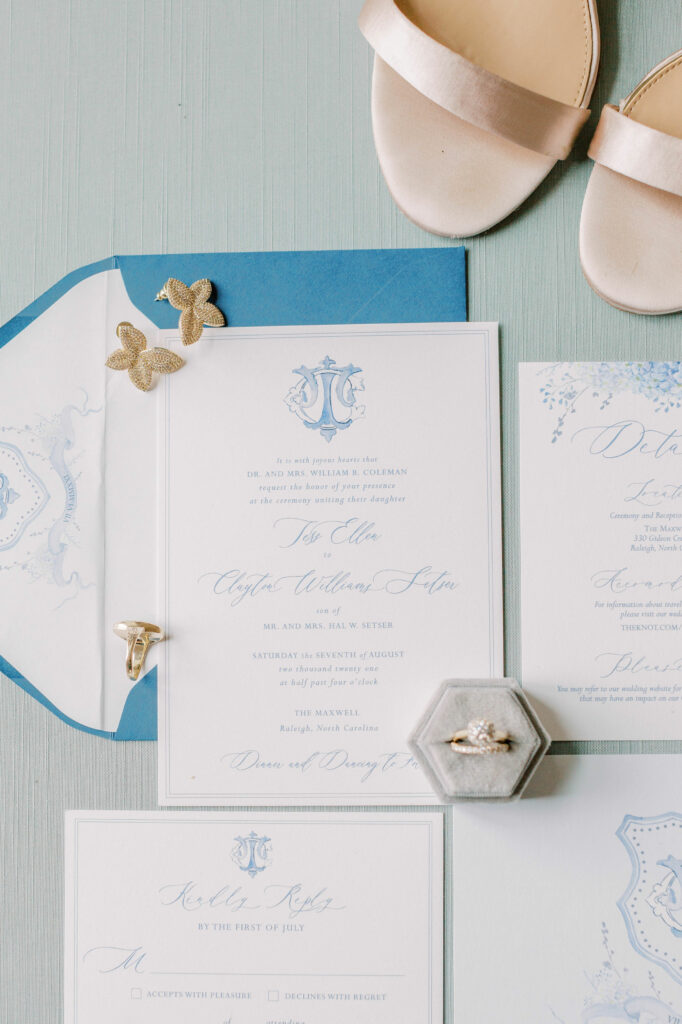 Thermography
Thermography is a great, and affordable, step up from digital printing. It involves heat and resins that end up raising the surface and create a textured, embossed look. It looks especially beautiful in metallics like gold and silver, but creates beautiful depth with other ink colors as well.
Who its best for:
Constrained budgets who want a little more texture than flat printing offers
Text designs or line drawings
Things to know:
This print method is for single color imprint. So for instance, your invitation font/text could be in gold thermography, and perhaps your duogram could be in a navy thermography at the top of the invitation. However, you can't do watercolor or full color illustrations like flowers or venues in thermography – only line drawing versions of them. The colors can't and don't vary or create gradients.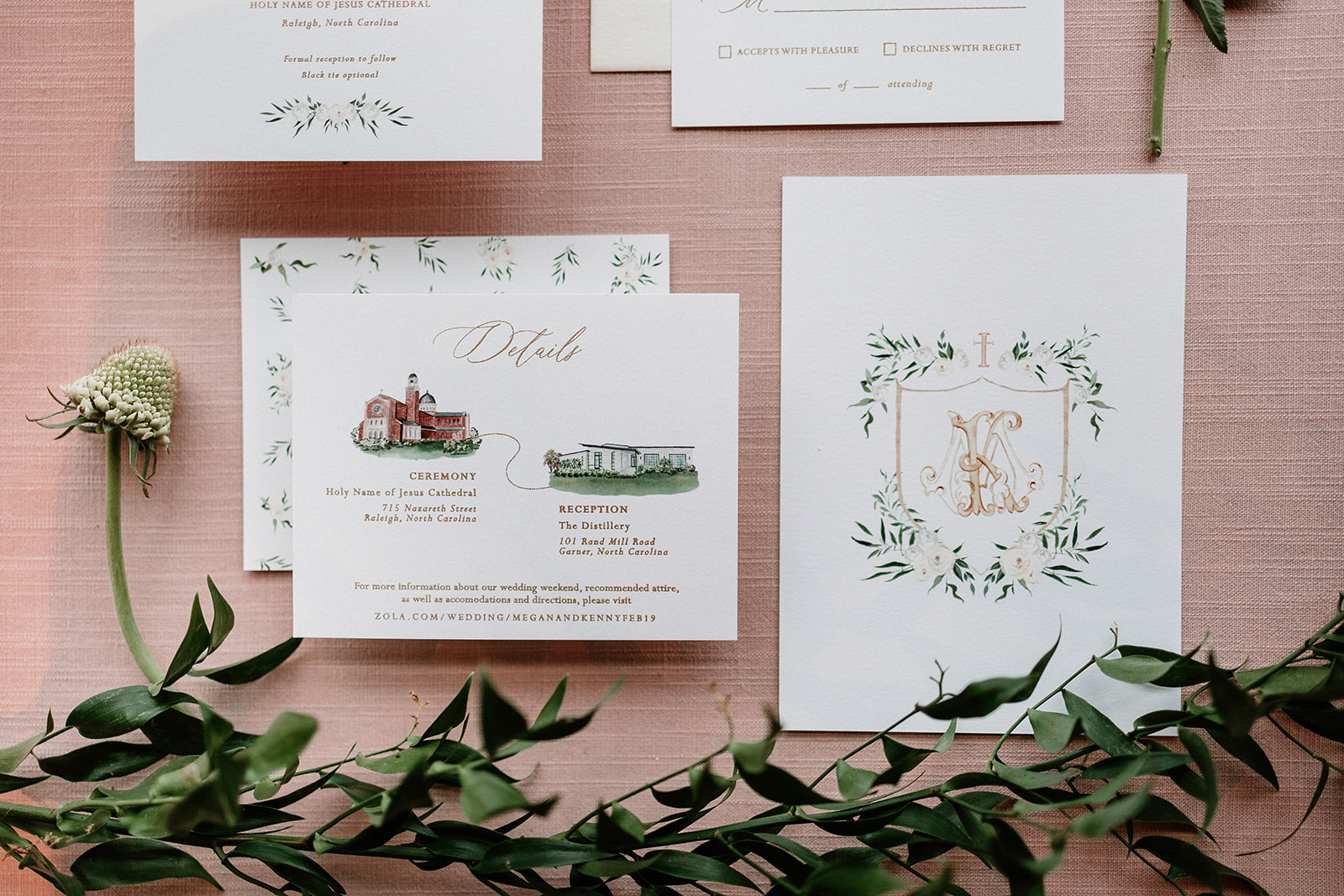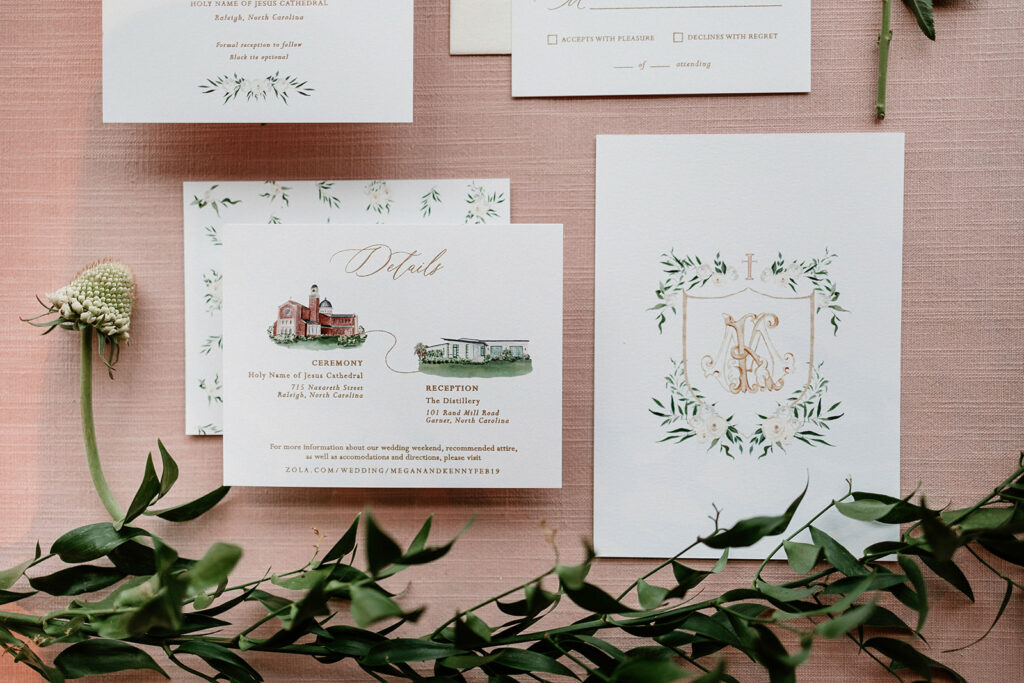 Letterpress
Ah, the romantic letterpress! While a bit more expensive than options above, the pillowy texture from plates stamping into lovely cotton paper just can't be compared! (Am I biased? Maybe a tiny bit.)
Who its best for:
Those looking for a romantic or traditional look for their wedding stationery
Moderate budgets that can invest in double thick paper (more on this later) for max impact
Things to know:
The reason letterpress costs more is that specific unique-to-you photopolymer plates have to be created first. Rather than just "pressing print" on a digital or thermography print job, these plates are manufactured, and then run through a letterpress (like this antique hiedelberg) by hand with ink applied to the plate at each press, creating a deep impression into the paper.
This is also a single-color imprint method, like thermography. While you can combine multiple colors, like black text, taupe venue illustration and a green border (random color combo, right?) – each color has to be imprinted separately. This means the paper has to go through the press three separate times with three separate plates for each color/area to be printed. This extra ink, extra labor and extra time factors into the cost and explains why it can become pricey!
This can be combined with digital printing options, allowing for watercolor or colorful artwork elements to be included, and the text or line drawn elements texturally added in with the letterpress.
Blind letterpress is also a beautiful option – this involves pressing into the paper without any ink at all, allowing the shadows and depth to create the illusion of print. This works great for bold designs and thick areas of print.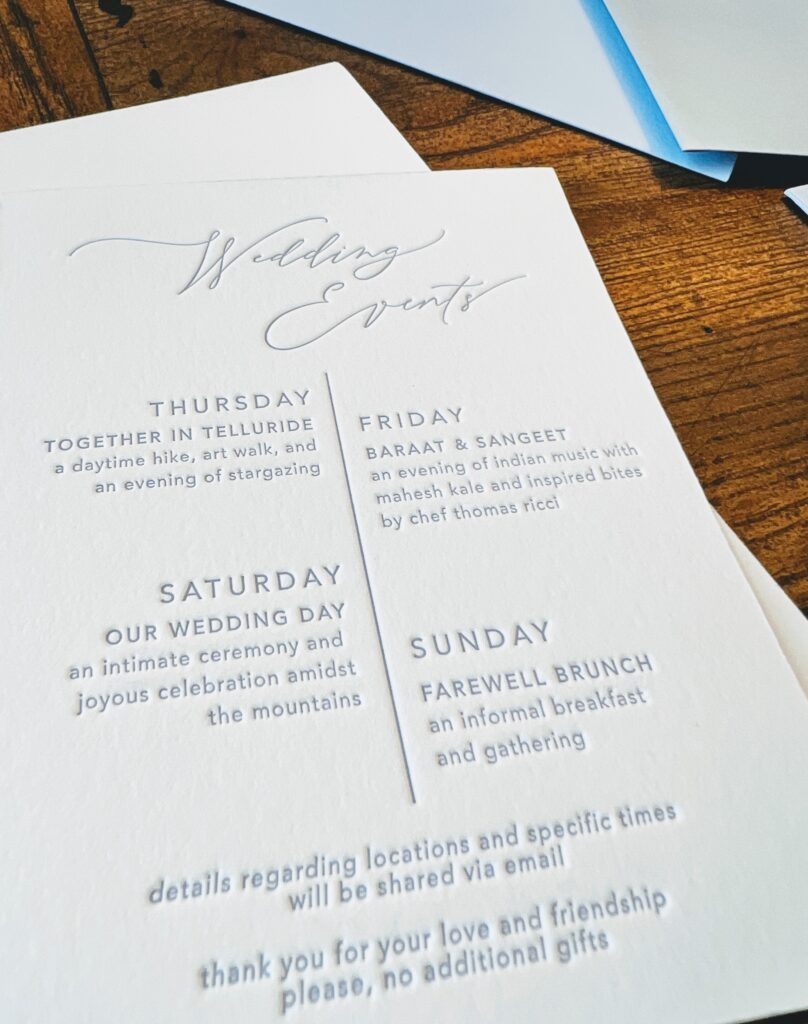 Foil Printing
Foil printing is a step up from letterpress printing in terms of cost and complication. The process is similar to letterpress in that it has to go through a traditional hand-operated press machine with a custom die plate being created first, but instead of ink, a hot surface and foil are also added into the mix!
Who it's best for:
Couples who want a bit of "bling" added into their wedding stationery, or metallic accents that shine
Bigger budgets that can afford to imprint with this method
Very formal or luxurious events that want to convey a sense of luxe
Things to know:
This can be combined with other print methods for max impact as well
There are a lot of colorful foil options beyond traditional gold or silver – think copper, rose gold, pinks, blues and even holographic shades! This can be a really fun print method for unexpected finishes
If trying to keep costs down, you can add a small gold foil accent to your card. For instance, perhaps a monogram or crest in gold foil at the top or bottom of your main invitation card. This would cost less because a smaller plate is being made and less foil material is being used than would be for a full 5×7 invitation design completely in foil.
Paper Options
Ok, so now you have some print methods under your belt – but what about all the papers? This one can really be a doozy so I'm going to keep it simple.
Generally, at the most basic level, you want a cover weight stock for the cards in your suite. This means that its heavier than your standard printer or notebook paper we use on a daily basis. It has weight to it and conveys a sense of formality. Generally it will be weighed around 100-120 "pounds". (This means if you stacked 500 sheets of the "parent paper", or original size which is often 22×30, together, it would all weigh 100-120 pounds.) My standard house stock that I include with all digital printing is 120 pounds, and is by Mohawk. Clients have the choice of a natural white or a bright white. Your printer can also duplex two sheets together, creating a thick double stock paper. This is ideal for letterpress or foil applications, the extra weight really allows for beautiful impressions and deep texture.
What type of paper should I use for wedding invitations?
From there, you have the option of endless colors (though most often we're choosing from shades of white) and finishes (do you want a textured linen paper or something more smooth). Your stationer can guide you through this process of choosing what's best for your wedding stationery.
What is handmade paper and what are deckled edges?
You can also decide if you want to upgrade to handmade paper, which is certainly more costly because of the artisan and handmade nature. An alternative to handmade paper is to use cotton paper, and deckle the edges by hand. So that lovely, raw edge, torn paper look is called "deckled edge" paper and it comes naturally with handmade paper due to the way it is made. However, if you're using machine made paper from a mill, the deckled edges have to be torn with a unique "deckled edge" ruler.
What color paper should I use for my wedding invitations?
When choosing colors for your paper you'll want to keep in mind the print method you've chosen. Be aware that the base color of the paper will affect the color that's printed. If you're using a warmer, more yellow based ecru paper, the colors printed on top will have that warmth as a base. Meanwhile, if you're using a bright white paper, the same exact ink color would show through as a more pure tone. One is not more "correct" than the other, they're just simply things to keep in mind. This where working with a stationer is crucial. We know what to look for as you're making selections in order to keep your vision realistic and doable.
Finishing options
Ok so you've chosen your pieces, your print method, your papers – what about the finishing options? The embellishments? Let's talk about all the ways you can dress up a suite.
What is die-cutting?
Die-cutting is a finishing option the printer can provide once the items have been printed. A metal die is used to cut the paper pristinely in whatever shape you like. This can be rounded edges, the modern arch shape that's gotten popular lately, or more traditional crest shapes. This is the most common way of die-cutting. Although, laser cutters are now making laser cutting printed paper items in incredibly unique shapes more affordable and accessible. An example being the Charleston skyline or a delicate flower. Inquire with your stationer if that's something that sounds interesting to you!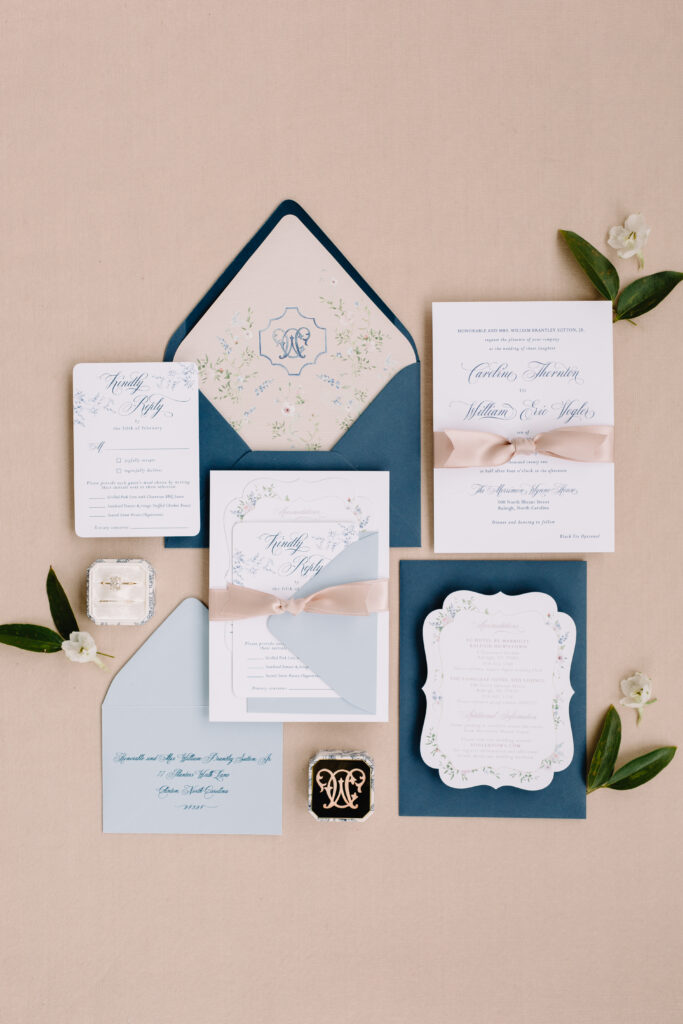 What about edge painting, foiling or beveling?
If you opted for a double thick paper, beveling the edges or painting them can take it all to the next level. Beveled edges have been machine drilled to reveal the layers inside of the paper and add beautiful edges and weight. Painted edges are just like they sound, and make the most impact with a double thick stock. Meanwhile, foiled edges are equally beautiful and add a fun pop of shine to an unexpected place.
Deckled edge paper finishing
I know we discussed it just a bit ago in paper options. However, it's worth noting this option for any paper that is not handmade or doesn't naturally have raw edges.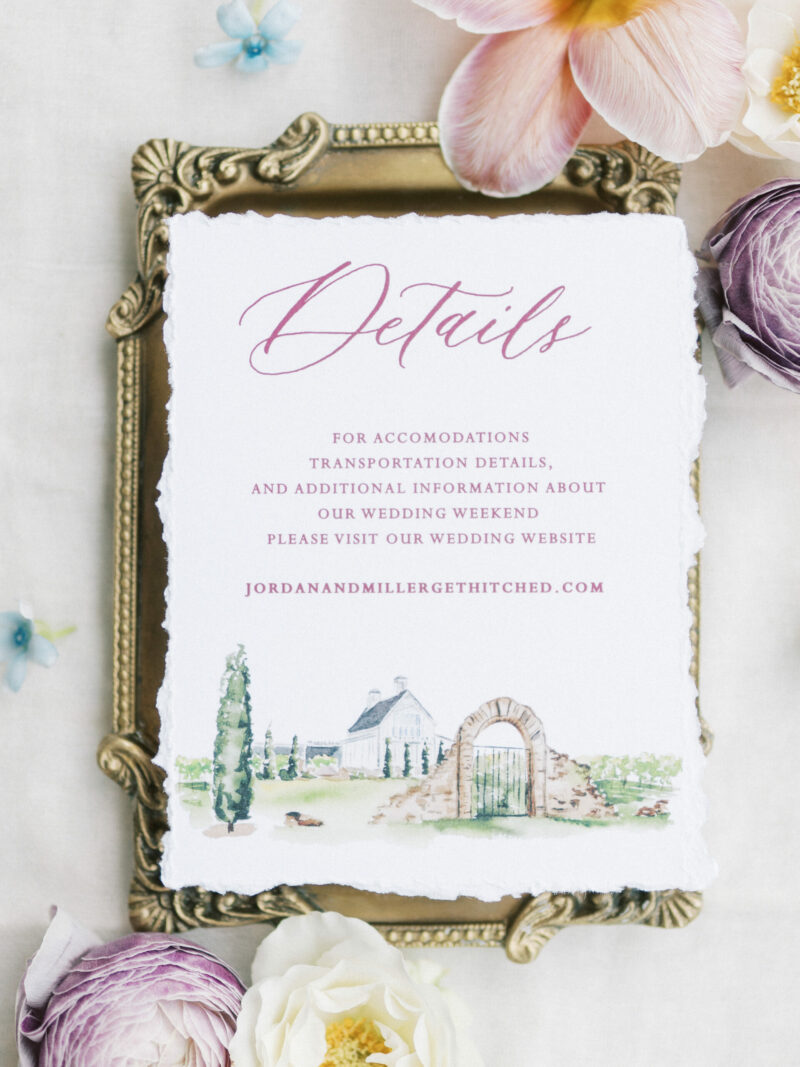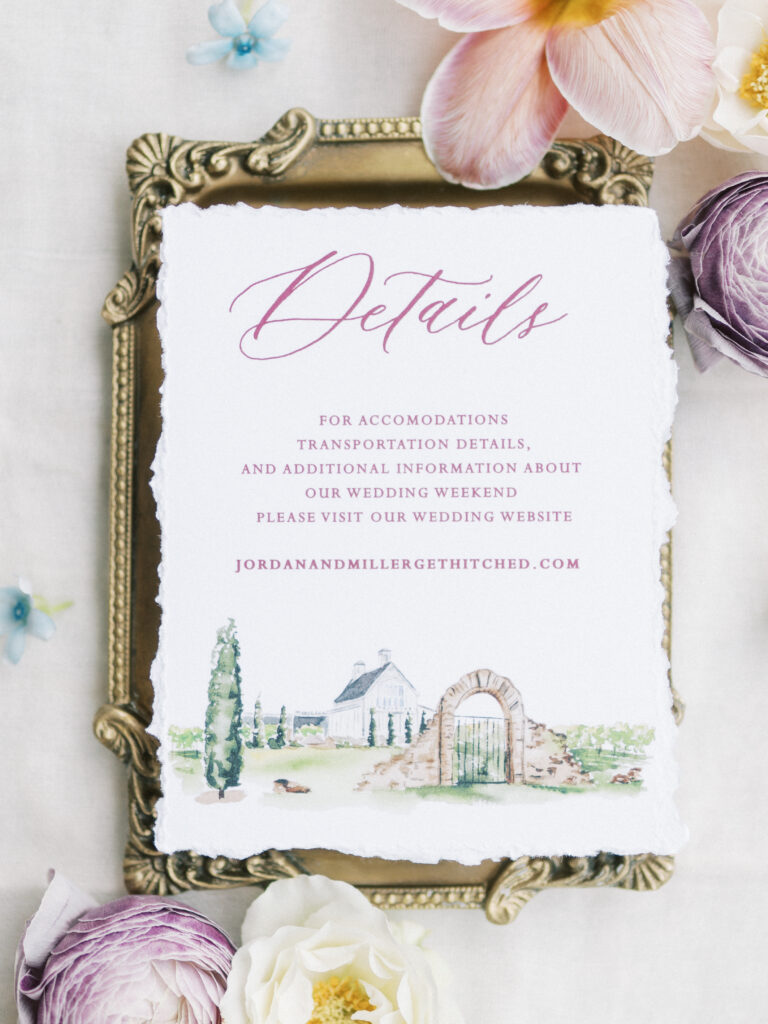 What is duplexing?
Duplexing is the process of pristinely and perfectly combining two sheets of paper into one, essentially doubling the thickness. You'll usually hear me call it "double thick stock". Naturally, this makes the price of the particular card almost double because we're using two pieces of material instead of one. The input cost that goes into printing won't double, just the material. This will all be factored into the price your stationer gets from the printer
What about scoring, folding, drilling or perforating?
Depending on what you chose for your suite, if you have cards that are folding, those that need grommets (like vellum paper attached to a cardstock) or holes for ribbons etc, these finishing options are provided by the printer or stationer you work with.
What are wax seals and where do I use them?
You can use wax seals to add an element of texture to your suite and wedding stationery. If you kept your budget low with digital printing, wax seals are a great way to add fun element. You can do metallics or add a pop of color with just about any wax color! They're a great place to add a monogram or pop of personality, repeating motif or design from your suite.
You can use them on the outside of your envelope for a formal touch. The wax used today is much more flexible and malleable than it used to be. The wax of olden ages tended to be brittle and could break in sorting machines. Alternatively, you can place them directly on a specific spot of your invitation or suite. For instance, in the suite below I placed it where traditionally a duogram would have been printed digitally.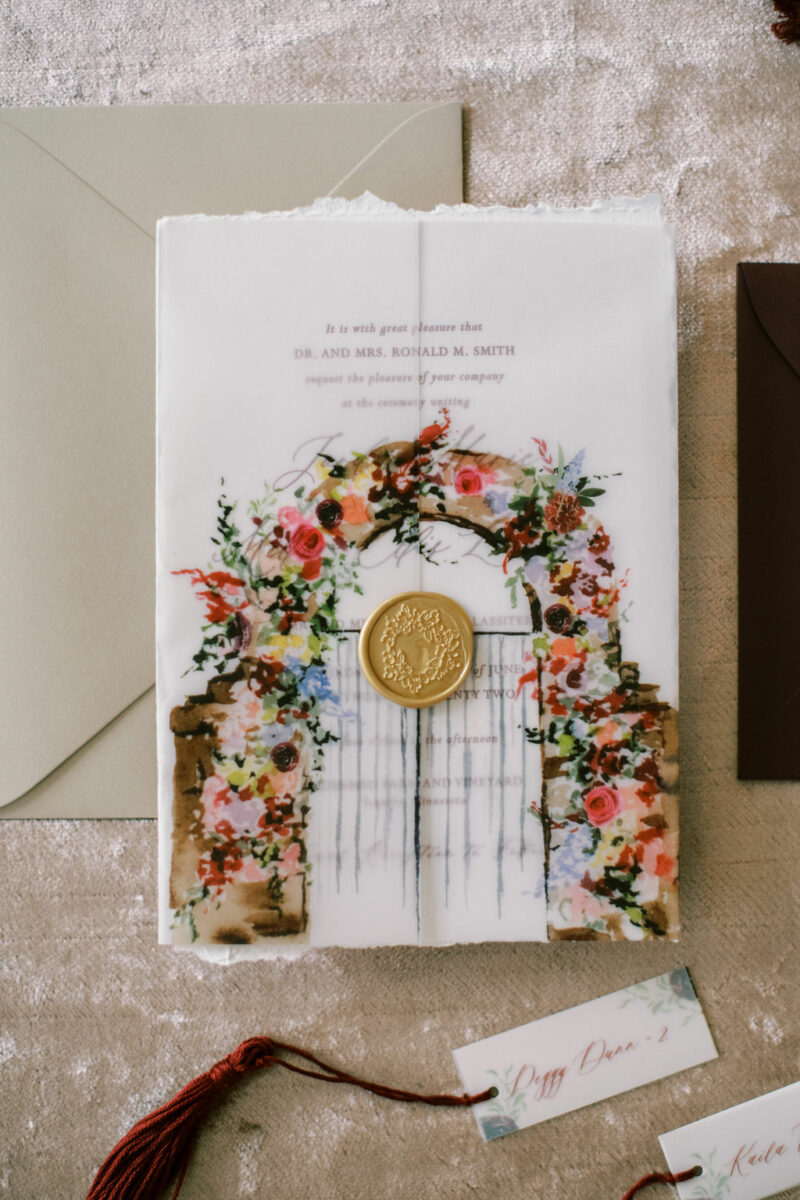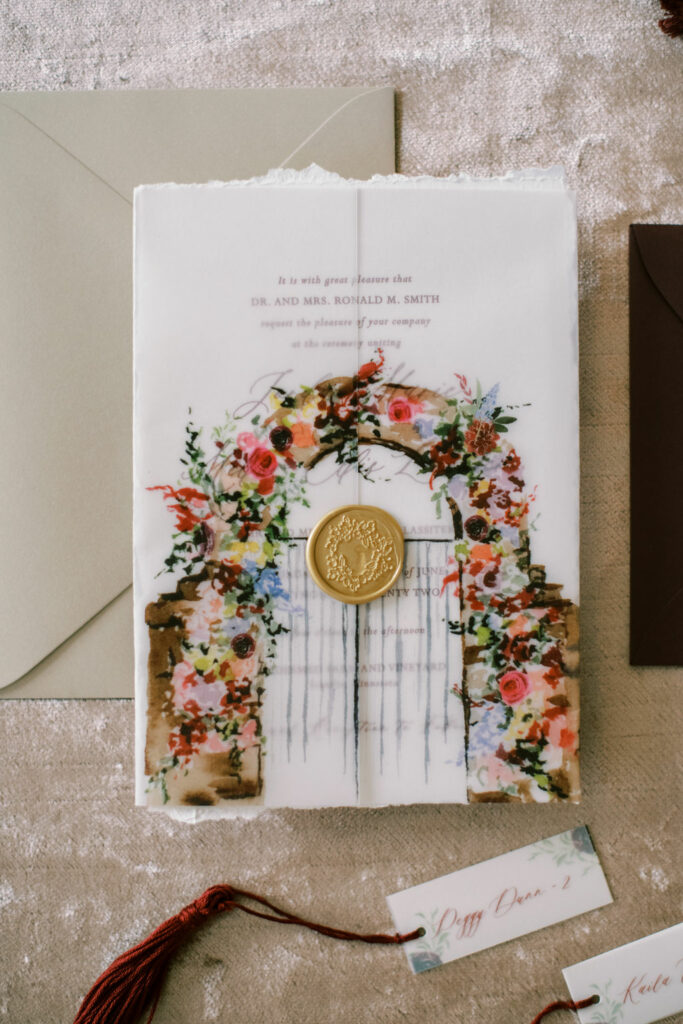 Where do I put the ribbon?
As mentioned in the first section about suite components, ribbon can be used a belly band. So can twine, embroidery floss, velvet string, or leather cord. There are so many options and all can be used to put your invitation suite together and keep it together. This means your guests won't accidentally miss the RSVP card or an important rehearsal dinner insert card.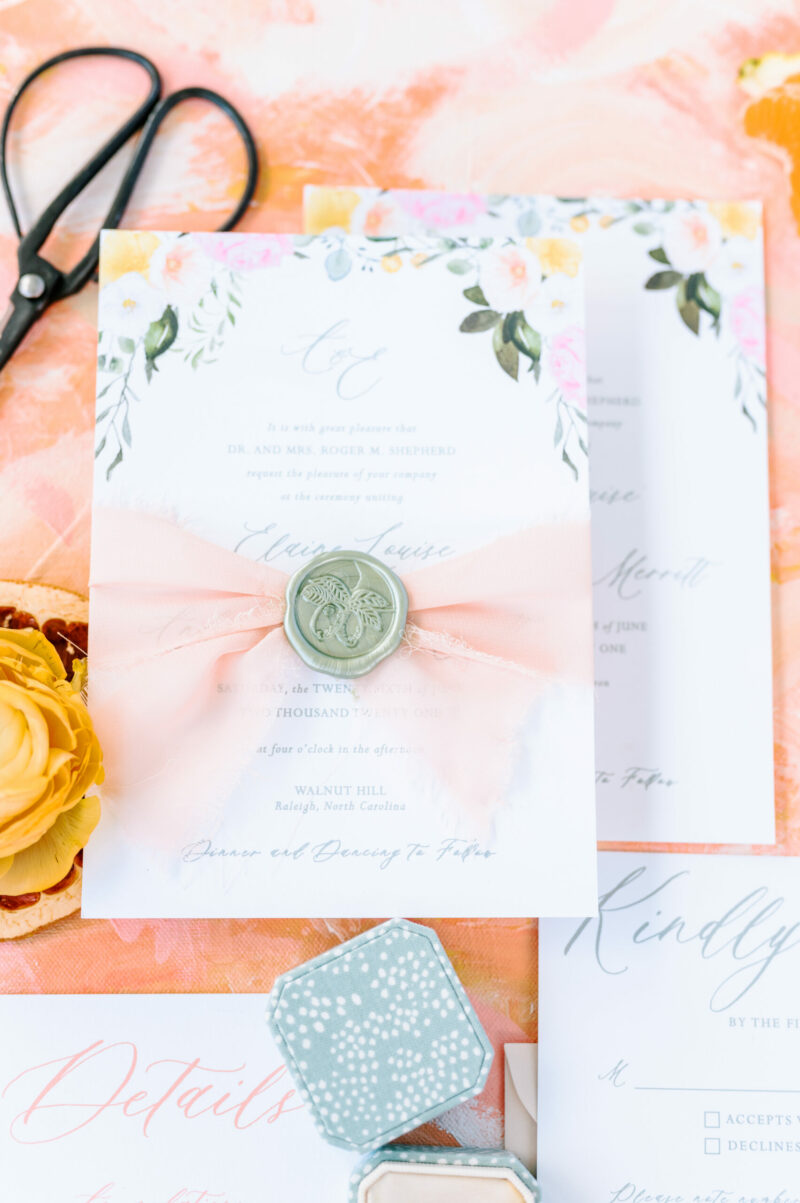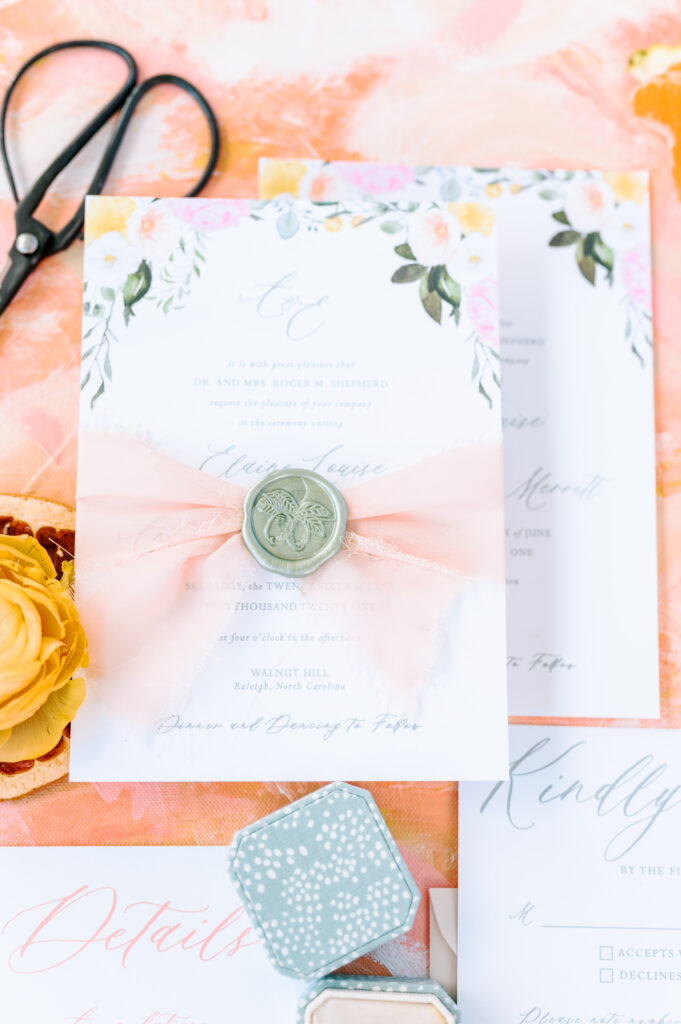 Do I assemble my wedding invitations or does my stationer?
It depends on your stationer and the package you selected. I try to meet my clients where they are. Some clients are more DIY and adventurous and want to get their hands on their suites before sending them out. Where others are a bit busier and unable to attend to such details. I offer assembly services on a per-suite basis based on the complexity of the suite and the finishing options needed. For instance, am I adding wax seals or ribbon? Folding vellum and matching RSVP cards to spreadsheets? Things like this go into the cost if your stationer will be assembling and mailing them. Don't forget about the cost of postage!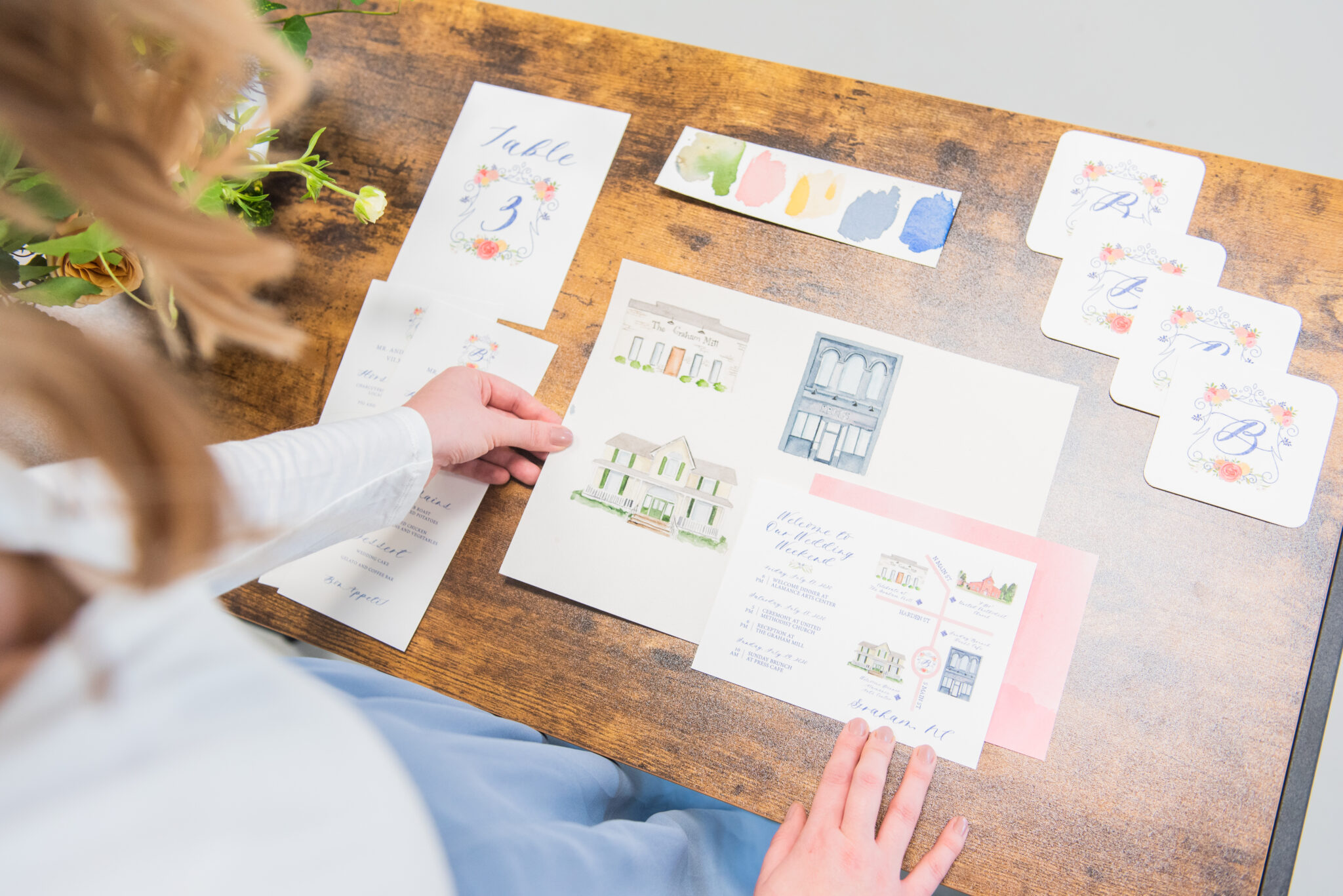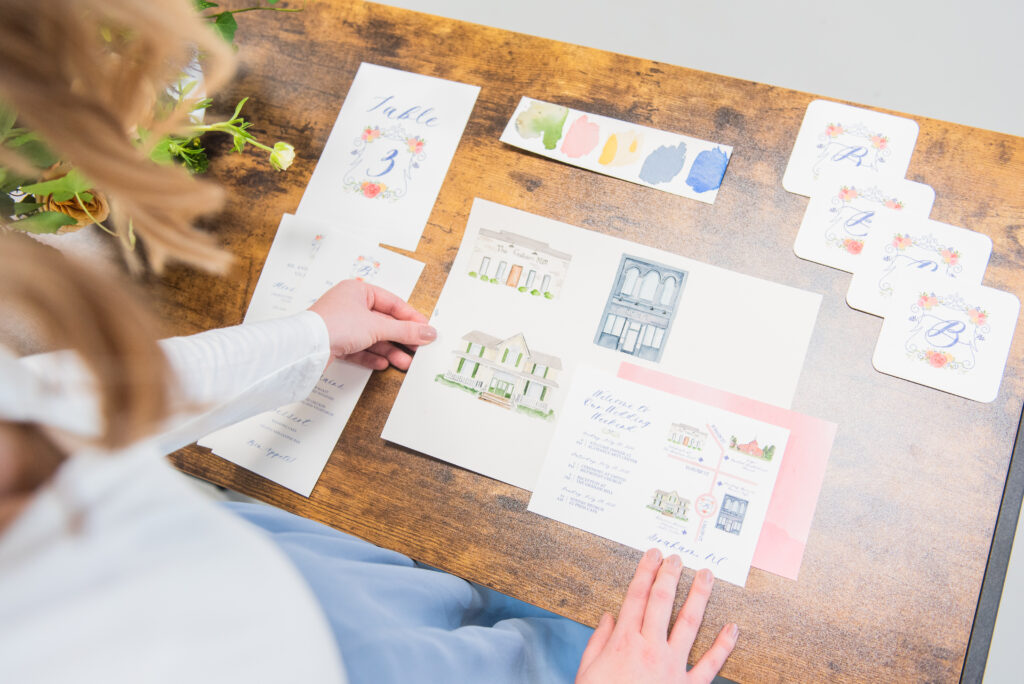 What if I don't want to deal or think about any of this? I know what I like, have an idea of the end goal, and want someone to handle all of the details?
Well hello, we may just be the perfect fit! I'm happy to work with any client and customize my services to fit their needs. Whether they want to be more hands on or have specific say about certain items, we can make a great team. I thrive when clients hand me their vision and "must haves", and then trust me to put together the rest. Knowing your hardline budget means I can mesh your "must haves" with budget friendly alternatives. This can help create the same look when perhaps the original things don't fit in cost-wise.
As with any photographer, planner or wedding florist, take a look at your stationers portfolio. What is their unique style like? What do they specialize in? Some stationers are very modern and minimalist, some thrive with layering textures and styles, while others are colorful and bright. I try to adapt my design to fit into a variety of styles, but my specialty is custom artwork through watercolor or line drawings. These can be complex and colorful, or whimsical and airy, elegant and refined or abstract and modern. I'd love to hear from you and learn more about your big day and your vision. If you feel we're not a perfect fit, I'd be glad to point you in the direction of someone who is!