This post will be part one of a two-part series about wedding invitation cost and budgeting! I often get asked how much are wedding invitations, so I wanted to really get into it. In this first post, we'll take a bird's eye view of wedding invitation costs, ways to have them done, and how to figure out what fits in your budget. In the second post, I'll explain what goes into the cost of custom and semi-custom stationery specifically for invitations and day-of goods, since that's my specialty!
Creating a Wedding Stationery Budget
By the time you've picked a date, a venue, a color palette, and a theme for your wedding day, you're likely ready to start thinking about your wedding invitations and stationery.
So much of the overall wedding budgeting process can feel like a guessing game. From figuring out what your priorities are in a budget (should you splurge on that decadent four-tier wedding cake or maybe a live band instead) to determining the amount each category should have, it can be tricky. And while talking about money isn't everyone's favorite, it's necessary. As someone who tries to be upfront and transparent about pricing for wedding invitations, signage, and decor, I want to break down some misconceptions about wedding invitation budgeting and offer insight into what your budget can actually get you.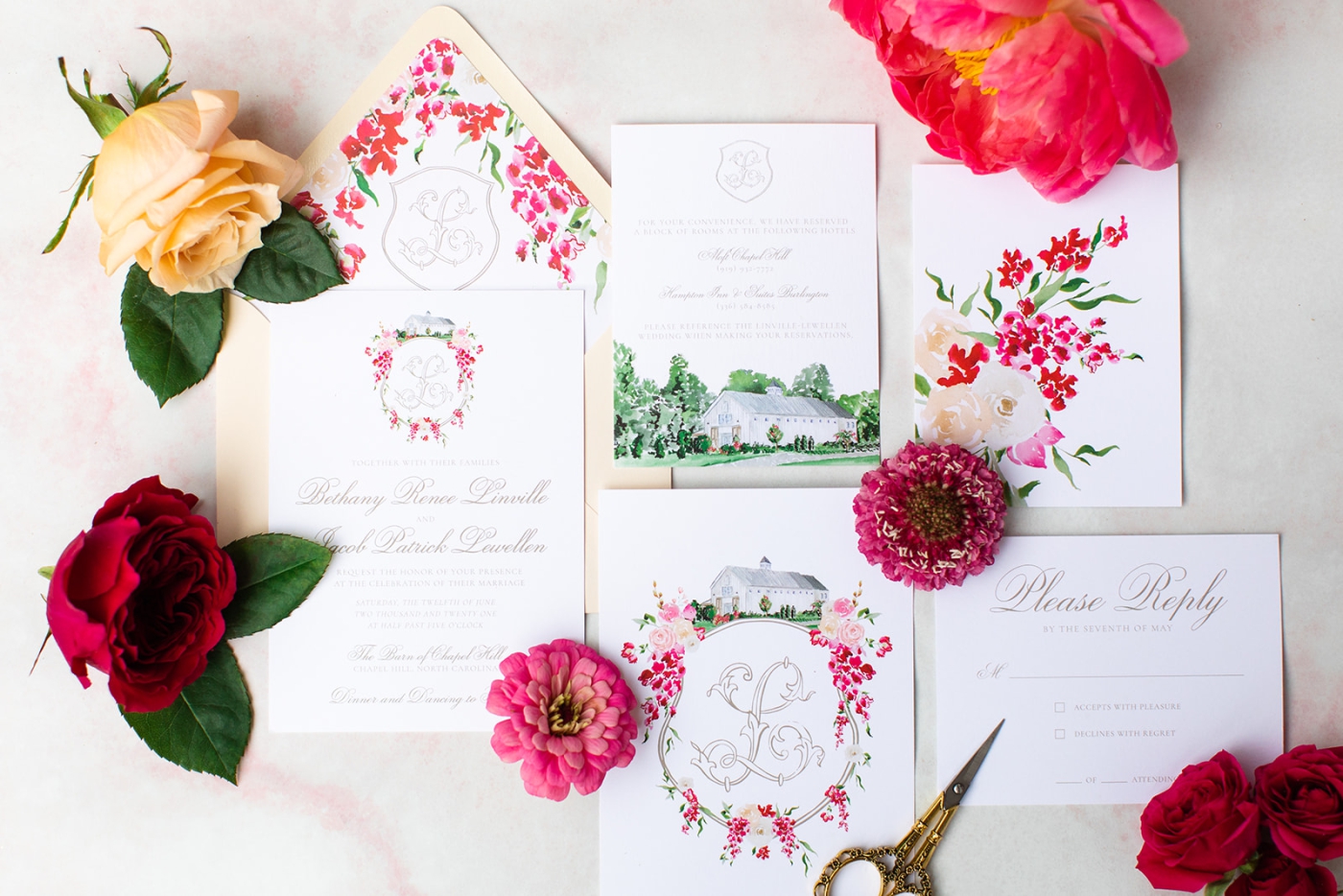 The Average Stationery Budget
According to The Knot, the 2019 national average wedding budget was $28,000 (2020 was a weird COVID year, so we're using a "normal" year here!). Approximately, 6-8% of that budget goes to wedding invitations and stationery. This means the average couple spends around $1,700-1,850 on that very first touchpoint of their guests' wedding experience.
However, depending on where you live, that budget and number can be different. Here in North Carolina, according to Heart of NC Weddings, the average budget is $30,000. So, many North Carolina couples can expect to put about $1800-2400 on average toward their wedding stationery. That's a pretty broad range, and some couples spend much less while others spend much more.
Why? There are SO many factors in pricing – from materials to printer to designer to quantity of invitations and paper goods, embellishments, and much more. For this post, we're going to break down pricing by where you go to get your invitations. In part two of this series, we'll look at what different budgets can expect to have when working with a stationer like myself!
Wedding Stationery Options
Let's say a couple is inviting around two hundred people. That means they're likely sending out about a hundred invitations. Remember, invites are per household and not per person. The first thing to sort out is what route a couple wants to take to have their invitations created, designed, and printed.
Do you have loads of time and feel pretty crafty? The DIY route might work for you, which means designing and printing your own with a local printer.
Or you could take a look at some of the "big box" designers like Minted or Zazzle, where you input the text and have them print for you.
Another choice can be to work with a stationery designer (like myself) and design something fully custom with them. In this case, you'll want to know what their style is and if they can create custom artwork. Another alternative with a stationer is to choose something from a semi-custom collection for which you can personalize the colors and text, but the main artwork and layout stay the same.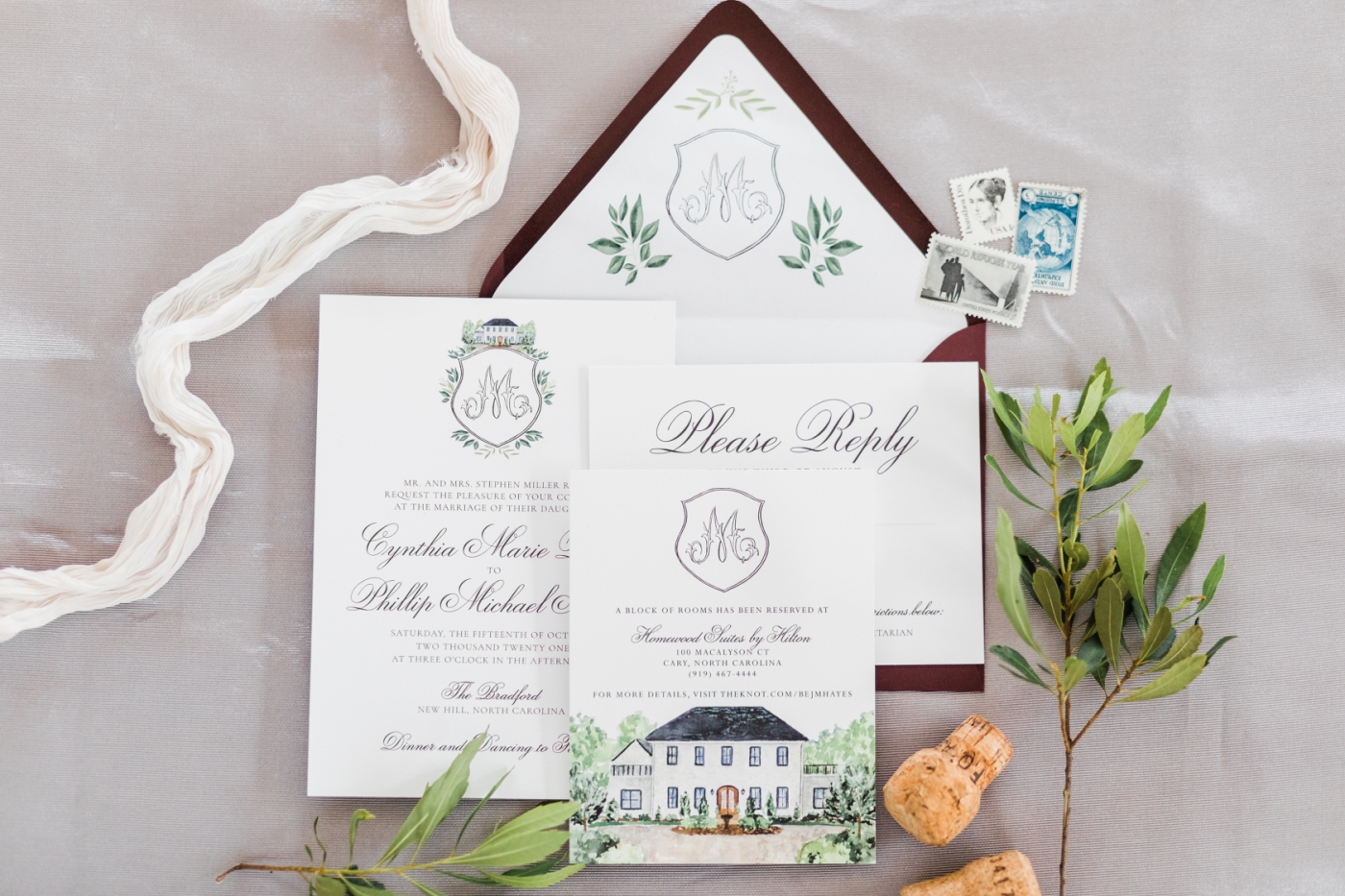 How much are wedding invitations?
Let's say you want to send out invitations with an envelope, an envelope liner, an RSVP card and matching envelope, and a details card. This is what I consider a full, classic suite and what my standard pricing is based off. The price changes when you add or remove elements. So, how much are wedding invitations depending on where you go?
DIY Route
If you go the DIY route and design yours yourself with free computer software and print them with a local printer, you could probably get a hundred suites (invitation/insert cards/envelopes) for about $500-$750. Keep in mind that this won't include printed guest addressing. Most printers won't offer that for you, but they may offer return address printing on the back of your envelopes! Also, a printer is just that – a printer. They won't guide you on etiquette. And you'll have to keep an eye out for and follow up on printing errors. You'll need to be pretty savvy with researching and figuring out the what, when, where, and how of creating and mailing out all of your paper goods and getting your day-of items created as well.
Big Box Printer
Now, let's run the numbers over in a "big box printer" for something similar. Again, we'll look at an invitation with envelope and liner, RSVP card and envelope, and a details card with full-color printing, front and back on each card, as well as printed envelope addressing. You could look at Minted, Zazzle, or Shutterfly to see what designs they offer.
The initial price you'll see is always the base price for the invitation front itself and an envelope. Once you start adding elements, like printing on the back of the card, or a custom envelope color or liner, the pricing will begin to add up. You'll also be limited in the type of envelope you can use. Most of these companies don't offer Euroflap envelopes, which are those beautiful, classic envelopes with a triangular seal. Instead, they tend to offer standard envelopes with a straight edge. Still functional, but perhaps just not quite as beautiful!
After running the numbers in Minted, the total cost for a hundred suites similar to my standard suites comes to about $900 (as of September 2021). Again, here you won't have anyone to discuss wording, etiquette, or design concerns with. But there are a wide variety of styles between these sites to choose from.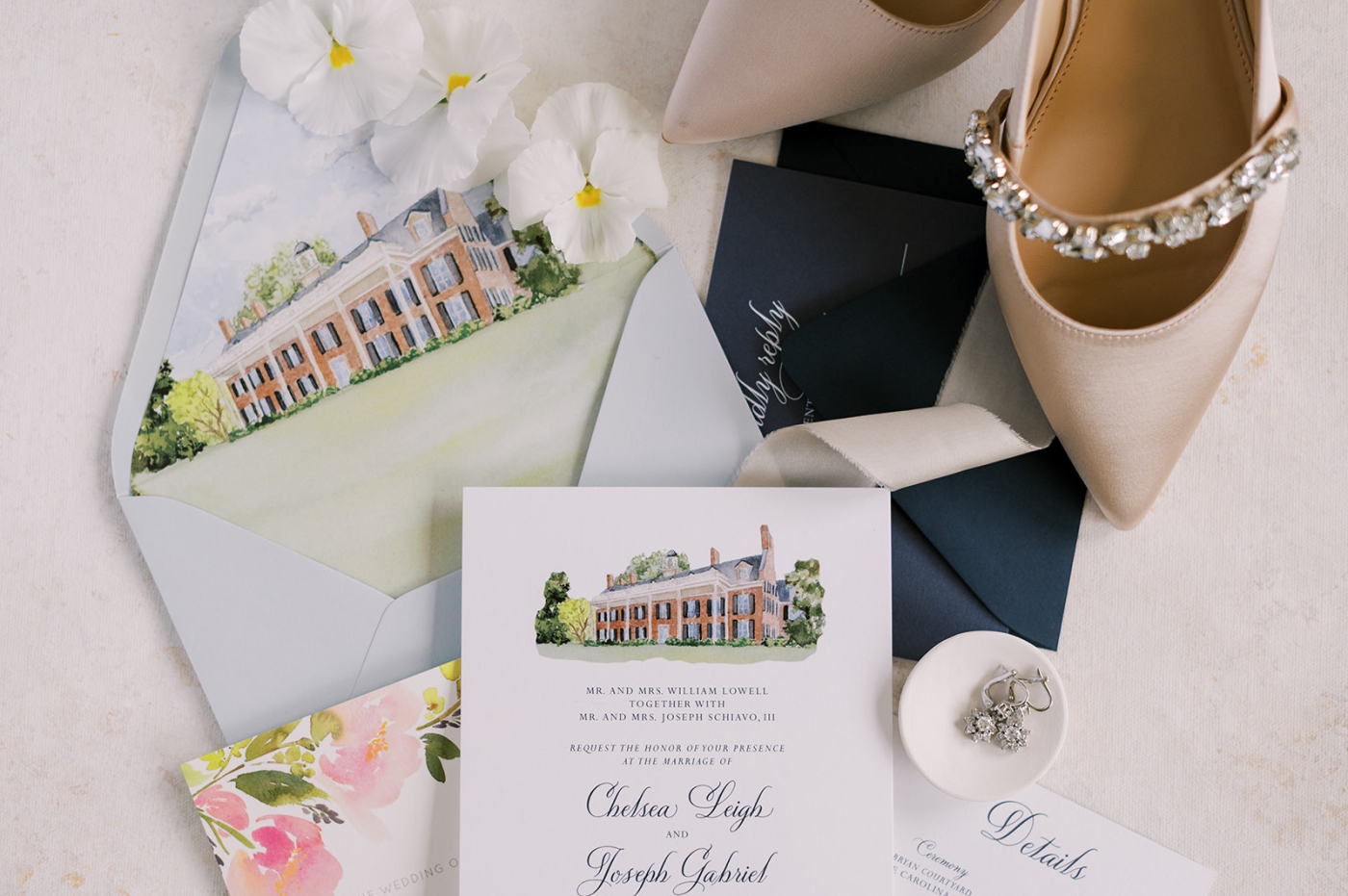 Etsy Sellers
Next up, let's look at Etsy sellers selling semi-custom invitation suites. Remember that semi-custom suites are just like Minted. They're premade designs that can be changed in small ways such as with wording, font style, and colors. The overall layout and design stay the same. These can be really hard to wade through on Etsy because every stationery designer approaches pricing and how they list their prices differently.
Having sold extensively on Etsy myself, I can say from a seller's perspective that it's hard to put everything you offer and your process into a listing! And every seller is different. So, you may see a suite you like listed at $12 and go into the listing to find out the price is for a sample. Whereas another listing might say a hundred suites and have $1,200 listed as the price. Here, they're the same overall price, but you have to do a bit of detective work and digging to figure it all out!
That said, looking through designs and seeing what catches your eye is probably your best approach. As of September 2021, it seems that most semi-custom collections are comparable to Minted and about $850-1250, depending on the seller. Each stationer is different and offers different levels of help along the way, so be sure to inquire if you'd like assistance!
Stationery Designer
I also offer semi-custom invitation suites, specifically the Venue Collection, and I am adding more collection lines in the coming months! For a hundred of the Classic Suite from the Venue Collection, there are seven Euroflap envelope colors to choose from, along with printed addressing (plus white ink for dark color envelopes!), front and back printing of your invitation, RSVP card, and envelope, as well as a details card for $1,040. And if you'd like to remove an element from the package, then the price would decrease accordingly! Maybe an invitation liner isn't a "must" for you, or you're doing a digital RSVP and don't need the RSVP card or envelope.
Whatever it is, I'll work with you every step of the way with custom wording guides, color customization forms, and two rounds of review. I'll also help you with any mailing questions you might have from navigating postage costs to finding the prettiest stamps to coordinate.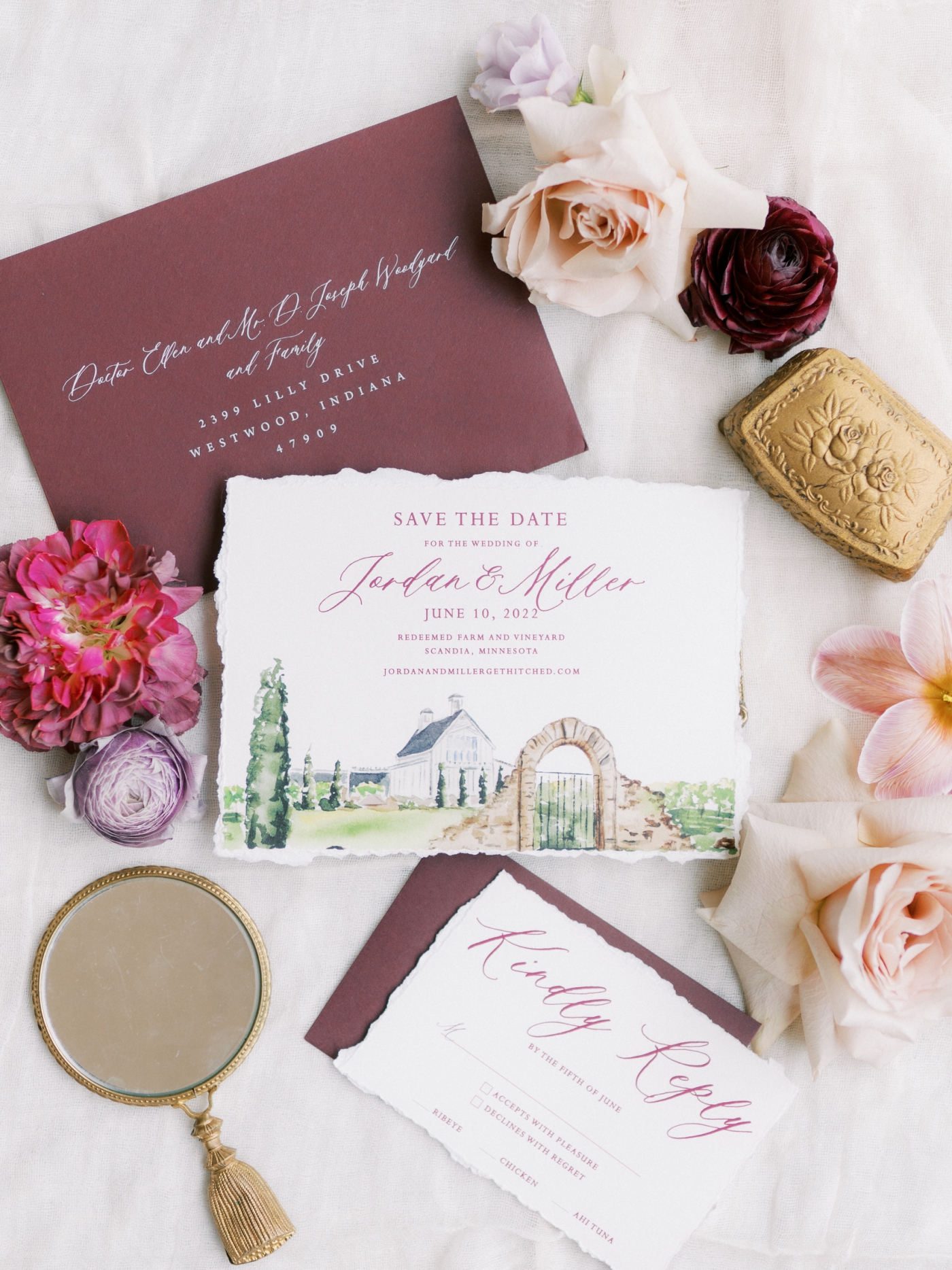 Finally, most stationery designers have a starting minimum of anywhere from $2,000-$3,000 for fully custom stationery projects. Just like with wedding venues or photographers, you should take a look at their portfolio of work to get an idea of their typical design style. For instance, watercolor is my primary medium, although I occasionally add line drawings and artwork to my suites.
I focus on romantic, classic, and elegant designs suitable for heirlooms, so I wouldn't be a good fit for a client looking for a really modern or edgy look! For my fully custom stationery clients, I do have a minimum order of $2,000, and this can typically cover a hundred invitation suites (like what has been used as the "standard" throughout this post) with custom artwork and illustrations, as well as a few day-of stationery items.
Wedding Day-of Stationery
While this post covers wedding invitation pricing specifically, keep in mind that you'll also need to budget for day-of items, like guest favors, seating charts, welcome signs, signature drink menus, programs, menus, and place cards. Not every wedding will call for every one of those items, which is why having a stationer in your corner to advise you comes in handy!
So, how much are wedding invitations? This handy graphic will teach you more!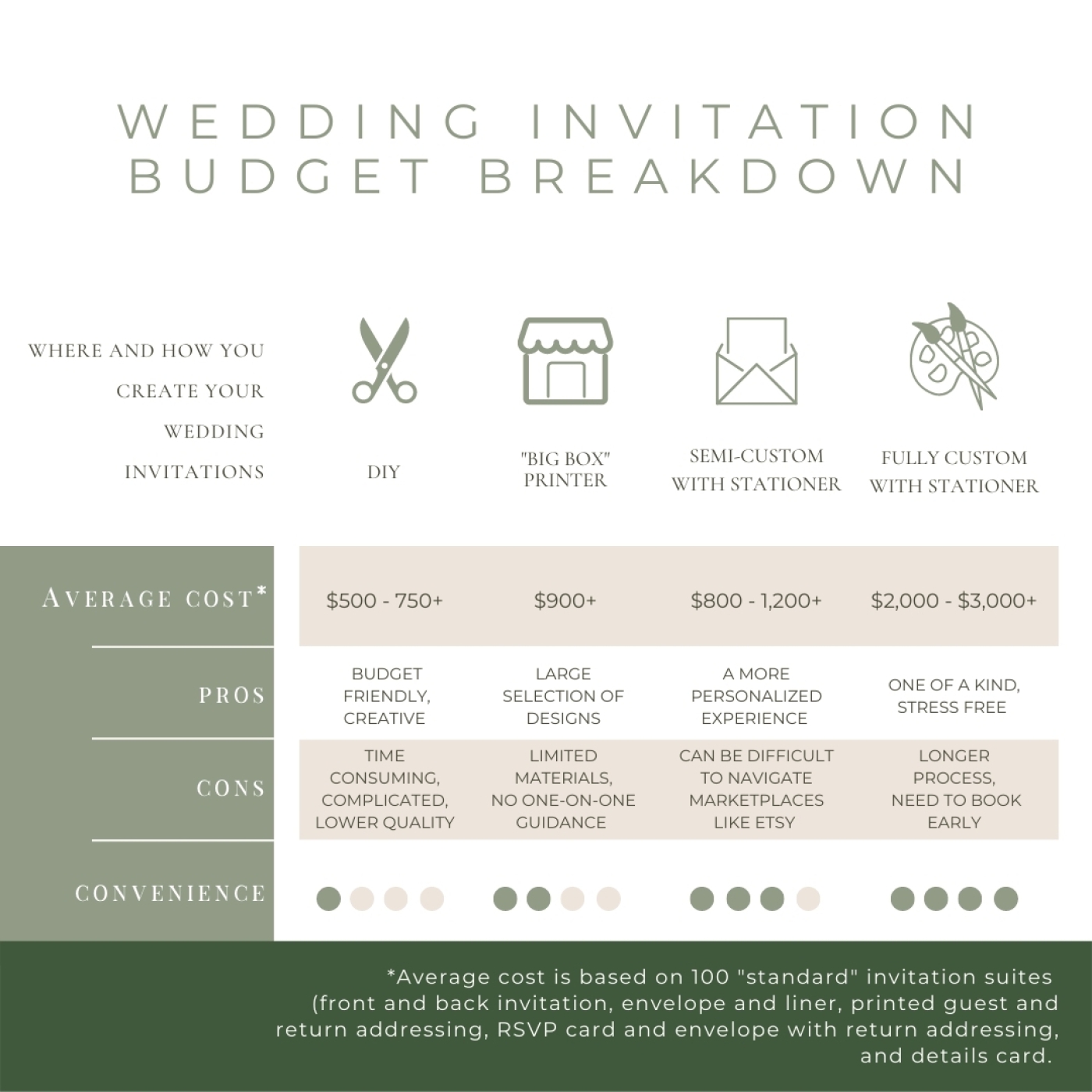 Stay tuned for Part two of this series (which will be linked here when it goes live!) in which I'll explain what goes into the cost of custom and semi-custom wedding invitations and day-of goods since that's my specialty! From paper types to print methods to custom illustrations, ribbons, and wax seals, there's a lot of ground to cover. So, until then, as always, feel free to reach out and inquire if you have any questions about wedding invitations, whether custom or semi-custom, or just advice on wedding paper in general! You can always email me at hello@ashleytriggiano.com or find me on Instagram.