I love the chance to do live wedding painting, especially when the weather is perfect! It was such a beautiful early summer day for a live wedding painting at Revolution Mill. Haley and Ryan met online, and their wedding in Greensboro, NC was beautiful. The gorgeous day perfectly complemented the beautiful garden setting, sweet ceremony, and stunning couple.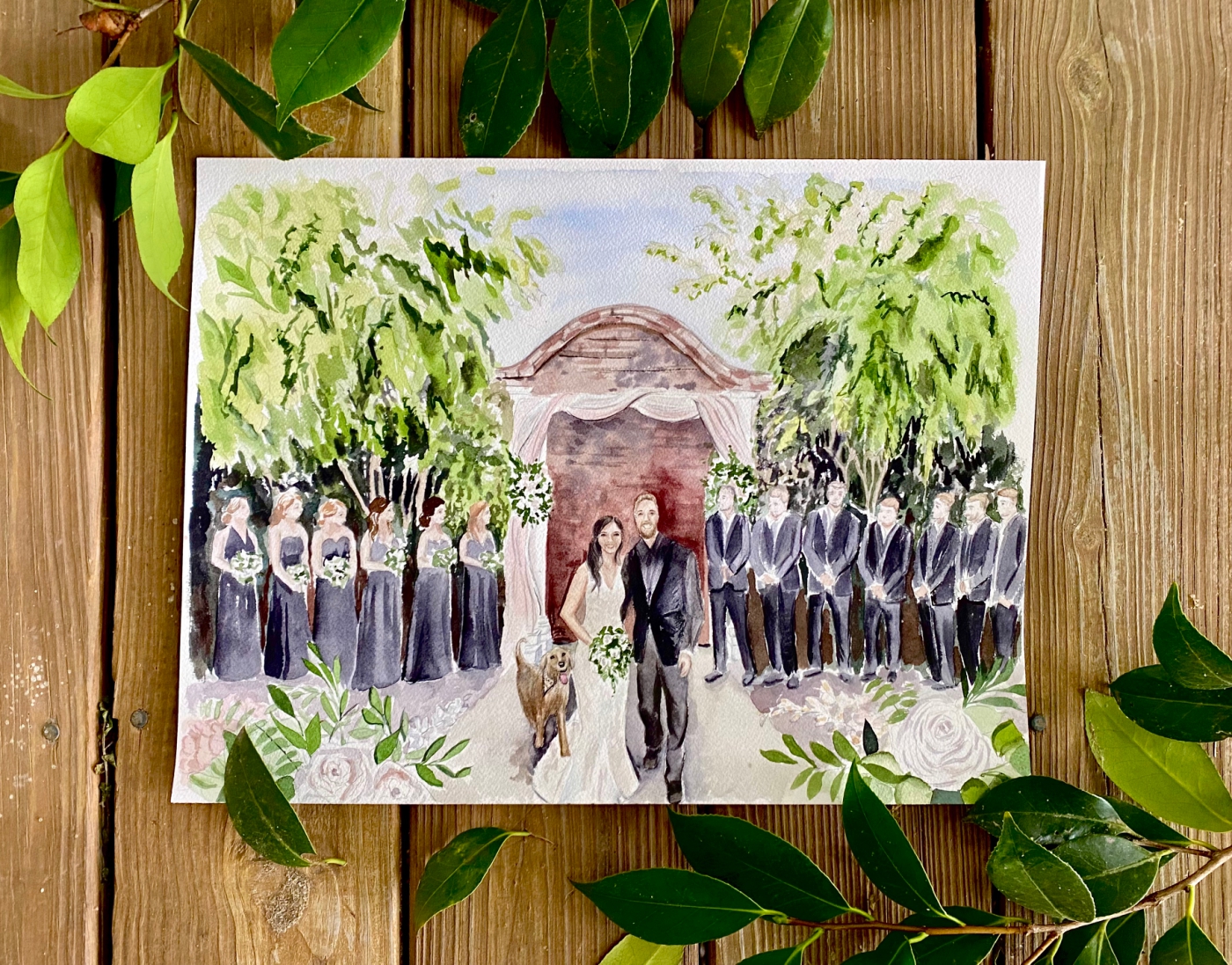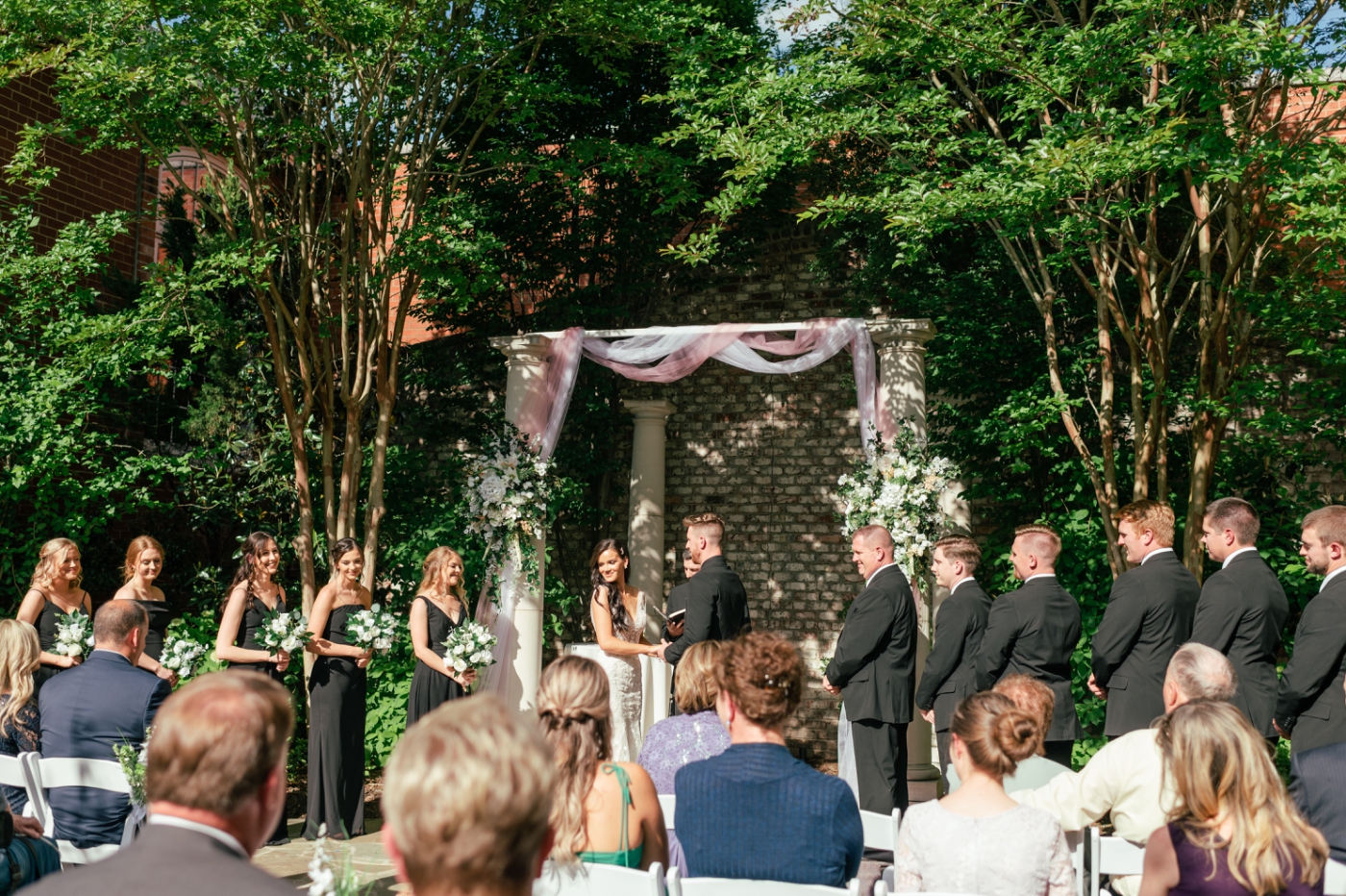 Live Wedding Painting at Revolution Mill
Haley and Ryan chose to do a Ceremony Portrait with them, their wedding party, and their sweet pup as part of the painting. Their ceremony was set up along the back garden wall of Revolution Mill Events, and I was tucked away in the back with a perfect vantage point. I always try to set up in an "out of the way" spot. This way I'm not in crucial photos of the bridal party as they walk down the aisle, but I still have a view for the guests to check in as they come into the ceremony.
The crepe myrtles around the arbor were just beginning to bud and perfectly framed their ceremony arbor. White hydrangeas and lots of greenery accented the day and highlighted the abundant greenery in the garden. Their floral spray arrangements on the pillars plus the pink and white draping made a lovely backdrop for the couple to say, "I do."
I kept the shadows of the brick wall behind them, allowing their silhouettes and figures to really pop! Plus, the bright greens of the new spring greenery in the crepe myrtles really brought a lot of luminescence to the painting. A benefit of watercolor as a medium for painting is that its primary qualities are transparency. This basically means we preserve a lot of the white and brightness of the paper for highlights, and it has a uniquely glowy finish!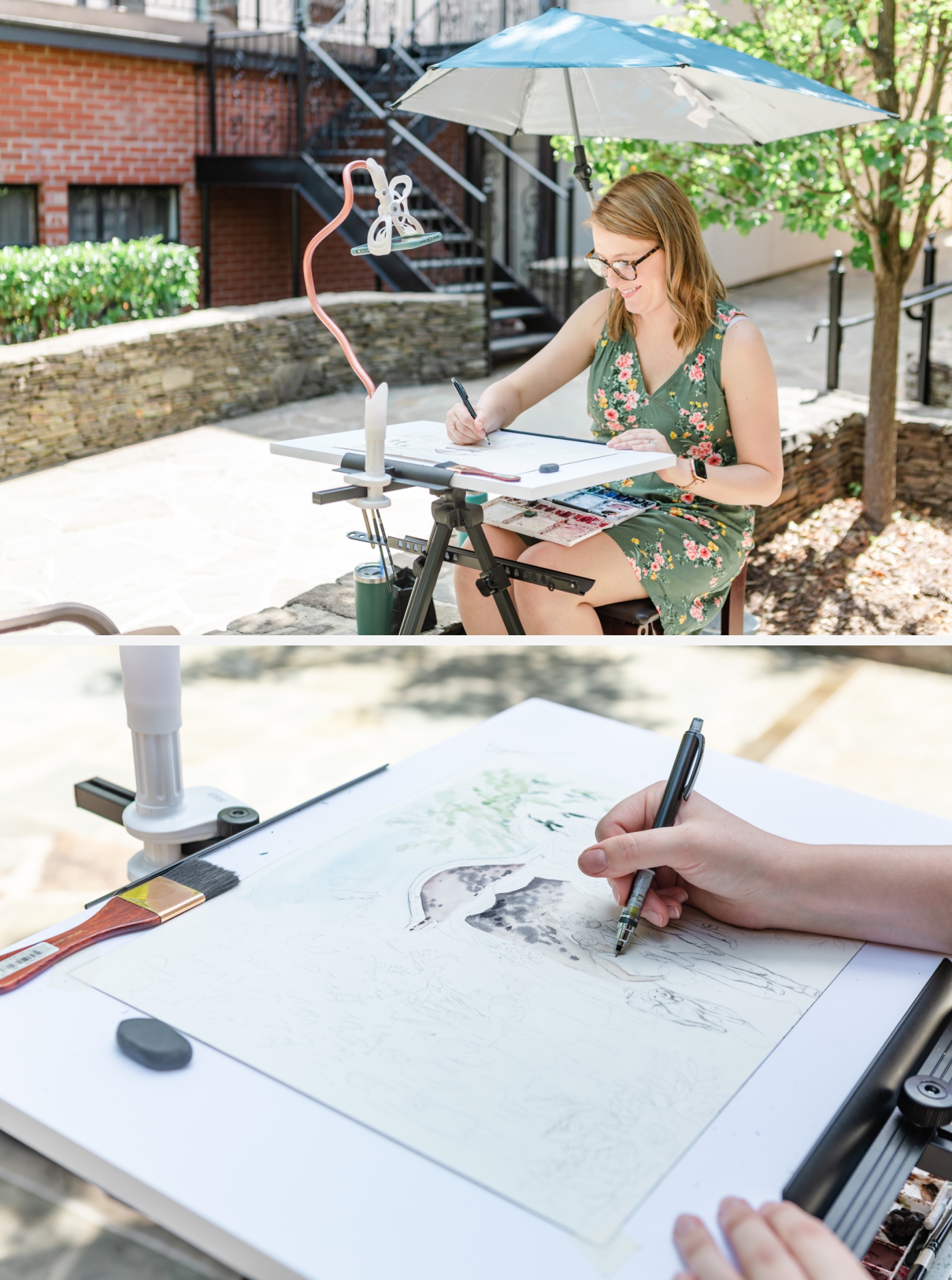 Adding Pets to Your Live Wedding Painting
I always love including the couple's "furry family members" at the couple's request – whether they're in attendance at the wedding or not! Fortunately, they were able to include their sweet boy Milo both in real life and in the painting! Is he not the cutest little ring bearer you've ever seen? His little bandana said "I do, too" – so you know that had to be added into his portrait, too!
If you'd like to include your pup or any pets in your portrait but are unable to have them there with you for the day, you can always share photos of them with me beforehand so I have their reference photos and I'm happy to add them in!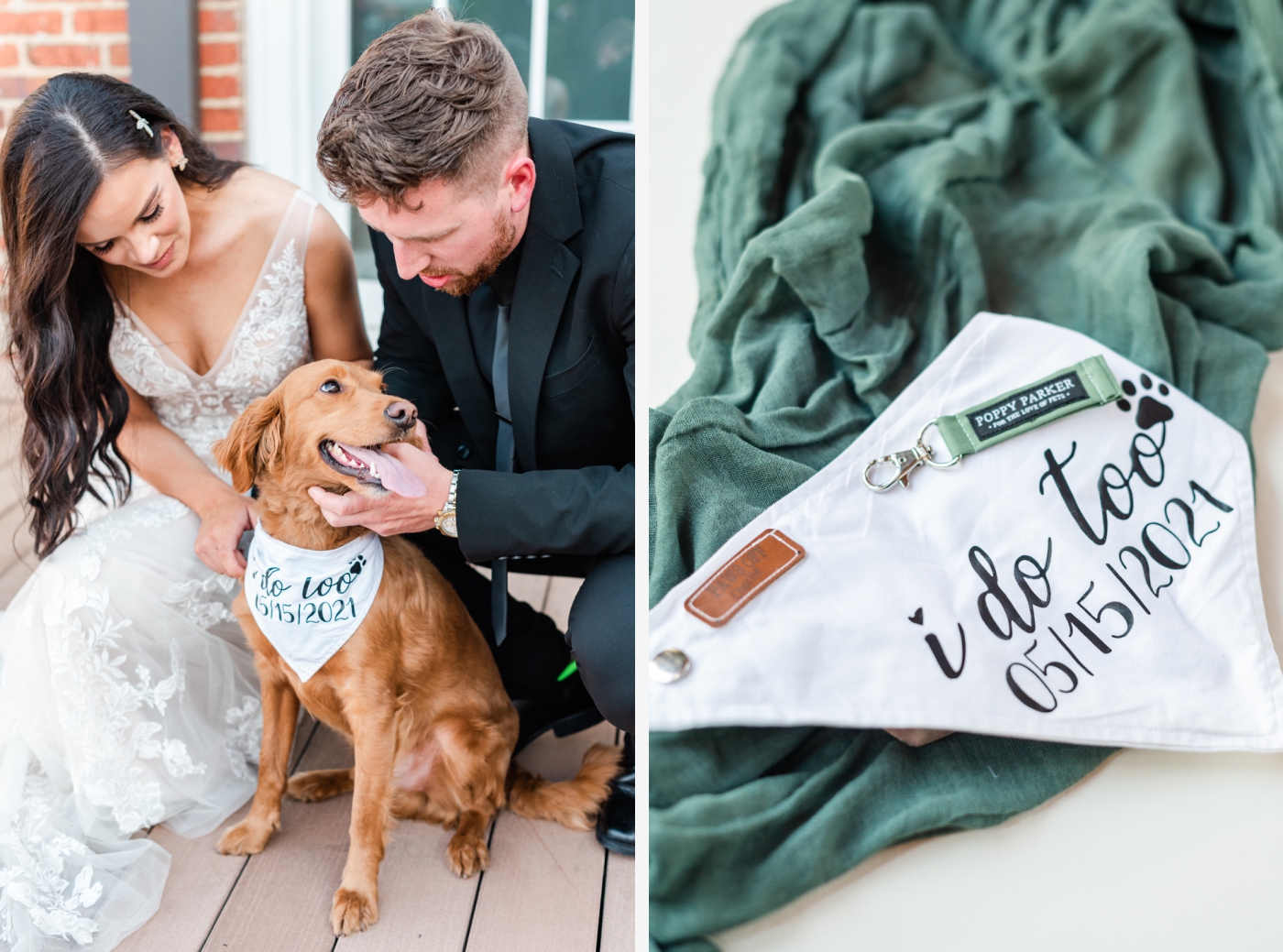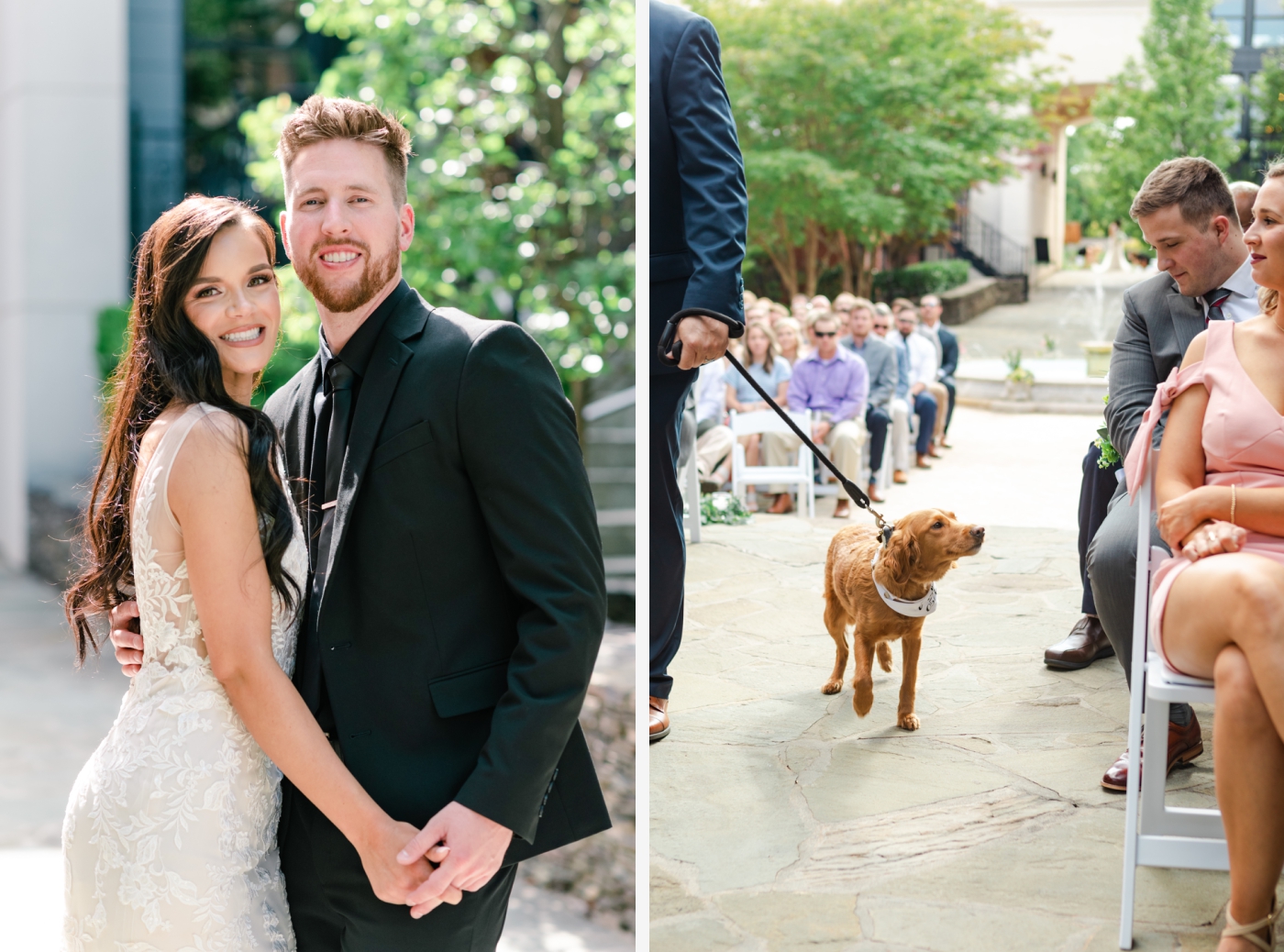 A live wedding painting gives you such a unique keepsake from your wedding that you'll treasure forever. It's such a great way to see a moment from your wedding. Not to mention, it's a fun way to entertain your guests who will love watching the painting unfold! I loved working on Haley and Ryan's live wedding painting at Revolution Mill, and I'd love to work with you too!
Vendors:
Photographer: Megan Sheppard Photography
Venue: Revolution Mill Events