Weddings on NYE are so special as two people celebrate their love! However, it can be difficult to find the perfect New Year's Eve wedding invitation suite to capture the mood of the evening. In this blog post, discover some of my insider tips, tricks, and advice for creating the perfect invitation for your special day.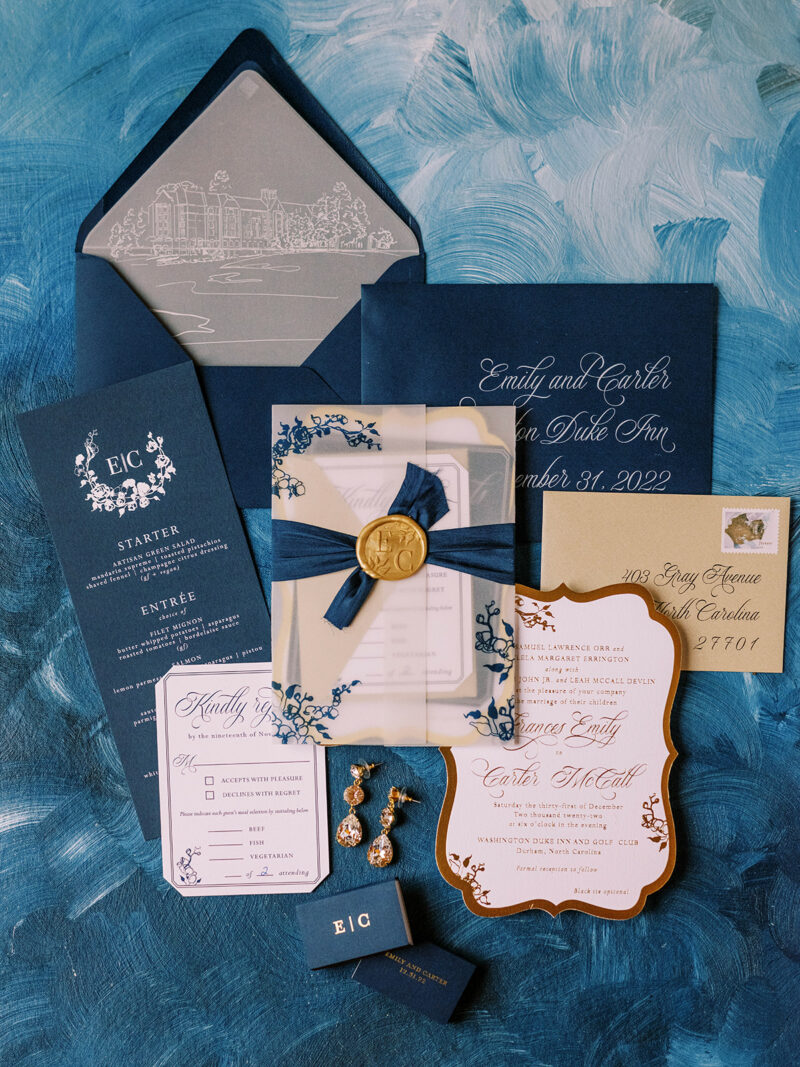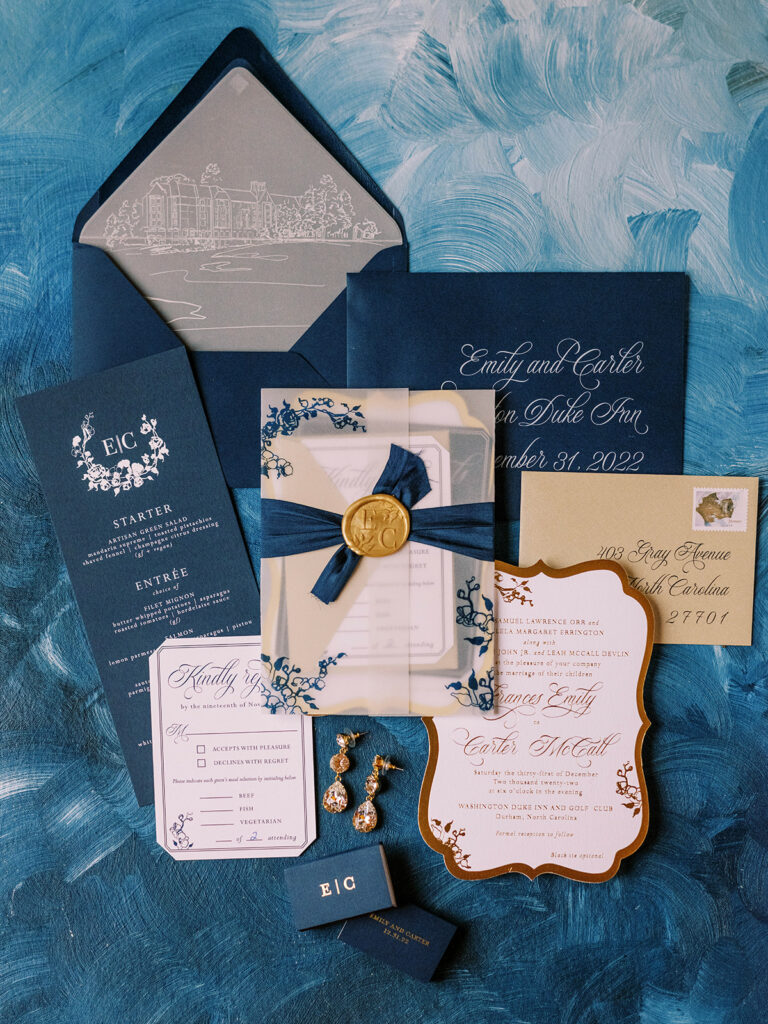 1) The Value of Planning Ahead
Given the busy time of year, you should always plan ahead for your New Year's Eve wedding invitations. Ideally, my clients and I start working on their invitation suite 5 months in advance. Of course, the earlier you book the better but generally, 5 months out is the ideal time for us to start brainstorming, conceptualizing, and designing. Once we've got the process timeline in place, we'll plan ahead for your guest count, budget constraints, ideal wishlist, and priorities.
2) Day-of Details Matter, Even with Your Invitations!
When designing a New Year's Eve wedding invitation, details matter! I recommend choosing gold foil or a metallic element that will be part of your day. Additionally, you could take design cues from your table settings, wedding venue, or other day-of details. Incorporating tiny tasteful accents on the envelope flap or liner can really help to elevate the look of your invitation. Don't be afraid to ask your stationer for advice and suggestions to help you create something that is truly unique to you and your love story. For this New Year's Eve suite, we played up the beautiful Washington Duke Inn venue in Durham, NC.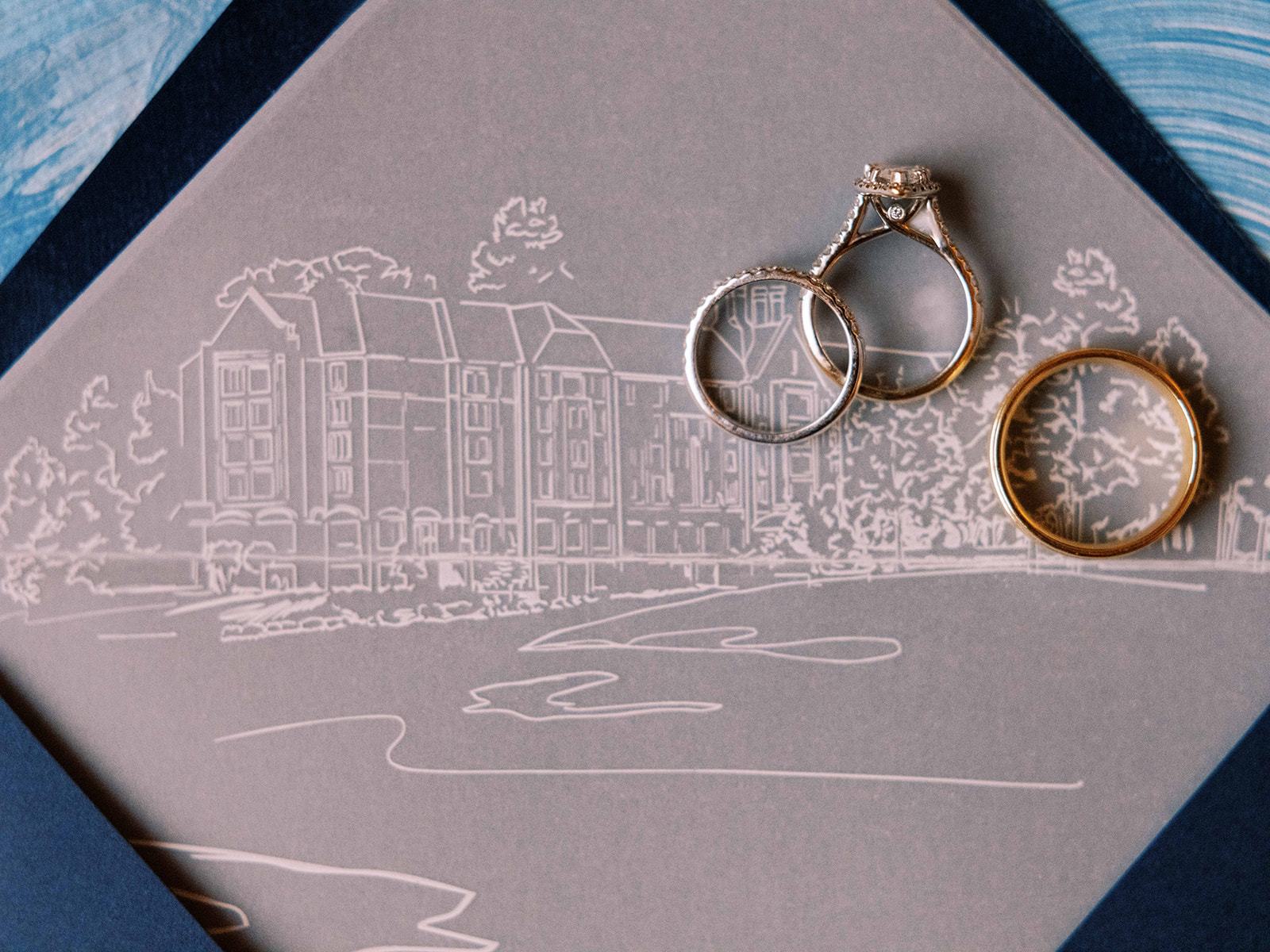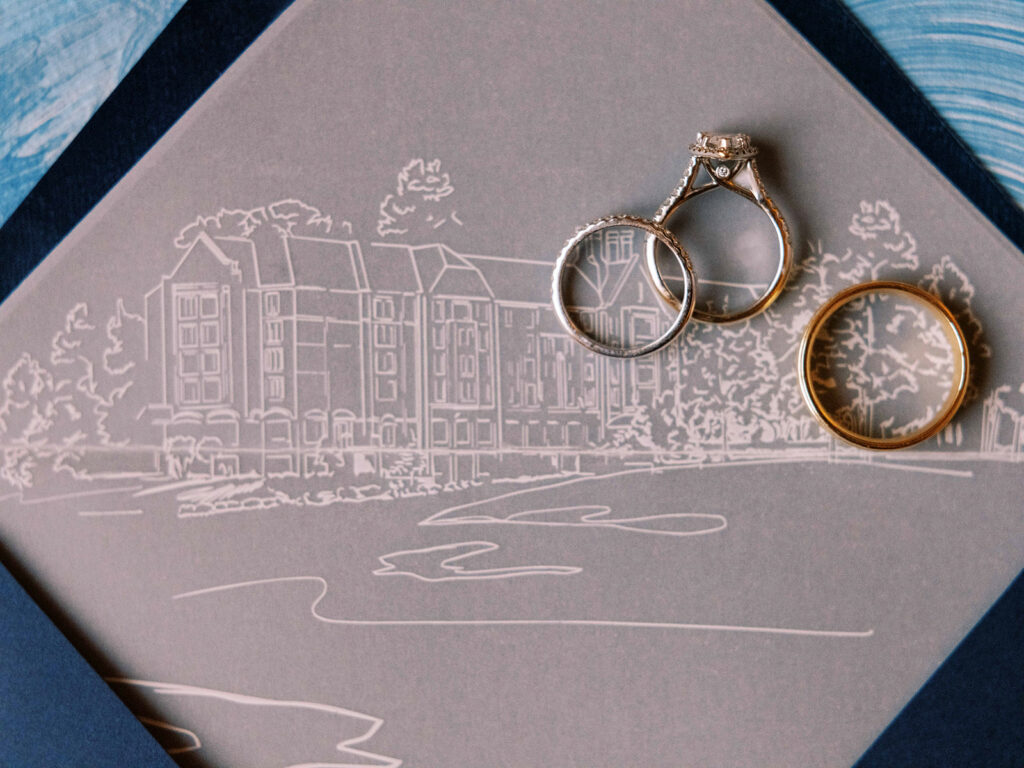 3) Unique Shapes, Patterns, and Luxury Paper
Speaking of day-of details, this couple's wedding day tablescape inspired the shape of their main invitation card. The fun scallop shape was elegant and bordered in gold foil, and mimicked the beautiful gold-edged chargers that would welcome their guests to their dinner seats. I knew that satin linens and bridesmaid dresses would be part of the day. Therefore, we incorporated a navy blue satin ribbon to tie up the suite with a coordinating monogrammed gold wax seal. Finally, a vellum wrap made a nod to the frosty winter weather that makes a New Year's Eve celebration extra cozy and magical.
4) A Little Sparkle and Shine
When you think of a New Year's Eve wedding, you might think of black, silver, and gold. However, when you look at the invitation, you don't have to play it safe. Consider popping in a watercolor backdrop, a delicate floral pattern, or a marble texture. You can even use other metallic papers or specialty papers to make the invitation one of a kind. Of course, you can still add a shimmery element with some foil accents as mentioned above. However, I do strongly suggest exploring beyond the traditional NYE colors and adding some creative elements. This couple really enjoyed spotlighting their suite with custom illustrations on their bar menus, which was a fun accent and tie back to their suite fonts, colors, and love story.
5) Consider the Venue
For this New Year's Eve suite, we played up the beautiful Washington Duke Inn venue in Durham, NC. A hand-drawn version of this incredible North Carolina wedding venue was printed in white ink on vellum, and custom cut to line the interior of their bold navy envelopes.
To wrap it up, selecting the perfect invitation for your New Year's Eve wedding doesn't have to be a challenge! Working with our studio, we'll make sure your vision, style, setting, and celebration are all perfectly reflected in every piece of your pretty paper. Interested in planning your own? Reach out to our studio today!
Lastly, enjoy some more photos by Ally and Bobby Photography from Emily and Carter's New Year's Eve wedding!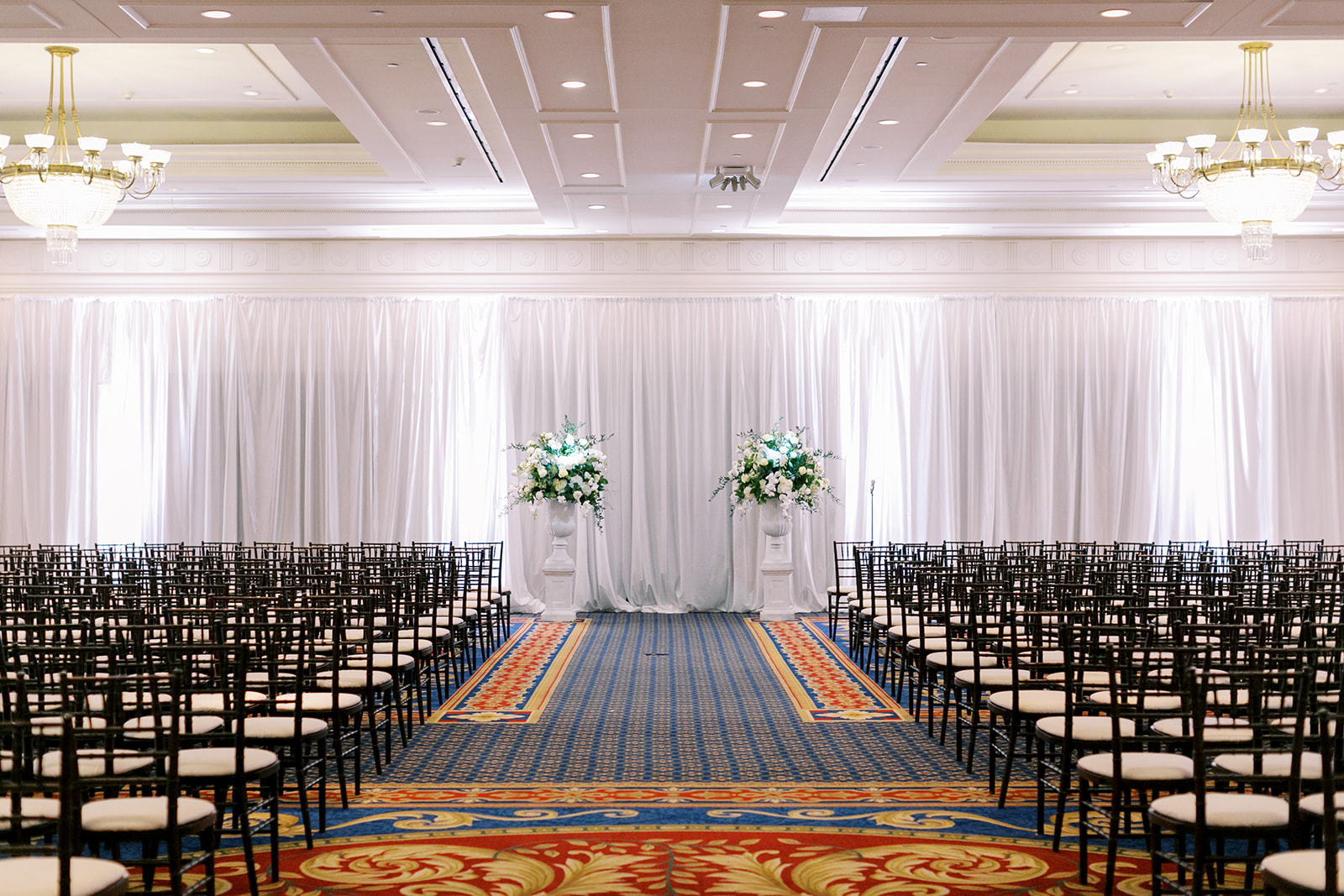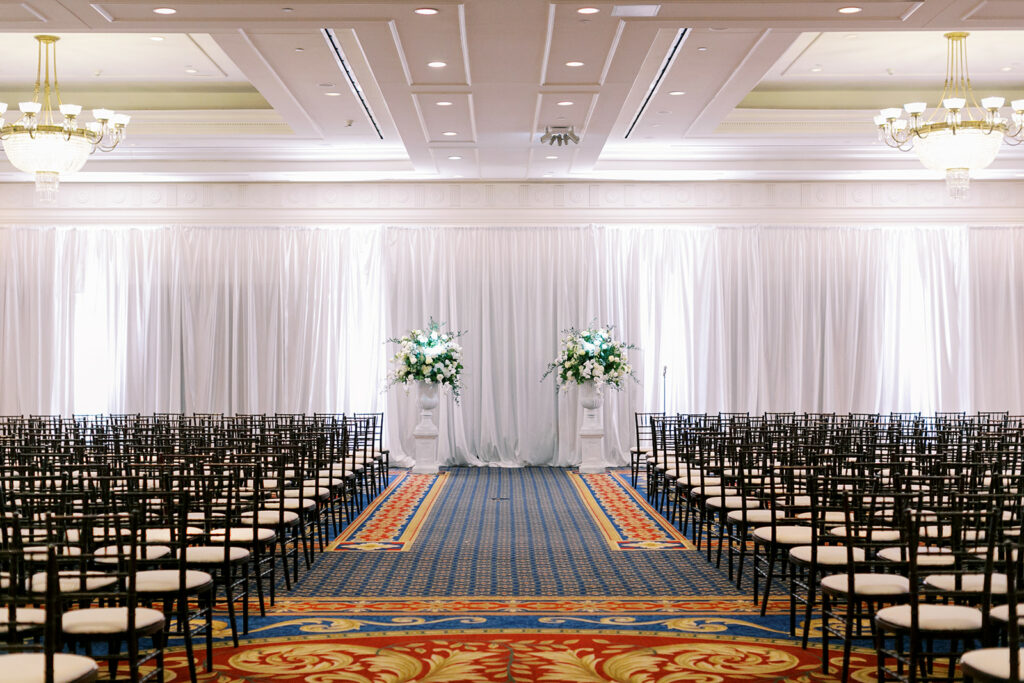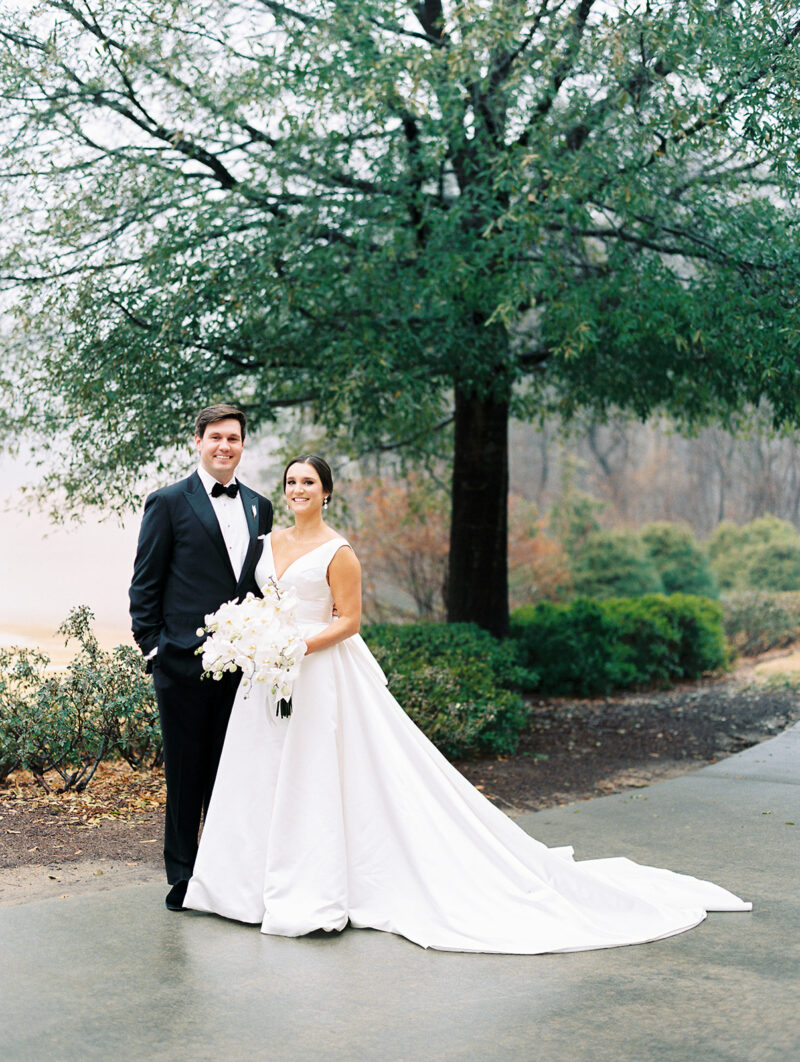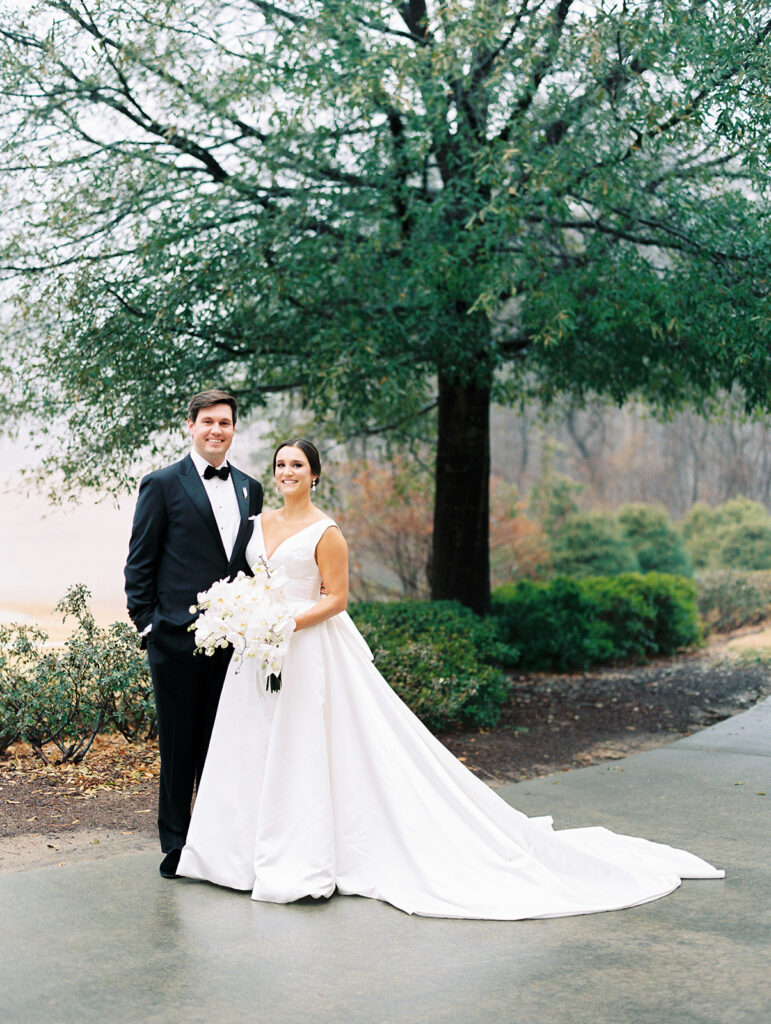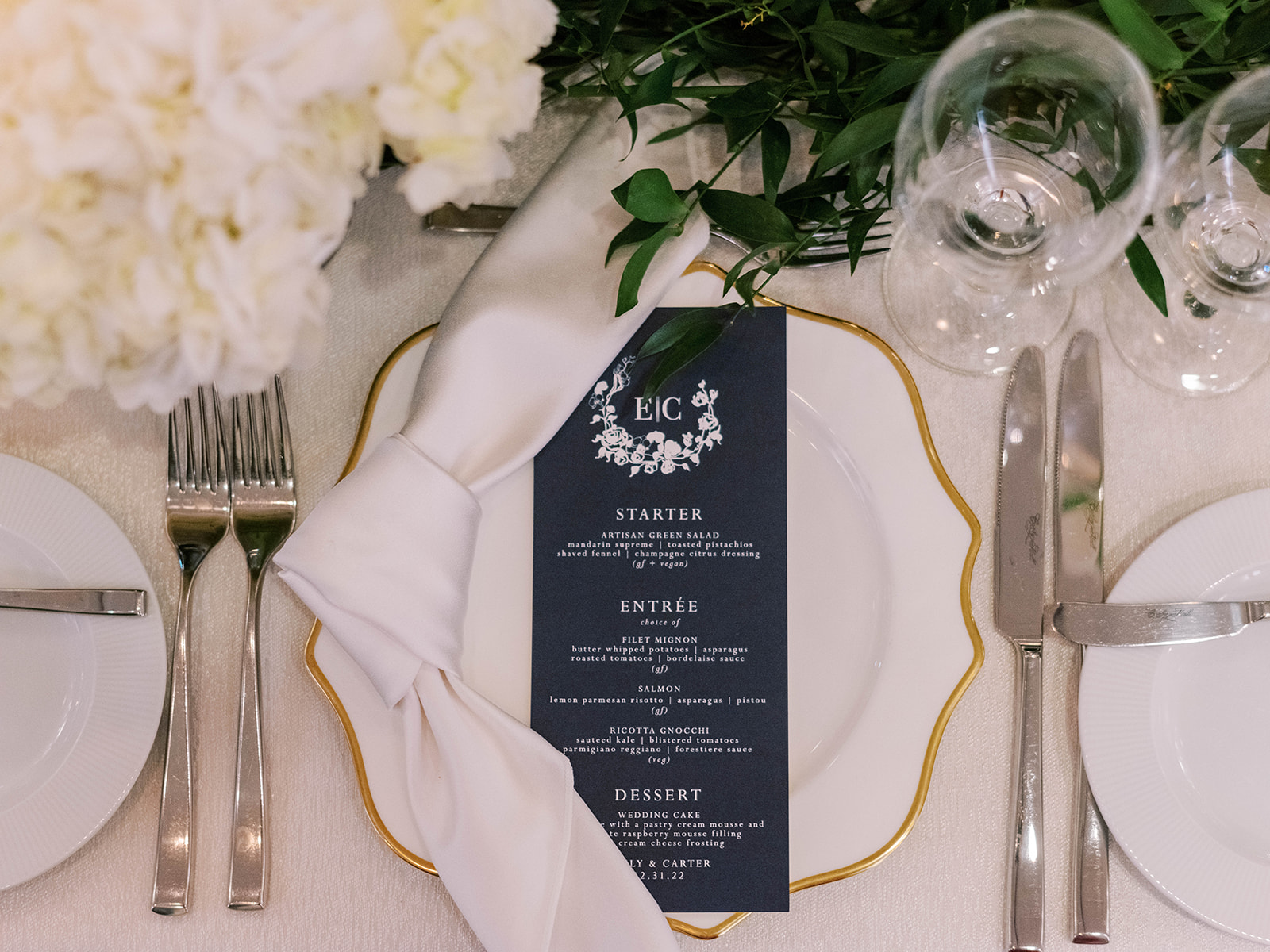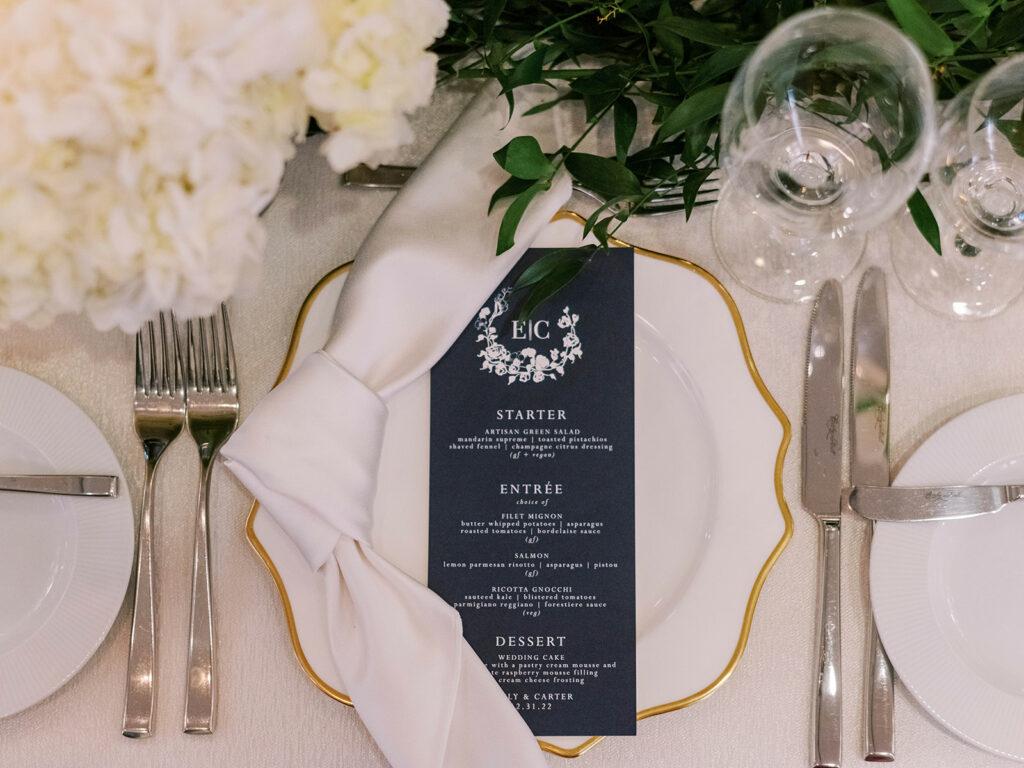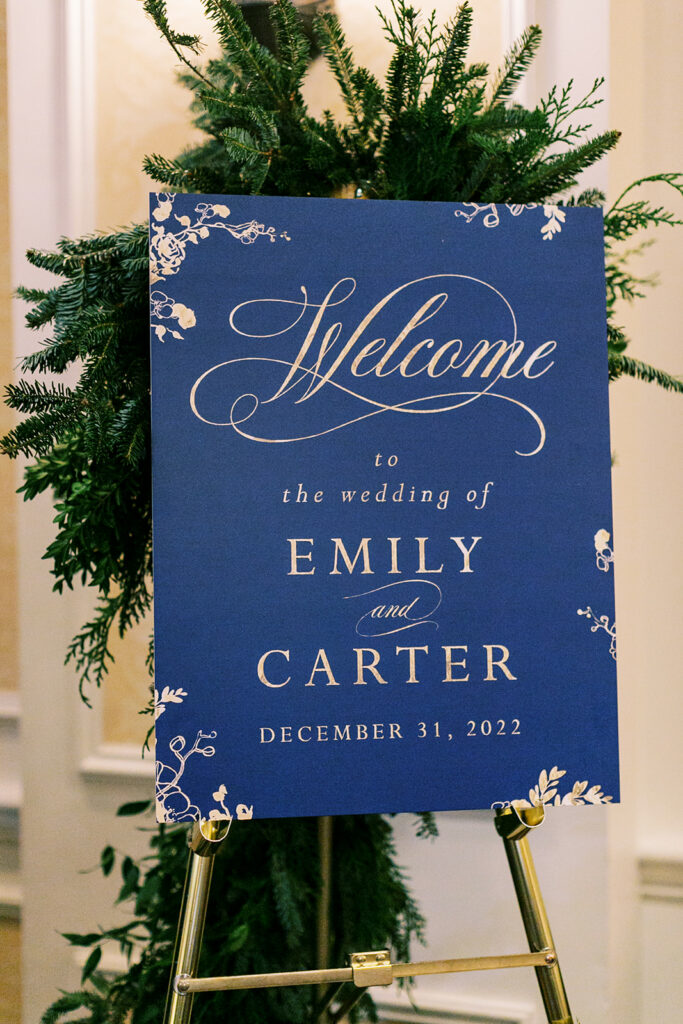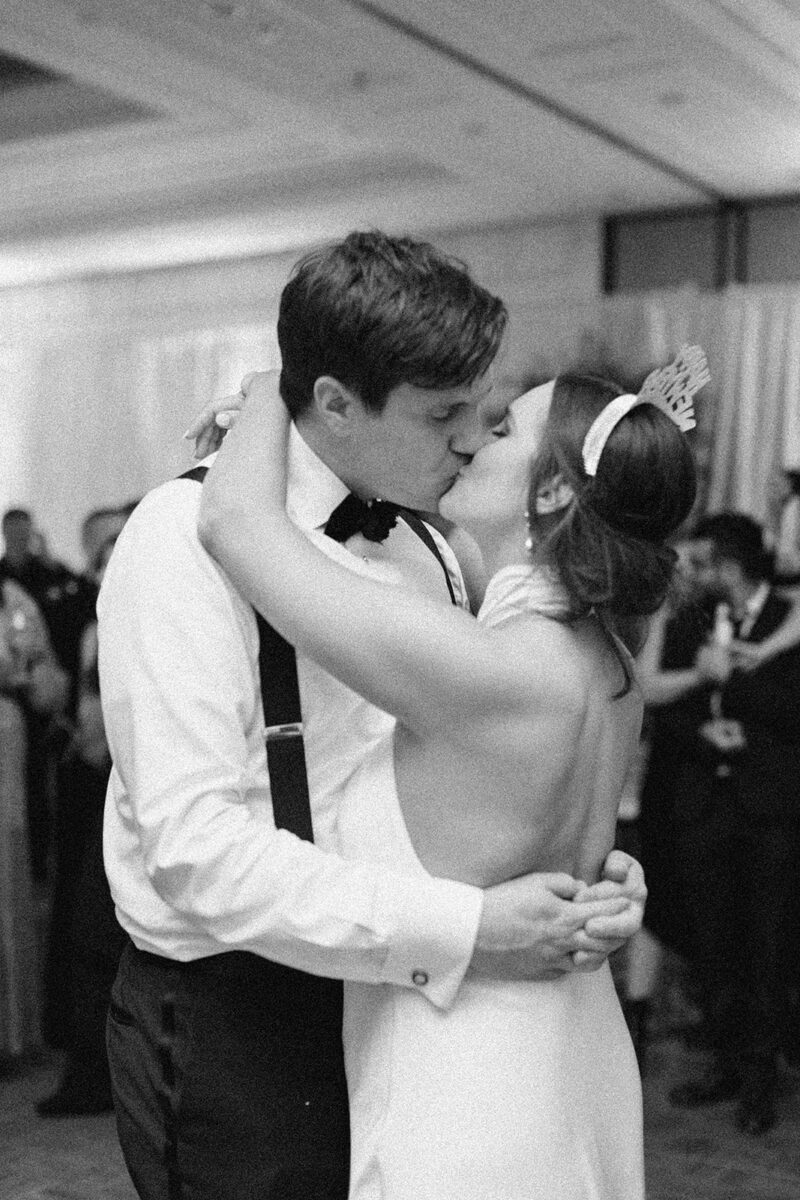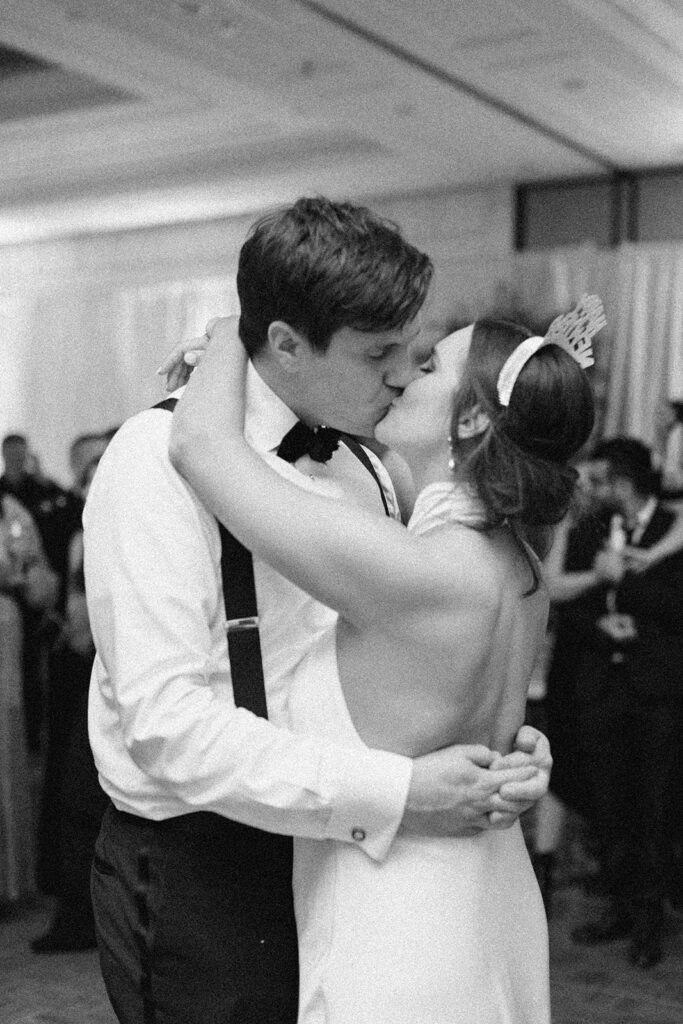 Vendor shoutouts…
Venue – Washington Duke Inn 
Planner – La Fete Planning and Design 
Photographer – Ally & Bobby 
Initiations and Signage – Ashley Triggiago (that's me!)
Florist – Kelly Odom 
Band – The Band Punch 
Baker – Once in a Blue Moon Bakery 
Hair and Makeup – WINK 
Rentals – Curated Events 
Specialty Rentals – Themeworks 
Draping – Capital Productions Group 
Strings – Arioso Strings