Imagine exchanging vows amidst the beauty of Biltmore Estate, surrounded by lush gardens and stunning architecture. It's a once-in-a-lifetime kind of beauty that will leave you and your guests breathless. However, before you say "I Do," you should set the scene and welcome your guests in a way that captures the elegance and sophistication of this iconic destination. Enter this Biltmore Estate Garden Wedding invitation suite – a stunning ode to the gardens and landscape of Biltmore. Let's take a closer look at how we captured the beauty of this extraordinary location in the invitation suite design. From the trellis cut pockets to the elegant embellishments, this one-of-a-kind invitation suite set the tone for an unforgettable wedding day at this magical venue.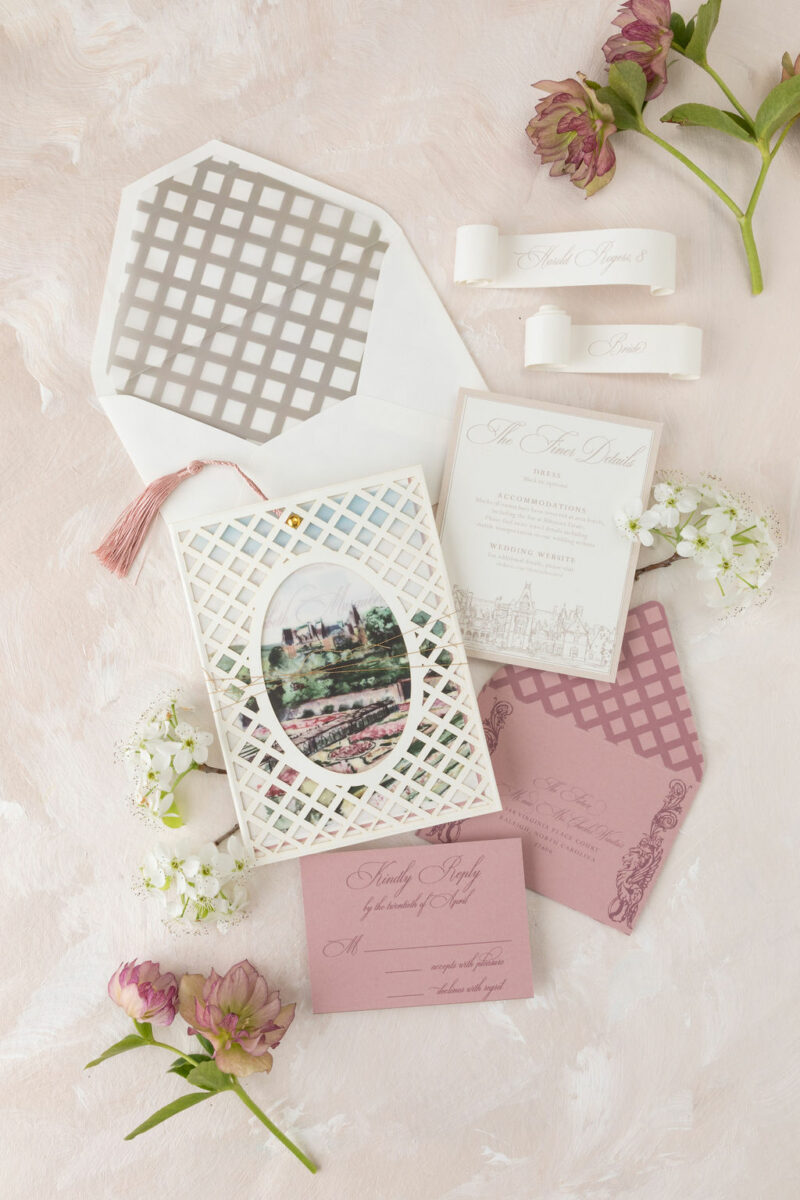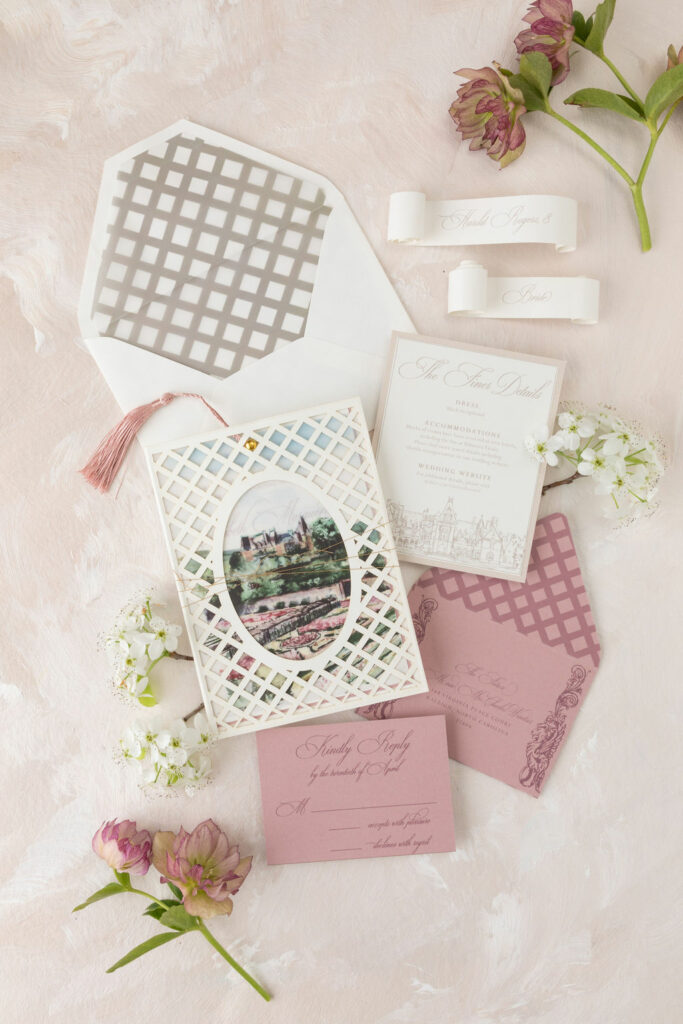 A Biltmore Estate Wedding: A Picturesque Landscape Painting
If you're planning a Biltmore Estate wedding, you may be looking for inspiration to bring the beauty of this iconic location into your wedding invitations. Look no further than the picturesque landscape painting that is the Biltmore Estate. It has rolling hills, colorful gardens, and elegant trellises. The Biltmore Estate offers a host of visual elements that can be woven into your invitation design. I couldn't help but feel inspired by it. In fact, my husband and I have been to Biltmore countless times and were Annual Passholders for quite a while, too. When I say I'm obsessed with the inspiration that this unbelievable location has to offer, I mean it!
Inspired by the estate's own garden trellises, this pattern creates a beautiful and elegant invitation that will immediately transport your guests to the stunning surroundings of the Biltmore Estate. Unique embellishments and intricate details like these can further capture the sophistication and beauty of the estate's gardens. With thoughtful elements, your wedding invitation can be a perfect representation of your wedding's setting.
By incorporating the unique features of the Biltmore Estate's landscape into the invitation suite design, you're giving an unforgettable first impression. You're setting the expectations properly for your guests through your invitations. Undoubtedly, your wedding day at the Biltmore Estate will be even more magical and memorable.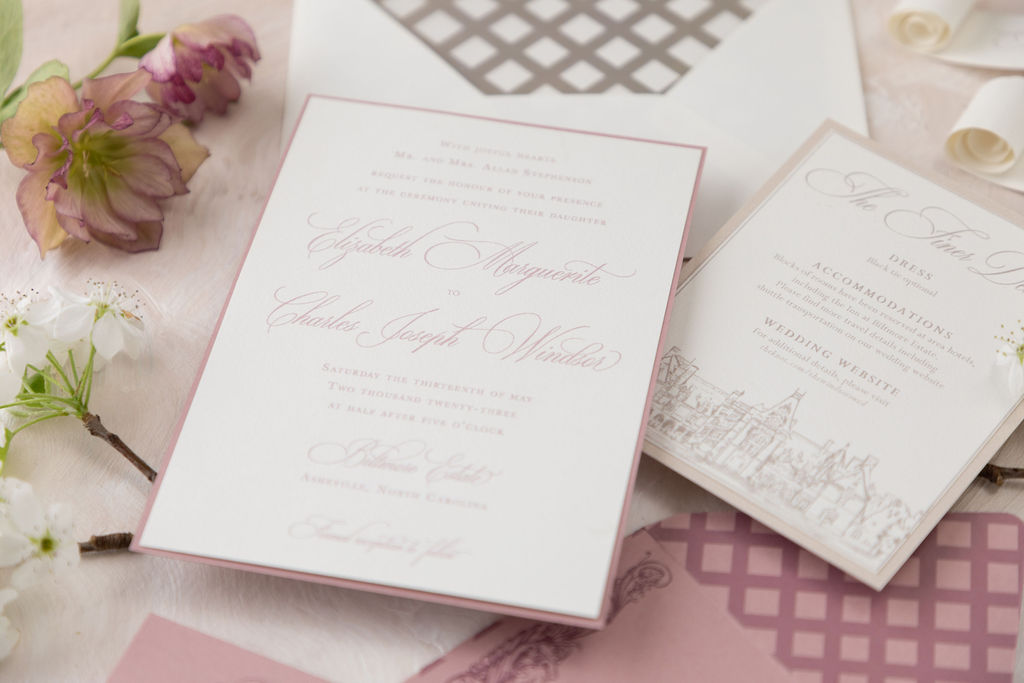 Using Biltmore Estate and Gardens Trellis for the Perfect Invitation Details
Using the natural beauty of the Biltmore Estate as inspiration for your wedding invitations is an excellent way to introduce your guests to the grandeur of the estate before the big day. One way to achieve this is by incorporating the garden's expansive trellis into your invitation suite. One of my favorite photos of our little family is when my daughter was just a year old. The photos were taken in those cute little oval cutouts dotting the trellis line. For this suite, the trellis cut pockets feature delicate patterns that mirror the intricate details found in the garden trellises. These pockets are not only an elegant touch that transports your guests to the stunning surroundings of the Biltmore Estate. Moreover they can encase all the special cards inside.
To further capture the elegance of the estate's gardens, consider adding additional embellishments and intricate details to your invitations. Imagine incorporating floral patterns, wax seals, and gold foiling to create a truly unique and luxurious invitation. These simple touches can elevate your wedding invitations and set the stage for a truly unforgettable day.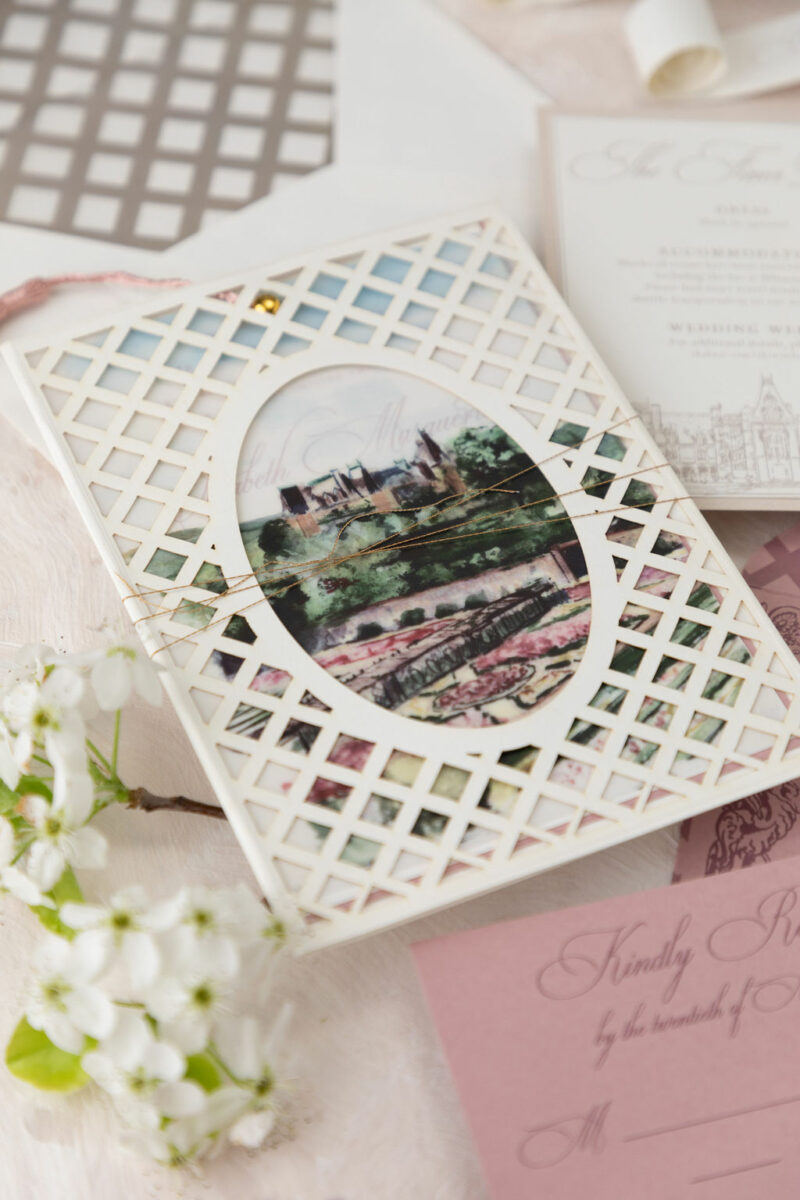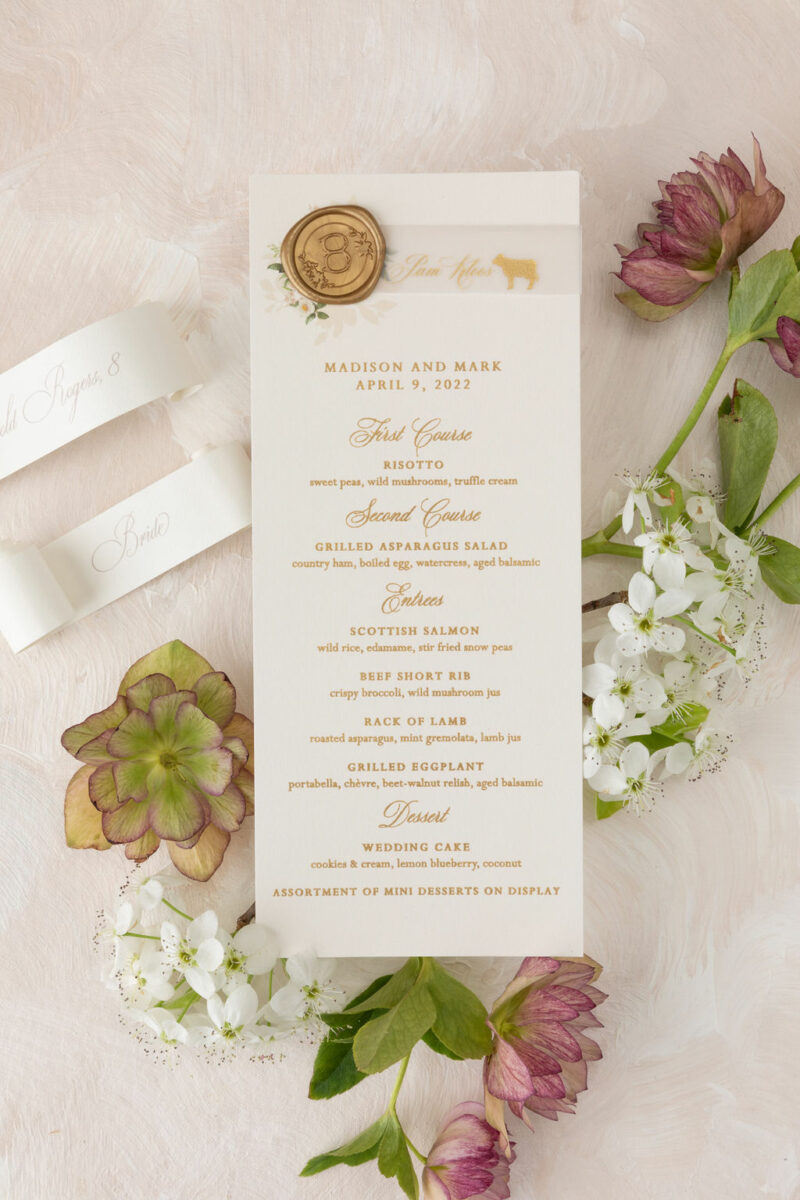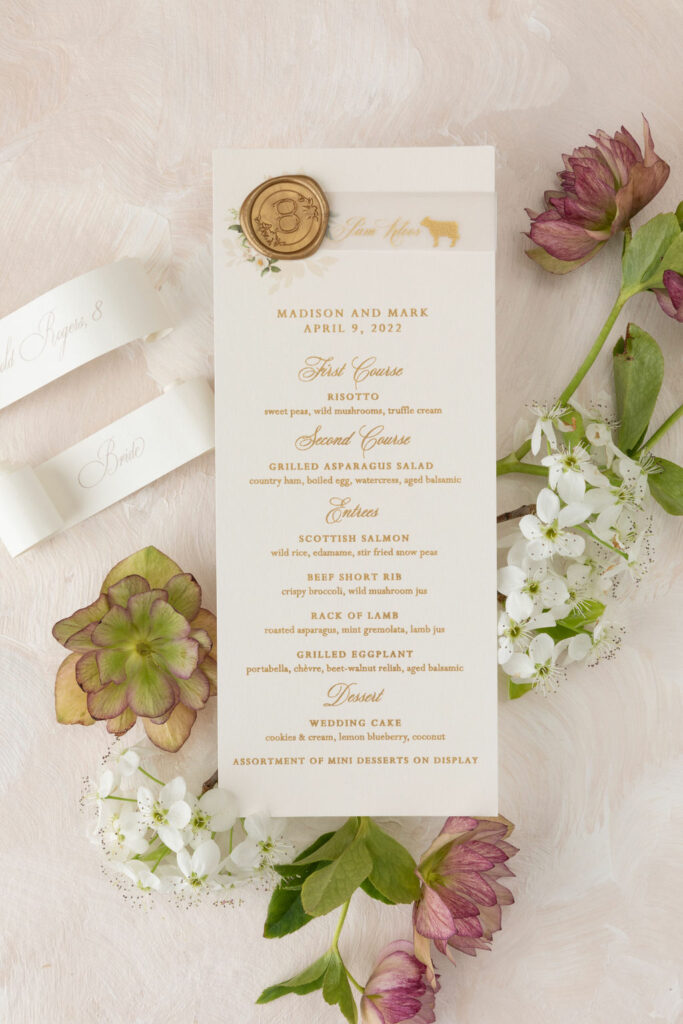 Elegant Embellishments: Tassels and Scrolls
Iincorporating elegant embellishments into your wedding invitations can make all the difference. Tassels and scrolls, for example, are two design elements that can add an extra layer of sophistication to your invitations.
Tassels are a decorative feature often seen on decor throughout the historic estate. They can be used to add a touch of luxury to your invitation suite. Whether you choose to incorporate them in a subtle way or make them the focal point of your design, tassels can add an element of surprise and delight to your wedding invitations. For this suite, the tassel was a logistical enhancement. It allowed guests to pull the vellum overlay, featuring the estate painting, out of the packet.
Similarly, scrolls can be used to evoke a sense of grandeur and elegance. Using a scroll-style design for your day-of goods sets the tone for a formal affair. You can create an air of importance around your wedding, which I believe we acheived with these scroll style placecards.
By incorporating both tassels and scrolls, or other elegant embellishments, into your Biltmore Estate Garden Wedding stationery, you can elevate your invitations to a truly luxurious and unforgettable level. Upon opening your invitations, your guests can expect your wedding day to be a magical and memorable experience.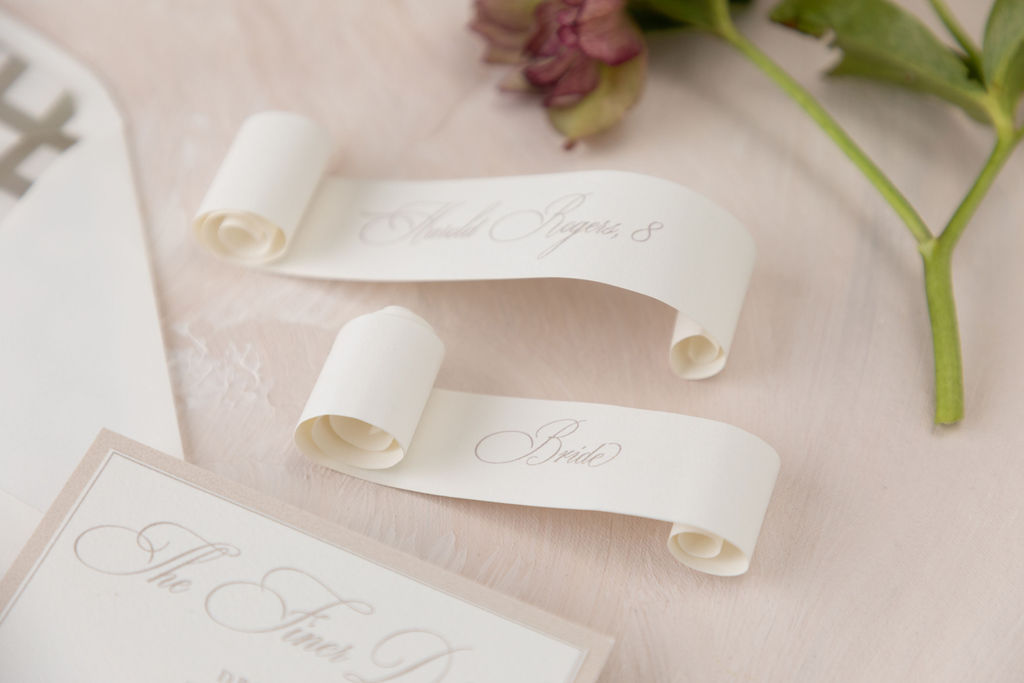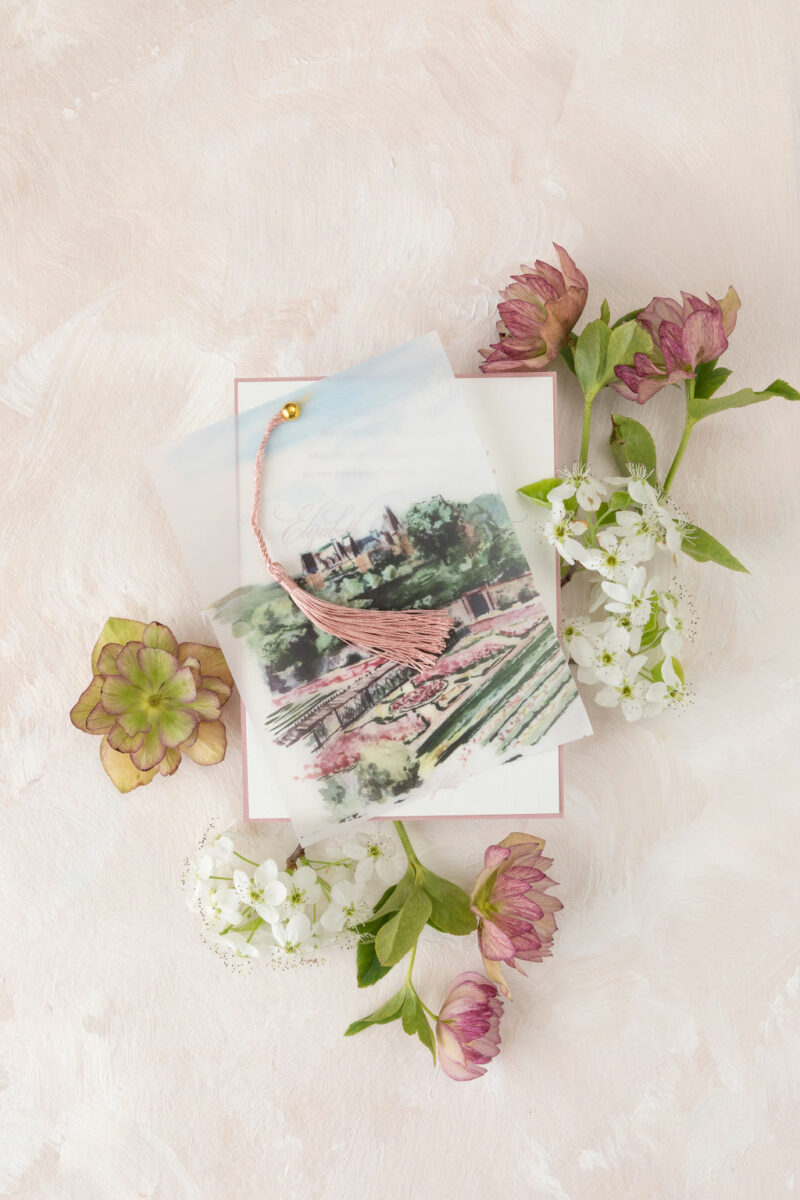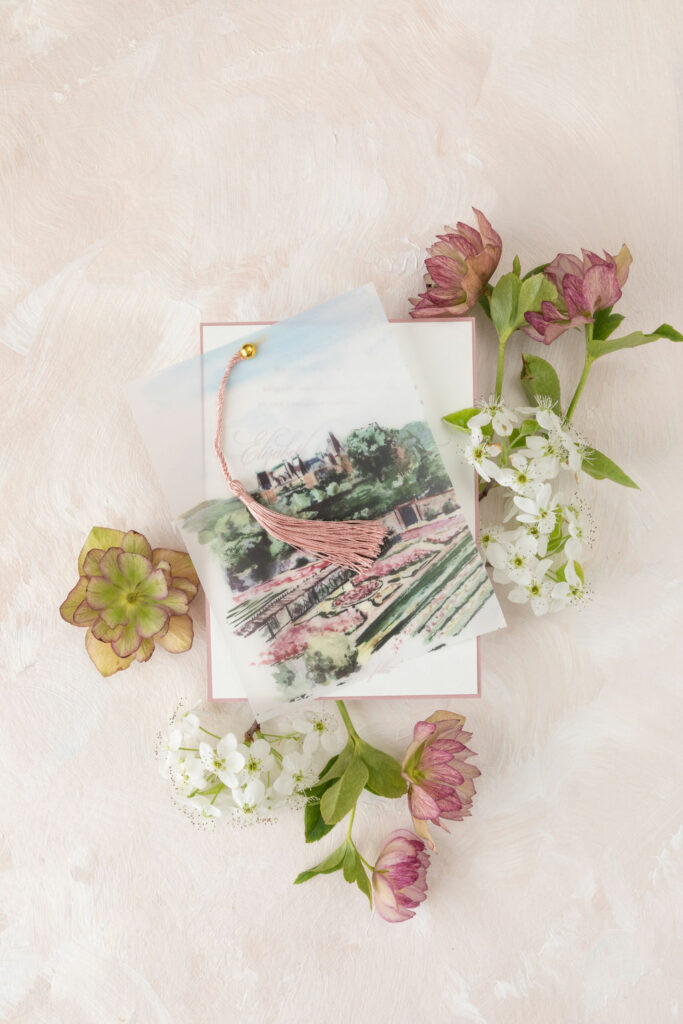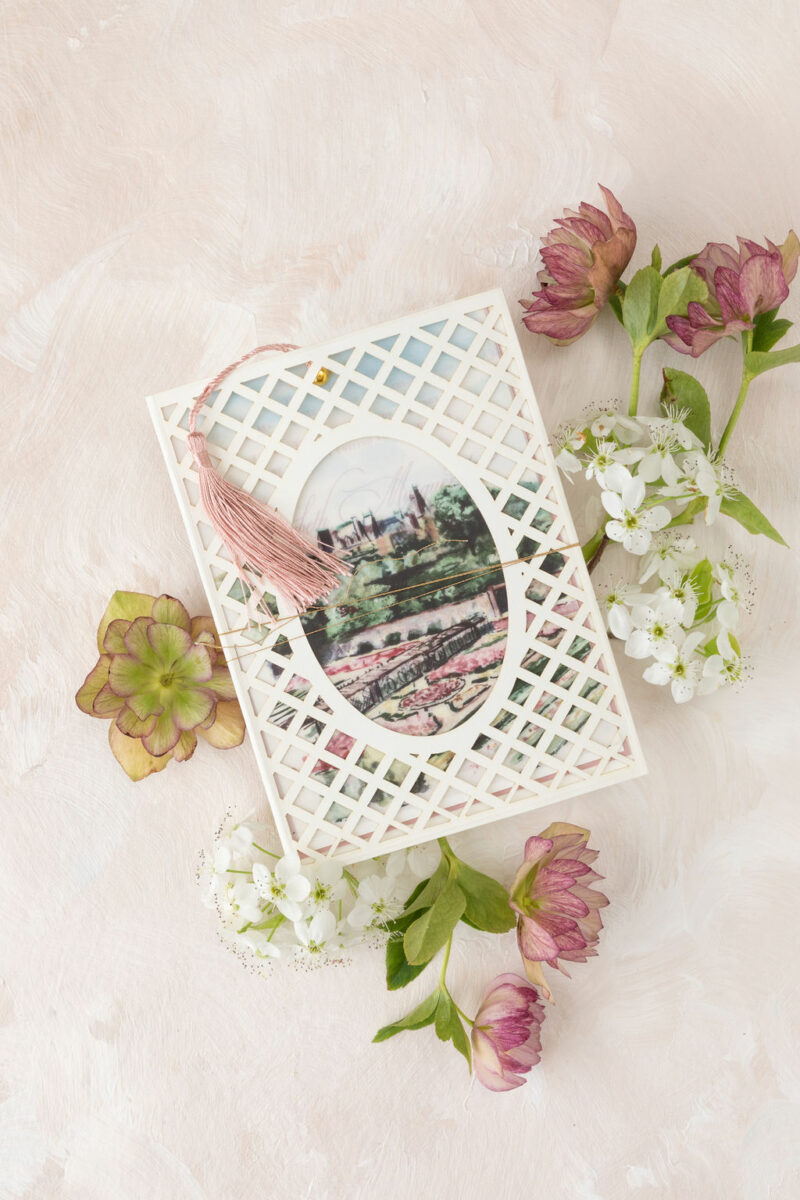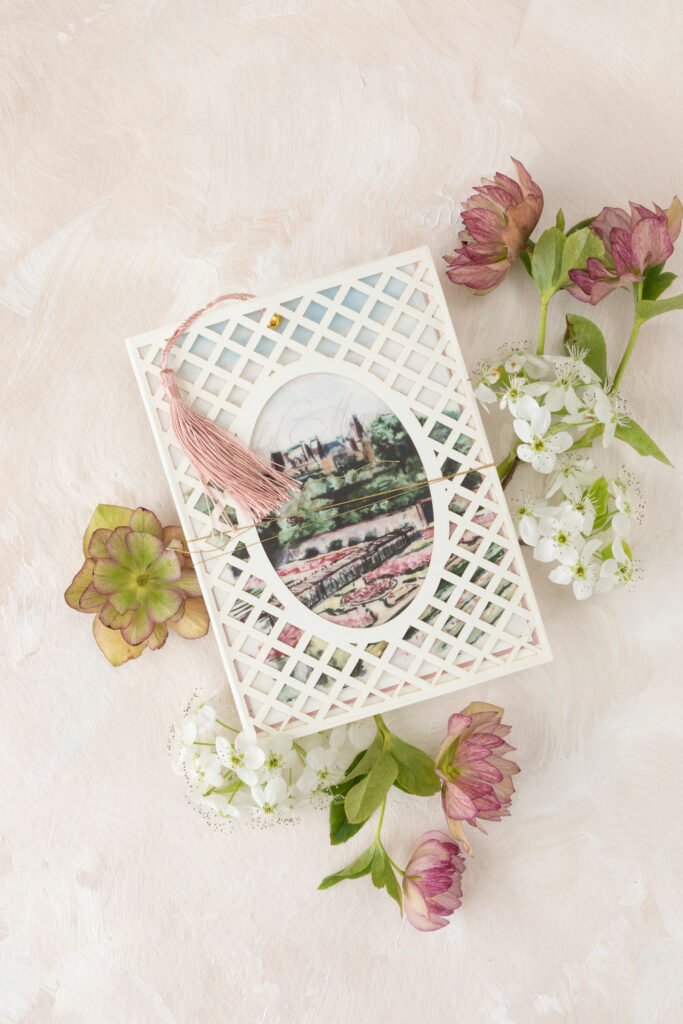 I believe this Biltmore Estate Garden Wedding Invitation suite perfectly captures the elegance and beauty of this iconic destination wedding. From the picturesque landscape painting to the intricate trellis cut pockets and elegant embellishments, each detail sets the tone for an unforgettable celebration of love. As you plan your own once-in-a-lifetime event, consider how a custom invitation suite can set the scene and leave a lasting impression on your guests. Contact our design studio to learn more about the process. Let's create your own unforgettable invitation, perfectly tailored to your unique style and vision! As William Shakespeare said, "The course of true love never did run smooth." However, with the Biltmore Estate as your backdrop, your wedding day is sure to be a dream come true.