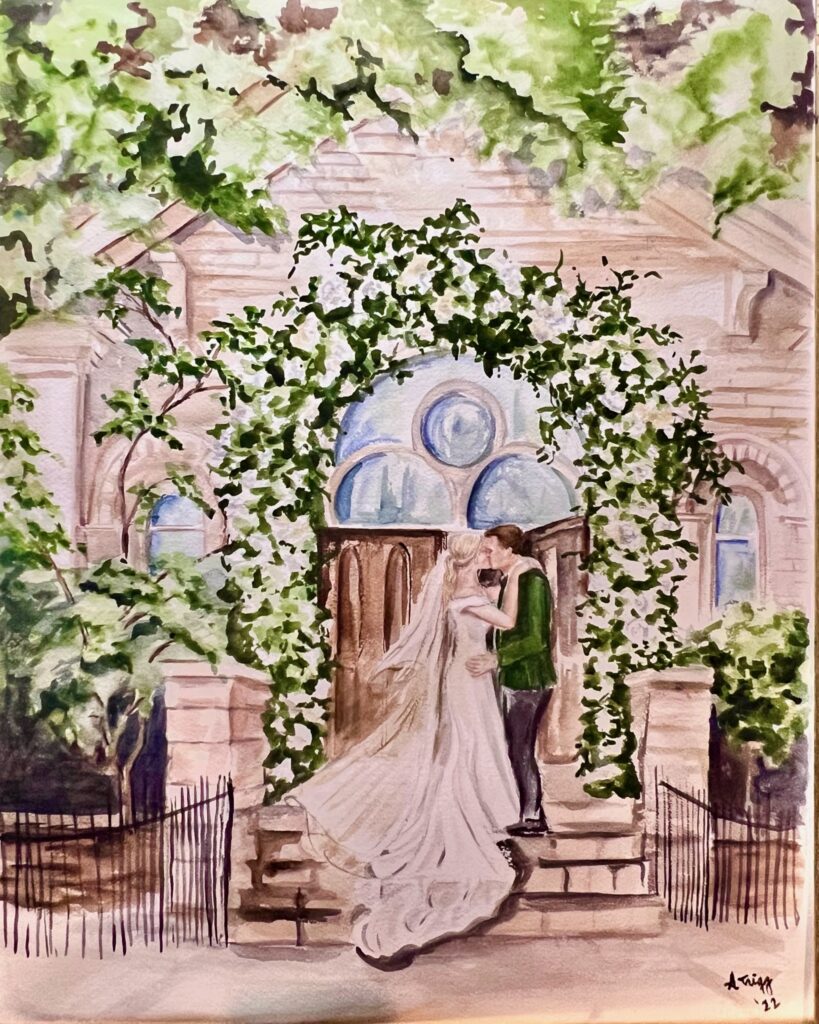 One of my favorite things in the world is the chance to hop on a plane and head somewhere new. So when Morgan reached out about having a Live Wedding Painting of her and Shane's first kiss on the front steps of St Francis of Assisi in Cleveland, Ohio I was definitely on board. We have family nearby that we hadn't seen in ages so we were also able to visit with them the day before, which was such a nice bonus!
Morgan and Shane's wedding palette featured beautiful shades of greenery and white, in deep emerald hues and light sage accents. We could not have asked for better fall weather for their wedding! My goal in the painting was to capture that beautiful day, the greenery, the contrast of a shaded church front, and the bright light shining down through the leaves on them!
Morgan was stunning in a classic ivory off-the-shoulder gown, and her husband Shane looked classic and handsome in an Emerald green jacket. I love when the couples' color palette shows throughout the day, and theirs certainly did from the attire to florals to the perfect neutral background of the stone facade.
It was so fun to bring their painting to life throughout the night at Pinecrest Golf Club, and their friends and families were the sweetest! At the end of the night, I was able to sign the finished piece and leave it on the guestbook table for display in a simple and classic gold frame!
Thank you Morgan and Shane for choosing me to be a part of your special day. I had the best time with you and your guests! Interested in seeing another live wedding painting adventure? Check it out here!