Description
You'll receive:
Original, signed watercolor painting on archival quality 100% cotton rag Arches Cold Press paper with archival quality paints
Glass ornament frame (vertical oriented paintings are in brass frames, landscapes are in a gunmetal gray frame)
A perfectly packaged giftbox ready to give to your recipient (or yourself!) complete with a note from the artist
Free shipping, 3-5 business day turnaround
Each painting is an original watercolor painted by hand and inspired by the North Carolina landscapes we love, and especially some beautiful spots in and around the Raleigh/Durham area. Plus, a few floral designs I just love are included, too!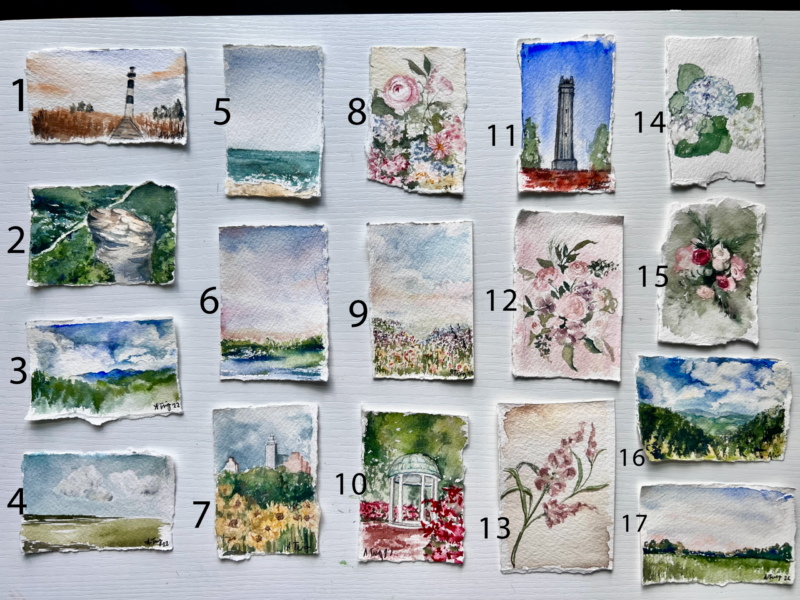 1 – NC Coastline (sold)
2 – Chimney Rock
3 – Blue Ridge Mountains
4 – NC Pastoral Landscapes
5 – NC Beaches
6 – NC Marshes and Coastal Wetlands (sold)
7 – Dorthea Dix Sunflowers with Raleigh Skyline
8 – Pastel Garden
9 – NC Wildflowers
10 – UNC Old Well (sold)
11 – NC State Memorial Bell Tower
12 – Dusty Pink and Purple Flowers
13 – Pale Pink Astilbe
14 – Hydrangeas
15 – Holiday Florals
16 – Blue Ridge Landscape (sold)
17 – Sunset Meadows