Wedding celebrations are certainly diverse, yet they still all stem from the same tradition of love, joy, and commitment. The way couples represent these traditions changes year after year and tend to follow what's #trending at the time. However, some things never go out of style. And being a lover of all things classic yet fresh, I wanted to share my top 5 wedding stationery predictions for 2023. Without going into trends that will be dated in 20 years, I'd rather look at what elements will stand the test of time. I believe these can still have a fresh take that will always feel right for your own 2023 wedding celebration.
Wedding Crests
Whether you call it a monogram, logo, duogram, shield, or crest… honestly, it doesn't matter. These are such an integral part of a wedding and are a unique way to express yourselves as a couple. In 2023, I know I'll keep seeing plenty of classic and fun watercolor crests, but couples are updating them with newer fonts for lettering, dropping shields and icons when going for minimalist approaches, and playing with their variations from item to item. Rather than using one single interpretation on every item, I love to take a custom crest and make a few iterations so that everything is consistent, but still has unique variations that keep things fresh.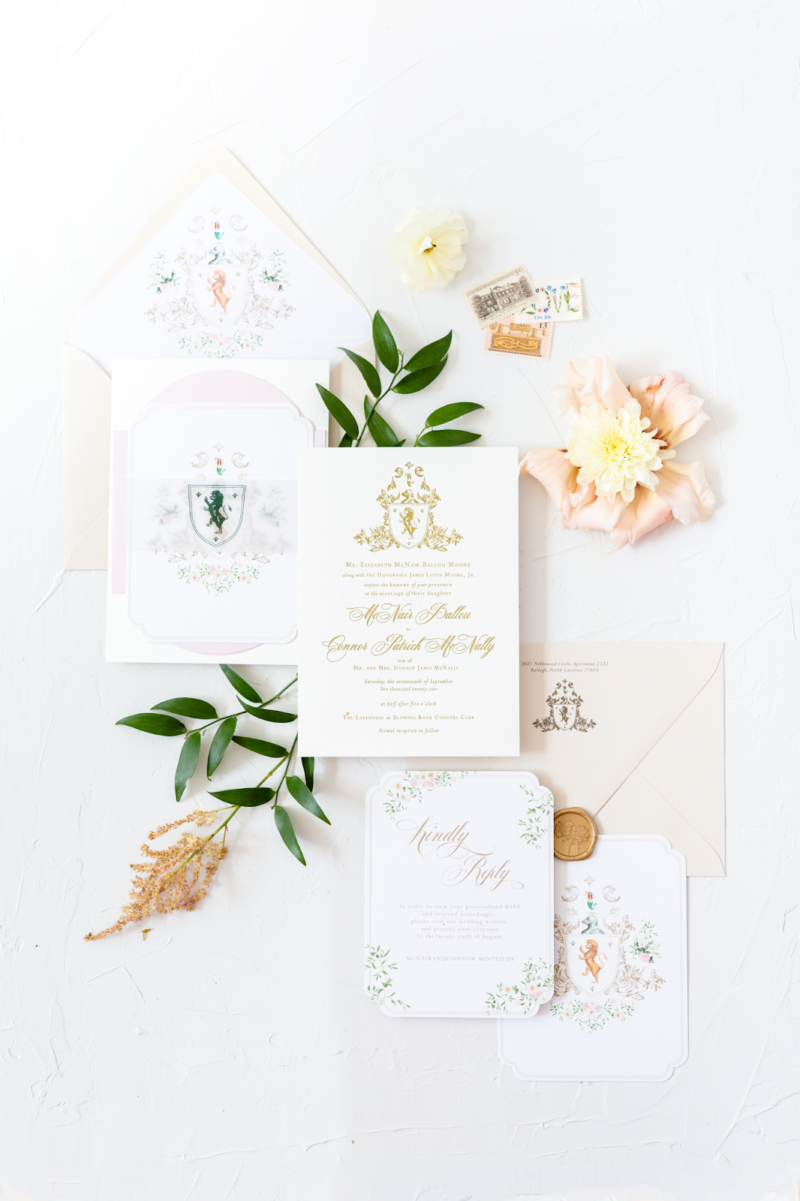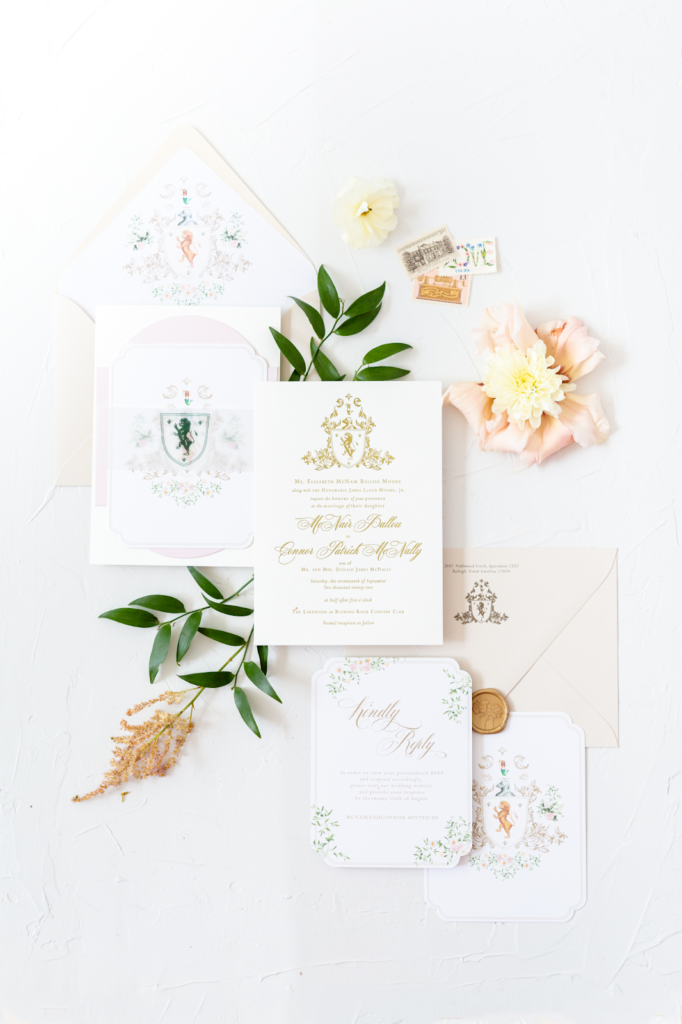 Texture
Texture has always been important when it comes to paper. A heavy, textured paper or a soft, deckled edge conveys a certain feeling that can't be overlooked. Handmade paper has certainly seen the heights of its popularity, and I don't think it's going to dwindle in 2023. However, there are a lot of different types of materials to play with and different ways to use them. Which is why I think we'll see more of that in 2023 weddings. Depending on the vibe of your wedding, look to your wedding venue and style to influence your wedding stationery design! If you're in a rustic barn setting, a good stationer can help you tie in some warm wood elements. If you're feeling a modern art gallery vibe, clean blind embossing on a crisp white stock paired with an acrylic detail insert can feel really fresh. Rattan backers, suede envelope liners, leather bindings, brass fasteners – these are all elements we can use to play up your design!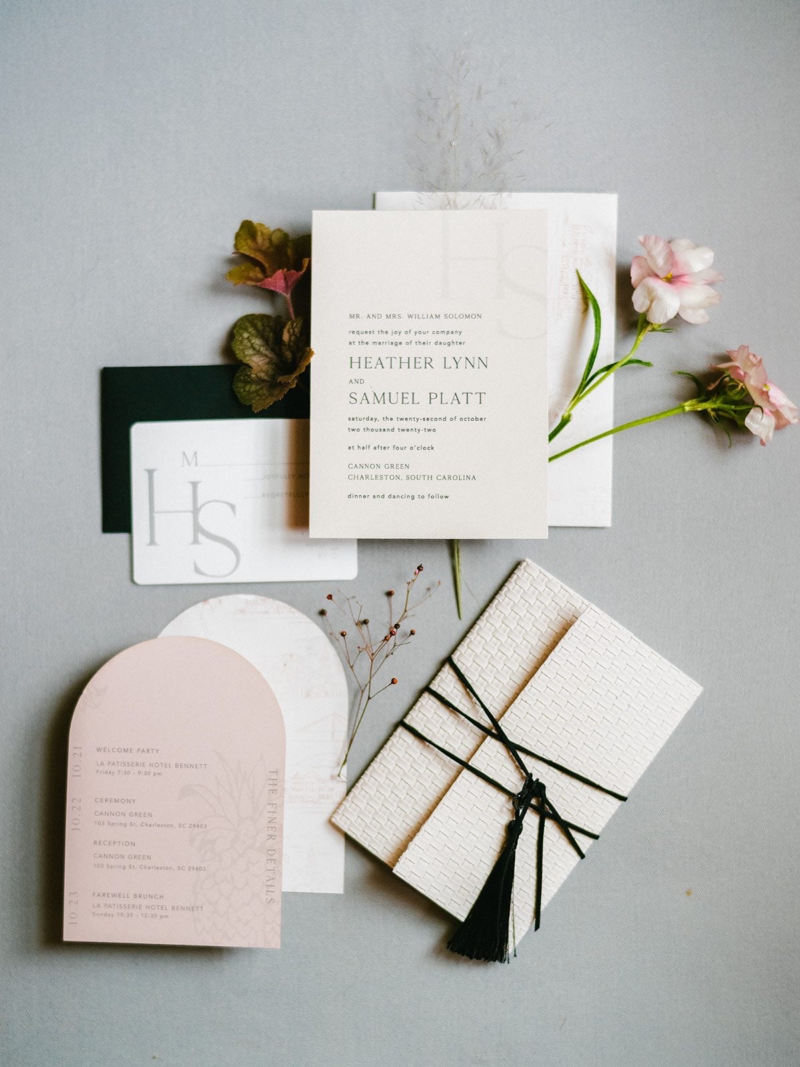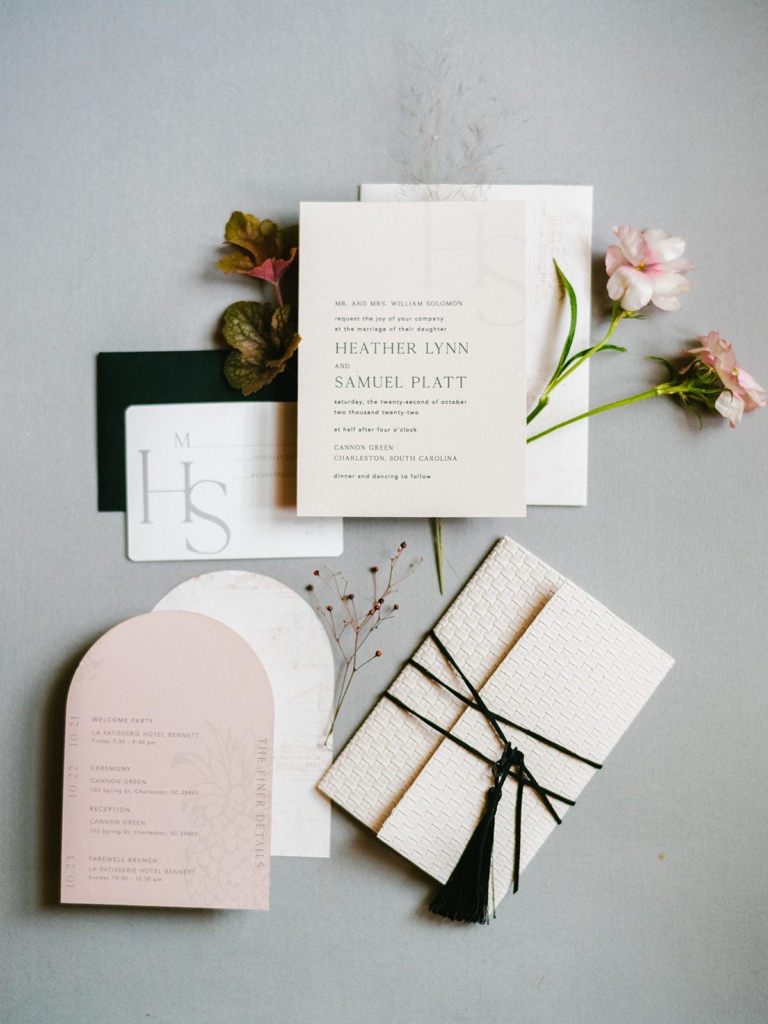 Printed Envelopes
I will always be team #noboringenvelopes! I love playing with envelopes and will continue doing so in 2023 as long as my couples love it, too. We've seen a lot of pretty envelope liners, but I'm looking to play with actual envelope creation itself in 2023. Handmade envelopes that have a patterned interior that need no liner, printed with all-over full surface designs, making the envelope a work of art in itself!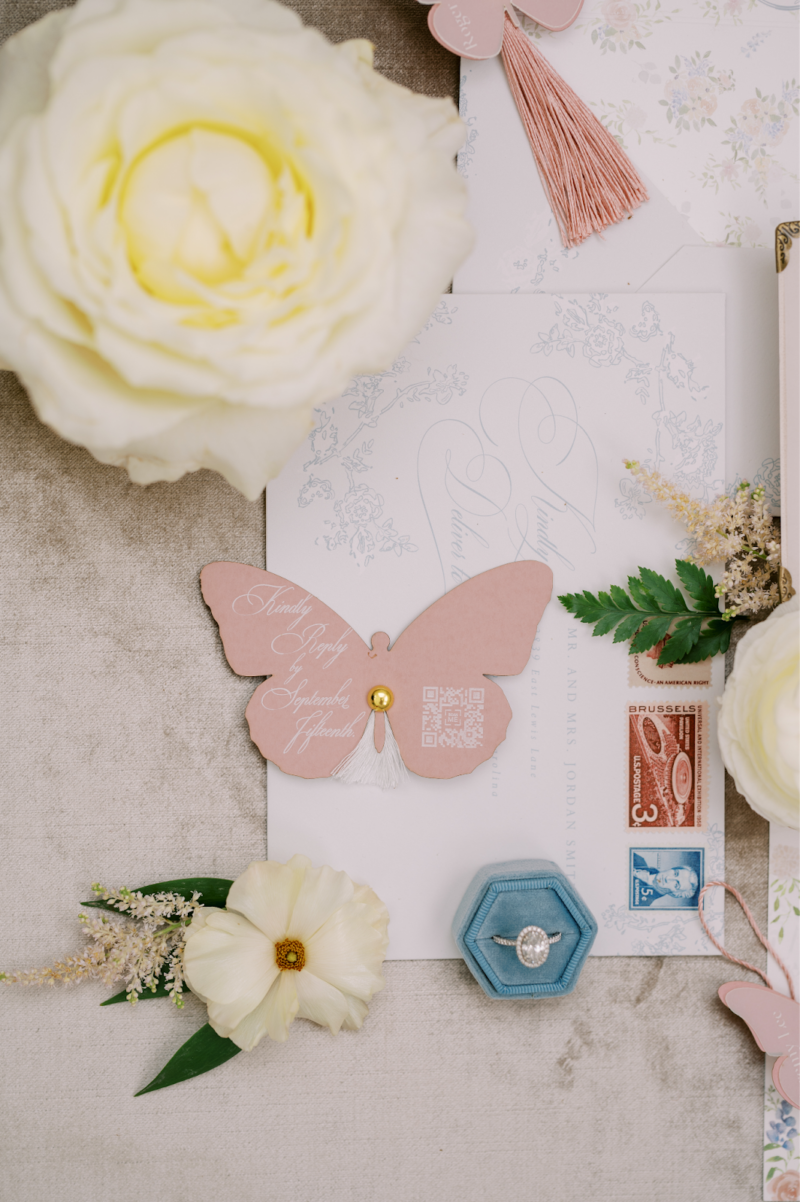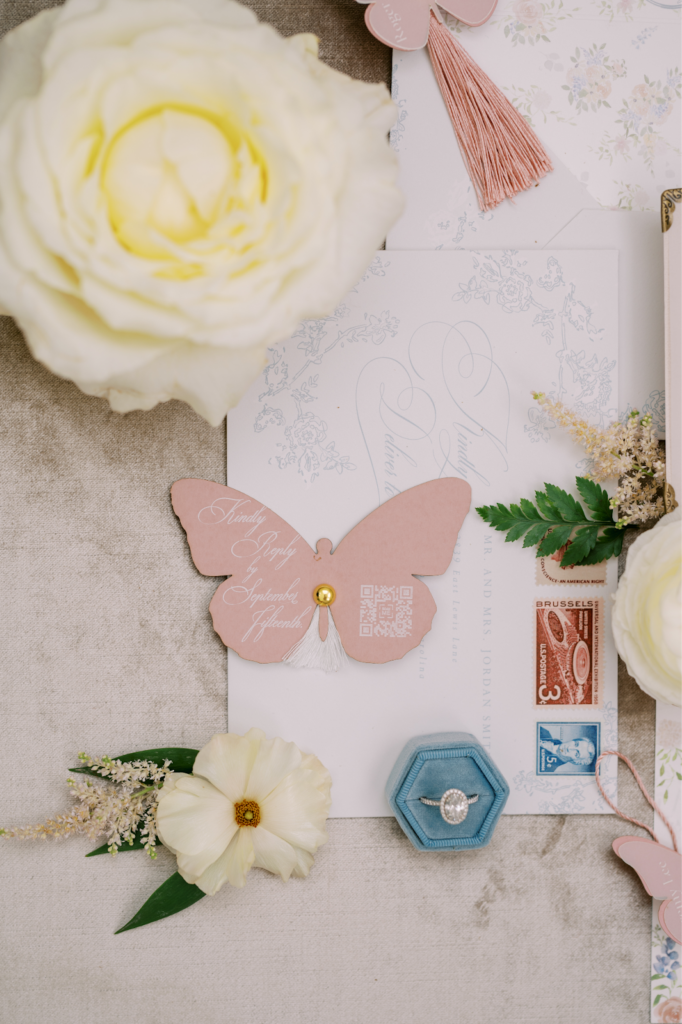 The Wrap
An invitation suite with multiple pieces has always needed a bellyband or clip to hold it all together. You don't want your guests leaving an insert card with details behind and missing out on important information! In 2023, we'll keep elevating the "wrap" – whether that's playing with the materials we use, adding fun seals and die-cut shapes, or incorporating fresh greenery or embellishments for a little extra pop of joy.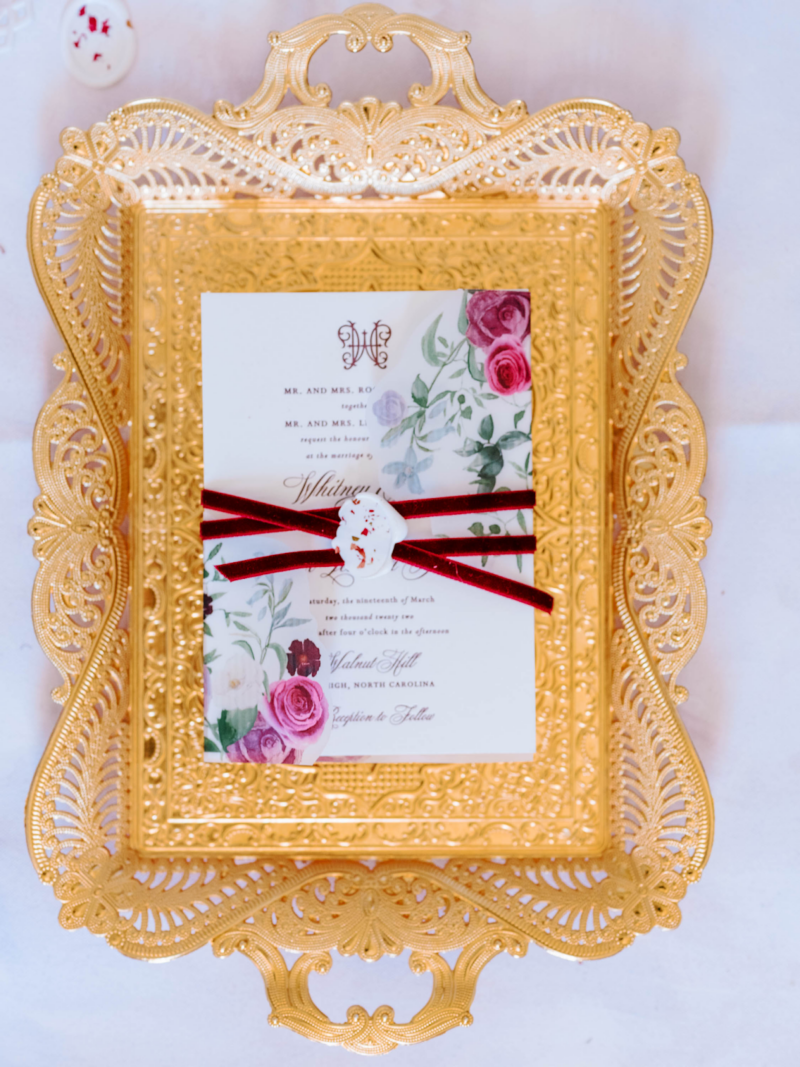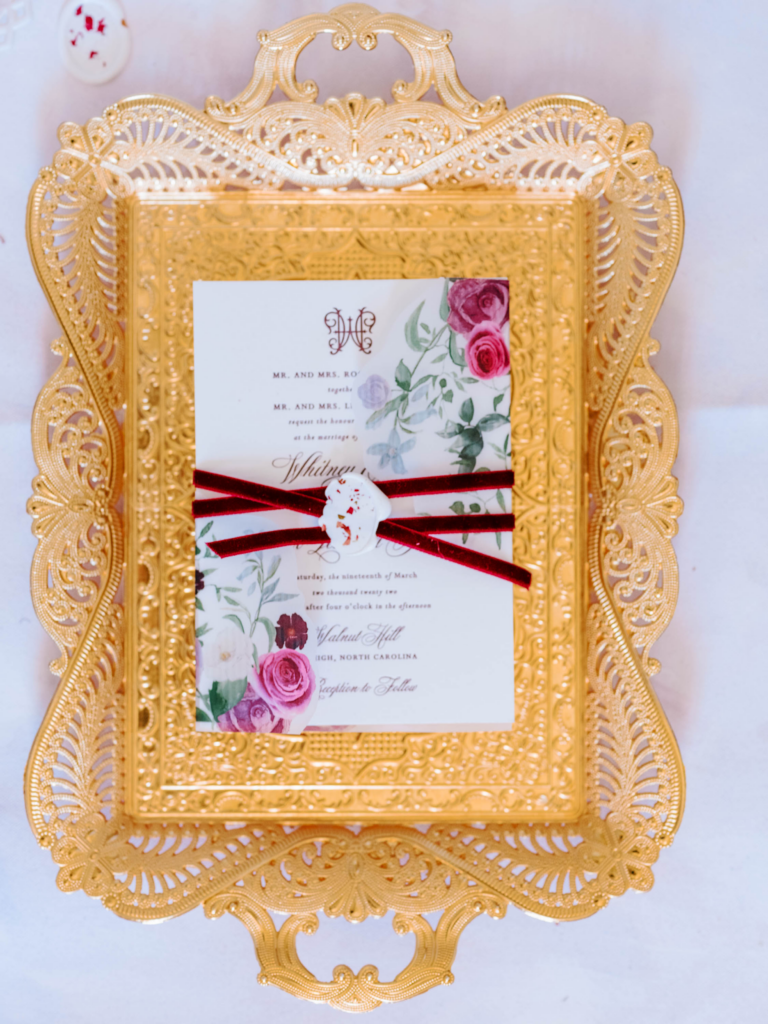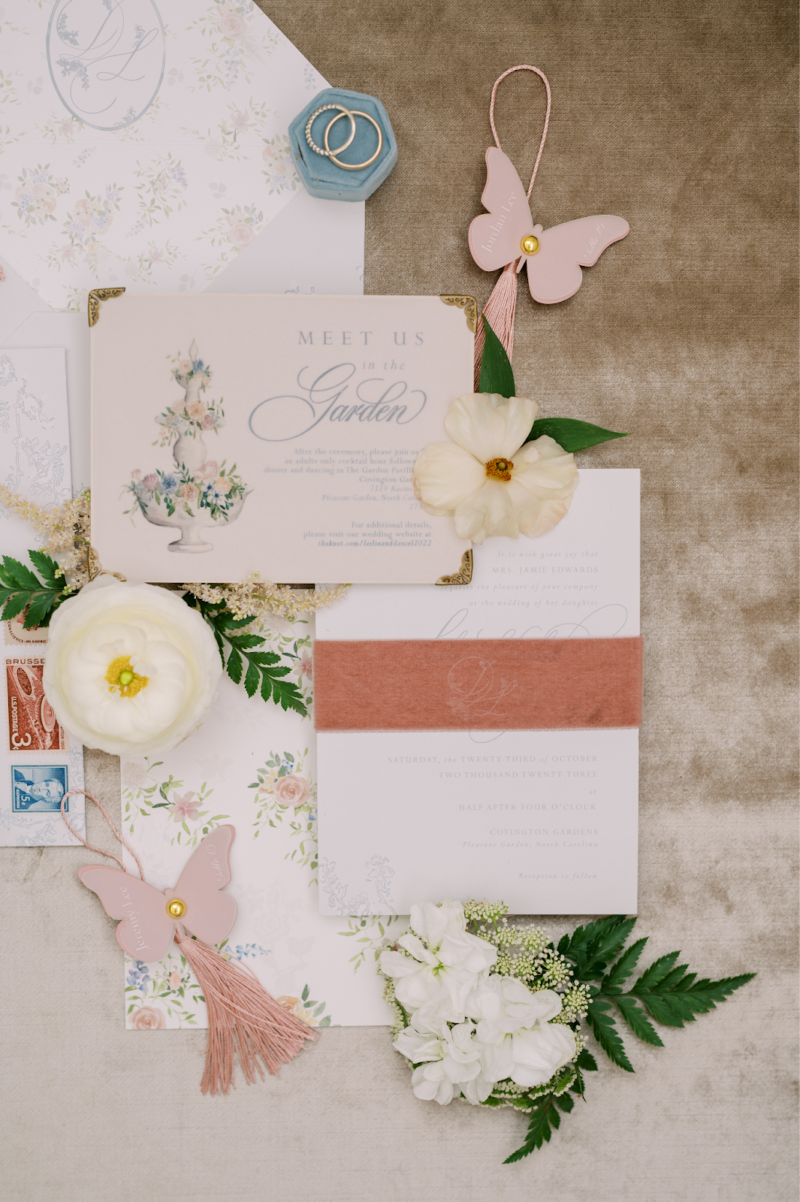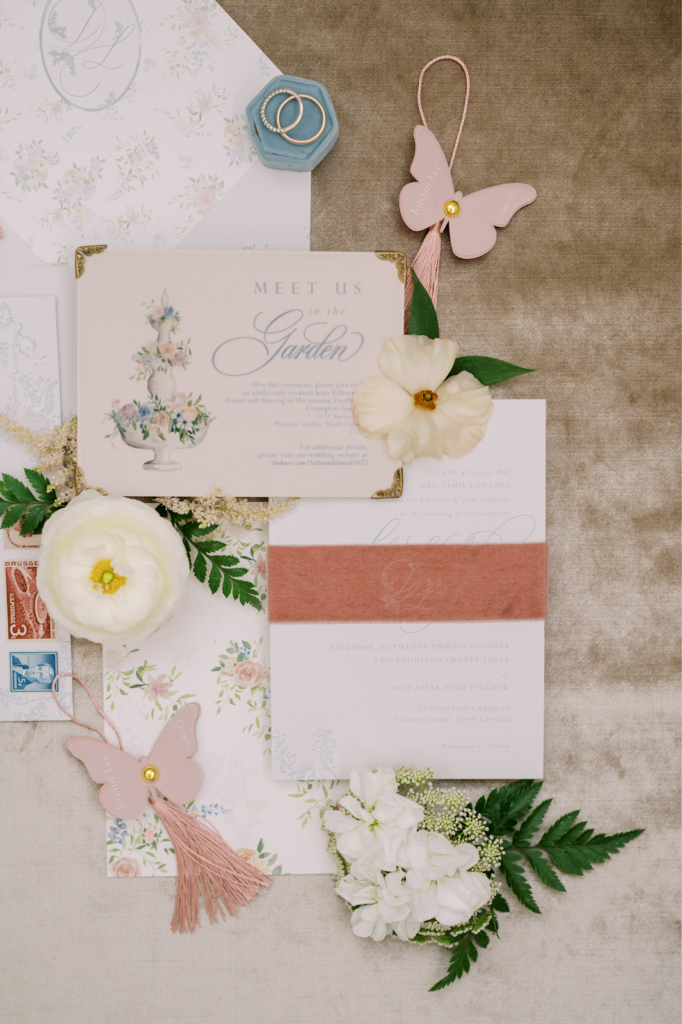 Coordinating Day-of Details
As we move into 2023 and 2024 weddings, having a "branded" celebration to make things cohesive continues to be a top priority for couples. As a stationer, I make sure my designs will look beautiful on invitations, but also translate well to my client's day-of vision, too. Working with a custom stationery designer who has a long list of vetted print partners means you can take a lot of stress off of your plate, and be rest assured someone is there to help you make it all come together beautifully. Pairing day-of details like frosted cocktail cups, napkins, menus, and signage with your wedding day theme, and pulling in variations of your monogram or wedding logo is such a fun way to make each guest area special. Your love story is rich with meaning and special inside memories you'll never forget. So be sure to bring those ideas into the concepts of your day-of details, too. Are you wanting to see how we can customize your wedding stationery? Let's get you started here!