Your wedding day is a celebration of your journey as a couple—past, present, and future. Within that journey, there are so many details to consider which are unique to the two of you! If you've poured your heart and soul into choosing the flowers, the dress, the venue, and the design, you're probably wondering how to take a beautiful wedding day and turn it into something even more special and uniquely you. In fact, this can be easily accomplished through personalized wedding day details such as signature drink signs, custom menus and programs, and more! In this post, we'll walk through some of the ways you can incorporate your love story into your wedding day details. We'll also cover some questions to ask yourself as you figure out what represents you and your partner the best!
How to Personalize Your Wedding Day Details
1) Geography
Consider where you and your partner met. Alternatively, are there any places, states, or countries that are important to your love story? This can be a fun way to personalize your table numbers. For instance, instead of seating guests by table, seat them by your favorite date night restaurants!
Here's a fun example from Tina and Jason (their sweet wedding was featured on Magnolia Rouge!). They met on Coffee Meets Bagel, so they decided that their escort display would feature champagne glasses adorned with tiny hand-painted bagels. Their guests' names were perched on the edge of the glasses. At the top of the display, a custom "Find Your Bagel" sign gave instructions to their guests, in addition to being such a fund nod to the way their love story began!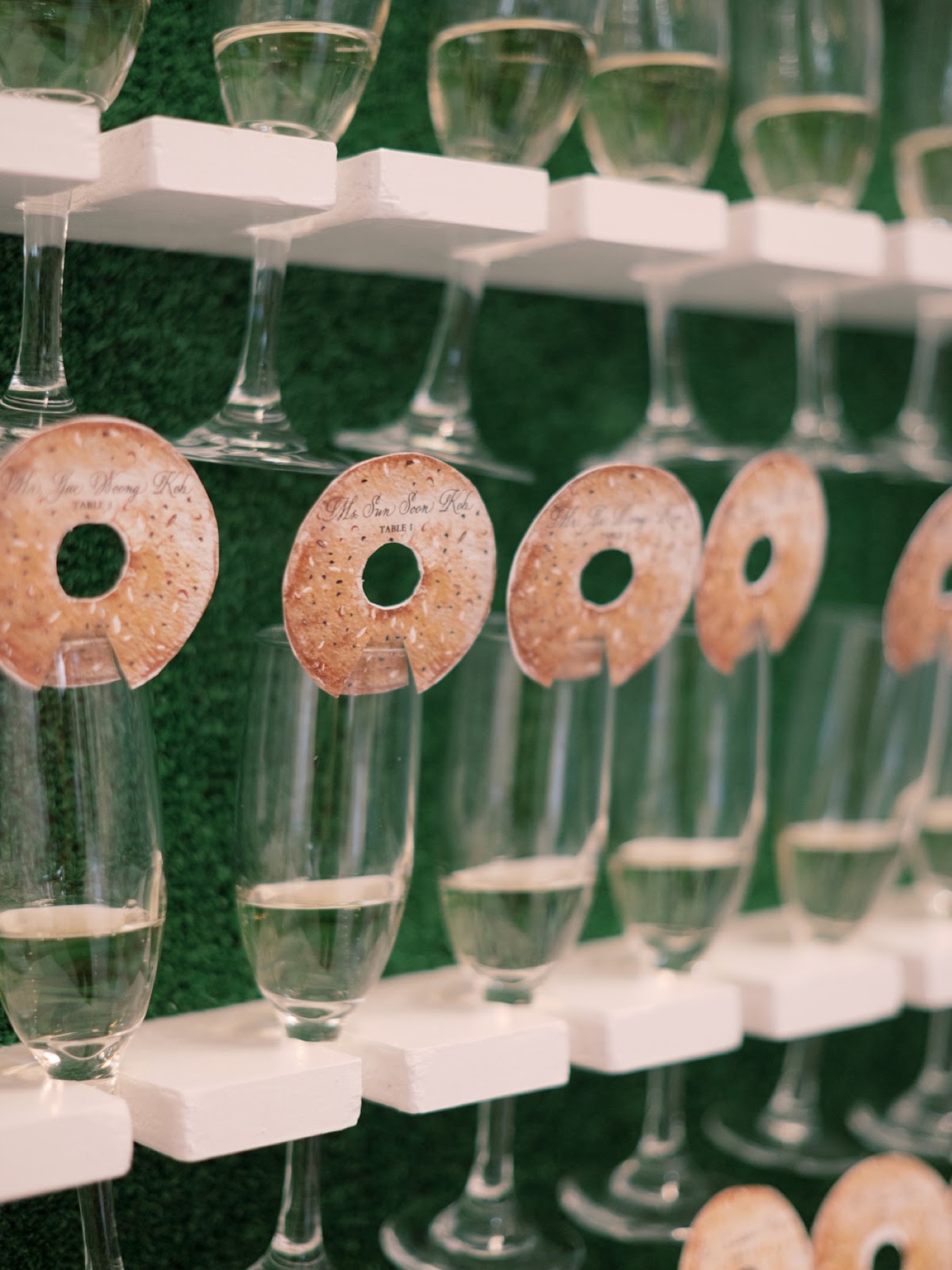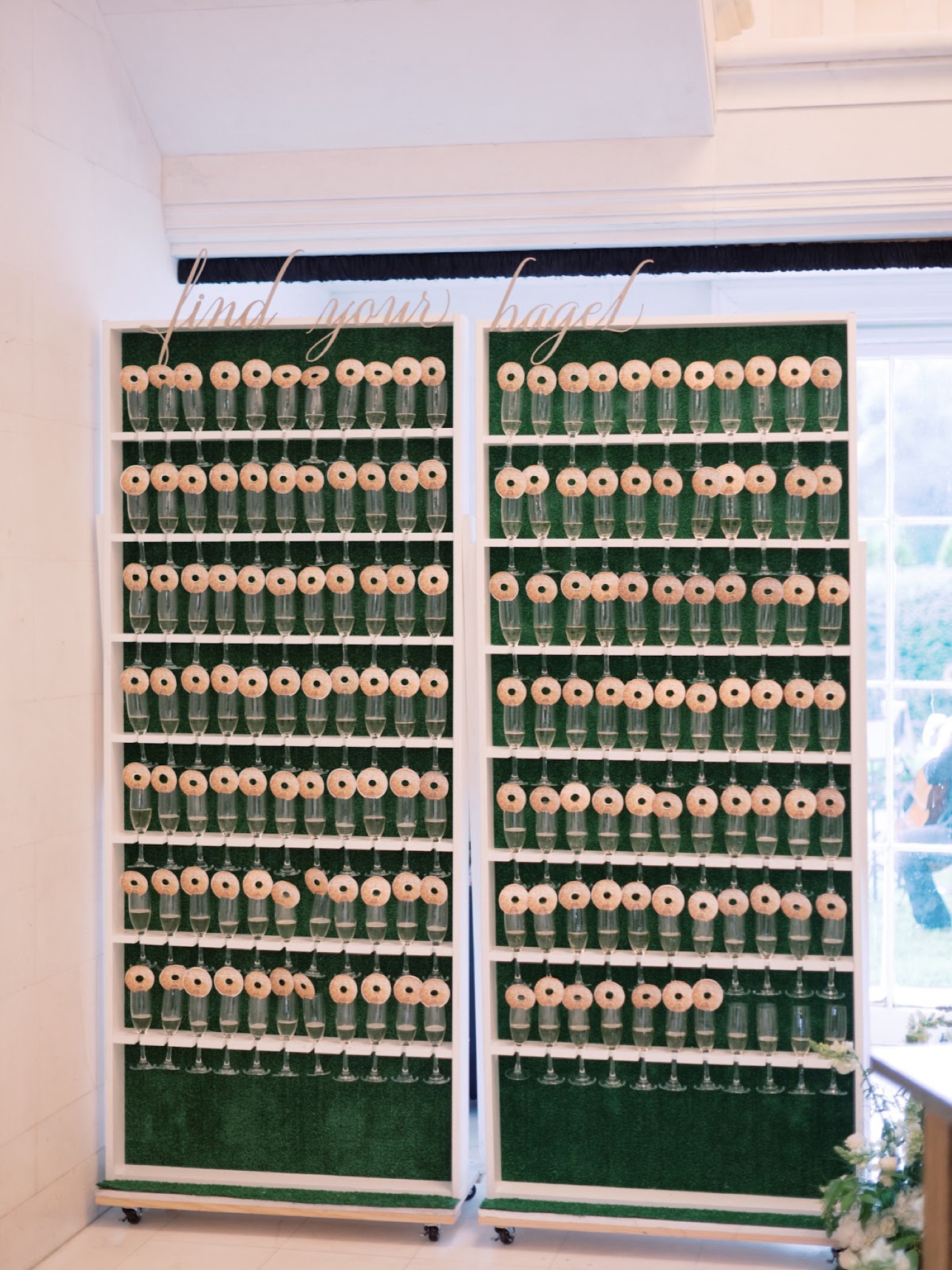 If you won't have an escort display, your table numbers are a great opportunity for personalization too. Here, Kelsie and Taylor featured the North Carolina towns that were special to their love story on one side of their table numbers, with a brief story about what made them special on the other side. Their guests could learn more about the couple while they got settled at the table. This surely ignited fun conversations about the newlyweds!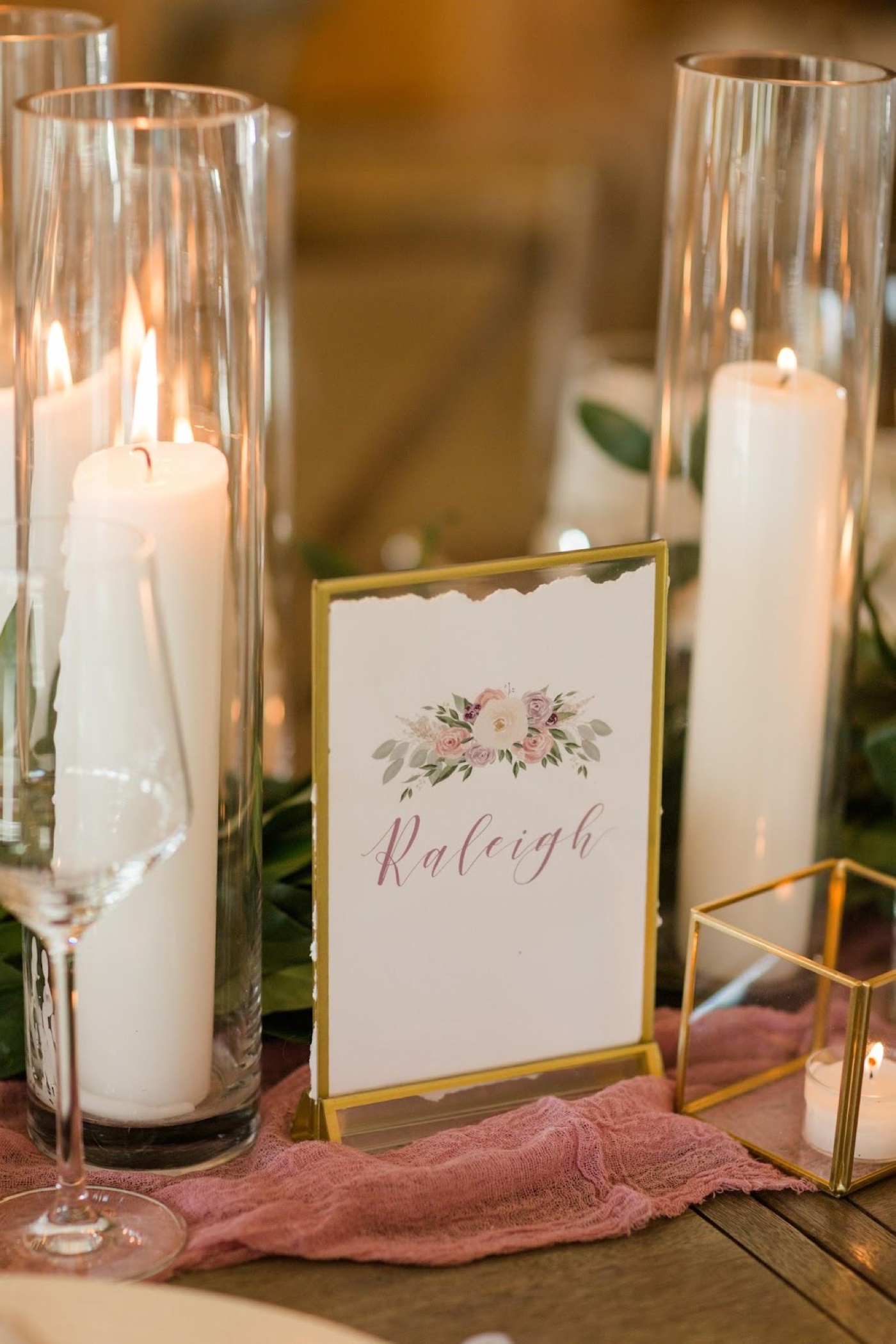 2) Animal Friends
Do you and your partner have any pets? This may be one of the most common ways to personalize a wedding, and for good reason! If you have a fur baby—and whether they make it to the actual wedding day or not—including them in your celebration can be so much fun. Some popular ways to do this are with a custom watercolor portrait, or by featuring them on your signature drink sign or some other accent item.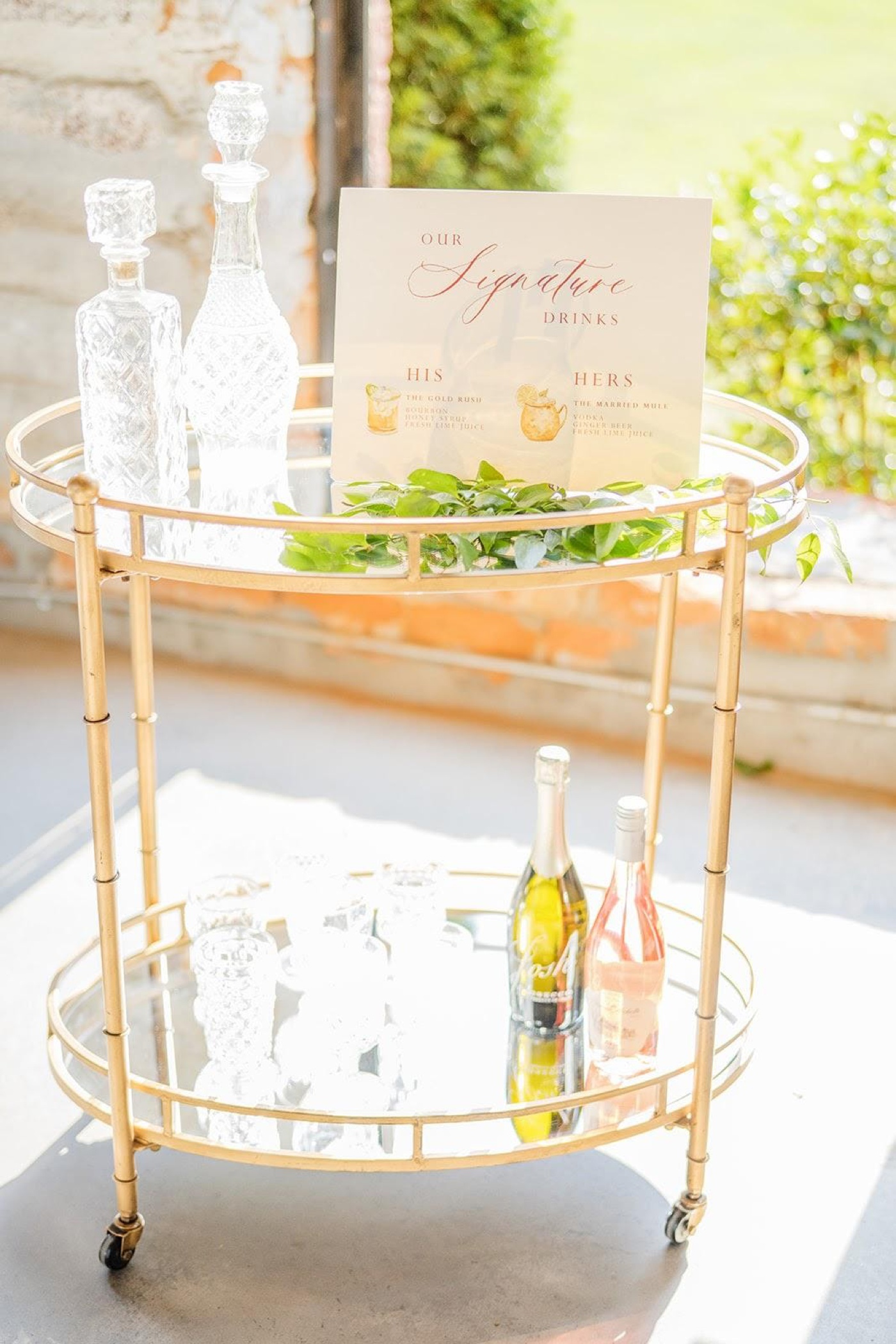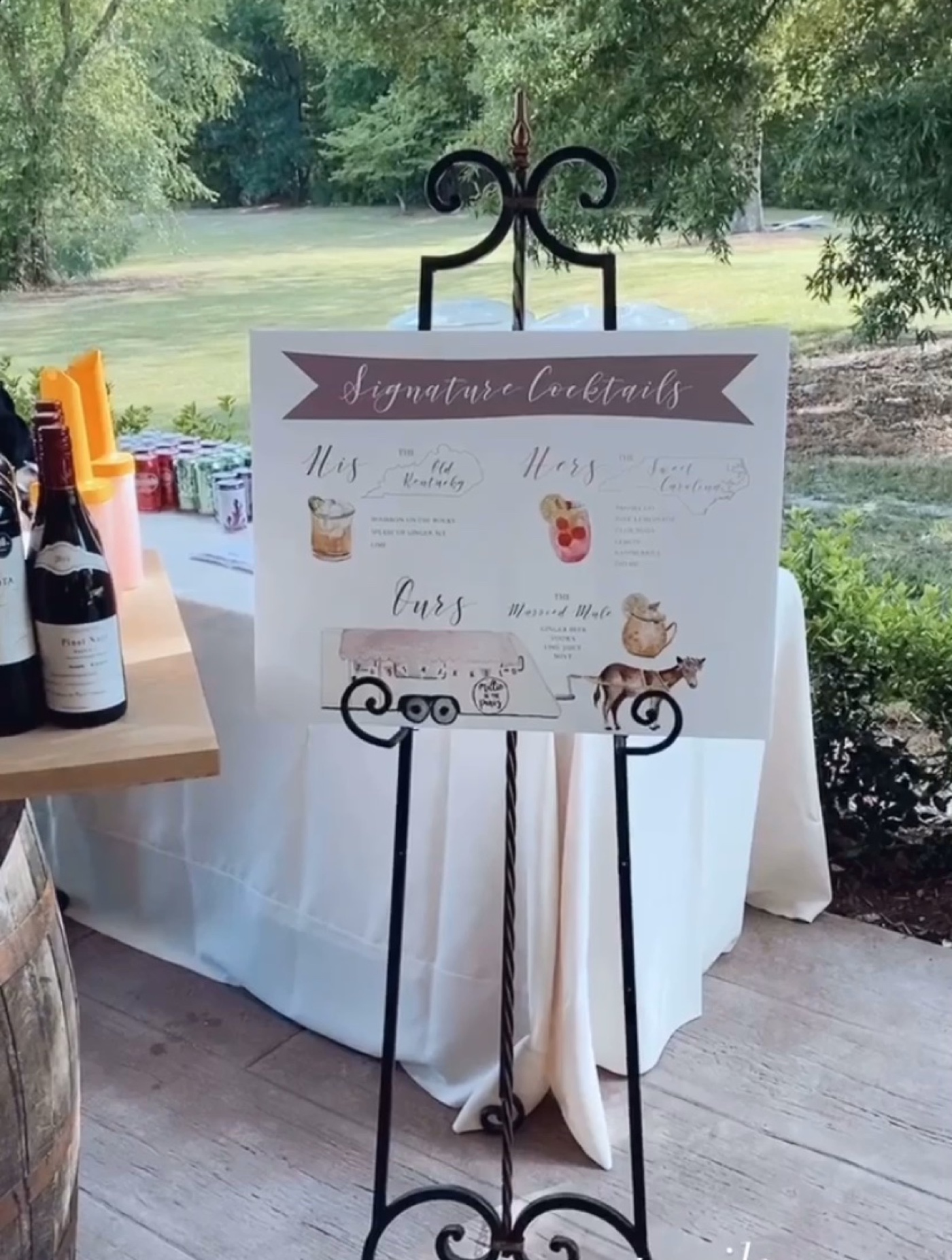 3) Shared Hobbies
What are your favorite hobbies or activities to do as a couple? Is there a way you can incorporate them into your wedding day favors? For instance, if you two love cooking Italian food, you could gift your guests a tiny bottle of local olive oil with a personalized gift tag. Or, if you're passionate about gardening, small vases of buds with guests' names on them would make a sweet escort display, and double as a favor. In love with your venue? Koozies with the name and logo are a fun gift for your guests to use both during the wedding and at home afterward!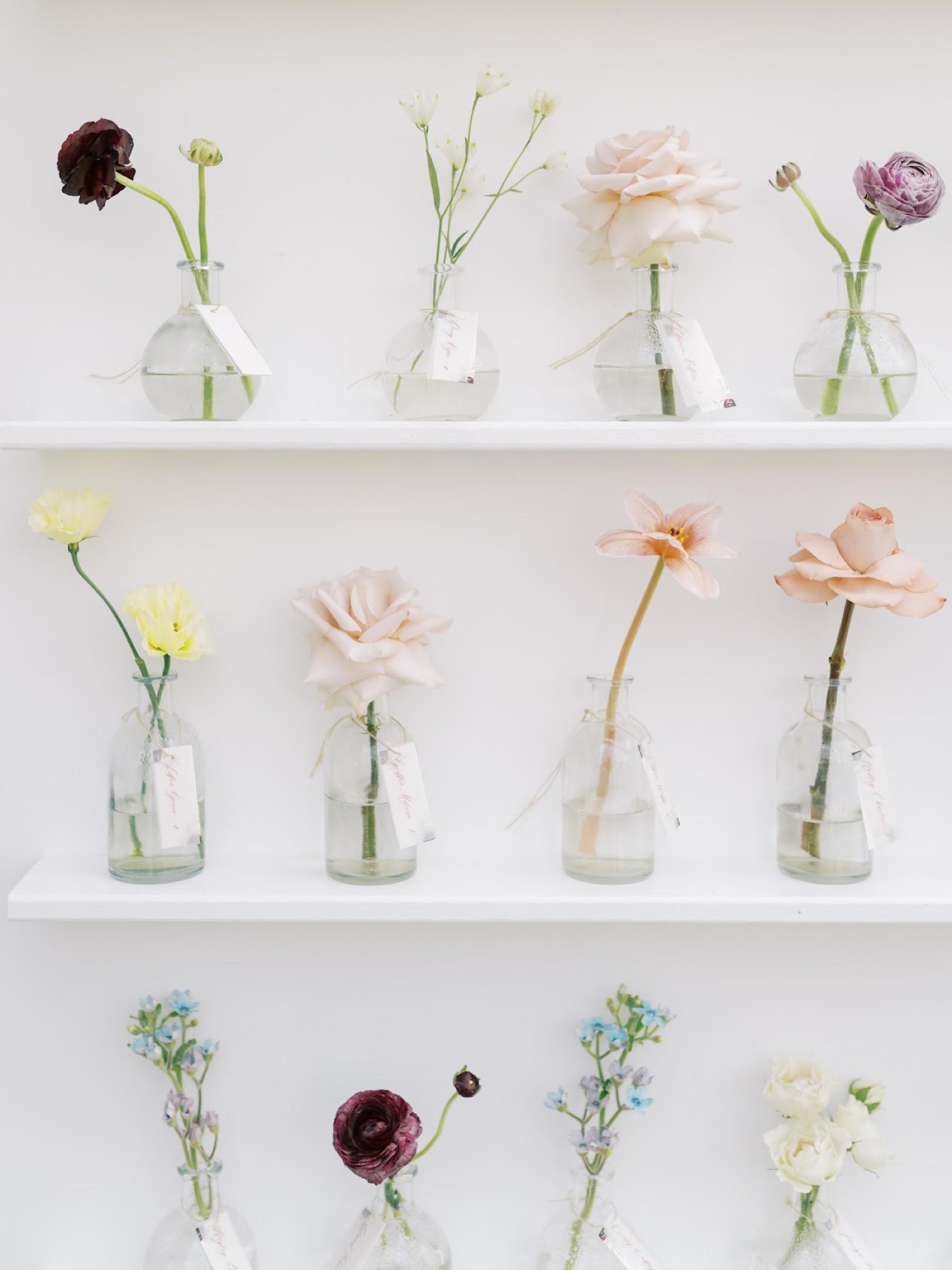 4) Introduction to the Weekend
Maybe a bunch of your guests are traveling to your celebration from out of town. If this is the case, welcome bags can be a thoughtful way to show your guests what's around them in a beautiful and artistic way. These can include a custom watercolor map of the town or a weekend timeline, to name a few!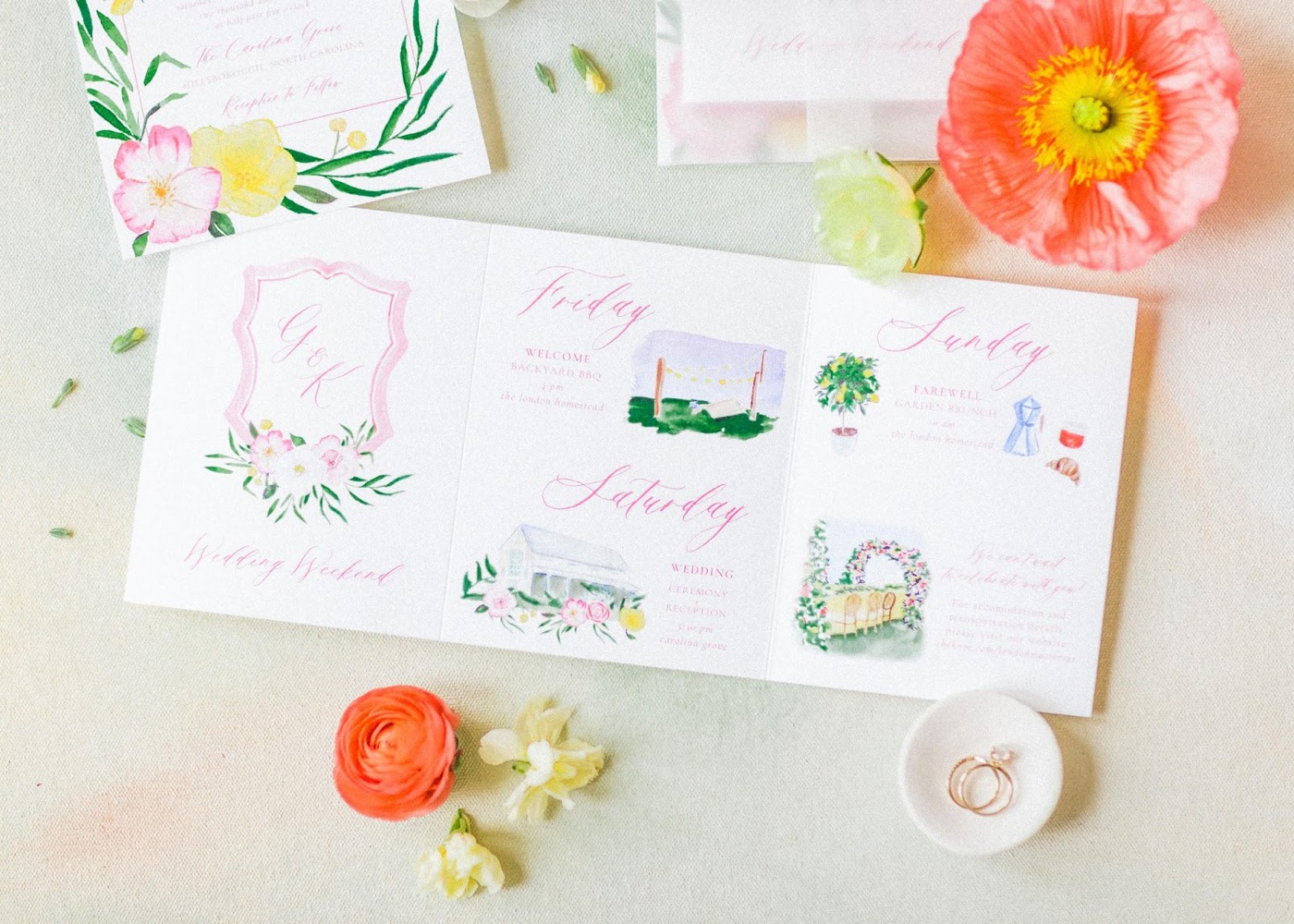 5) Relaxing in Style
Have you rented a special lounge space that you're particularly thrilled about? If so, turn your wedding crest or monogram into a custom throw pillow to add to the seating area! After the big day, you'll still have this keepsake to treasure on your bed or couch for a lifetime.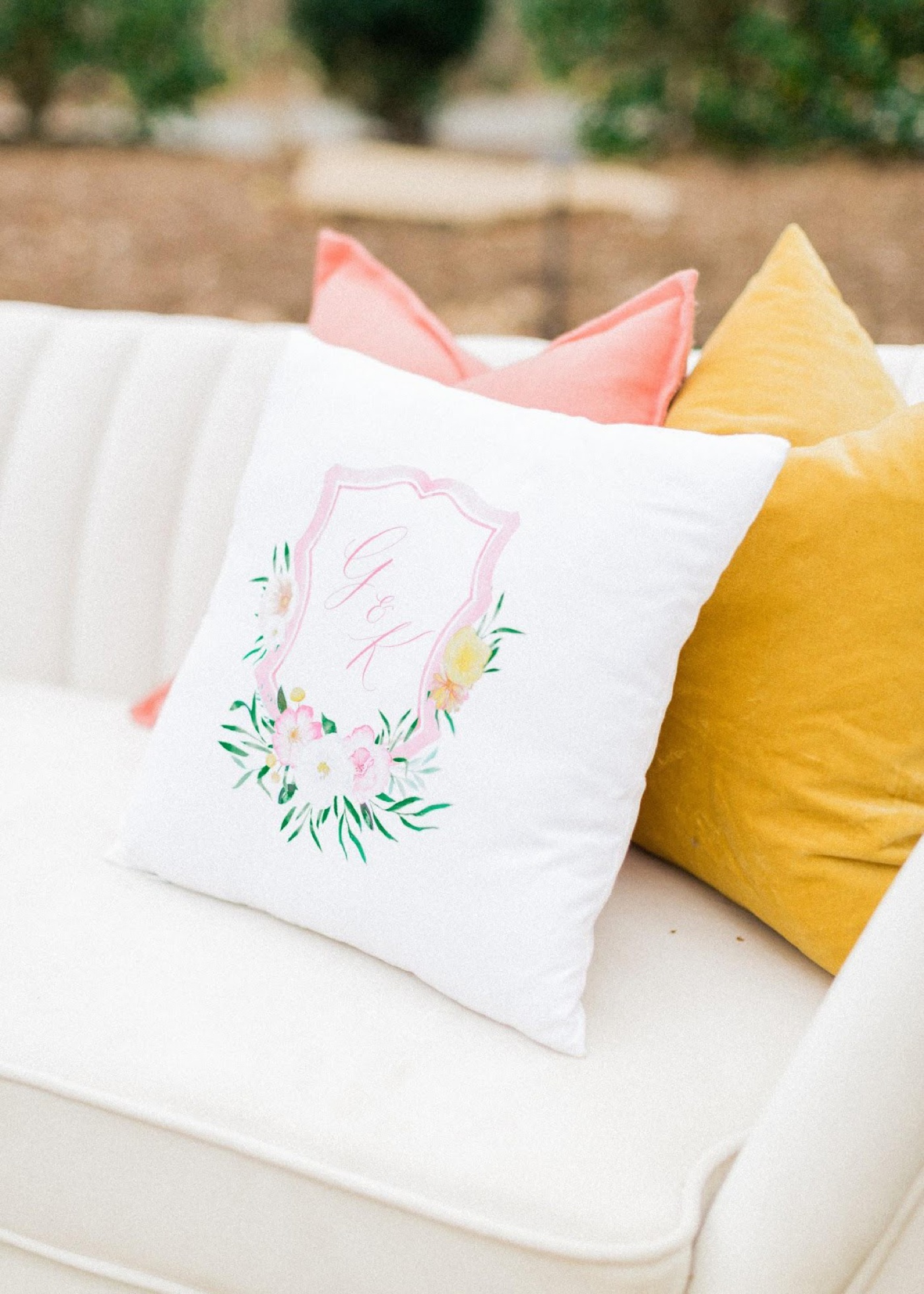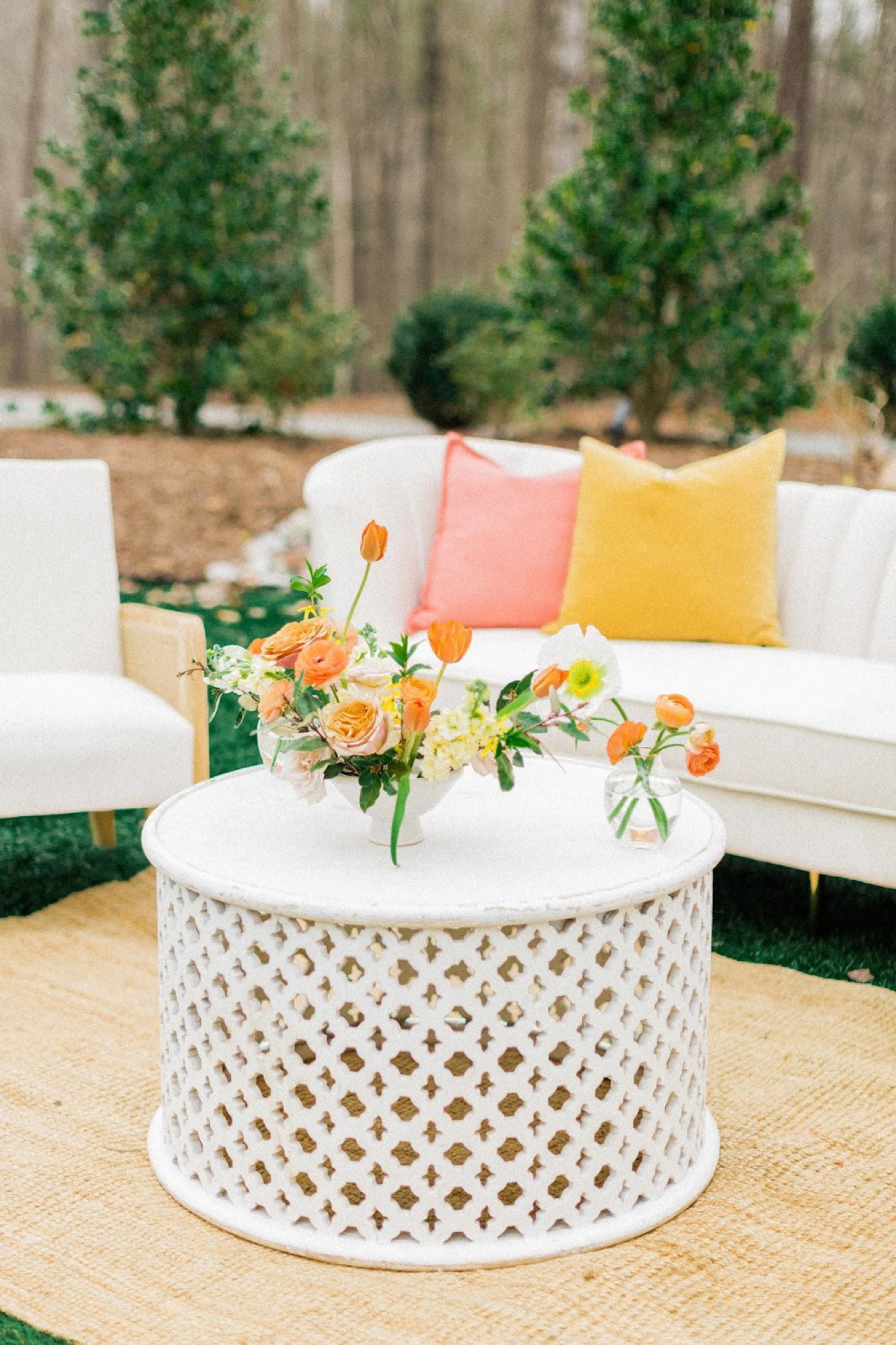 6) A Custom Portrait
I'd be crazy not to share my favorite way of personalizing a wedding day—through a live wedding painting! I love creating custom watercolor portraits of my clients' special days, on-site at the very moment they're happening! Guests love to watch as the portrait comes to life. And, at the end of the night, you are the proud owner of a special, one-of-a-kind keepsake to cherish for years to come.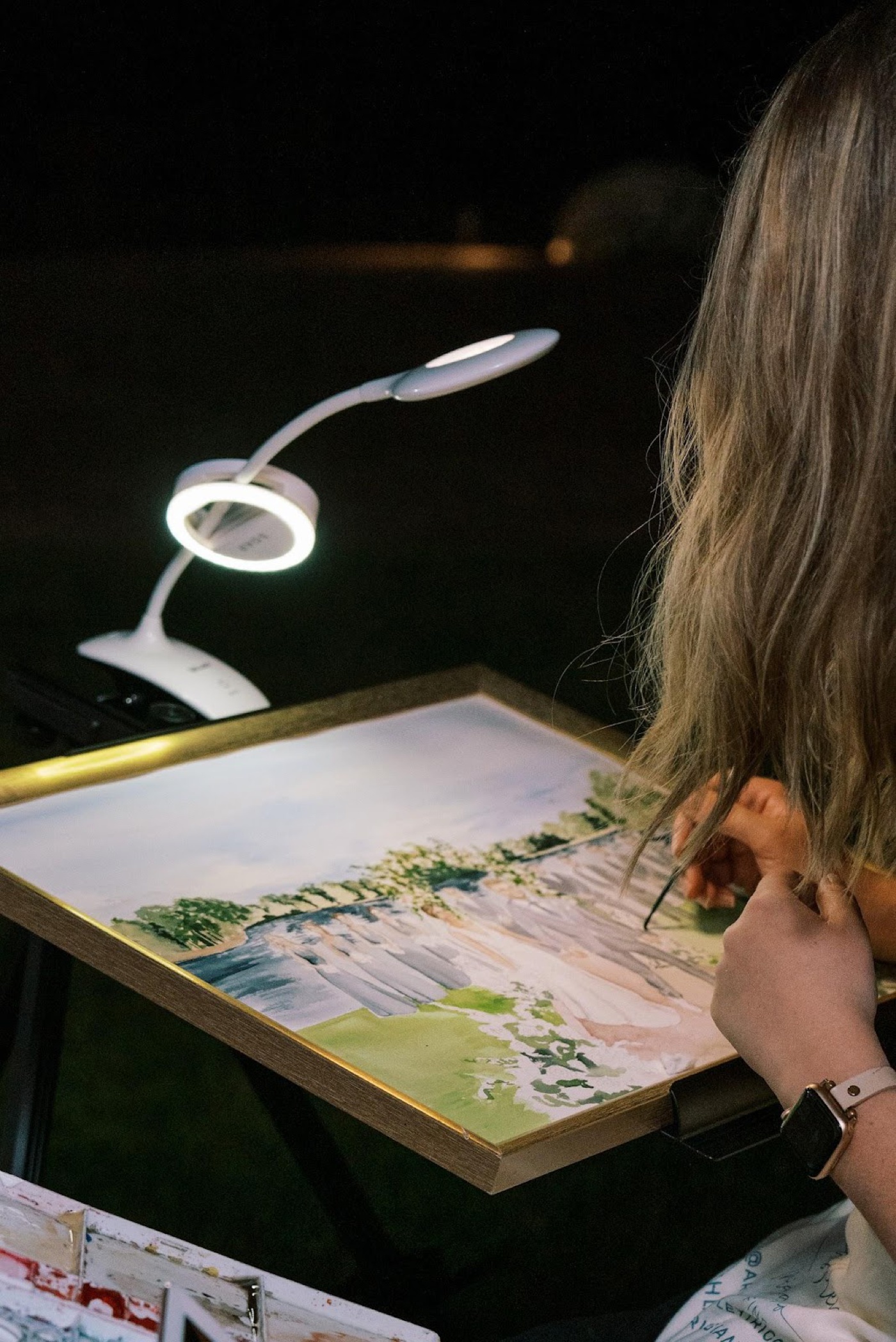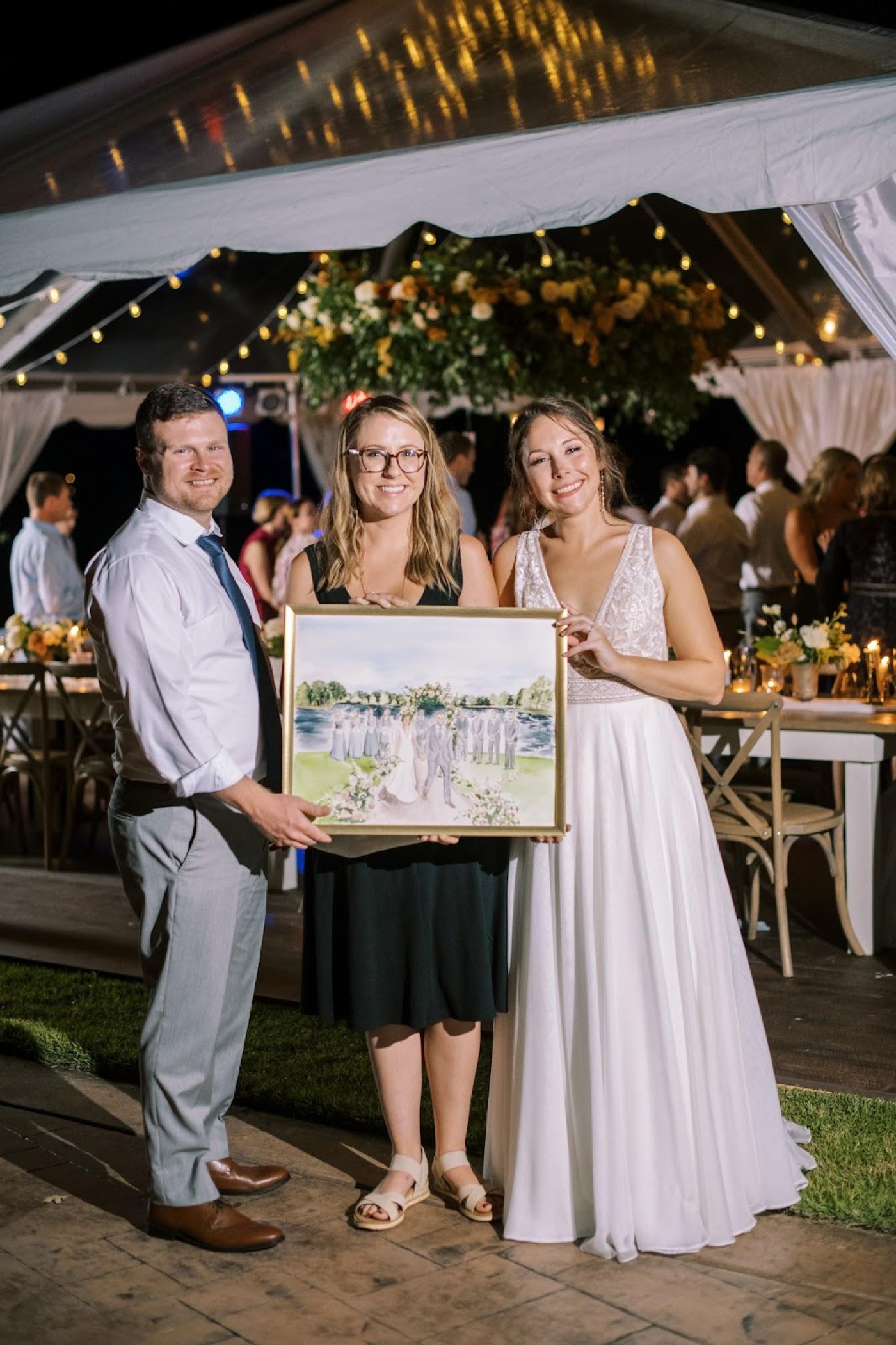 Want More Ideas?
If these ideas interest you, or you want to dig even deeper into the details, please feel free to reach out to me! Telling my clients' love stories through personalized paper, favors, and gifts is literally my job and one of my highest joys. I love finding unique ways to incorporate those special details which are specific to you, and only you. Including them in your wedding day design thoughtfully and cohesively is so important, and I'd love the opportunity to talk with you about it. You can reach out to me by filling out this quick contact form!