When Ellen and Ameer reached out to request a save the date featuring an illustration of their wedding location, I was so thrilled! The two were planning on marrying at Ellen's gorgeous childhood home. It nestles among pine trees on a spacious property complete with gardens, woodland, and a barn—in short, an artist's dream. In addition, we partnered on their multicultural custom wedding invitations. When Ellen told me about her vision, I knew we were a match made in heaven!
Designing Multicultural Custom Wedding Invitations
To start with, Ellen selected a stunning color palette for the couple's paper goods. She also told me that she wanted to incorporate elements of Ameer's Hindu heritage and their blended wedding into their invitation suite. Accordingly, we discussed how to incorporate their colorful mandap into their sangeet invitation. We also talked through how we would tie Ellen's childhood home into their save the date. In the end, this suite was a work of art and a telling of Ellen and Ameer's beautiful love story—my favorite things put together!
For the save the date, we chose a navy envelope to complement the navy shades in the bridal party's attire. Meanwhile, white ink addressing rounded out the look and kept it consistent. For the invitation suite, we selected a Carolina blue envelope as a nod to the couple's connection to UNC. Finally, the couple's sangeet card incorporated Hindu elements and florals inspired by the mandap that would preside over their ceremony.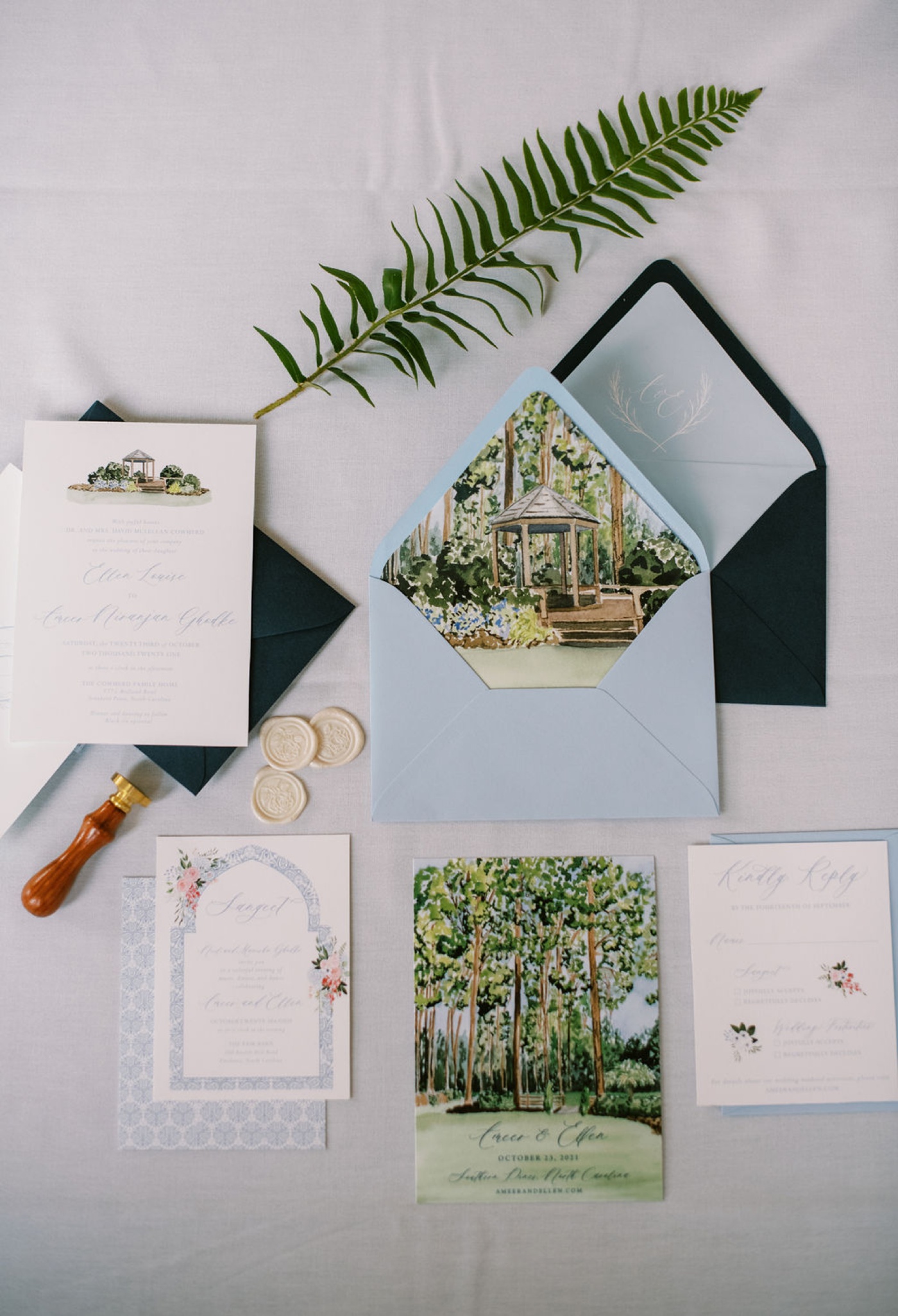 Ellen and Ameer's wedding ceremony blended elements of Christian and Hindu tradition in a meaningful meeting of cultures. The couple was thoughtful enough to provide a program that highlighted the significance and symbolism of each part of the ceremony. It was so in-depth and ensured that their guests knew what was happening every step of the way.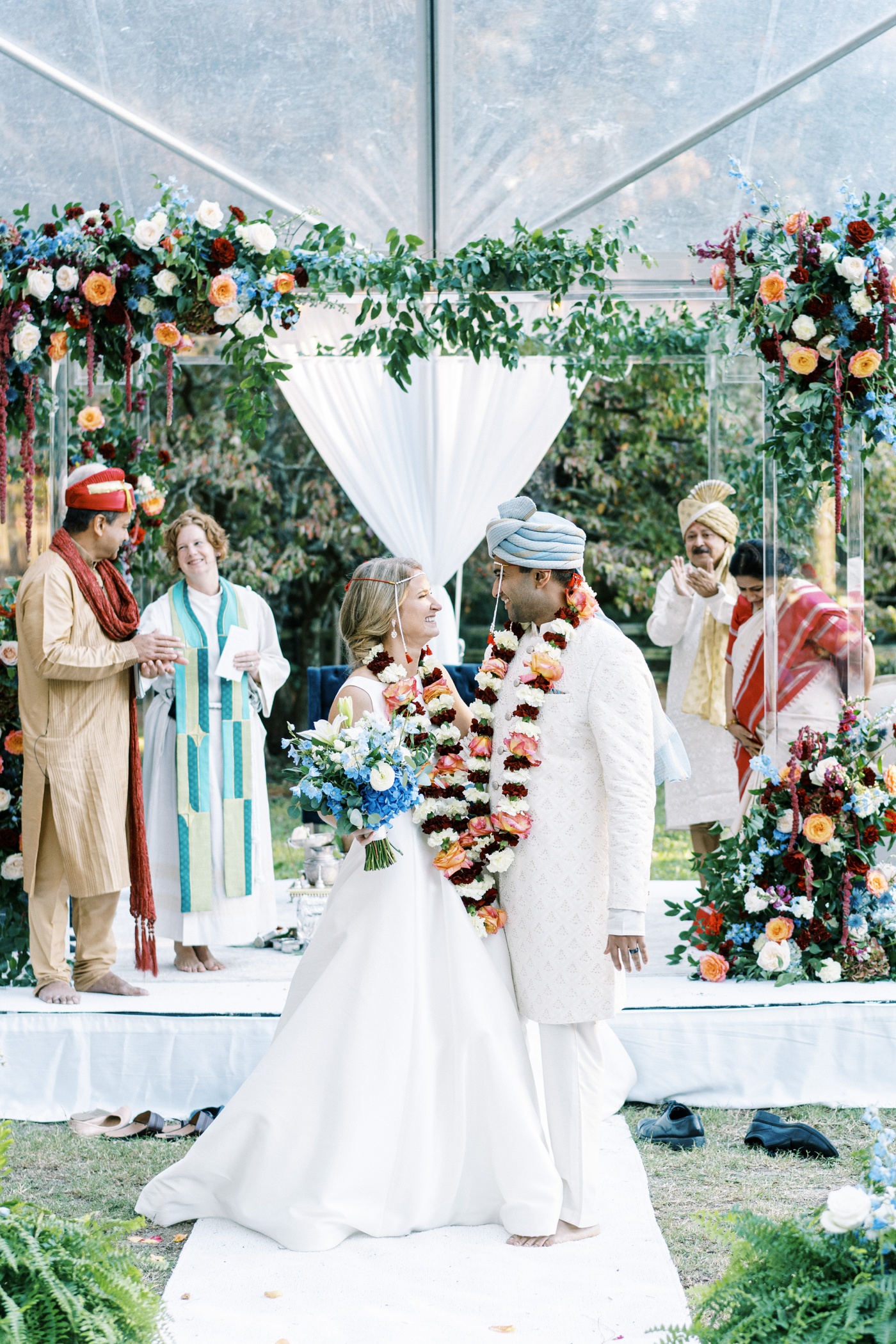 Personalized Cocktail and Reception Details
For cocktail hour and the party that followed, we created a signature drink sign inspired by the bride's bouquet and the groom's turban (and love for whiskey). Ameer showed off his creative side by coming up with this argyle design and logo, reading "Born. Bred. Med. Wed.," and it featured on their wedding koozies! Both bride and groom had recently graduated from med school and were beginning their lives and careers together. These amazing little koozies told their story and demonstrated the fun of their personalities. Brainstorming and crafting all of these little details was such a joy!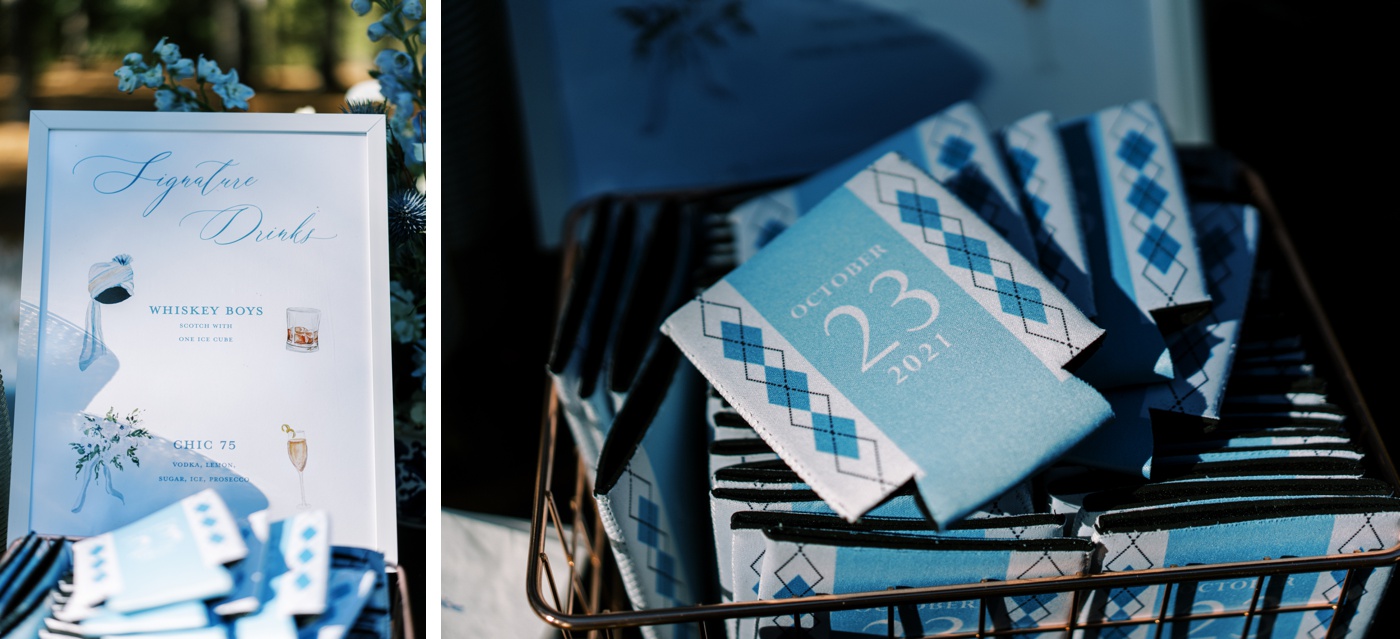 As for place settings, we knew we wanted to keep things simple with a palette of white and Carolina blue. We also wanted to pull in some of the floral elements from their invitation suite. Little watercolor illustrations accomplished this and were a charming touch! The menu listed the delicious family-style dishes that were passed around, and a place card at each setting helped guests find their way. Altogether, the appearance of the paper elements was lovely in its simplicity.
Working with Ellen and Ameer on their multicultural custom wedding invitations was a truly rewarding experience, and telling their love story through paper goods was an honor. I cannot say enough good things about this couple! I would love to hear the story of your love and chat about how I can convey it through heirloom-quality art. Start the conversation here! And, see more stunning images from Ellen and Ameer's wedding day below.
Vendors:
Photography: Vesic Photography
Planner: A Swanky Affair
DJ: DJ Rang
Florist: Watered Garden Florist
Videography: Elephant Memories Wedding Films