Throughout your wedding day, you're surrounded by all the details that tell the story of your special day. You've taken the time (months or even years) to plan out the design elements that will be featured at your wedding. Nowadays, wedding day flat lay photos have become a popular way to capture and display these details. For this reason, it's important to know what items your photographer may include in these photos. In this blog, we'll dive deeper into what to include for your wedding day flat lay photos! The photos used in today's post are from The Distillery's winter open house that I had the pleasure of participating in. Please enjoy these photos by Java Rose Photography as we discuss this topic!
The items below can all be thoughtfully arranged for a beautiful photo. Adding in pieces like jewelry, a wedding veil, or even a beauty product that you used or wore for the day can also bring out the uniqueness of your day. When selecting items to be included in your flat lay photo, be sure to look for items that are meaningful to you and your partner. This will bring a personal touch to your photos and will be a nice reminder of your special day.
Once you've chosen the items, be sure to hand them over to your photographer on your wedding day, or have someone designated to do this. From there, they will create some magic! They'll make sure the flat lay photos are taken from different angles with different setups. This ensures you get the best photos possible of all the things that mean so much to you!
Ring Boxes and Rings
Your rings are one of the most integral parts of your day. They are the tangible representation of the commitment you are making, which is pretty special! Your photographer will absolutely want to include your wedding rings in the flat lay photos. Because of this, it is a good idea to purchase some beautiful ring boxes that fit your color scheme and style. Etsy and the Mrs. Box are great places to start your search!
Your Full Invitation Suite and Custom Day Of Paper Goods
This may be one of the features of a flat lay I get most excited about! As a paper designer, I love to see beautiful paper goods shine in the spotlight! Your invitation suite is the cornerstone of all your paper design elements, so it definitely deserves a moment in front of the camera! Other paper or day-of items that often get included in a flat lay are save-the-dates, escort cards, table numbers, bar menus, and basically any little design detail that make your wedding so special!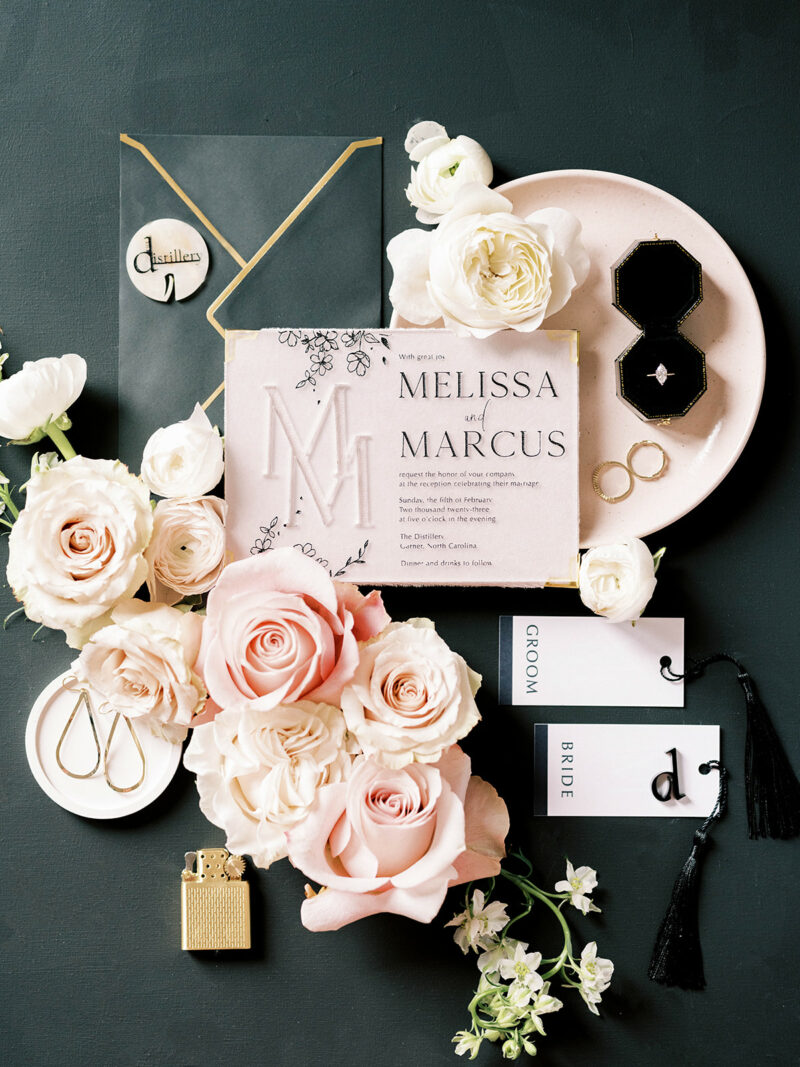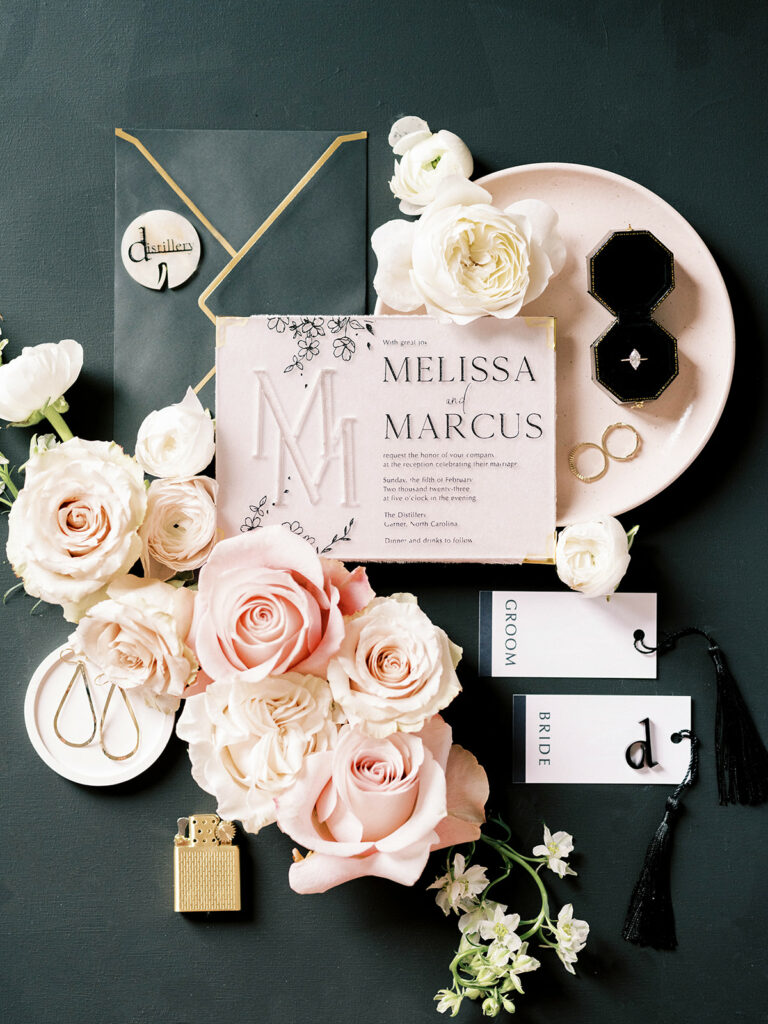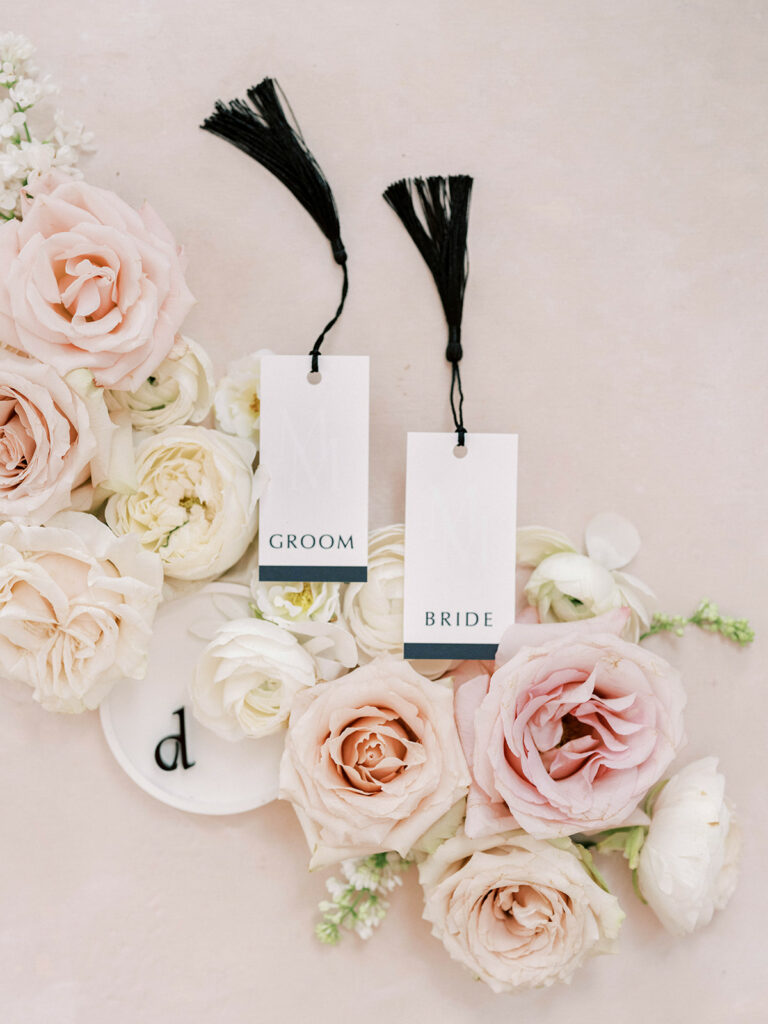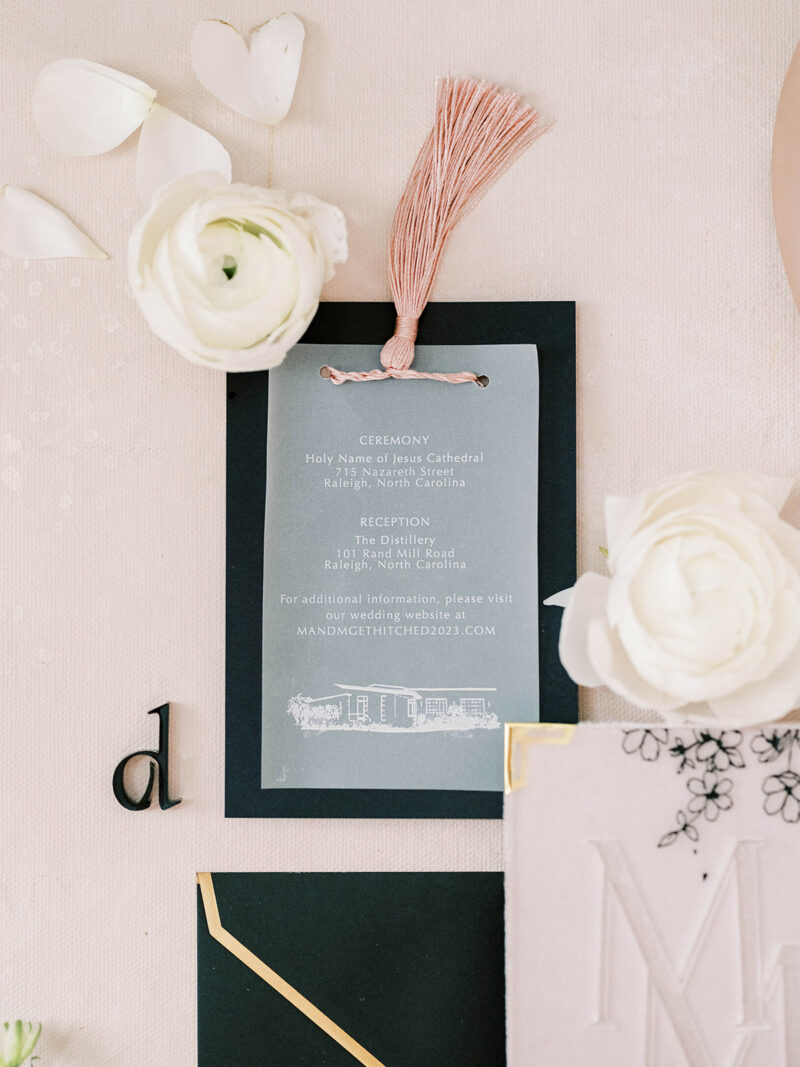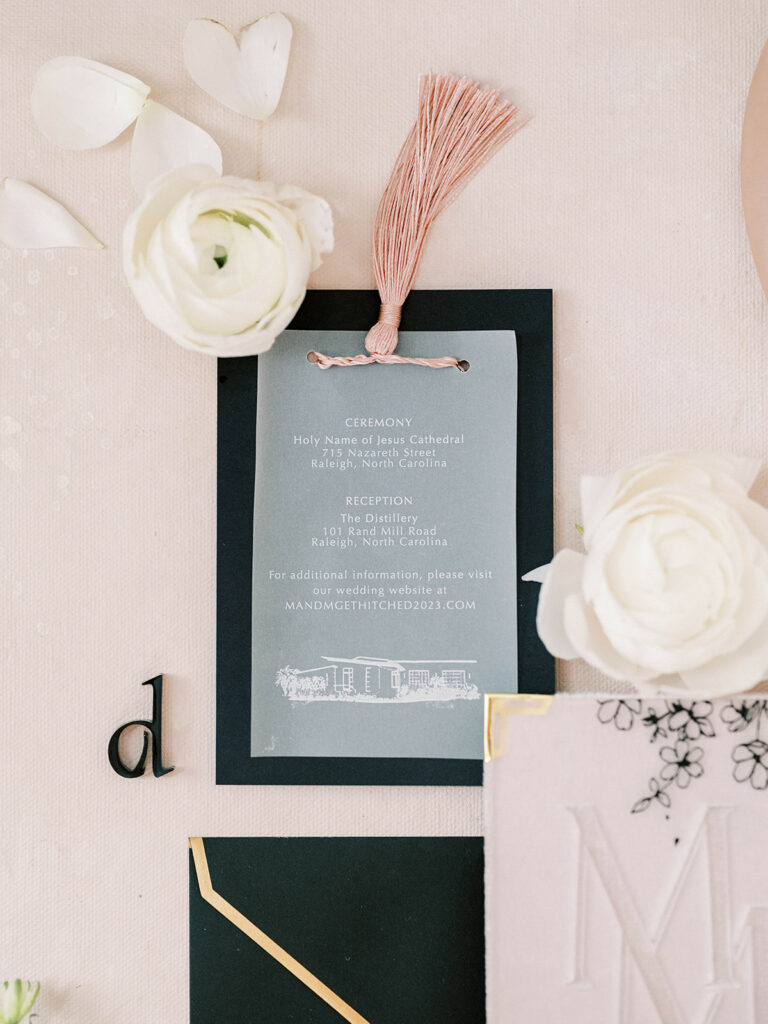 Your Wedding Flowers
Who doesn't love wedding flowers? They add the most beautiful touch to your event, and your photographer LOVES to incoroporate flowers and greenery into the flat lay photos. Most florists know this, so they plan on having a little extra vase or bucket that the photographer can choose from just for this purpose. If you're unsure, you can always bring this up with your florist during the planning process. Your photographer will thank you!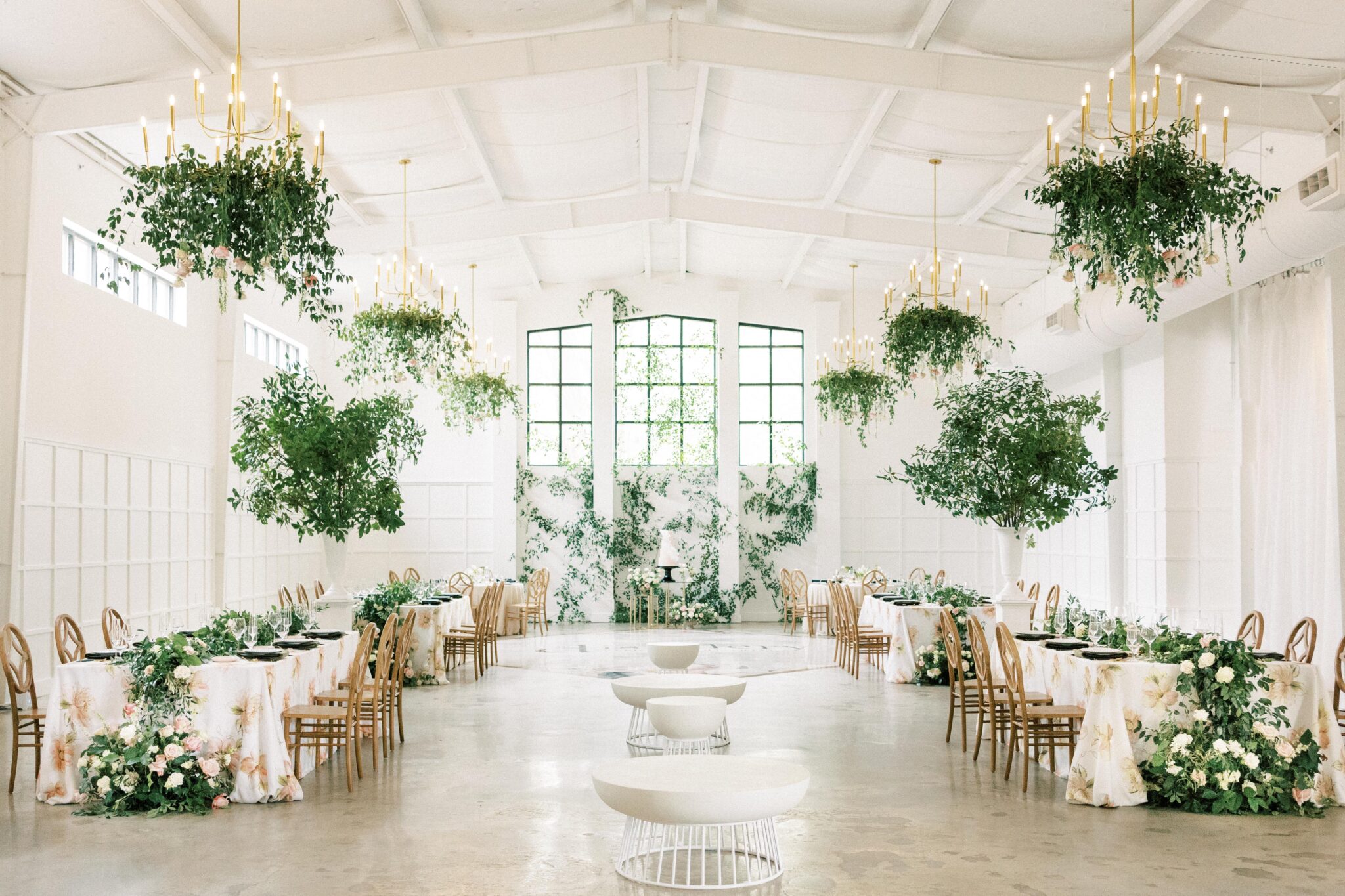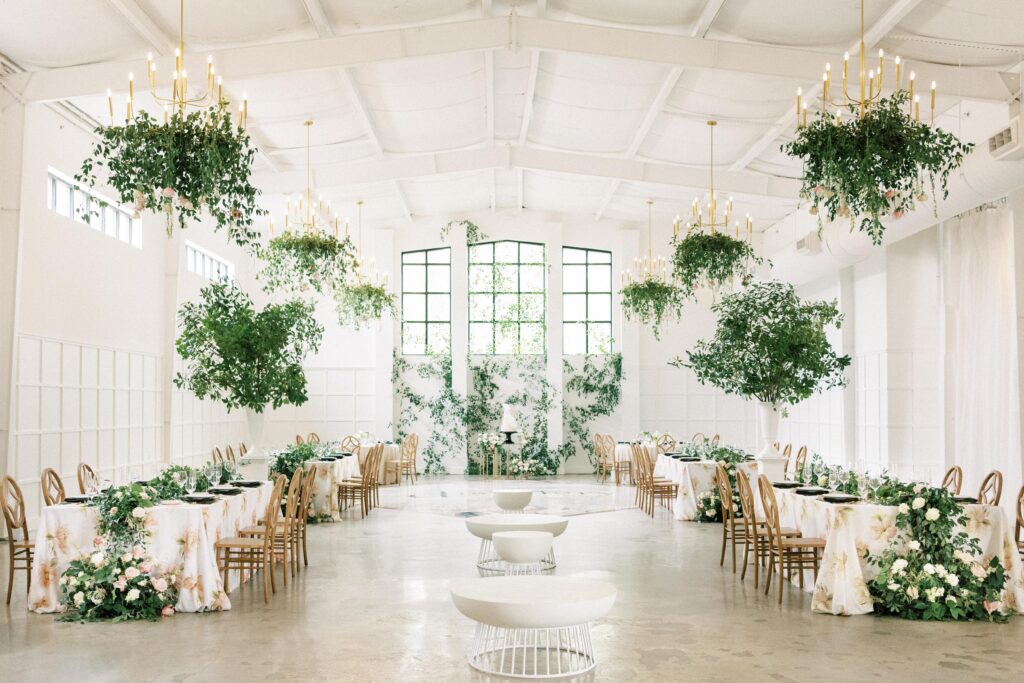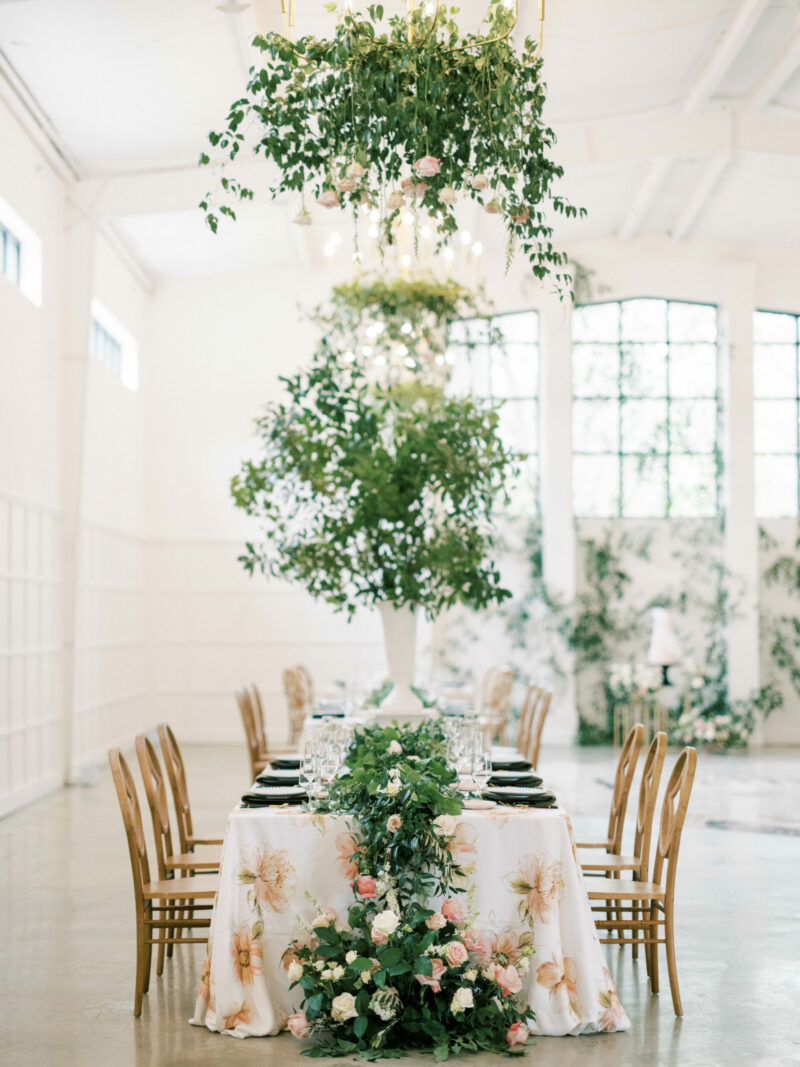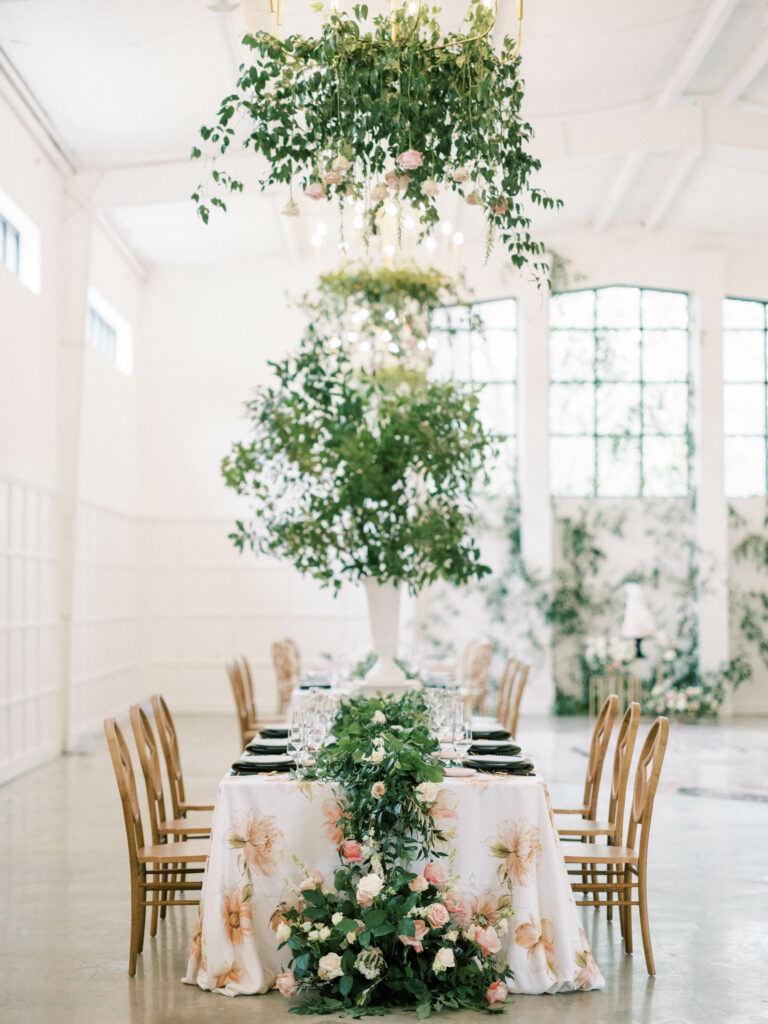 Your Bridal Shoes
I love a beautiful pair of shoes! As a bride, I'm sure you've put a lot of thought into "the" shoe you'll be wearing on your wedding day that goes perfectly with your dress. Your wedding day could possibly be the only day you wear these particular shoes, so they should be photographed! How gorgeous are these satin strapless heels with the studded detail? Swoon!
Storytelling Items
These are the items that have personal meaning to you or your family. I love the sentimental aspects of a wedding day! Some items to consider are family jewelry and heirlooms – perhaps a piece of your grandmother's veil or your grandfather's old monogrammed handkerchief. If there's anything special, beautiful, and meaningful to you – include it! Your photographer will surely incorporate it into your wedding day flat lay photos.
In conclusion, I believe it's important to capture all the details of your wedding day. Without a doubt, flat lay photos are a great way to achieve this. From the rings to the storytelling items, you can create beautiful photos of all the details that make your wedding day special. Just think how meaningful it will be to be able to look back on these photos for years to come!
Now that you know what to include in your wedding day flat lay photos, reach out to our studio and let us know how we can help make these come to life for you!
Open House Vendors:
Venue: The Distillery @the_distillery_NC
Planning & Design: Chad Biggs Event Planning & Design @chad_biggs_event_planning
Floral: Once Gathered @oncegathered
Catering: Funky Fresh @funkyfreshdrc
Bar Service: Artfulibations @artfullibations
Photography: Java Rose Photography @javarosephotography
Rentals: American Party Rentals @americanpartyrentals
Luxury Rentals: Greenhouse Picker Sisters @greenhousepickersisters
Entertainment: Bunn DJ Company @bunndjco
Laura Byrne @laura_byrne_harpist
Officiant: Rev. Kayelily Middleton @revkayelily
Hair & Makeup: Chelsea Regan @thechelsearegan
WINK @winkhairandmakeup
Cake: Ashley Cakes @ashleycakesnc
Around the Table @aroundthetable_
Invitations & Signage: Art by Ashley Triggiano @artbyashleytriggiano (that's me!)
Transportation: Stevie the Figgy @steviethefiggy
Bridal Gowns: White of Raleigh @whitebridalboutiques @molly_whitebridalboutiques
Bridesmaid Attire: Bella Bridesmaids @bellabridesmaidsraleigh
Models: @dania_khusayem (glammed by WINK)
@drew_x_leanna (glammed by Chelsea Regan)