Citrus Wedding Invitations at The Carolina Grove - Hillsborough, NC // featured on Style Me Pretty!
When Cheyenne from Sweet Oak Events reached out to talk about a "Pink Lemonade" citrus wedding shoot at The Carolina Grove, I immediately flashed back to my 2019 trip to Vienna where I strolled The Orangery citrus groves of the Schonbrunn Palace. Right away, I KNEW I would use that warm, sunny afternoon to fuel my creative vision for the citrus wedding invitations, paper goods, pillows, MENU NAPKINS (!), escort cards and all sorts of other fun signage peppered throughout the day.
Cheyenne told me that she loved the color palette and had showed it to a friend who replied, "those are some bright colors, do you think anyone would really want such a unique color palette for their wedding?" to which we both said, "YES!" 
I think that's the beauty of working with a great vendor team; if you have an idea in mind, even if it seems a little unusual, great minds come together to create something cohesive and beautiful.
While dreaming up inspiration for the citrus wedding invitation suite, I found a hanging chandelier of flowers on Pinterest that I fell in love with and immediately sent to Cheyenne who jumped on board and so did our amazing florist Kelly, of Color Fields Farm. The morning of the shoot Kelly patiently wove each hanging flower from the balcony above the sweetheart table. I admire her work so much as she uses no floral foam and practices sustainability in her floral practice and arrangements!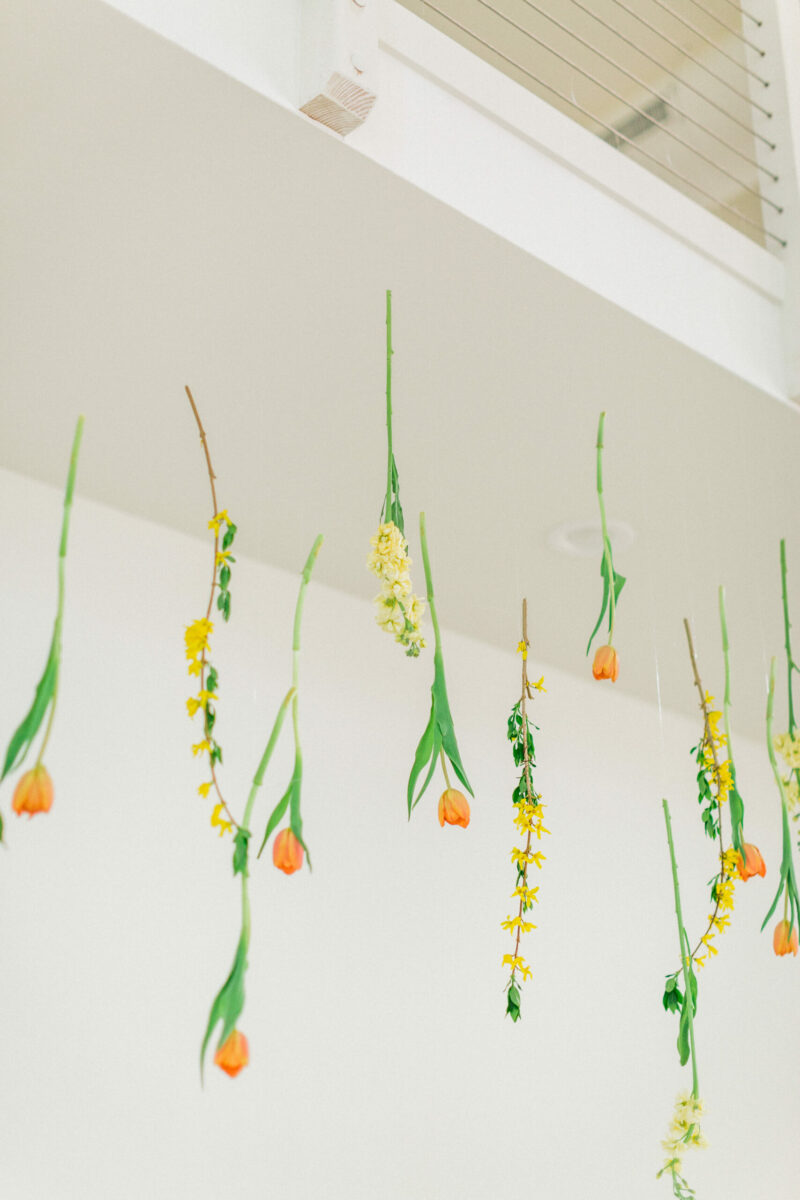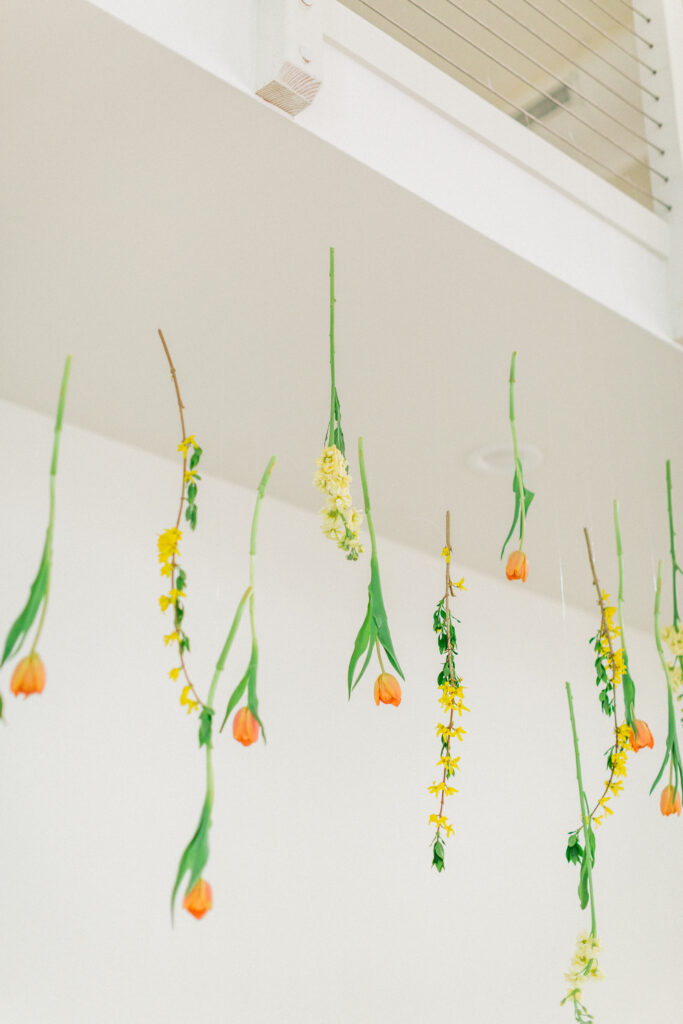 Custom Fabric Menu Napkins
Speaking of sustainability, one of my favorite ideas for this shoot was the custom fabric menu napkins I created! Rather than giving guests a paper menu or napkin that may wind up in the recycling bin, a custom menu on your napkin linens is a great little heirloom and design choice that your guests can take with them. They'll remember their meal each time they see it in their linen drawer and think fondly of the special thought you put into their experience.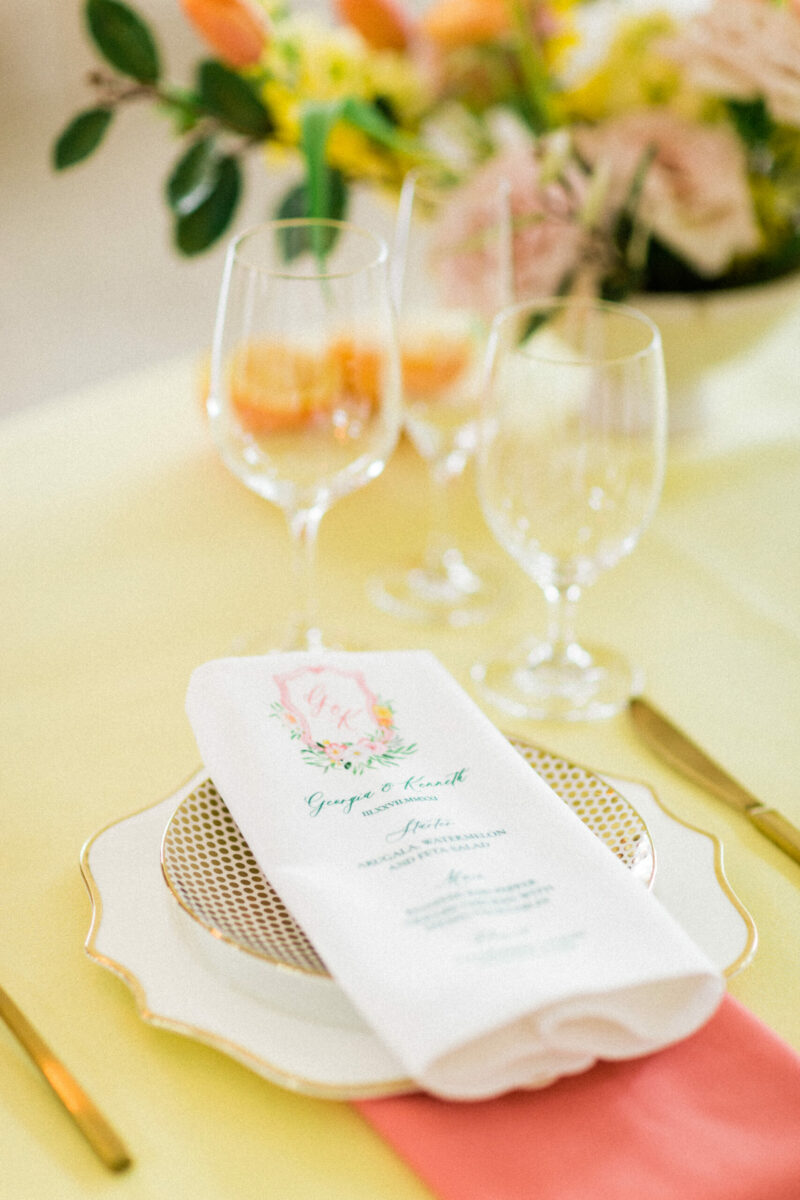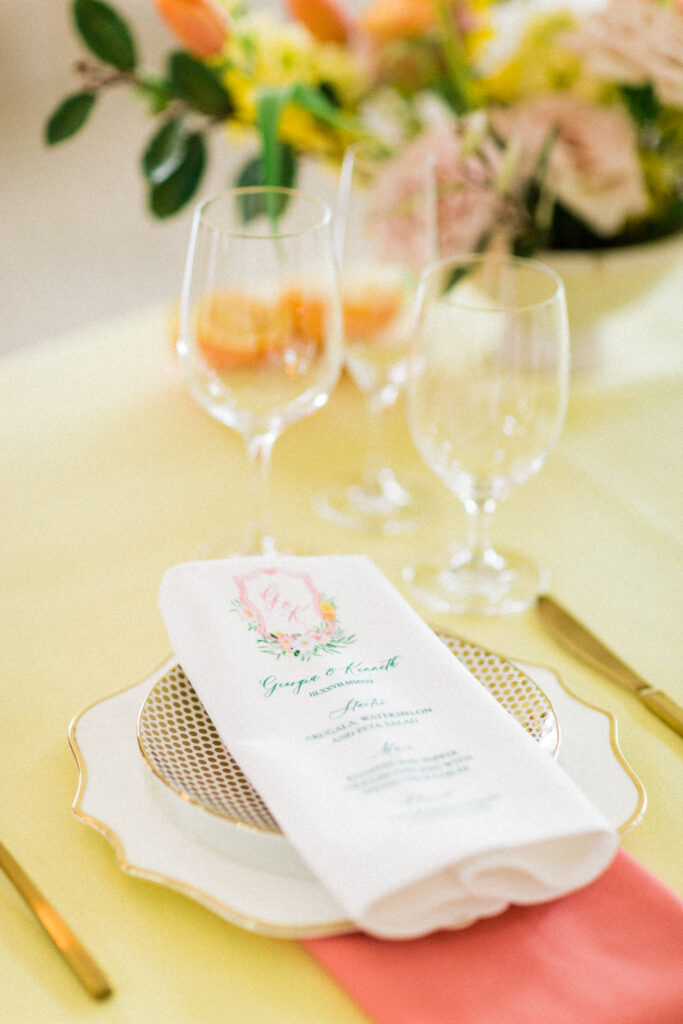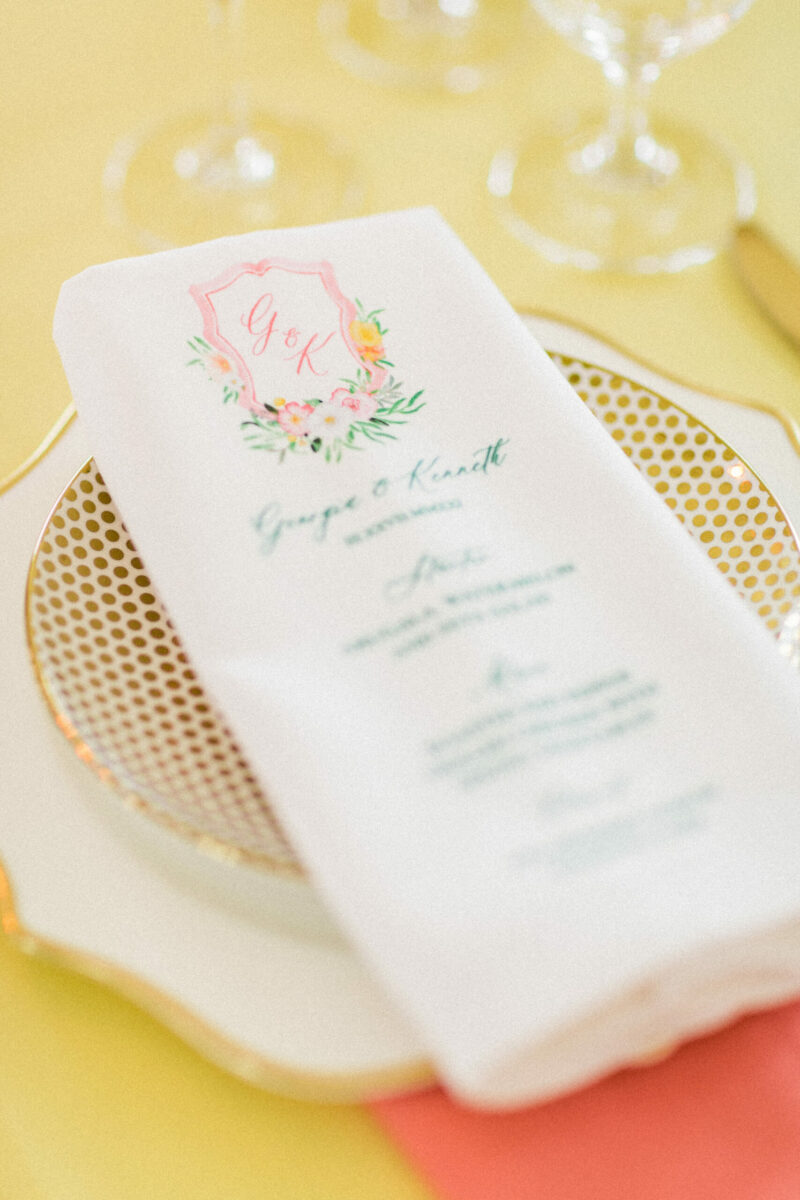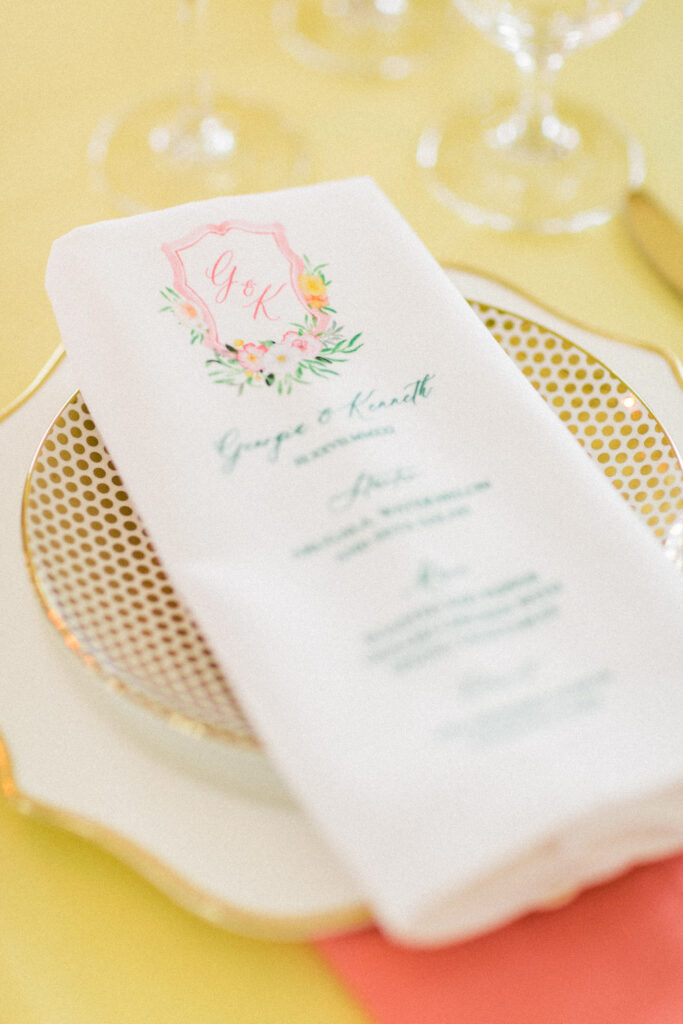 Watercolor Wedding Monogram Crest
Another way to incorporate the citrus wedding invitation suite design throughout the event itself was to incorporate the watercolor wedding monogram crest into all sorts of day-of goods. From the pillow in the lounge space that coordinated with the solid and patterned pillows, to the custom removable decal that adorned the front of the bar, the wedding experience flowed from the day guests opened their invitation to their first clink of the glasses as they celebrate the happy couple!
Handpainted lemon escort cards and seating chart
And after cocktail hour when it's time for guests to find their seat, a handprinted escort card "citrus grove" was there to greet them! I handpainted each orange, lemon and grapefruit on the canvas, and set it up so that each clear acrylic circle would be able to be "picked" from the "grove" and guide each guest to their table number. The citrus grove was a little nod back to the floral citrus wedding invitation suite and another way to weave in the bright colors of the day.
Citrus Wedding Invitations
Not only were the yellows and pinks important to the citrus wedding invitations, but so were the greens. When designing my custom invitation suites, I think a lot about color theory and what colors play together. Green and pink are across from each other on the color wheel and a complementary pair! Little details like this are important when designing custom wedding invitations, and another great reason to hire a stationer 😉 I pulled the greens from the flowers out by pairing with a bold emerald green envelope. The RSVP card's envelope was an equally bold hot pink, matching the vibrant shades. I loved how Annie Timmons Photography styled the flatlay with pink, yellow and magenta ranunculus peeking out of the envelope! So smart! She is such an incredible photographer and I highly recommend working with her for your big day.
Speaking of flatlays, if you're not familiar with the idea of them, it's definitely something to keep in mind when selecting your wedding invitations. Whether you know the name or not, it's those dreamy pictures you see angled straight overhead with all your wedding paper goods layer out in a beautiful composition, with delicate flowers and day-of details like your rings and vows accompanying it all. These are shots your photographer will gather the day of your wedding, so I always recommend making sure you order an extra set of invitations (or even a few!) to have on hand for them to style. Annie is such an incredible stylist and flatlay expert, so it was an honor for her to style these for me!
I always keep that final flatlay image in mind, especially with this floral citrus wedding invitation suite. You should never forget the back of your cards as your photographer can use the front and back to create visual interest in their flatlay photos. In the picture below, the invitation is framed with a gorgeous floral border but on the back, the couple's wedding crest is featured in the middle. Layering these together makes for one pretty picture!
Wedding Weekend Itinerary Fold Out Card
With the idea of a full wedding weekend celebration, I created a fold out panel card that would guide guests through the weekend's itinerary. The lawn games set up outside by Triangle Lawn Games are pictured on one panel, along with a dreamy scene of dining amongst the gardens and flowers. Having little illustrations like this in your wedding details cards gives your guests a glimpse into what the weekend will really be like! It's a fun way to not only invite them to your big day, but to dream and anticipate it right along with you.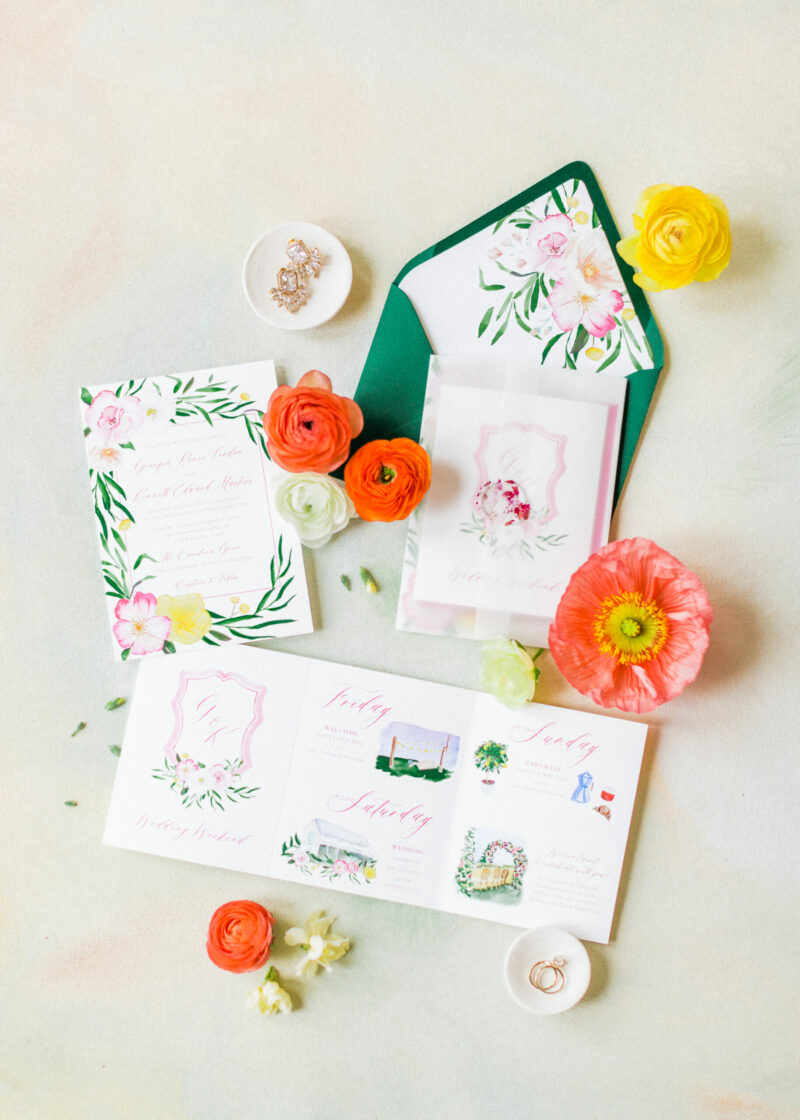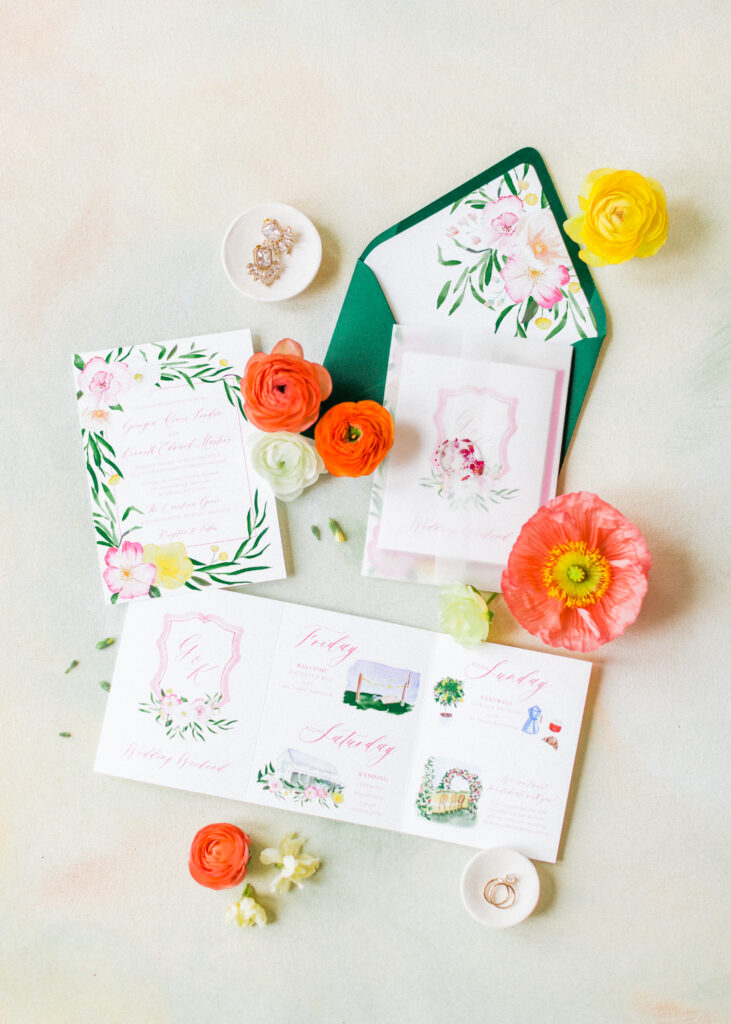 Interested in working together on custom stationery?