Your wedding stationery suite is so important. It sets the tone and aesthetic for your wedding day and tells your guests what they should expect. Plus, having a beautiful stationery suite is just so much fun! So, you want your suite to match your and your fiancé's vision. If you're picturing a gorgeous and ornate wedding stationery suite, then you've come to the right place! It's all about how you dress up your wedding invitations. There are a few ways you can do this.
Adding your wedding venue with a watercolor venue illustration
You spent countless hours going on venue tours and picking the perfect place to say, "I do!" Maybe it's the way the gardens line the back lawn. It could have been the way you can't miss the sunset because of the amazing French doors! Perhaps it's the evening breeze that comes across the front porch, and you couldn't help but envision yourself saying your vows there. Whatever it was, you chose your wedding venue because it made you feel special and because it said so much about the two of you as a couple. That special place deserves a spot on your invitations and day-of details. You want to really highlight everything you love about it!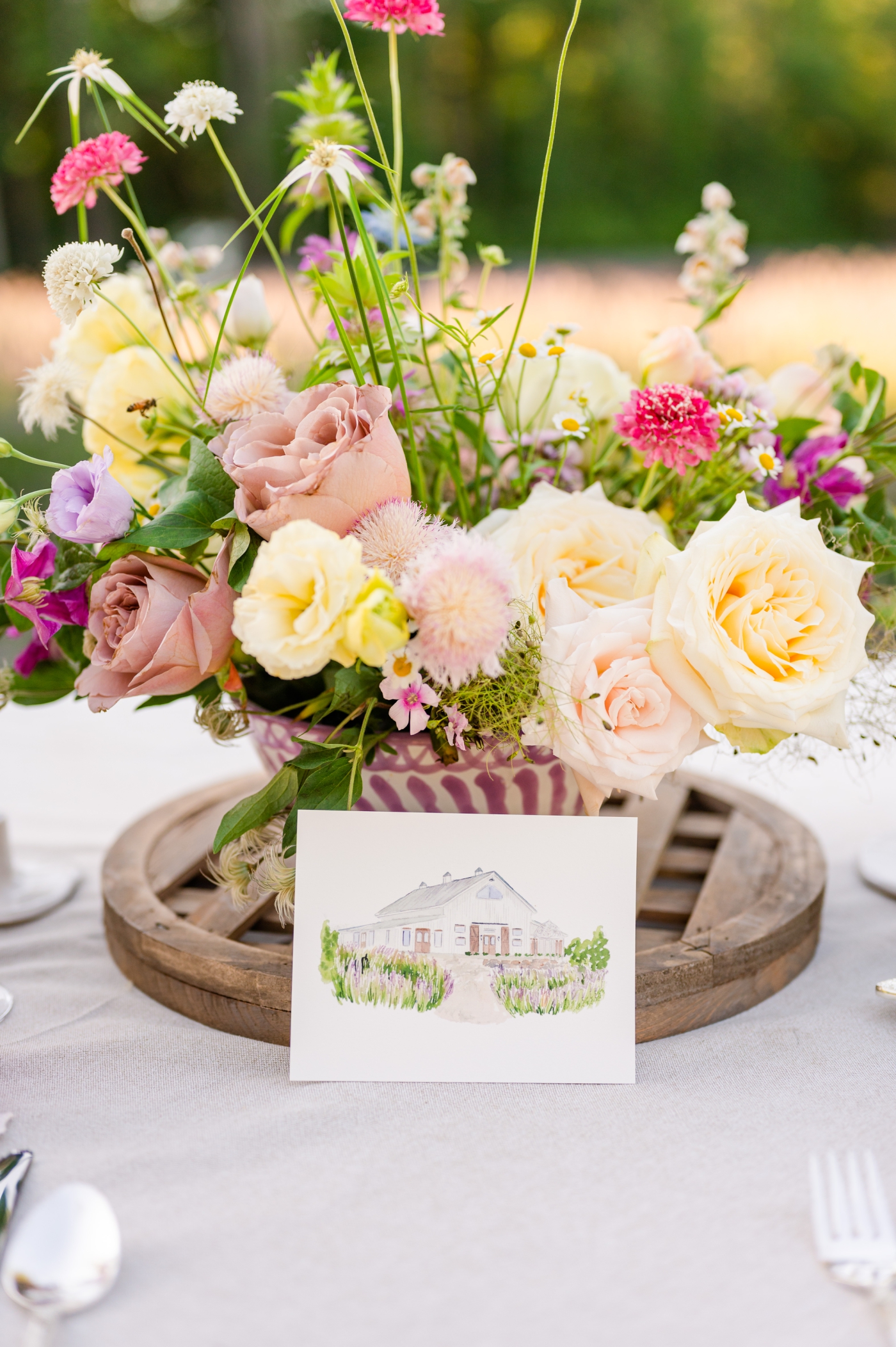 You can add a custom venue illustration on any of the cards in your suite. This can mean your invitation, the details card, and another insert card. I've done many venue illustrations in the past, and my clients have used them in all sorts of places! They've chosen to add them to the invitation, the insert cards, a line drawing on the back of the envelopes, and even as an envelope liner (a sure-fire way to add some "wow!" when guests open their invites).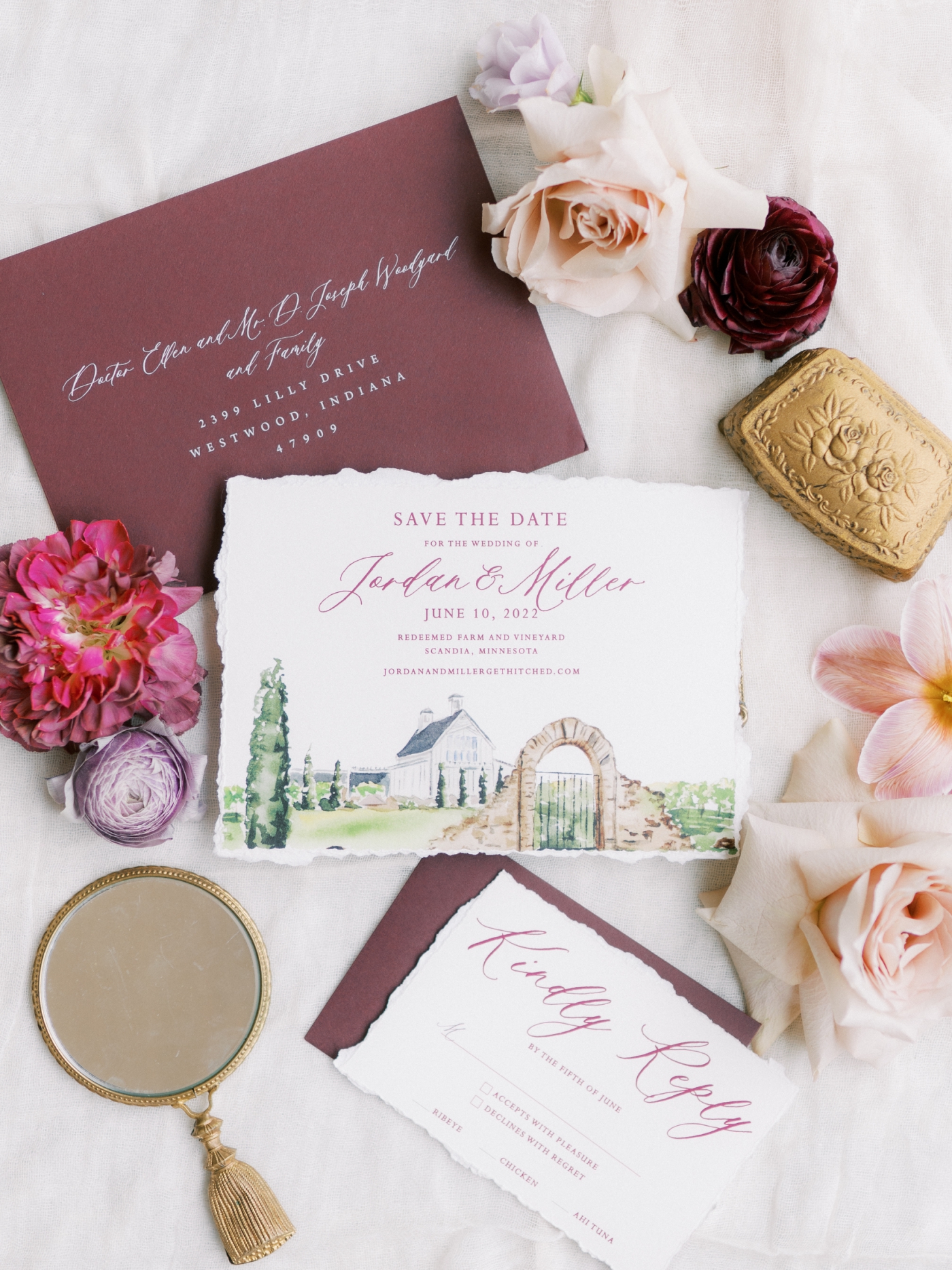 A custom watercolor venue illustration can give your guests a peek of your day to come and get them excited for the beautiful day ahead of them. While I have a Venue Collection with illustrations already done for many North Carolina venues, I am always happy to create a custom watercolor venue painting for my clients that's all their own. Whether you want to incorporate more of the florals and colors into your painting or there's a certain spot at your venue that you really love, a custom venue illustration can be dressed up and done in a myriad of ways that says, "this is us."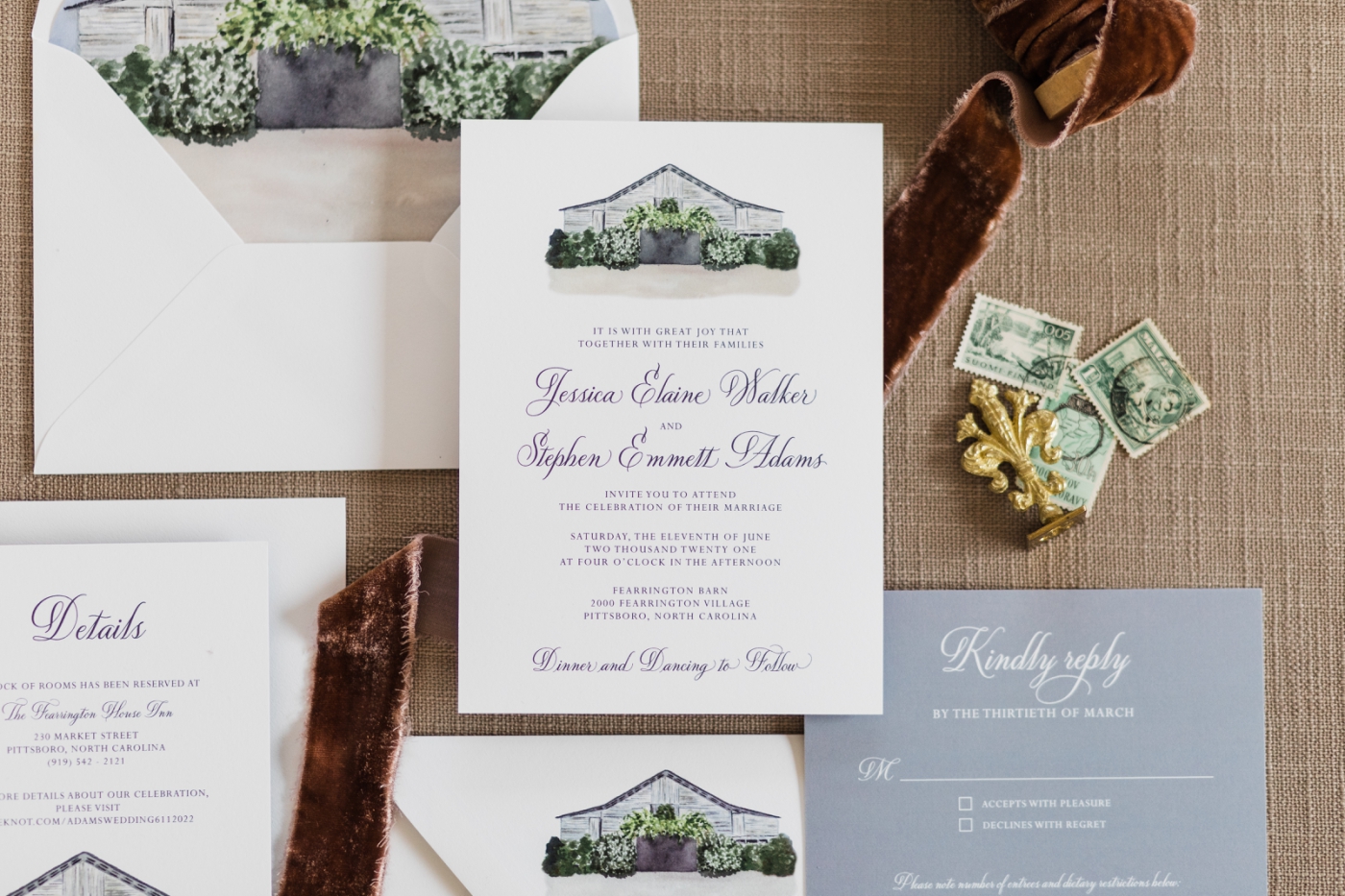 Incorporate your wedding day flowers
Using your floral color palette is a great way to dress up your wedding invitations and my favorite way to collaborate! Your wedding flowers are an enormous part of your budget and your day. They say a lot about your style as a couple. Why not get a glimpse into what they will look like by including illustrations of them throughout your wedding invitations and stationery details?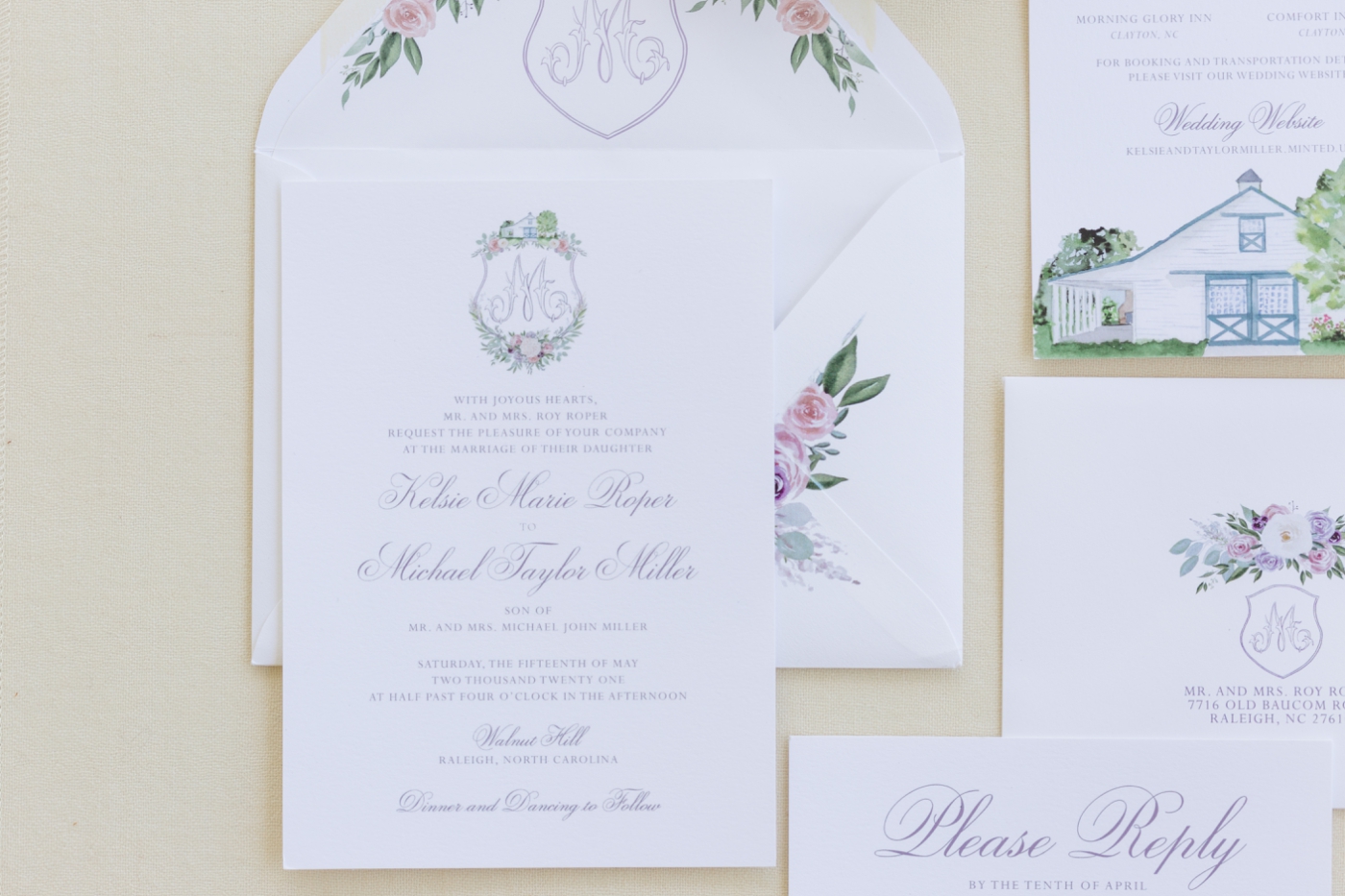 For instance, Bethany wanted to include a lot of bougainvillea on her Barn of Chapel Hill semi-custom Floral Crest Suite. So, I handpainted bougainvillea to dress up the semi-custom suite and utilized a sand-colored font and blush accents. This added a romantic, boho but modern feel. The semi-custom Floral Crest Suite is a perfect candidate for using your wedding flowers as inspiration because it can take almost any aesthetic you might be looking for! Over the years, I've personalized the Floral Crest Suite in quite a few ways with handpainted flowers.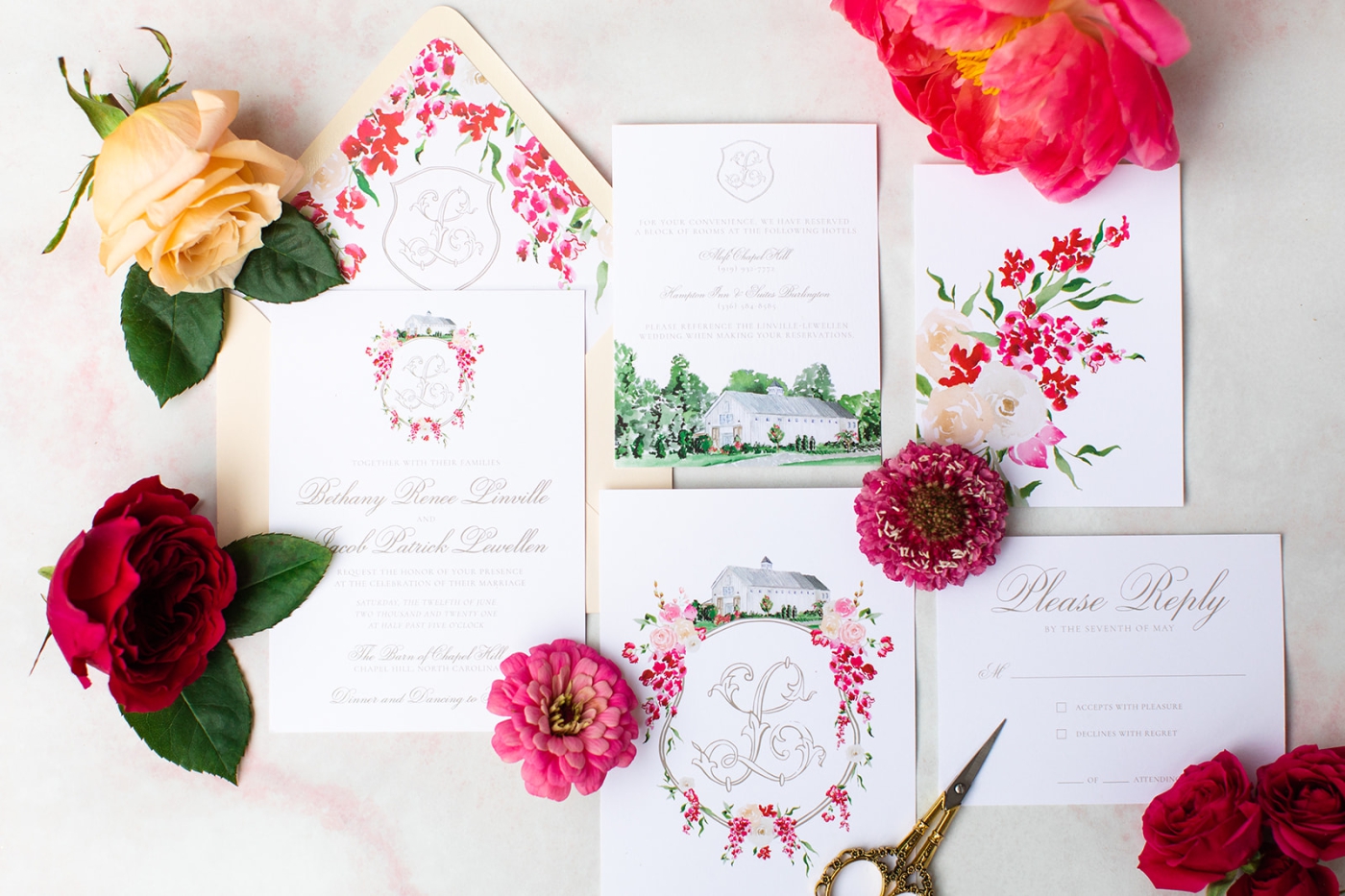 Add a wax seal
Wax seals are a timeless, classic, and beautiful touch that has never gone out of style. They've actually has seen a recent surge in popularity! There are so many ways to incorporate wax seals into your wedding invitations and into your day-of wedding décor and details.
You've got two big choices when it comes to wax seals: your wax color and your wax stamp design. Your stationer can work with you to make sure the final wax color will coordinate perfectly with all of your wedding colors. You can choose almost any color under the sun, and the classics, like gold, champagne, and ivory, will never go out of style!
You can even add dried florals to your wax seal, which is such a fun way to dress it up. I've done this in the past for various clients, and it always turns out so beautiful!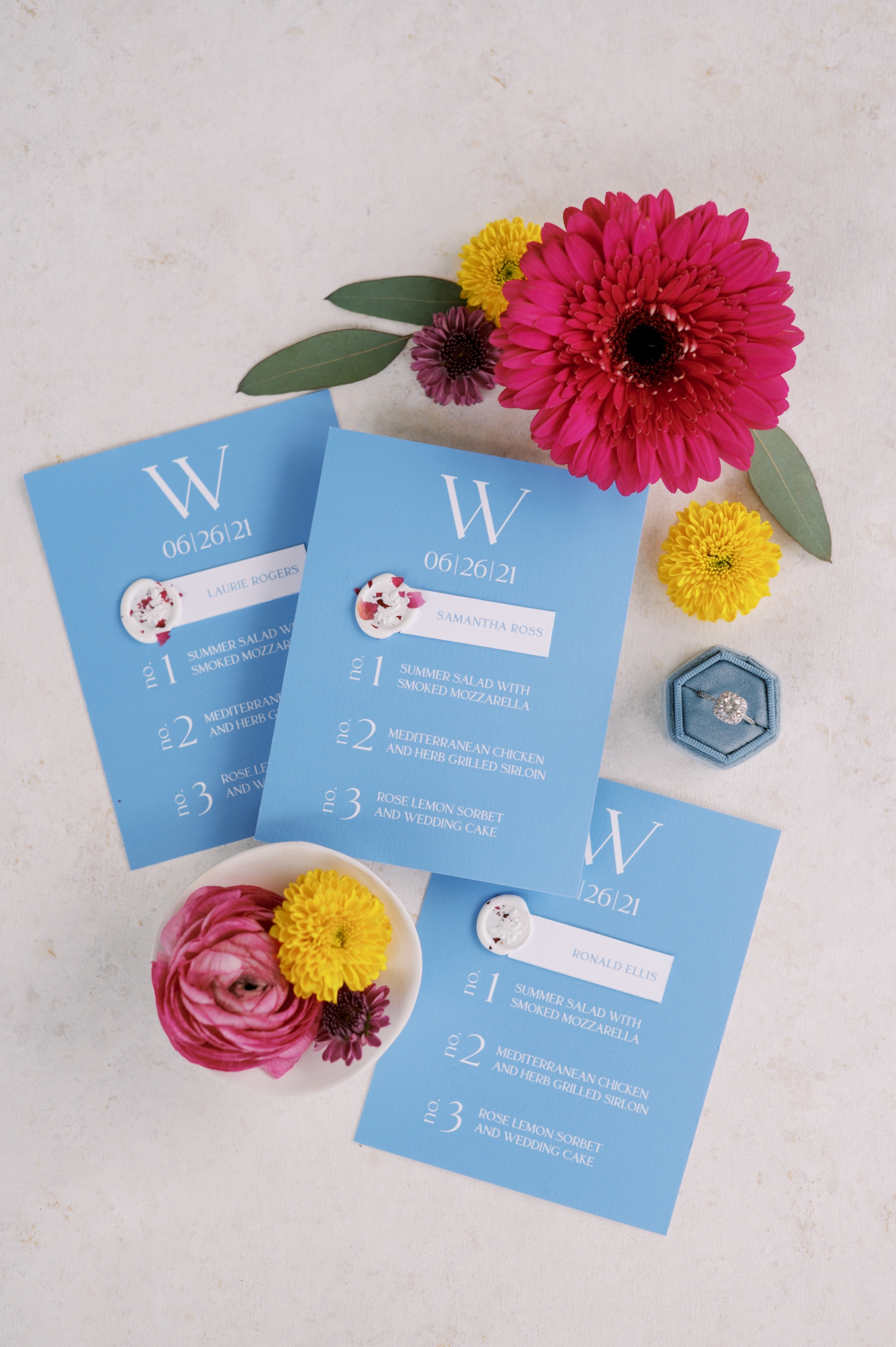 You can also use your wax seal to close up a vellum jacket or go over a ribbon enclosure.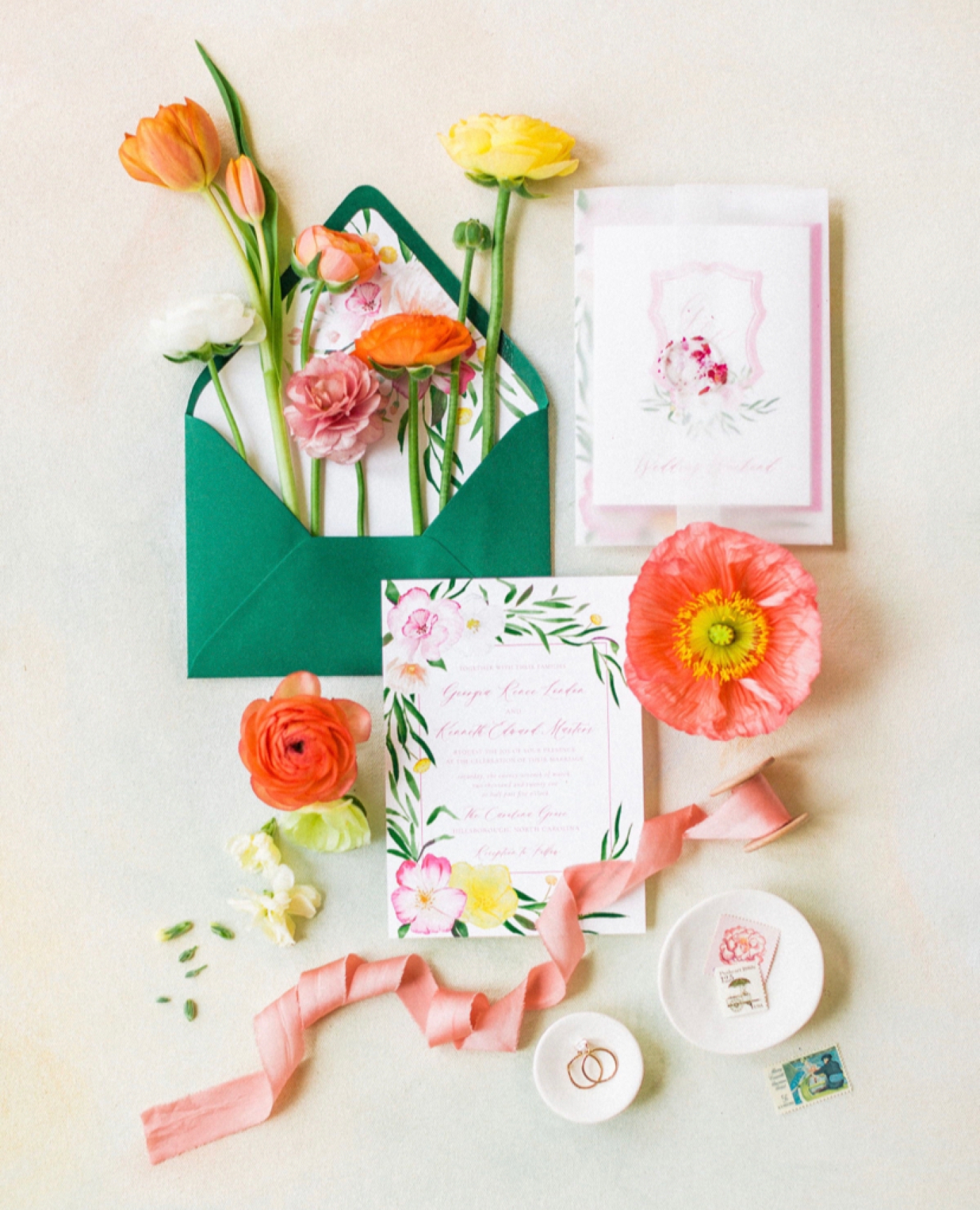 Of course, there's the classic wax seal on the back of your envelope. But you should know that this will make your wedding invitations "non-machinable" according to the US Post Office. This means you will incur an additional charge for hand canceling. Additionally, the sorting machines your invitations inevitably will go through can potentially cause some damage to the seal itself. Typically, this isn't a problem, but I always like to remind my clients that it is a possibility. The foolproof way to use a wax seal on your invitation envelope is to add on an outer envelope. This ensures that the inner envelope and all of the prettiness are kept picture perfect!
Beyond wax seals for your wedding invites, you can put wax seals on your day-of items. This can include your menus, programs, seating charts, escort cards, and place cards.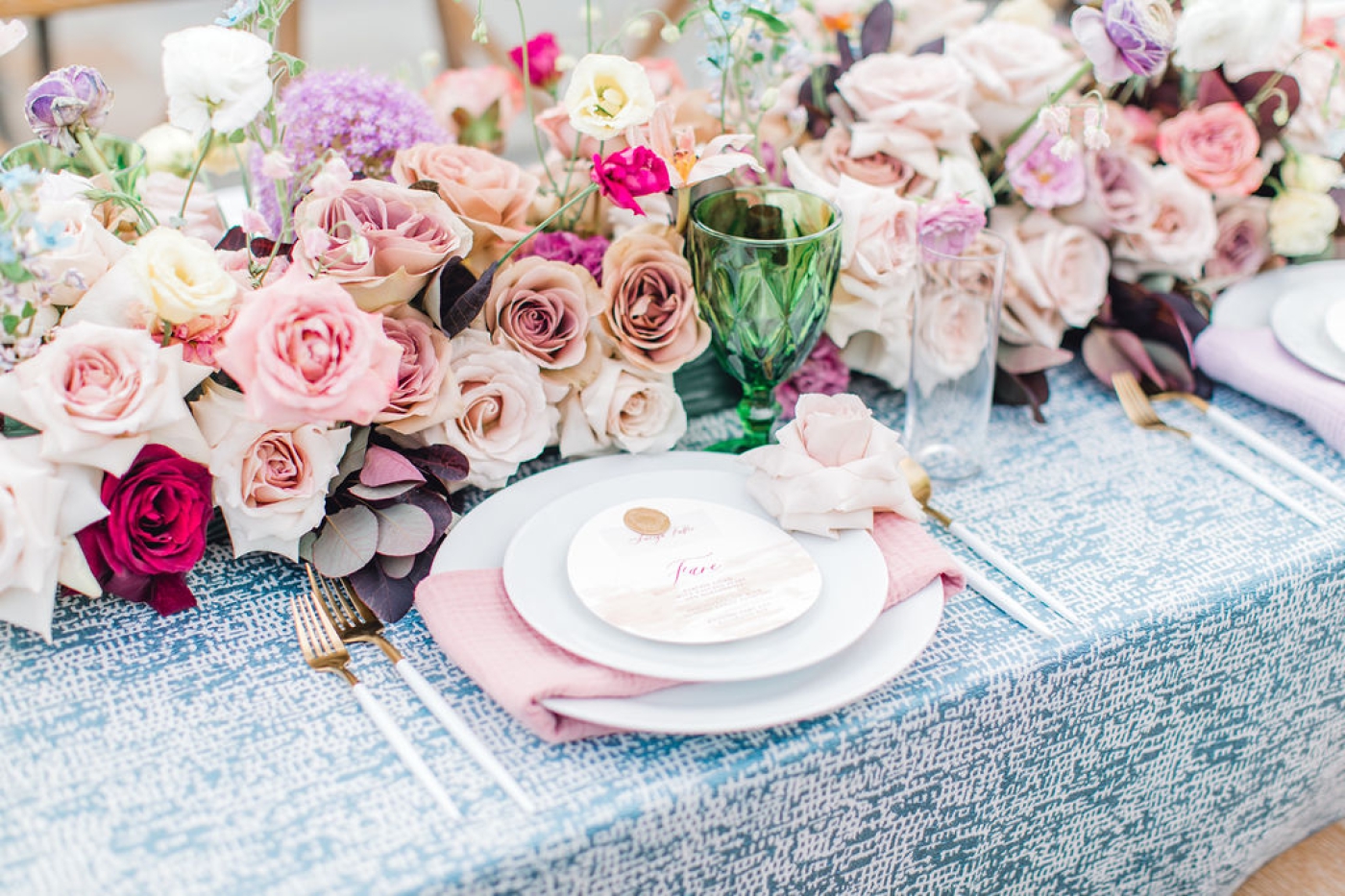 And finally, one sure-fire way to dress up your wedding invitations with a wax seal is to choose a monogram style or crest that features your last name, wedding date, or other personal detail. You can even have a custom stamp designed by your stationer! You can keep it for years to come and use it on your personal stationery as a new couple!
Tie up your wedding invitation
Wrapping your invitation with its enclosure cards is a lovely finishing touch. You have so many choices from string to ribbon to twine!
Ribbons can be satin or silk. They can have clean lines or frayed edges. You can choose billowy and soft or thin with a velvet finish. Each type has a distinctive feel and lends a specific aesthetic to every design, so working with a stationer can ensure that you love how they turn out!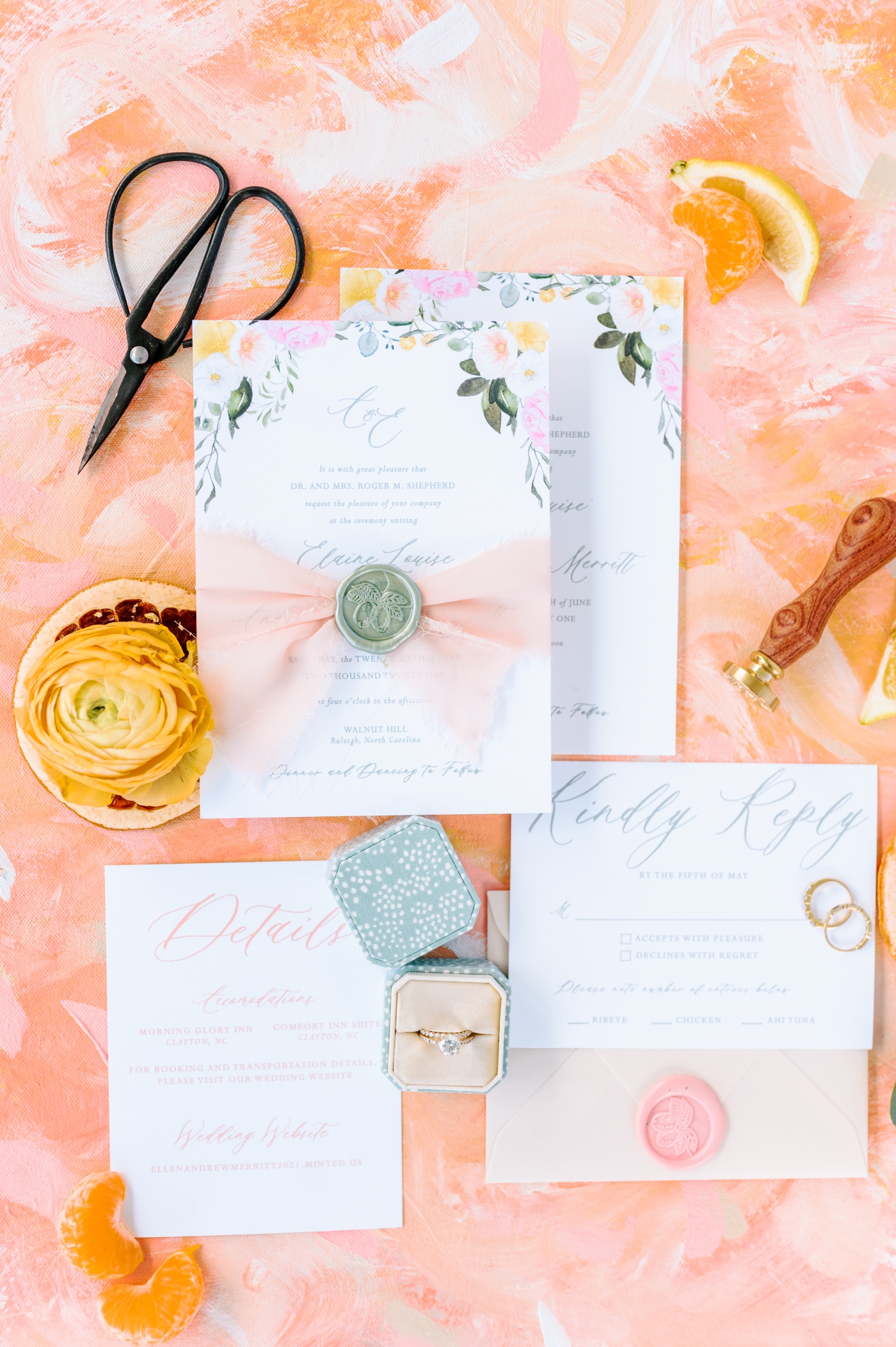 You can also dress up your wedding invitations without any ribbon or twine at all. Instead, you can use paper in the form of a belly band, a laser-cut, a pocket envelope, or even one of my favorites, a vellum wrap!
Add a touch of vellum
Vellum wrap can be left blank and perfectly transparent. You can also add a design to it to enhance it. I've worked on a suite for which we wanted to play up the gate at the venue. We wanted to take the guests through what it was it was going to be like to walk through the floral-covered gate on the couple's wedding day. It's also a fun way to invite your guests on the journey to come. The design is printed directly onto the vellum and lined up. This way when guests open their envelope, the jacket can open just like the gate!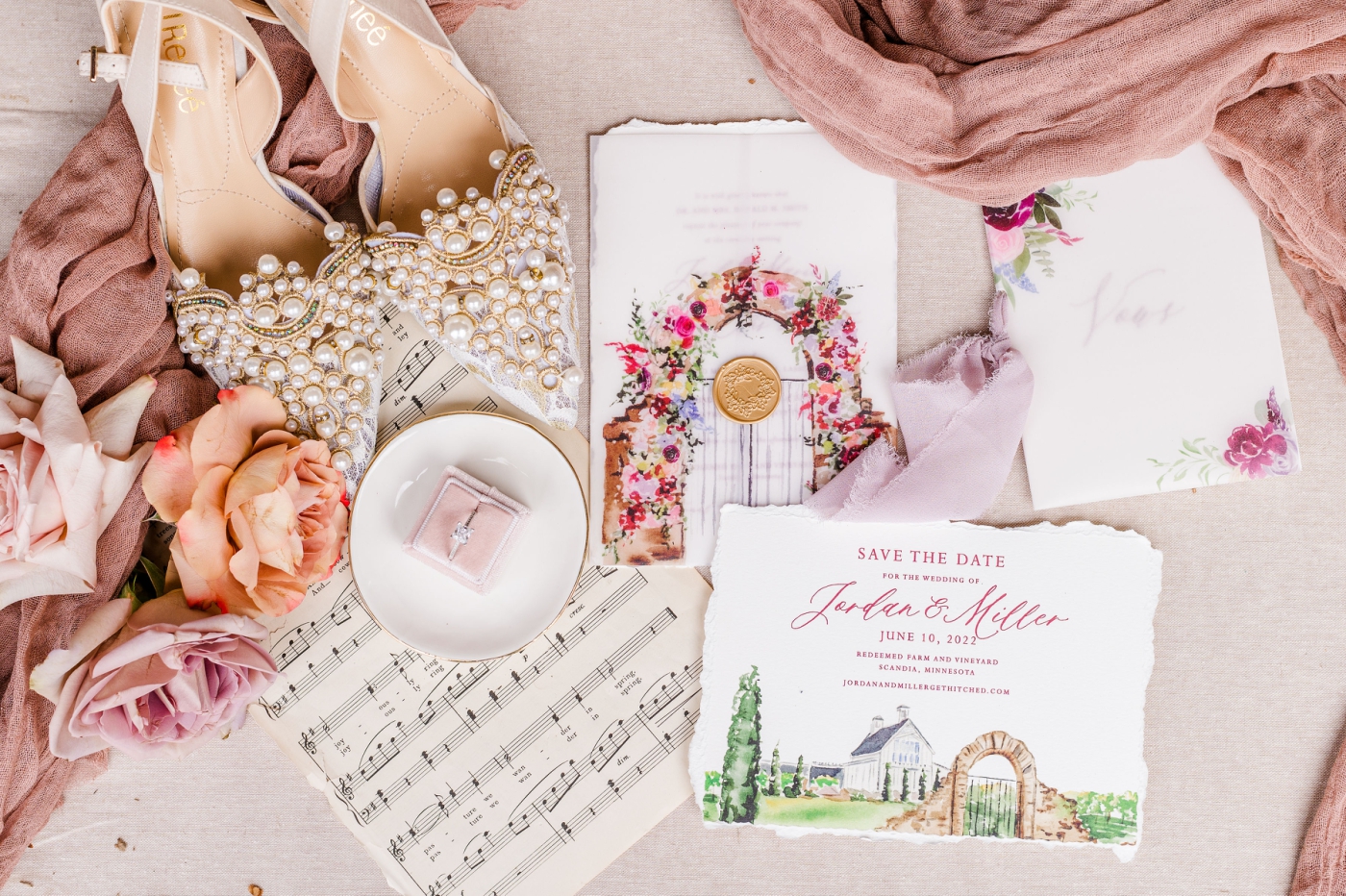 If you're feeling something a little more sleek, modern, and minimal, a clean vellum wrap can still add so much impact. It's especially striking when you have a full page of artwork on the back of your invitation, like the Vellum Peek from the Venue Collection! That way, the artwork can "peek" through and give your guests a glimpse into your venue.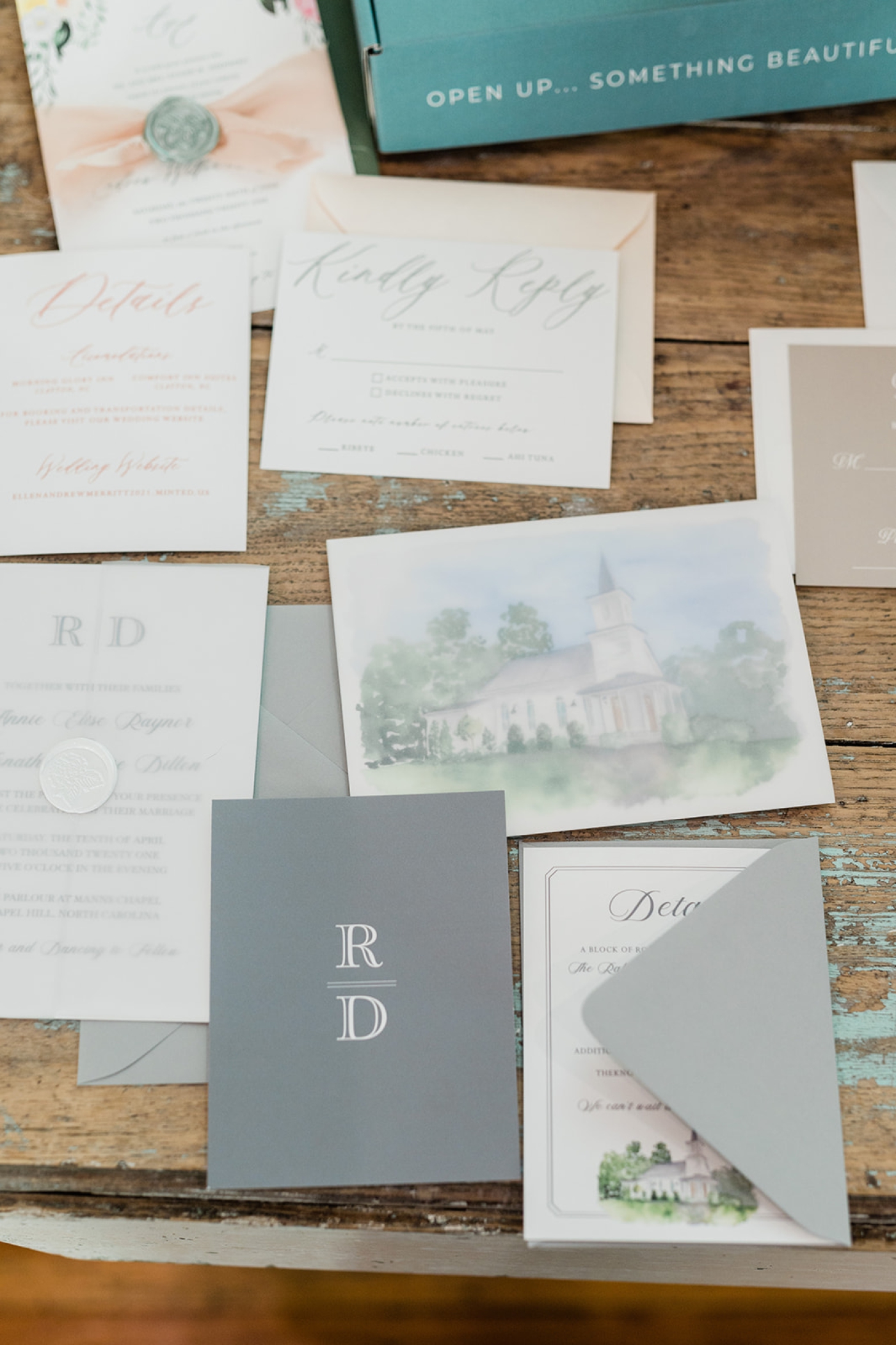 These are my favorite ways to dress up your wedding invitations, and they really add such a great touch to your invites. It's the best way to let your guests know what to look forward to and give them a real treat before they even get to the big day. I just love working with clients to help them create the wedding stationery suite of their dreams. There are so many options to create the perfect aesthetic for your suite!